According to the IAB Internet Advertising Revenue Report, internet advertising revenues hit an all-time, first quarter high of $11.6 billion in Q1 of 2014 in the United States alone. This 19 percent year-over-year increase came to no surprise for PricewaterhouseCoopers Partner David Silverman "with consumers increasingly relying on digital screens for everything from information to entertainment." At the same time, these numbers are a testament to agencies and businesses that have clearly been able to find relevant audiences and utilize budgets effectively.
In order to stay ahead of curves like these, constant budget monitoring and campaign optimization is a must. One way to outperform competitors and improve your online advertising results is to fully understand and use the competitive metrics in Google AdWords.
Where To View Competitive Metrics in Google AdWords

Competitive metrics are one part of the custom column sections AdWords allows you to add. Depending on what kind of campaigns you are running, you will have a different selection of metrics. Competitive metrics show up as default for everyone.
In order to customize your columns, follow these steps:
Go to All online campaigns
Click on Columns above the graph
Select Customize columns
Click on Competitive metrics
Click on Add and then on Apply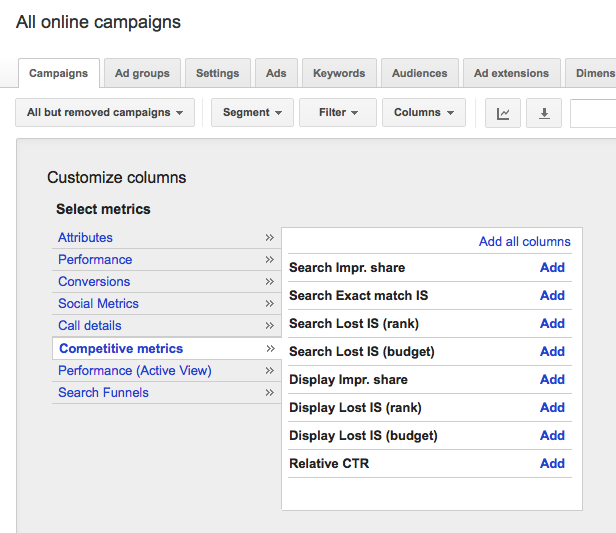 You should now have a new set of columns added on the right side of your normal campaign statistics. Let's look at what each of the metrics means and how you can use them to your advantage.
What The Metrics Stand For
The Impression share shows you the percentage of market share, considering "impressions" are the market.
Google's definition of Impression share: "Impressions you've received on the Search Network divided by the estimated number of impressions you were eligible to receive."
This value is straight forward for both Search and Display Network, but the Search Exact match is is often misunderstood. Instead of displaying the Impression share for your exact match keywords, it shows you the Impression share if all your keywords were exact match.
Google also shows you why your impression share is lost with the Search/Display Lost IS (rank) and Search/Display Lost IS (budget) columns. Both of those values are the percentage of time your ads were not shown due to either low ad rank or low budget.
In order to use this information to your advantage, you can take action based on where you see the biggest opportunity. For instance, there is no need to increase the budget at first if there is a chance to increase the quality score. If you do increase the budget, however, double-check if all the right keywords benefit from more traffic.
Before taking any action based on Impression shares when it comes to Display Network campaigns, consider the Relative CTR.
Relative CTR
Google AdWords calculates the Relative CTR for Display Network campaigns by dividing your CTR (click-through-rate) by the average CTR of all advertisers on the placements where your ads and the ones of your competitors are shown. While the Impression Share typically changes more gradually over time, the Relative CTR may change frequently based on what you or your competitors are doing.
This value is not shown in percentage but as a multiplier. Let's look at a concrete example.
Relative CTR Case Study
You are selling shoes and Google calculates that your Display Network CTR is 0.03 percent on one specific page. On that specific placement, Google sees you have three competitors getting a CTR of 0.003 percent each.
This means your CTR is 10x higher than the one of your competitors because you are dividing your CTR (0.03 percent) by the average of your competitors (0.003 percent) which is 10.
Formula in Words:
Your CTR / (CTR of Competitor 1, CTR of Competitor 2, CTR of Competitor 3 / Number of Competitors) = Your Relative CTR
Formula in Numbers:
0.03% / (0.003+0.003+0.003/3) = 10
It's recommend to understand the formula so you can correctly interpret the Relative CTR. The important part is it takes an average of your competitors' CTRs, so some competitors might be very close to your CTR, while others are four or five decimal places away from beating you on a specific placement. Since the value is an average, you can't know that.
The Relative CTR is only shown in the Campaign and Ad Groups tab. Most advertisers find it more useful in the Ad Group section because it provides somewhat more insight.
Competitive metrics give you an overall impression of how you are doing compared to your competitors. In fact, they might point out precious opportunities you would not otherwise be able to see.