NAPs, Citations, IYPs? Welcome to the world of local SEO, and this world is in a constant state of flux.
In this post we'll focus on how to improve your local search rankings and cover some best practices. By the end, you'll be rocking the pack listings like an SEO rock star.
Local SEO is what we Internet marketers implement in order to dominate local searches. For example, when I did a search for "Shoe shops Birmingham," this is what returned on the search engine results page (SERP):
So let's examine what is returned for the above search term. First, we have some classic organic results, but then we have the coveted pack listings. This is what we ultimately will try to influence with our Local SEO practices.
Now let's look at what happens when we click on one of those pack listing results: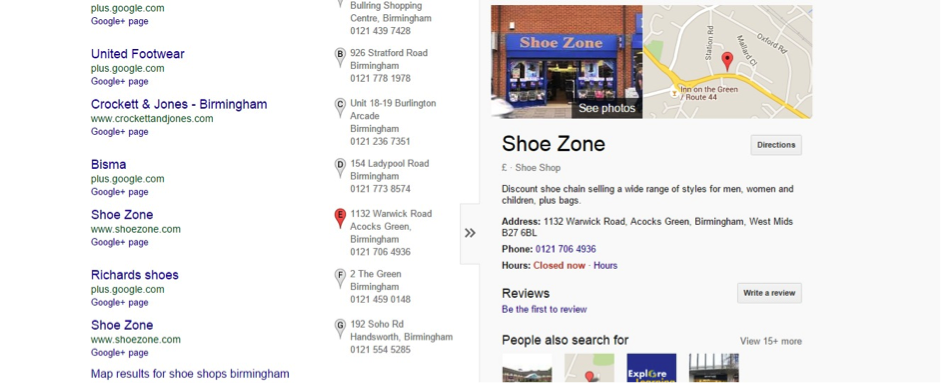 We have a good example here using Shoe Zone. As you can see, there's an image of their store with a description underneath, including their business hours and contact number. Great pack listing overall. Now, let's move onto how we can influence these results.
Local SEO Ranking Factors
The below chart shows what search engines take into consideration when ranking businesses for their local search results. (We SEOs are busy bees, aren't we?)
In the below sections I'll dissect each section and provide an understanding of some practices that will get you on your way to local SEO victory.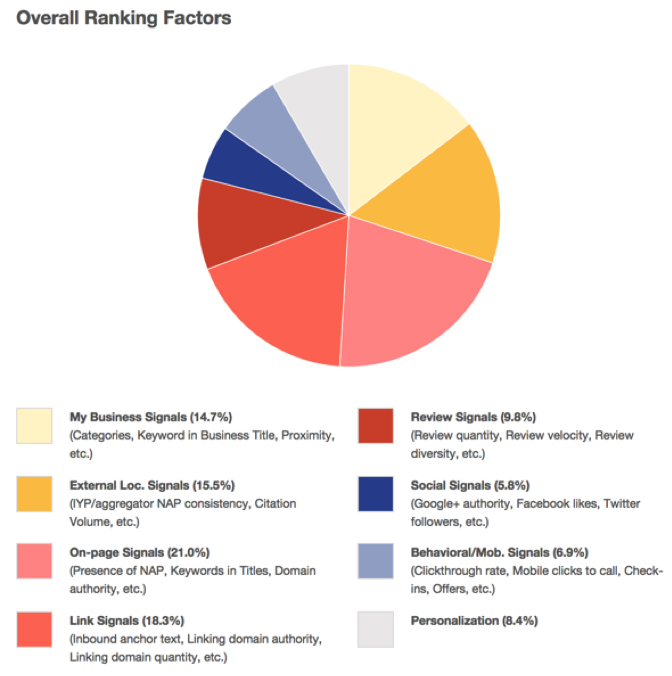 Source
My Business Signals
Google My Business signals account for 14.7% of local ranking factors, which is a significant amount. So taking time to ensure the following within your listing is advisable:
Individual description for each location
Correct categories in place within the My Business tool
Photos of locations and business logo
Local phone numbers need to be added
Address needs to be checked against website address to remain consistent — this is paramount
Correct opening times
Reviews within Google+ page pushed for all clients
External location signals
The Name, Address and Phone number (NAP) of the company we are conducting local SEO for within the Internet Yellow Pages (IYP) accounts for approximately 15.5% of local ranking signals. The following needs to be completed in order for this section to be completed:
NAP needs to be the same and consistent within all Internet citations across all IYPs. These must be checked against Google My Business and website location addresses.
The use of tools like BrightLocal and competitor citation reviews need to be taken into consideration, along with citation authority and domain authority of IYP.
If paid tools are not available, the following steps can be taken in order to understand which citations are most influential for the types of searches you are targeting:
Conduct a local search like, "Marketing agencies Birmingham"
Look for directory listings within the first two pages of Google (see below example)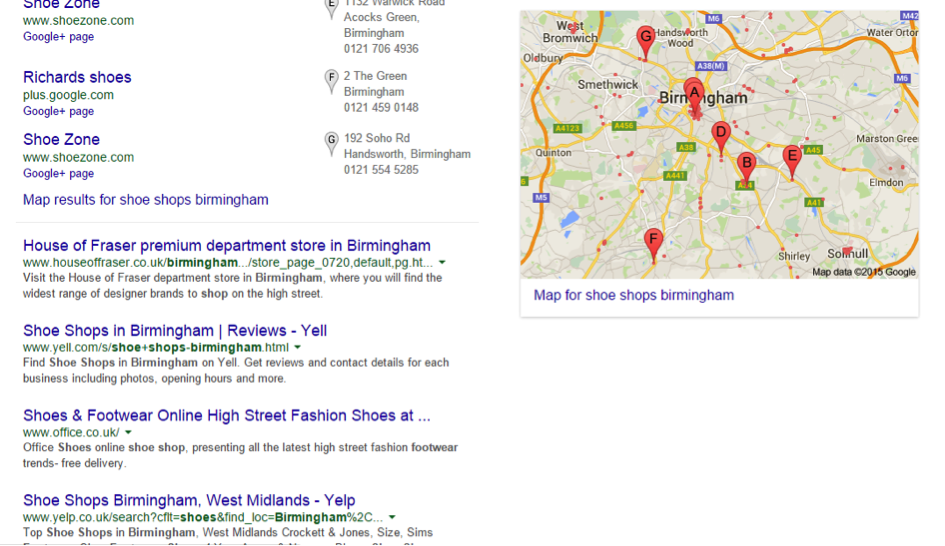 After searching for the term "Shoe shops Birmingham" on the first page of the SERP, we can see two local citation opportunities — Yell and Yelp. This would indicate these two citations are worth undertaking as a citation, again ensuring NAP consistency
On Page Signals
The largest proportion of local SEO ranking factors, at 21%, is the NAP of the business. This should be checked at every available moment. The NAP needs to be present on business location pages, and the following are taken into consideration:
Domain authority
Page Authority
Presence of City/region within the following:

Landing page title
H1 tag
URL
Landing page content
ALT attributes
Developers will need to apply Schema, which is structured mark-up data that helps all search engines parse and index data. More information on Schema can be found at www.schema.org.
Link signals
As always link building is and will be for the foreseeable future best practice within SEO. However for local SEO, gaining links to regional pages from local sources will benefit massively. When building links for local SEO, the same best practices apply from general link building for domain authority:
Domain authority
Spam score (taken from Moz)
No keyword rich anchor text
Review signals
Online reviews, although many businesses may be worried about going for these, are considered ranking factors. Google+ reviews are shown in the search engine results page (SERP) and indicated by stars. Asking your customers to leave positive reviews on Google+ is beneficial.
Social signals
Social signals within the world of SEO are certainly growing year on year. Maintaining active social media accounts will not also improve local, but also sitewide SEO. The following are taken into consideration:
Google+
Facebook likes
Twitter followers
Consistency of posts
Active accounts
Behavioral
Another ranking factor that goes back to standard SEO techniques and best practices is clicks to call. The following must be implemented:
Mobile functionality
Click through rate (CTR) from SERPs:

Meta descriptions on local business pages
Enticing page titles
Ensuring all of the above will always help local SEO, but ultimately help with general organic positions within the general SERPs.
Personalization
Lastly, we move onto personalization, which influences many of our searches. Not only for local SEO, but also any search that is made on the web. The following are taken into account for this:
Country
Locality
Local and mobile search factors
Personal history
Social connections
Summary
If you're a brick and mortar business, local SEO is paramount in order for you to stand out on search. Although this is a starting guide for local SEO, follow each of these steps and it will be a great foundation to build upon. (More in depth guides will follow on each of these steps!)
Any questions? Leave me a comment!