For a local business, it can be hard to compete with the big names online, but if you are strategic in your approach and have the right tools, you can easily grow the visibility of your brand and increase your sales.
Here are Five Steps That Can Help with Local SEO:
If you want to start with some local SEO basics, head to our guide on What is Local SEO.
Take Control of Your Online Presence
We will start with a simple yet important thing that a lot of business owners ignore — Digital Knowledge Management.
It is not enough to simply put the facts about your business on your own website — you need to make sure that information is correct and consistent across the many search engines, apps, maps, social networks, voice assistants, directories, and other intelligent services that consumers are using to search.
First, let's figure out:
What is digital knowledge?
Your digital knowledge is made up of public facts about your business. This includes location-specific information like name, address, and phone number (also known as NAP data), along with more complex information like hours of operation, and whether or not you are pet-friendly.
It appears, not only on your own website, but also across Google My Business, Facebook, Yelp, TripAdvisor, Apple Maps, Yahoo, Bing, and the rest of the search ecosystem.
Why is digital knowledge important?
When the facts about your business appear consistently across a lot of sources, search engines and consumers both trust the information more. Higher trust leads to higher local search ranking and can eventually bring an audience of eager and ready-to-buy customers to your doorstep.
More on this The Ultimate Local SEO Checklist [Infographic + Guide] Post Nikolai Boroda The key is to have consistent information in each business listing and keep it updated. However, this can take a lot of time to do manually, especially if your business has more than one location. Also, many of these maps, apps, and directories are constantly crawling for the most up-to-date information, which means you might find the listings you've just updated have reverted to incorrect information. It's a tedious and frustrating cycle.
A SEMrush Solution for business listings:
Working in collaboration with Yext — the leading Digital Knowledge Management — SEMrush developed the Listing Management tool.
To start, enter your business information:

Click Check listings, and see all your listings and the status of each: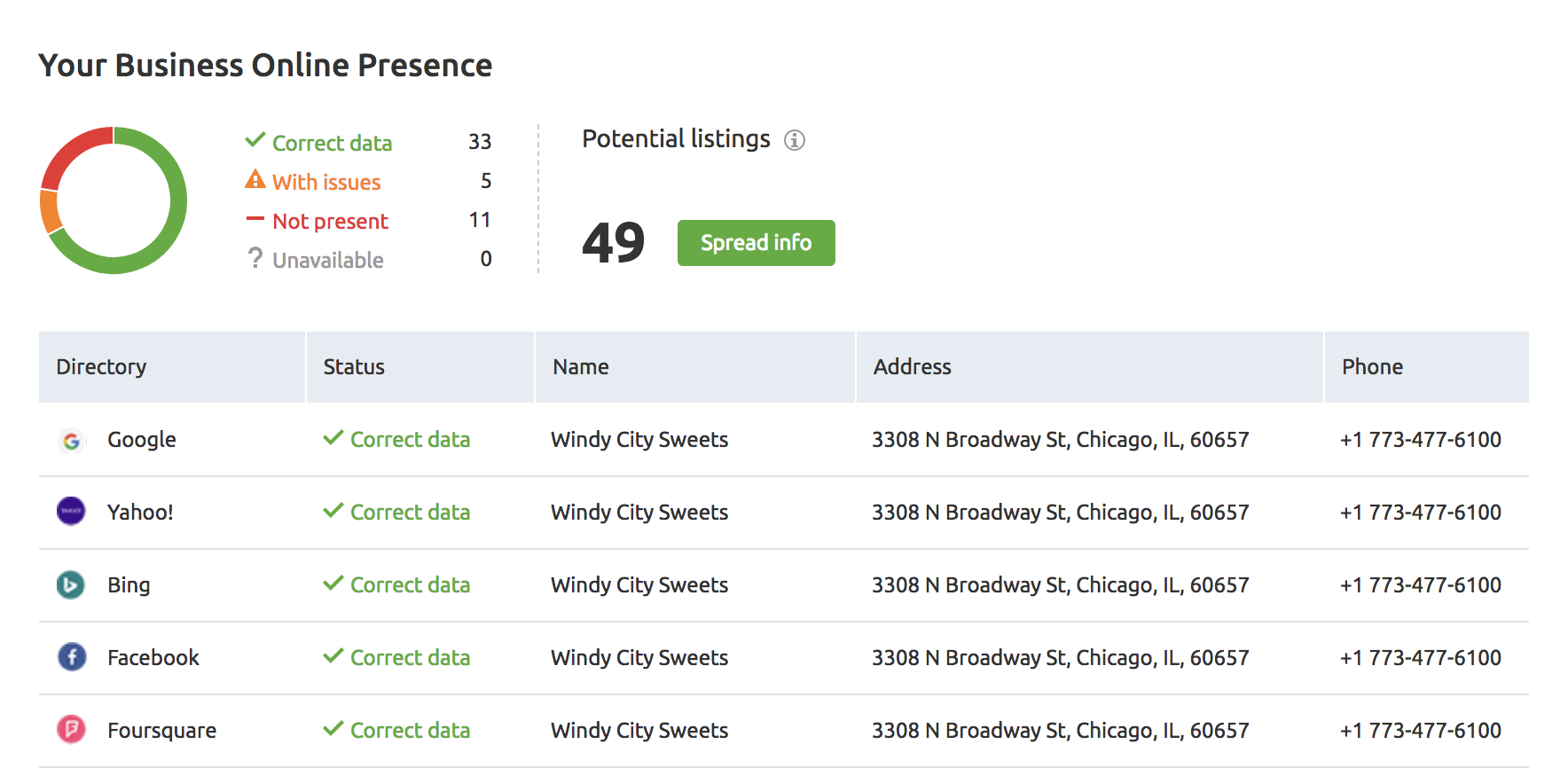 The Listing Management tool harnesses Yext's Knowledge Network to publish data across all the most popular directories and intelligent services — including Facebook, Google, Yelp, Foursquare, TripAdvisor, Apple Maps, Yahoo, Bing, and many more. Most recently, Yext added Amazon Alexa to the Knowledge Network. This means you can now ensure Alexa has the most up-to-date information about your business and reach consumers through tens of millions of devices.
Tracking your ratings and reviews from all business listings in one place is another useful feature of the Listing Management tool.
Reviews can be a great source of feedback for you and insight on customers' decision-making.Be sure to constantly check your ratings and promptly respond to reviews. Even the negative comments can work in your favor if handled the right way. Polite and correct answers and your eagerness to help customers will support a positive brand image of your company.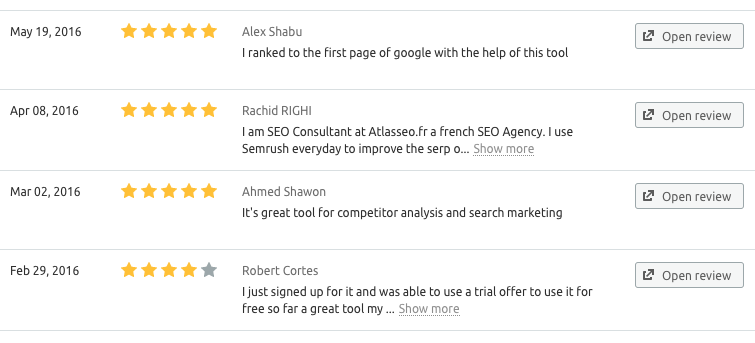 Google My Business
Google My Business (GMB) is often the first impression that people get for your business and brand; it cannot be ignored. It dramatically affects your visibility on the Local Pack feature, Google Maps, and organic rankings.
If you haven't created and verified your GMB profile yet, you can do it right now. Just input your business information and follow instructions, while avoiding these GMB mistakes.
Manage Your GMB Account With Listing Management
Within SEMrush, you can upload pictures, update your address and opening hours, and create posts, if you already have a GMB account connected to the tool.
Along with Facebook, Twitter, and Instagram, you can upload your pictures, business logo, and videos. Just select your location and click on Edit info.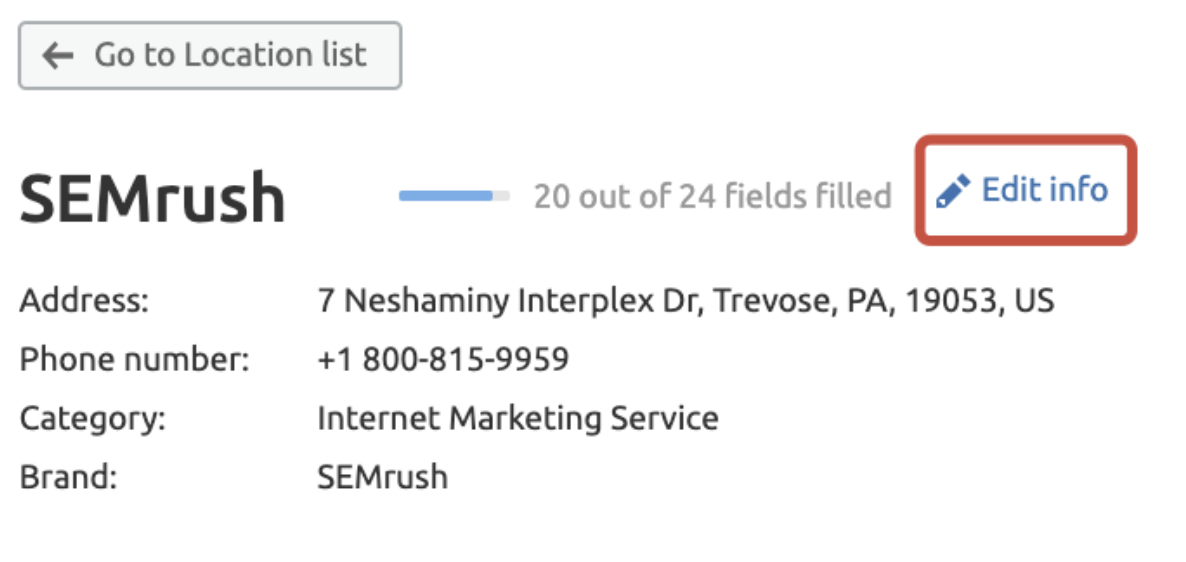 Then find your GMB account to upload information and pictures.

Add GMB Post with Social Media Poster
You can create and schedule events, special offers, or important announcements in SEMrush's Social Media Poster (if you're upgraded to Business or Guru subscription) in GMB, so your customers are always updated with your activities.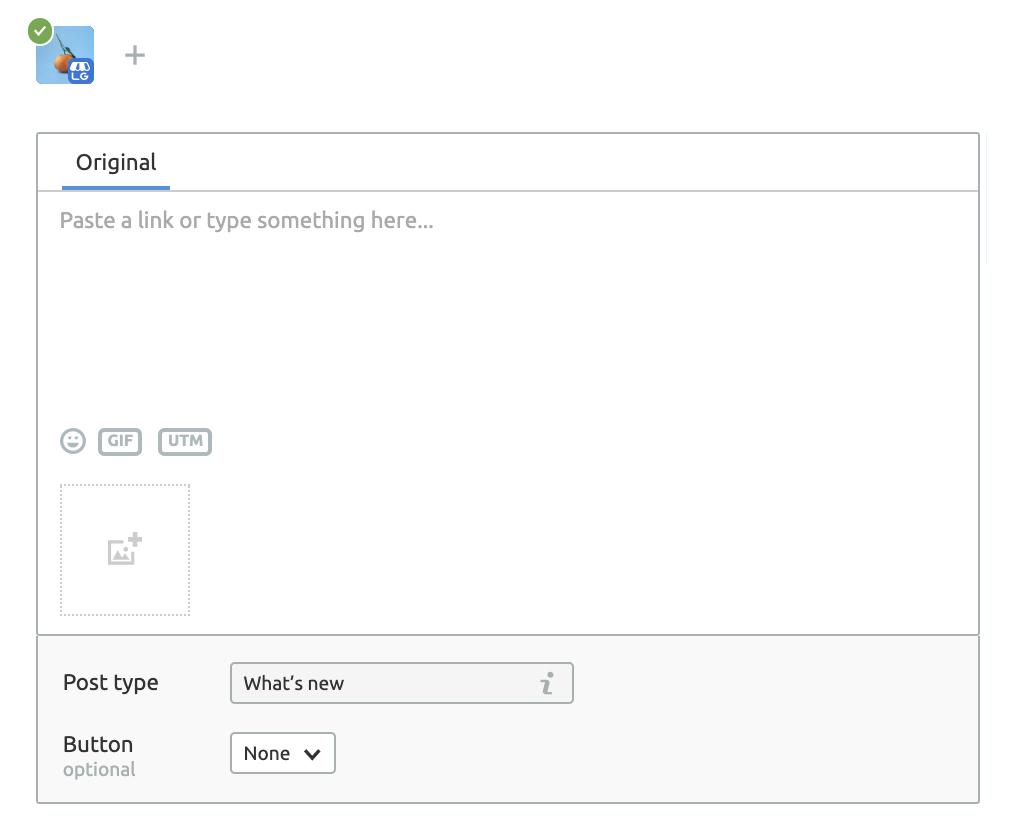 Once it is created and scheduled, the tool will automatically upload the posts by the due date.
Optimize Your Website
A lot of people search for local businesses on the go, so it's critical that you provide a good mobile experience on your website
Optimizing websites for mobile has become more important than ever since Google rolled out mobile-first indexing.
Nice-looking pictures and short descriptions, along with a clean and simple look will hold the user's attention for longer. Review your website's interface. Are all the necessary buttons easy to reach? Is the purchase process a 10-step quest or a simple two-click experience? Make sure that all the fill-in forms are clickable and large enough to use on any screen without much effort.
Here is a nice example of a user-friendly, adaptive website with easily accessible fields, and a well-thought-out user interface:
Follow Google's guidelines for creating a mobile-friendly website.
A SEMrush Solution:
Whether you implement a responsive or adaptive design, have a separate mobile version or only provide a desktop one, you should set up the Site Audit tool to check on your website's health — neither your customers nor Google would appreciate a broken website.
Your site should work well, and most critical mistakes are not specific to mobile devices. However, it would be a good idea to select a mobile crawler during the Site Audit setup process: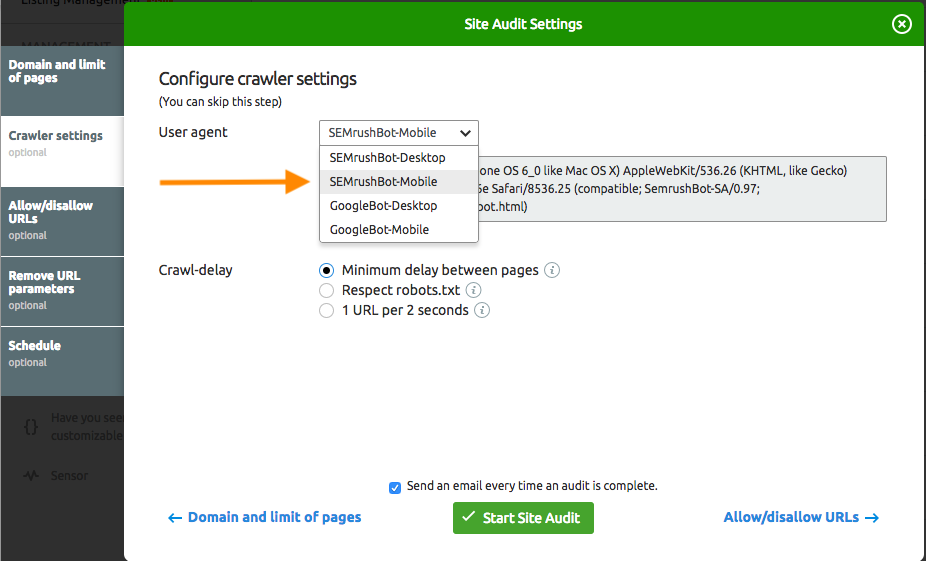 This way our crawler will go for a mobile version of your website.
Also, if you have an AMP version of the website check the box Crawl AMP pages first (available only on Business subscription)
Assess your website's Total Score and the scope of work:

Glance at the Thematic Scores, and review your top issues: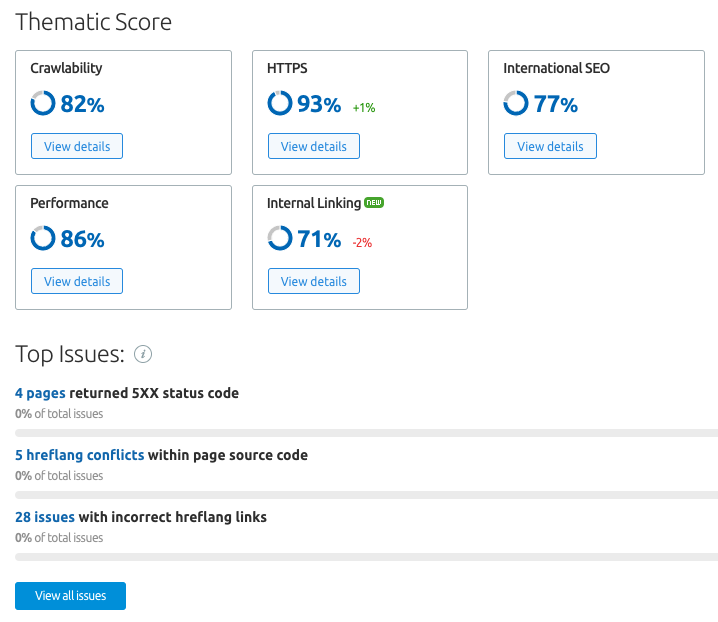 When you sort out critical errors, go back to thematic reports.
Start with Crawlability — you want all the essential pages of your website to be accessible for the search engines in order to be indexed.
Then move to the Performance report — page loading speed always matters, and it is especially significant for the quality of the mobile experience.
The Internal Linking report is about the informational architecture of your website — you want your users to get the information they need in the fewest possible number of clicks. Structuring your website correctly will also help its rankings by evenly spreading the link juice.
The HTTPS report assesses how secure your website is, which nowadays is vital for every website, not just the ones dealing with sensitive information.
Finally, the International SEO report is a must for businesses with multilingual websites — hreflang implementation is a very tricky business.
Maintaining a healthy website is an ongoing process, but for now, let's move on to the visibility of your website.
Improve Your Visibility
We won't talk much here about keyword research, but its importance will not fade away anytime soon. You can catch up on our Keyword Magic tool in this great blog post. Just keep in mind that queries you want to aim for will have local intent (like "pizza near me"), and quite a lot of people will use voice search.
As we have already established, a lot of local search traffic comes from mobile devices, and mobile SERPs are quite different in terms of visibility.
Even if you rank well in the desktop results, being in the top organic results does not mean that you will be seen because of the ads and SERP features taking up the screen space. And on devices with smaller screens, it will be even harder to be seen.
Here is an example of a mobile SERP for the request "pizza in new orleans":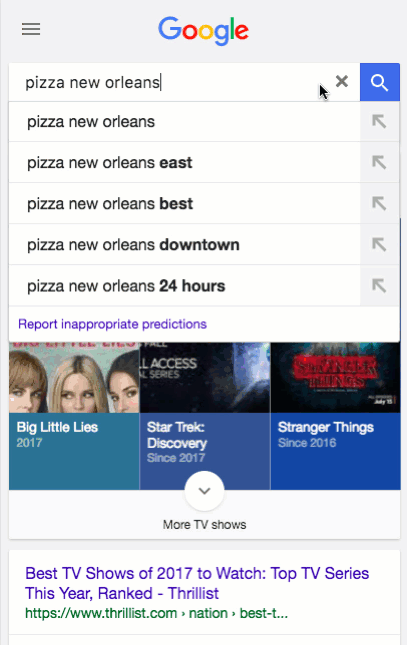 First, there is an ad with sitelinks and an app, then another ad that also has extensions, then a Local pack with a map and the three results, and only then will you get the first organic result.
As you can see, the best way to gain visibility is to get into the Local Pack.
In addition to actively managing your digital knowledge, keeping that information consistent across the search ecosystem, and the on-page optimization of your website, you can try a few more things to increase your chances of getting into the Local pack:
Reach out to the local websites that write local news, cover local businesses, and host local blogs. Try to get backlinks.

Encourage your clients to leave reviews online.

Check out custom markers on Google; it will help you to stand out.

Create posts in Google My Business. 
Track Your Results
Now, when you are done with the hard work described above, it is time to sit back and enjoy the success. Well, not really. Your competition never sleeps. You have to keep working to stay on top.
Luckily, SEMrush once again has a solution for you—the Position Tracking tool.
This tool tracks your website's rankings for a custom set of target keywords. The data is collected daily, so you are getting the freshest information.
When configuring Position Tracking for your website, you can choose to track any subdomain, URL, or subfolder.
On the first step of the setup, pay close attention to the input form for the business name:
Google doesn't always add website links to the local map packs, especially on mobile SERPs. In these cases, it gets much harder to track your local rankings, but SEMrush Position tracking solves this problem for you.
Insert the name of your company exactly as it appears in Google My Business. Pay attention to the case sensitivity (e.g., if it is "Best Pizza" in the Google directory, "best pizza" won't do here).
This way you will be able to see if you appear in Local packs, even if they don't have a link to your website.
The second step of the setup is crucial for local SEO — choosing the device and location you want to target:
Position Tracking allows you to target the location by the ZIP code, which means that your targeting can go deeper than at a city level. Tracking SEO results of a local business can be more precise than ever before!
Your visibility and appearance in Local packs are about proximity, so monitoring and managing your search engine performance for your exact location is extremely beneficial. As well as this, focusing on your local queries will spare you the work, and will save you time and money.
To finish setup you need to add your keywords, and, optionally, your competitors. Let the tool gather keyword data and get to work.
Go to the Competitors Discovery to see your closest rivals.
Blacklist domains that are not in direct competition with you (e.g., wikipedia.org), and add others to your tracking campaign by clicking Set as competitor next to the domain:

Once this is down, you can easily keep an eye on your competitors, and see how well you perform compared to them.
Another very useful feature of the Position Tracking tool is filtering by SERP features.
Let's look at Local packs. Filter the words that you don't rank for:

Now you have the list of keywords you need to work on:

Another important SERP feature that you need for your website is Reviews. Having stars on your snippets is advantageous as it is eye-catching.
The workflow of finding keywords that trigger reviews is the same as filtering for Local packs. But there is a technical nuance in acquiring it — you will need to add a special markup on the pages of your website.
Report Your Success
Reporting is a necessary and important part of the job, and just like any task, it can get really messy and tedious if approached wrongly.
The SEMrush My Reports tool makes the process almost effortless. Just drag and drop the data you need to create custom reports or apply one of the pre-built templates for your situation. Once you've sent a report, you can use it as a template any time you need.
My Reports combines all SEMrush analytical data with the reports from Google Analytics, Google Console and Google My Business Insights to let you build the most comprehensive presentation of your results.
Integration of Google My Business is particularly important for local SEOs. It allows you to see how many customers found your business and how they interacted with the business listing.

Choose the timeframe and get charts that show customer action trends. See if people are searching directly for your business, or using discovery search for your type of product or service, find out how many used Google Maps, how many used the call option, and what time and day of the week is the busiest for your phone line.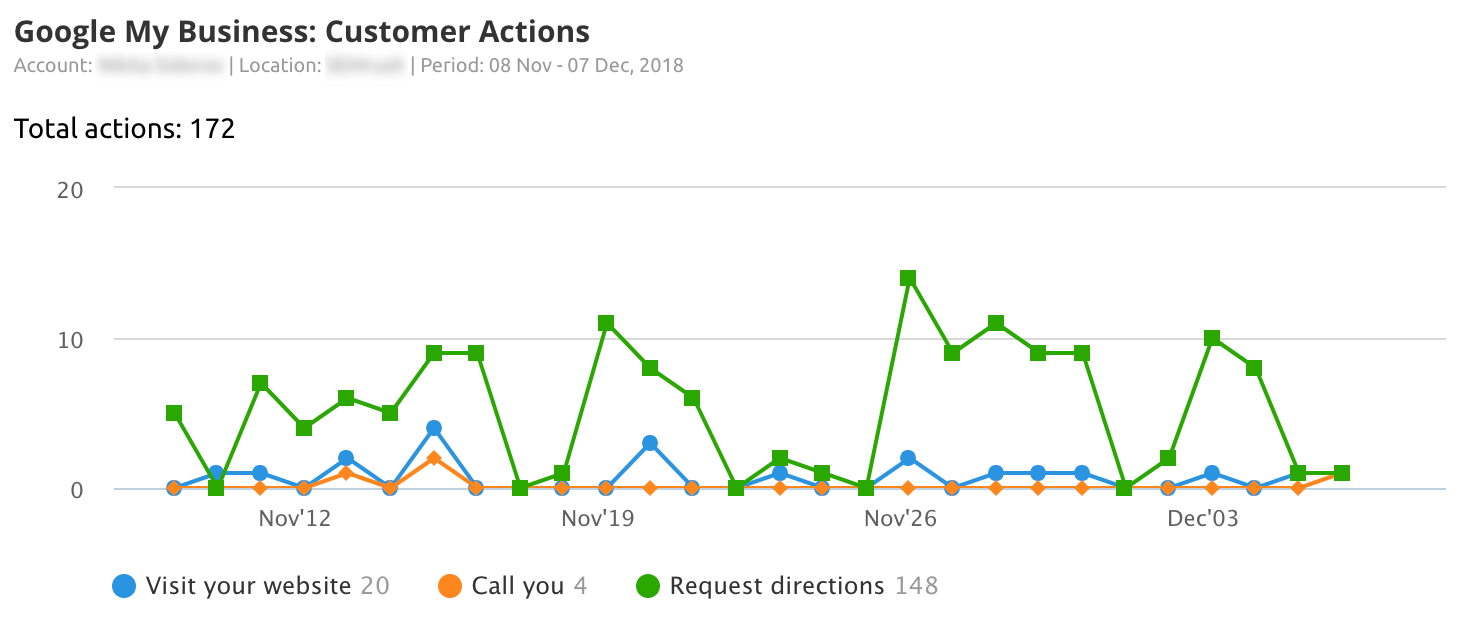 Conclusion
If you are running a local business today, you must have an online presence because your competitors are not invisible, and they are taking your customers.
Follow the steps we described to get started with local SEO, and share your success stories in the comments section.