Christmas is a prime time for all ecommerce companies. And you, just like any business owner, want to squeeze as much revenue from present-grabbling customer hordes as possible. But expecting huge sales and plenty of customers is not enough. You need to make your products visible in organic search results, and one of the best tactics to do that is to use Google's "Products" rich snippets.
In this article, I am going to examine the "Products" rich snippets and specific ways how you can install and implement it to beat stores that don't use it. Also, I will describe why using rich snippets is essential for your ecommerce SEO success.
Search Snippets & Rich Snippets. Any Difference?
Before I dig deeper into the details of "Products" rich snippets, let's talk about what rich snippets are and how they differ from search snippets — aka normal search results.
Basically, search snippets are the majority of results you see on Google (or any other search engine that relies on snippets). Like this:
Search snippet
The first two search results have headlines, URLs, and meta descriptions. But the last one features a publication date as well. This can be attributed to the use of the "Articles" snippet.
Meanwhile, rich snippet search results — with proper structured data markup — look like this: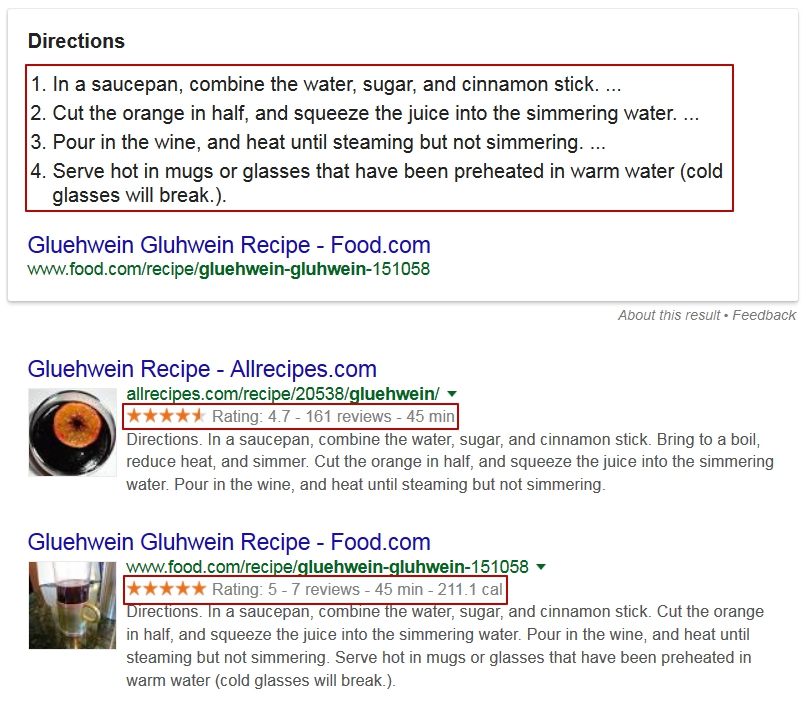 Rich snippet
These are search results for "How to make gluhwein." Additional information such as rating, reviews, cook time, calorie count, and recipe directions, are delivered to users right away, on the search results page. So, users are free to either access the site, to learn more or use the info right from the search page (which is quite convenient).
Search snippets and rich snippets look and act differently. Rich snippets are, basically, advanced pieces of microdata that allow both crawlers and users to comprehend more about a page's content. This is exactly why they are used: No matter how evolved Google is, it cannot understand everything that an ordinary human would. But rich snippets help bridge that gap.
Before we move on, let's have a look at how "normal" search snippets and rich snippets deliver product results for the search "samsung galaxy s7 best buy."
Search snippet:

Rich snippet:

Which of these two would you click on?
What Is a "Products" Snippet?
A "Products" snippet is a structured data type, used to display product rich results. Basically, it is a specific type of product page markup that feeds more product-related information to search crawlers.
Using this rich snippet, you can efficiently deliver the following information about your product to searchers:
Name
Image
Description
Brand
Review
Rating
Offer
Additional text
Also, when detailing offers, you can add properties like:
Price
Currency
Date
Availability
URL
Item
To learn more about "Products" properties, visit Google's "Data Types" guidelines here. (I won't go into more detail here because Google's documentation describes the properties quite to the point.)
How to Install "Products" Rich Snippet?
Remember the following markup guidelines before you implement "Products" snippet into your site:
"Products" snippet is used to mark up only specific product pages. It can be either a single product page or an aggregator page where multiple sellers offer a single product at different prices. You cannot use this microdata type to mark up multiple items.
"Review" property must feature only valid reviews from real people, teams, and companies like: John MacArthur, Gizmodo reviewers, Apple, etc.
You cannot mark up adult products with "Products" snippet.
Also, I'd like to point out, there are three methods of implementing "Products" snippet for your product pages:
(I include links to Google's Structured Data Testing Tool where you can have a closer look at examples.)
The first two, even though they use similar properties and structure, rely on different attributes inside the <div> tag. For instance:
Microdata
RDFa
Meanwhile, the third, JSON-LD format is completely different. First, it relies mostly on JavaScript (or other programming languages), not on properties or values within specific tags. Second, it is usually placed within a product page's <header>, not <product> like Microdata and RDFa.
What type of structured data markup to choose is up to you and, as a rule, depends on your e-commerce site's structure. It can also depend on who is going to install the "Products" snippet. An SEO professional will do better with Microdata and RDFa, while a developer will feel more comfortable using JSON-LD.
One more thing to remember: Don't tweak the code on specific product pages; implement the snippet directly into your product template in order to cover all items at once. If your store runs on Magento, Woocommerce or Nopcommerce — specific e-commerce platforms that support product templates — implementing "Products" snippet won't be an issue.
Why Having "Products" Snippet Is Important for E-commerce SEO?
Your reasons may vary, from having more engaging search results to boosting revenue, but the ultimate goal should always be to help searchers find the most relevant products, quickly and easily. Google is all about user experience, and rich snippets are perfect tools to improve UX.
Consider the example below:
Search snippet vs. Rich snippet
Obviously, most customers looking for "amazon sony xperia z5" will click the second search result. It features a rating and reviews (social proof), and helps customers immediately learn more about the product. Rich snippets allow customers to make well-informed decisions; and, thus, Google rewards the sites that utilize them.
"Products" rich snippets — if implemented on your product pages — will increase your SERPs. Not to mention, they make your product pages more informative, useful and engaging. This helps you not only communicate value, and also educate prospects about your products. Having price, rating, reviews, and availability upfront, you incentivize prospects to choose you over your competitors. Simple.
As a result, you get higher SERPs, receive more high-quality traffic, boost CTR and conversion rate and eventually improve your ROI.
Final Thoughts
To reap a nice harvest this Christmas, choose to optimize product pages of your e-commerce site using "Products" rich snippets. It will help your products gain more exposure in organic search. And more exposure means more traffic, conversions and sales. Isn't that what you need this holiday season?