"Just get to lunch," Mark Owen muttered to himself.
Mark Owen, a former member of the Special Mission Unit of the U.S Navy SEALs that killed the dreaded militant Osama Bin Laden, kept up with his brutal SEAL training exercises just by focusing on making it to the next meal.
Go on: "Just Get To Lunch, Just Get To Lunch"
 As Owen says in his book, "No Easy Day,""How do you eat an elephant?"The answer is simple: "One bite at a time. Only my bytes were separated by meals: Make it to breakfast, train hard until lunch, and focus until dinner. Repeat."
Now, you may ask, what has Owen's meal plan got to do with ruddy website redesigning strategy?
Everything. And, I really mean, EVERYTHING.
Let me explain.
Turns out traditional website redesigning is undertaken in one go. In other words, developers, designers, and copywriters apparently end up spending a considerable amount of their time – somewhere around three months or so -- overhauling the entire website, justto ensure their website is up to speed with the current industry trends; it could be the web designing trends, inbound marketing trends, or for that matter search engine trends.
You could think about it as eating the proverbial elephant in one go. Why because you would be practically wolfing down various website sections in huge chunks, but then there can be no other way to it, given that you are expected to complete the monumental redesigning task within the promised time frame and budget.But then, by the time your end product is ready for release, it may not be as per the expected standards.
Your images, content, pages and all could be well off the mark. Say, for instance, there could be too many unwanted images, content could be outdated, images may skip the alternative text, and so on. This could unarguably result in higher bounce rates and lower conversions.
What's more, even your in-house marketing department may face the heat and may have to put their work on hold, for they too might have their hands full - offering whatsoever help to the overworked design and development team.
So, how do you reckon you could rectify this traditional redesigning error?
Simple. Redesign your website once again! Sure, not a bad strategy at all. But then again, it's not as simple as it sounds because the next round of traditional redesigning might take another 2 years, to say the least. Yes, so much time goes by before the next redesigning date of your website gets scheduled, thanks to the kind of time and money involved.
In the meantime, content updates would be forbidden, or perhaps only small changes would be permitted. That's about it!Traditional web designing ensures that your website remains cobwebbed and cut-off from crucial updates that might help drive traffic to your site.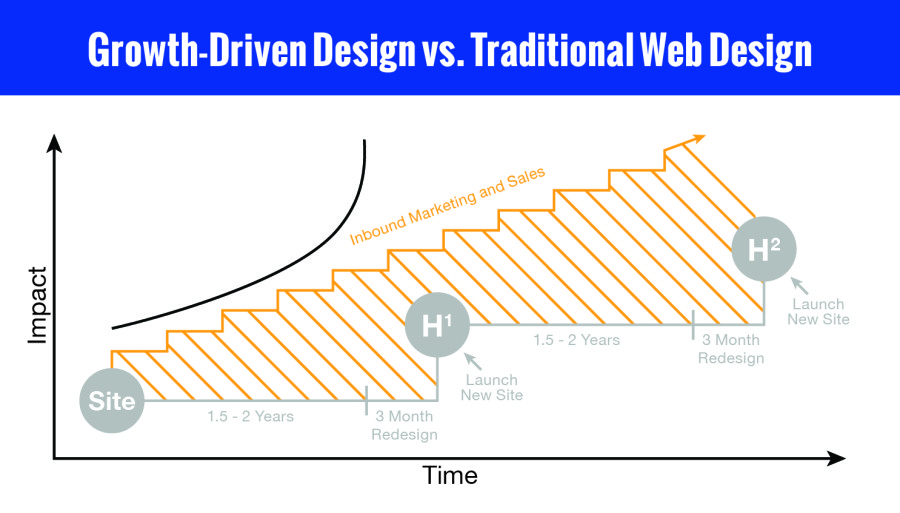 Growth-Driven Design is undertaken in phases while Traditional Website Design is done in one go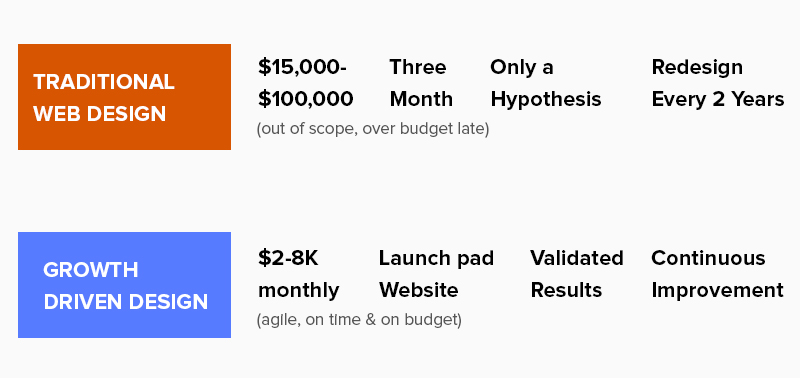 Unlike Traditional Website Design, there's no upfront cost involved in Growth-Driven Design
On the other hand, the growth-driven design is a game changer website redesigning strategy that is dynamic and data-driven, thanks to its redesigning-in-shorter-bursts strategy. The transformative design strategy strictly follows 'one bite at a time' principle, which helps websites keep in step with the times.First, the focus is on getting the wishlist ready. Apparently, the objective of coming up with a wish-list is to distinguish must-have pages from nice-to-have pages.
There's nothing much you could do about the must-have pages because they need to be added to your site at any cost. Whereas the nice-to-have pages could be added over the course of time. 
The must-have pages or essential pages likely consists of a home page, product pages, few category pages, shopping cart page and a few other selective pages. These pages should be readied promptly as they are going to be part of your launchpad site.
Now, how does setting up of a wishlist help?
It's because the wishlist provides a roadmap to building a sample site, that is, the Launch Pad site, very quickly. Once the sample site is launched, you could gather valuable feedback from the targeted audience – in terms of pages that are doing good over pages that could be done away with completely. More important than that, it gives you a clearer picture about the buyer persona, whether it's accurate or not; and whether the targeted buyers could help you attract the desired revenue or not.
The biggest plus of growth-driven design is that your website remains in a dynamic mode, always.Unlike traditional designing, the designers, developers, and copywriters are invited to make the required changes in phases.
So, how does the prospect of redesigning your website ONE BITE AT A TIME sound to you? Too good, isn't it? Then try growth-driven design right away. However, before your embark on your redesigning journey, wade through these phases and stages to get a headstart.
Growth-Driven Design can be clearly divided into two phases:
#1 Growth-Driven Design Phase 1
Strategy/Wishlist/Launch Pad Website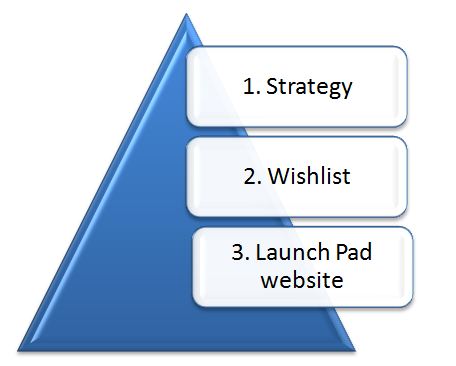 Growth-Driven Design Phase 1
Chart out a website strategy that's in sync with your business goals and objectives.But before that, ensure your goals are measurable and relevant, and more importantly, mirrors your website's objectives. Moreover, you need to have a clear understanding of your buyer's persona.
To put it in perspective, you need to know who your buyers are, and what do they commonly search on your website.
Such strategizing would help you erect a website based on concrete bricks – that is recognized buyers and their requirements - and not on assumed theories or guesswork.
This brings us to the second stage of Phase 1 - the wishlist.As mentioned, this should ideally catalog all the must-haves to nice-to-haves features and functions of your website.The must-haves list should include the high impact website sections, from home page, services page, shopping cart page, to contact form page.
It could also include marketing tools and resources, while your nice-to-have list should give you a fair idea about the items that need to be added in Phase -2.Nevertheless, don't forget, your wishlist should be flexible enough, and open to constant additions and deletions. 
That brings us to the last stage of phase 1, the Launchpad Website.The Launchpad Website should consist of all the important pages of your website. Nearly 20% of the website is readied during this phase.
#2 Growth-Driven Design – Phase 2
Plan/Development/Learn/Transfer/Repeat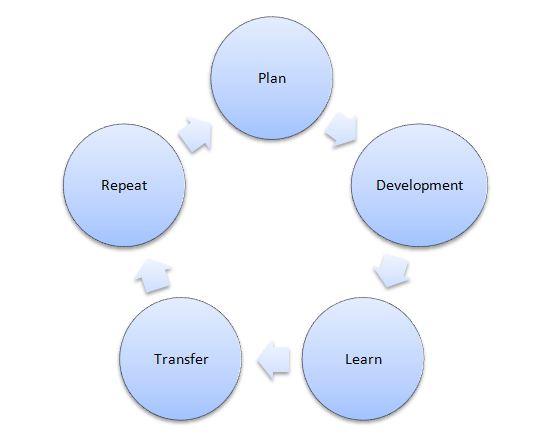 Growth-Driven Design Phase 2
Plan the phase 2 stage based on your nice-to-have list. Nevertheless, keep updating your wishlist, because it would not only give you a hang of the latest website best practices but also on evolving buyer personas.
During this stage keep an eye on elements that help boost conversions. And, UX improvements that enable the user to find solutions easily.
Apart from all these, you should also start focussing on personalization plans. The landing pages, messages for your targeted audience, call to action liners and all should be personalized as well.
Further, include new marketing assets such as tutorials, tools, and resource sections, among other things.You could also talk to your sales and marketing people to gain deeper insights on how to make your website more visitor-friendly.
At the development stage, you could start working on the most impactful pages of the site or the sections you have identified during the planning phase. Also, this is the best stage to measure your actions and its effect on your site's performance so far.For this, you could simply launch some social media campaigns to drive traffic to those pages that need to be tested.
The third is the learning stage.For this, you need to review all the data gathered so far. Start reviewing the data on a daily basis first, and then gradually switch over to monthly basis. This will help you gauge whether all the changes and implementations made has an impact on your site or not? What conclusions you could draw from all those customer visits. More importantly, what more could be added or deleted from the wishlist?
At the final and last stage, that is the transfer stage, transfer all the crucial info to other teams of the organization, specifically your sales and marketing teams. Why? It's because, it's important to integrate new learnings into your website, so as to make it more efficient and visitor-friendly.
With the transfer, we come to the end of the cycle. But then, in the real sense, the cycle never ends. It's a continuous process. The cyclic nature of this strategy is what makes growth-driven designing so endearing to eCommerce site owners.
Learning more and more about the users in every cycle and then making changes over and over again into the website, helps you outdo your competitor hands down.In fact, it's said, the more cycles your website undergoes, the better your site's performance would be.
Growth-Driven Design Takeaways
Compared to traditional designing, growth driven designing focuses on lead generation and conversion. It saves times, saves money and helps increase sales.More importantly, your website would never be rendered irrelevant as it's always changing. It's the ultimate redesigning strategy that website owners should implement without much ado.
What are your thoughts on an agile growth-driven design? Please leave your comments below.