Quality traffic is the lifeblood of your online venture. Most businesses wish they had more traffic coming to their websites. But that is not how it works. "Wishes are cheap"; doing the work is what gets you the results," says Joan Richbell.
Google Analytics provides an enormous amount of data that you can leverage on to boost your organic traffic and ranking. Bear in mind, though, that you can't achieve overnight results no matter how powerful the insights are; it is going to take a while. 
But your results will be sustainable!
With the enormous data that Google Analytics provides, knowing how to navigate its complex platform and getting past the basic vanity metric reports is critical to your success. 
In this guide, we go into detail to explain each Google Analytics insight and how you can implement it right away on your website to skyrocket your search visibility.
Let's get right to it.
1. Get Top Google Analytics Reports Emailed To You 
Email reporting is the easiest way to spend less time digging through data. The question is, do you know how to set up a Google Analytics email report?
Here is a version of an email alert I received in October 2017 from Google Analytics: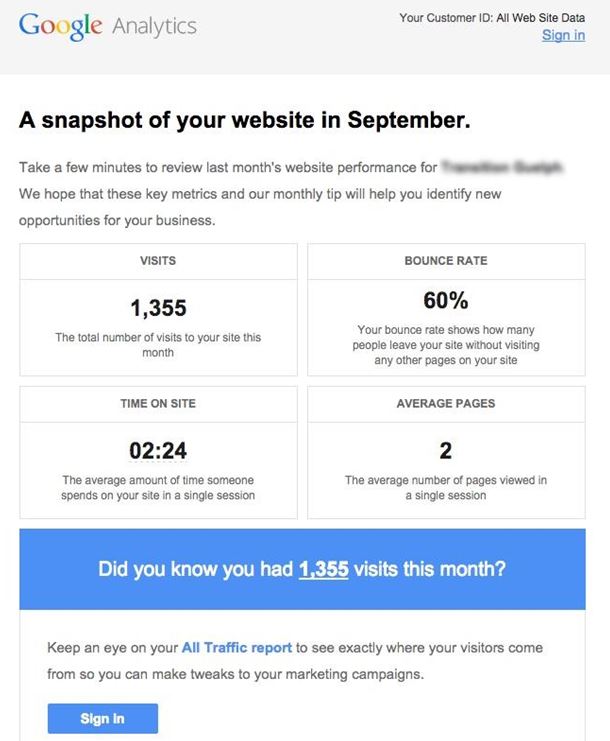 If you learn this simple trick, it will save you a ton of time. More importantly, you will be miles ahead of your competitors that spend too much time diffing through Analytics for insights. You can spend time working instead.
One of the challenges that businesses face with Google Analytics is the ability to extract useful data. My first experience with Google Analytics wasn't pleasant at all. In a typical day, I would log into my account and just sit around for hours, not knowing what to do, how to get the data, and how to interpret even the data on the dashboard.
The truth is that your ability to interpret helpful data is the only way to implement the insights on your website and increase conversions.
Given that there is too much information already, you need to be able to get some snippets of your top reports (reports that matter to you) in your email. Yes, it can be done when you set it up the right way. With email reports in place, you don't have to continually browse Analytics for hours in a bid to find information that will help you create custom reports and increase organic visibility.
Here is exactly how to set up Google Analytics email reports. Log into your account and head to the Admin section:

Next, select "All Website Data" under the "View" section, and you will find the "Custom Alerts" tab: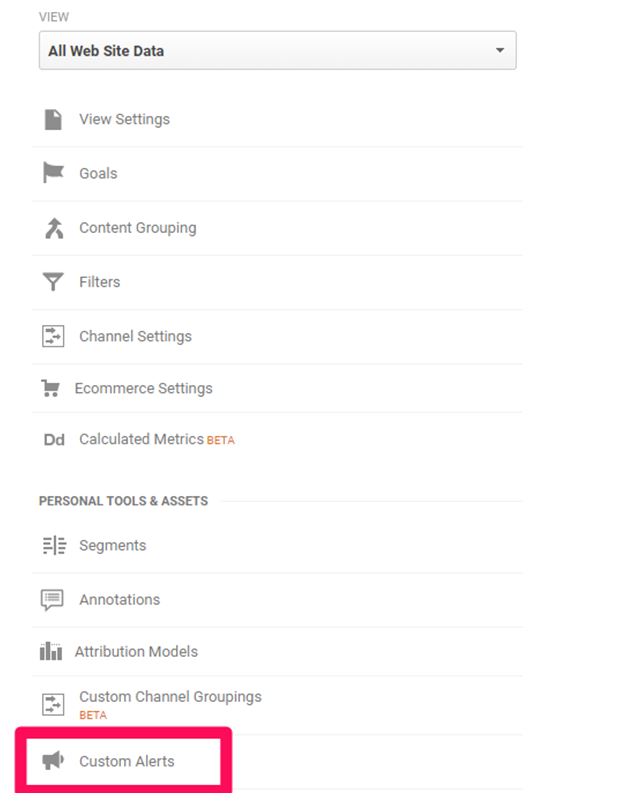 You can easily set up custom alerts to receive email updates and text message notifications whenever an event (or any issue that is relevant to your website) happens.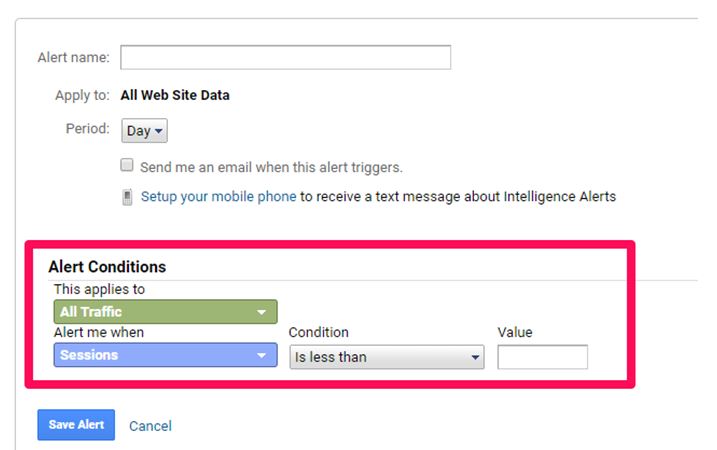 When you use the Alert Conditions, it is easy for you to customize specific scenarios that you want to receive email alerts for. For example, if your website experiences a spike or decline in traffic, or a specific goal is completed over the last few days.
Whatever notifications you want, you can set it up, and Google Analytics will email it to you. 
I would suggest you leave no stone unturned. Make sure you create dozens of alerts for essential information that you monitor on a daily or weekly basis, such as unique visits, page views, bounce rate, demographics, etc.
When you create dozens of alerts, you will no longer be subjected to checking different reports. This saves you time and helps you get more tasks accomplished. 
2. Optimize and Improve Paths Through Your Website
Often, your homepage is the focal point of your website, and it connects to your internal pages. Therefore, you have to deliberately consider the layout and the experience it provides for users.
When we redesigned our website, we made sure the layout was clearly mapped out. This was important because it is going to determine how the entire website will look and function.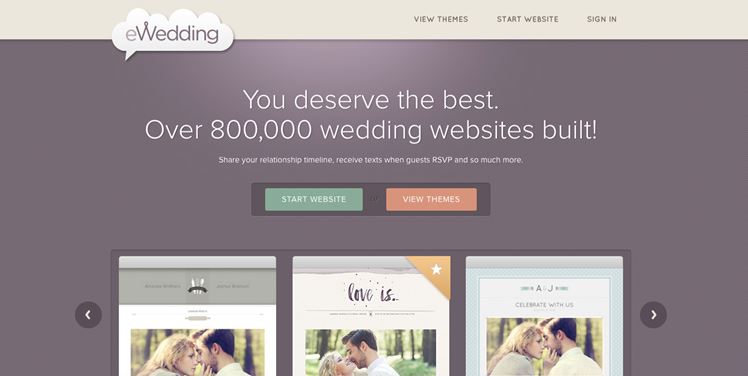 From your homepage, users can navigate to other pages on your website. Well, that is what we would expect. 
But Google Analytics tells us something entirely different. When you view your most popular pages or landing pages, one thing you will notice is that, in most cases, there are pages other than the homepage that gets the most traffic.
This is true regardless of the size of your website. If you have a blog attached to your website and you update it frequently, then you could about ~ 30% of incoming traffic coming from the homepage and the rest from your internal blog pages targeting long-tail keywords that are generating traffic from informational and conversational search queries.
If that is the case, you will agree with me that the navigation path that visitors follow while on your website is entirely different from what you had in mind, or planned. 
Here Is a Behavior Flow Report: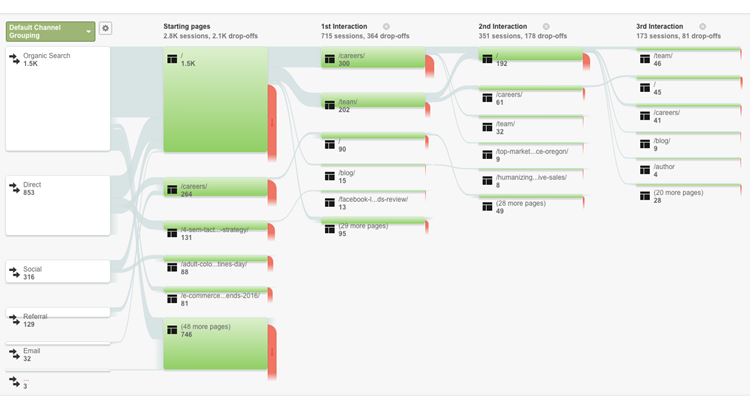 From the Navigation Summary in your Google Analytics dashboard, you can see where they came from, and which page they visited next.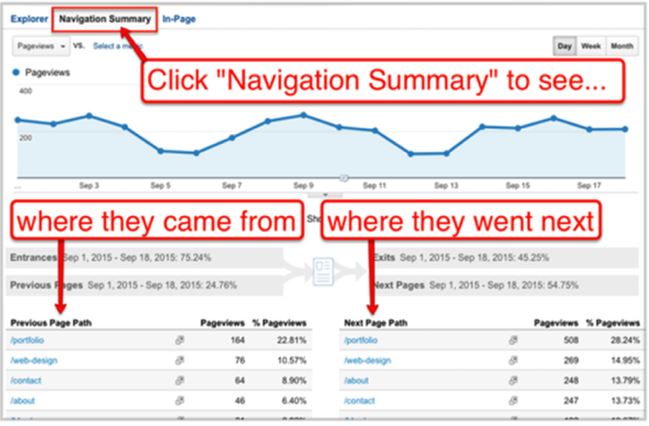 Here is the path to find the above data:
Behavior > Behavior Flow
Segment your overall traffic based on the Source/Medium it is coming from. Basically, organic source (from Google) is the most viable way to find organic search visitors coming to your website through content, keywords, and other organic mediums.
After filtering your traffic, the first section you will see is the Landing pages (usually blog posts) that led people from Google to your website.
The landing page with the forward slash "/" is the homepage, and as you can see from the screenshot below, this one received 852 views, while the rest of the pages (especially the top 3) generated thousands of views.
How People Are Moving Around Your Site
Last but not least, you want to see the pages that visitors are going to after interacting with the first page of your website. For the majority of websites out there, visitors tend to move on to other pages rather than the homepage.
The good news is that now you have these intuitive paths' on your website. What you should probably do is to help visitors navigate these paths better, by placing clear and catchy calls to action. 
Since you know the paths that visitors follow all the time, you can easily position your new posts on this path, including a high-converting opt-in form on these pages. 
If you ignore these pages, you will be leaving potential massive sales, organic traffic, and leads on the table.
According to Econsultancy, "Companies that take on a structured approach towards conversion optimization are 2X as likely to see a large increase in sales."
3. Leverage 'Low-Hanging Fruit' Pages to Boost Search Performance
Do you know the search terms that are currently sending you traffic? You can dig into this in the "queries report" of your Google Analytics account. 
You can follow this path to find it:
Acquisition > Search Console
If your email alerts are set up correctly, you can get the top queries in your inbox. However, to get all the low-hanging fruit queries, you have to do it manually (I don't know if there is a tool for this). 
For privacy reasons, Google stopped passing referral data to website owners. If you are a Google AdWords' advertiser, you could see this data in your dashboard. 
Unfortunately, we all can't pay Google; I only run ads for clients, while I rely on organic traffic for my website. If you have been creating content for a little over six months, you might only be ranking on the second page of Google for several key search terms. 
And because you are on these "hidden" pages you are rarely seen; research found that 75% of Google users don't bother to click beyond the first page of results. Your goal is to find these pages and improve them so they can rank on the first page where 96% of all Google traffic prefers to get answers from.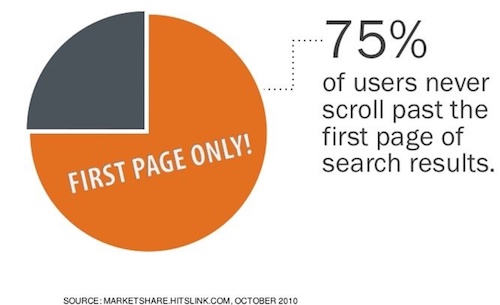 You can follow these simple steps to optimize your pages that are not performing well and improve them. 
Step #1: Having located your Search Queries and their average positions, it is time to optimize them for better rankings and search traffic.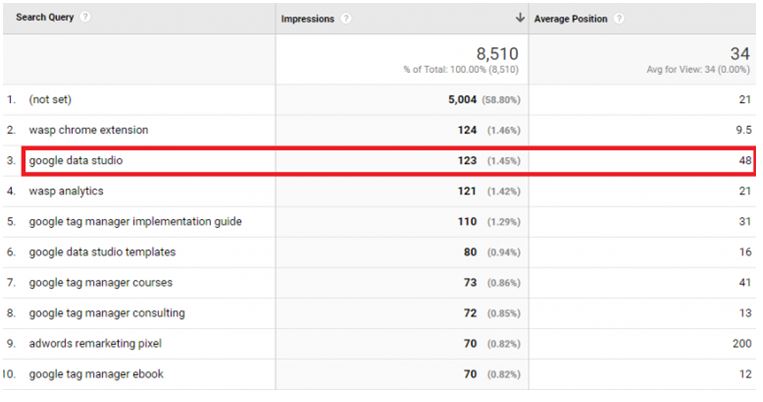 Make sure you use the Advanced Filter to find the keywords you whose performance you hope to improve.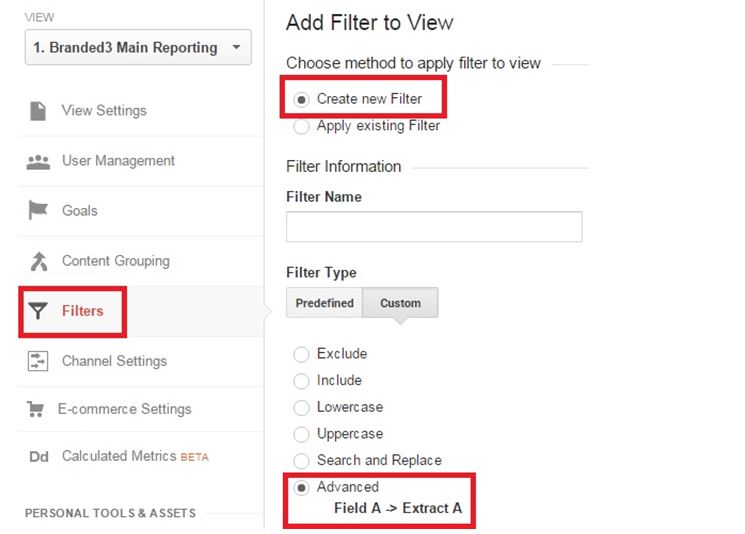 If you know what you are looking for, you can use the default settings, where Google does a data dump into Analytics for your convenience, helping you find tons of data that you can further dive deeper into. 
By using the Advanced filters, as well as the secondary dimensions, you can narrow down the results you get and make it more actionable (after all, that is exactly what you care about).
Step #2: Sort your search query data to show results with an average position above 10.
Note: Since there are 10 results on the first page of SERP, it means the 11th position is the first search engine result on the second page — a good page to find search queries that you can push to the first page.
Step #3: Gather all the results currently sitting on the second page. Here, you can take note of these "low-hanging fruits" (usually, with long-tail keywords opportunities) that you can create compelling and richer content for quick SEO wins.
Here are some of the proven ways to improve these pages:
i). Decrease the page load time: Google takes website speed very seriously. And users won't waste time waiting for your website to load. According to Aberdeen, a 1 second delay in page load time results in 11% fewer page views and 7% loss in website conversions.
ii). Add more words and value to the page: If your underperforming pages have less than 2,000 words, adding more words that provide value (not just for the sake of word counts) can increase your search ranking and traffic, according to research involving 20,000 keywords by serpIQ.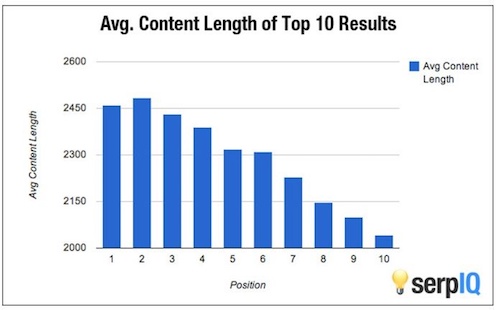 iii). Make the page mobile responsive: If you think that your website visitors are all coming from desktop computers, you are wrong. Google Analytics can show you how much traffic you're getting from mobile channels. 
Therefore, making your page mobile-friendly and responsible is vital, as it can increase your ranking and traffic.
Google took this decision because mobile users expect a website and its pages to be optimized for their devices. About 48% of consumers say they won't return to a website if it doesn't load properly on their mobile devices.
When it comes to making your website mobile-friendly and responsive, if you are a WordPress user, it's quite easy. Buy and install a modern WordPress theme from a trusted vendor.
If you are not a WordPress user, you can still make your pages mobile responsive. 
iv). Include more data, visuals, videos, interactive elements: Source data from Google, trusted sites, research platforms, educational bodies, and industry experts — include as many data that will make people trust your content more. 
To increase the real and perceived value of your content, include interactive elements (e.g., calculators, traffic estimate tool, conversion tool), and don't forget to create custom visuals (e.g., infographics, graphs, charts, illustrations) for your post. 
These are all essential elements that will get visitors glued to your page.
v). Format the content properly: No matter how well-researched and useful your content is, it'll not make a difference in the lives of people, until you format it properly. 
Formatting is as important as other factors because if you're not able to convince people to read your content, the objective will not be achieved.
Start from the headline, make it irresistible. 
Write short and punchy sentences. 
Make each paragraph 2 - 4 lines maximum. A single line paragraph could even work.
Use bullets and subheadlines to break up large chunks of information.
Make the content actionable (if possible, make it a step-by-step guide).
Pro Tip: Make it a culture to always find potential pages that are underperforming in the search engine results pages. Update these pages to include relevant and current information. 
As a rule of thumb, endeavor to revise these pages first before creating new content from scratch. You'll get better results.
4. Mend the Leaky Gaps in Your Top Search Pages
Here is my solution to this challenge.
In 2016 when I conducted a website audit, I noticed that a page that was sending the most traffic to my website was actually the leaky page.
In other words, though the page was attracting lots of unique views, I didn't see conversions, in terms of email subscriptions, phone calls, email contact, product sales, revenue increase, and overall brand awareness.
In that light, I want to bring to your notice that your top search pages may be leaky, thereby leaving a lot of opportunities for search traffic, leads, and sales on the table.
Optimize your page to fulfill a specific goal…What do you want to accomplish with your #1 ranking page? 
Trying to achieve more than a goal with a top ranking page may not work well. You can't expect a given blog post to get you subscribers, build your brand, and encourage people to buy your product. It doesn't work that way.
Be specific about your objective, then align your content in that direction.
More so, if this objective isn't clear to the visitor, it will be evidenced because they will bounce off immediately.
Essentially, you should dig your Google Analytics account to find:
Pages that rank on the first page of Google.
Pages that rank for several keywords and generates tons of traffic… but
These pages aren't converting the traffic into leads and sales.
Step #1: Head to your account and click on Behavior: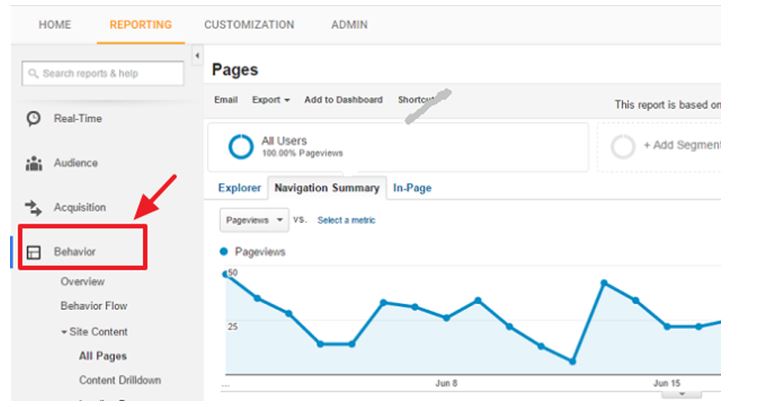 Step #2: From the "Site Content" tab, Click the drop-down arrow to find the "All Pages" tab.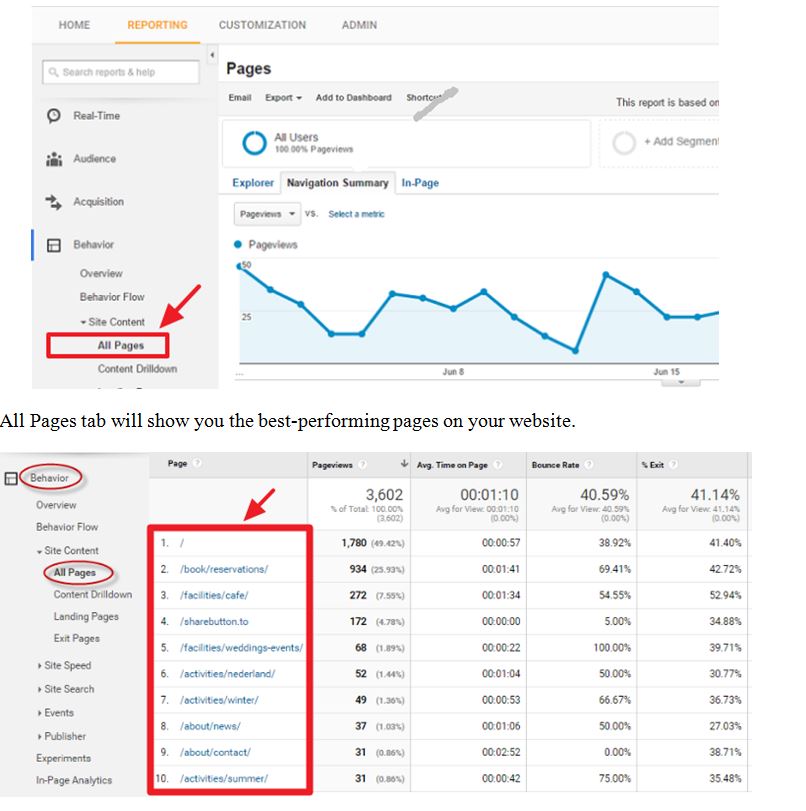 The marketing analytics tool will likely show you the popular pages, but if that is not the case, click on the Unique Pageviews tab to show the most popular pages first.
Next, cross-reference these high-traffic search pages, identify the ones with high bounce rate. 
When you find these top search pages that are not converting well, you might want to start with one then scale from there.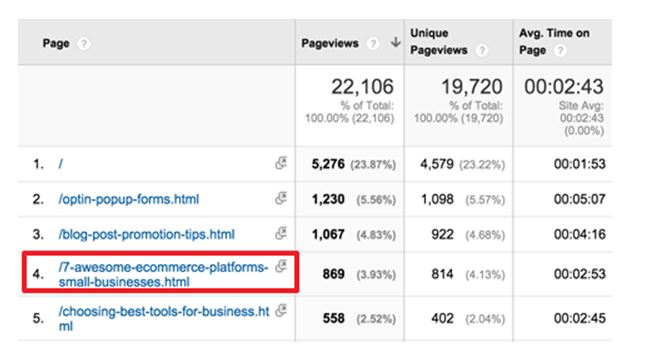 You want to know why so many people are bouncing. On several occasions, bloggers found that a disconnect or mismatch in the information that people were expecting, and the information you have on the page can cause a leap in bounce rate.
To stop these pages from leaking leads and sales out of your website, you want to optimize the page. 
Follow the same tips when improving your website conversions. Also, you can use qualitative tools like Crazy Egg, Live chat, Qualaroo, and several other tools to generate heatmap results, conduct tests, get quick feedback from people on what they expect to see on your page, and see the conversion path visitors take.
Put succinctly; most webmasters think they have "traffic" problems, and they are not totally wrong. 
However, if you can improve conversions on your website based on the "tiny" traffic you receive, whether it is 100 visits or 1000 visitors per day, it'll have a positive impact on your leads and sales.
It's time to fix your leaky web page. If you're an e-commerce brand, fixing this issue can reduce the rate of shopping cart abandonment and result in thousands of extra sales per month.
Dodocase, an e-commerce brand discovered certain areas of their website that were driving customers away. And they took steps to stop it. The results were overwhelming.
First, when a customer adds a product to the cart, you see a user-friendly interface.
Now, this is where the magic happens. Before the customer checks out, they see a non-intrusive pop-up that upsells other relevant products they will be interested in.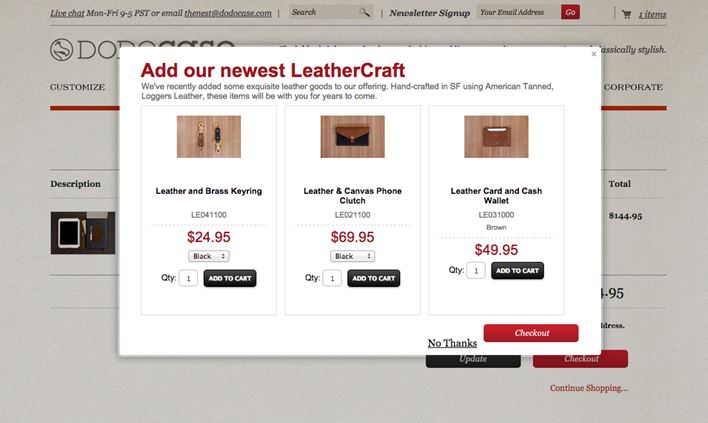 Obviously, by adding more items to the cart, the total cost may not go well with the customer. In this case, the customer had to pay $220.24 which wasn't their intention.
"Maybe I should buy it later because right now I don't have that much cash," the buyer echoed.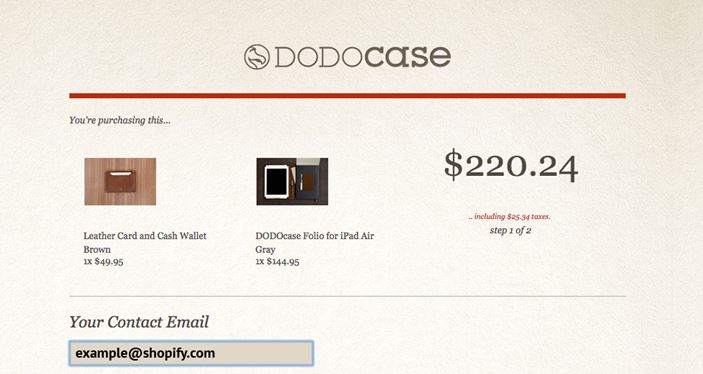 Unexpectedly, just when the customer is about to close the tab, Dodocase offers a $10 discount for joining their email list. "Cool, I should grab this right away," "or later," he echoed again.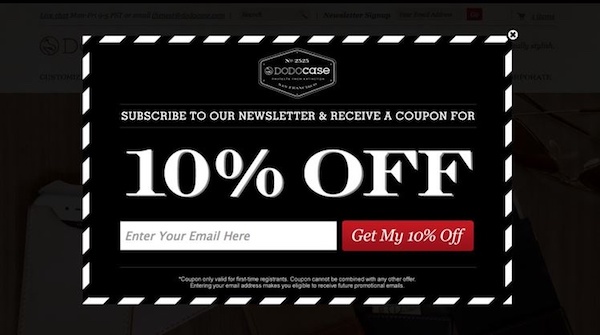 Having grabbed your email address, in 24 hours, Dodocase will send you an email similar to this: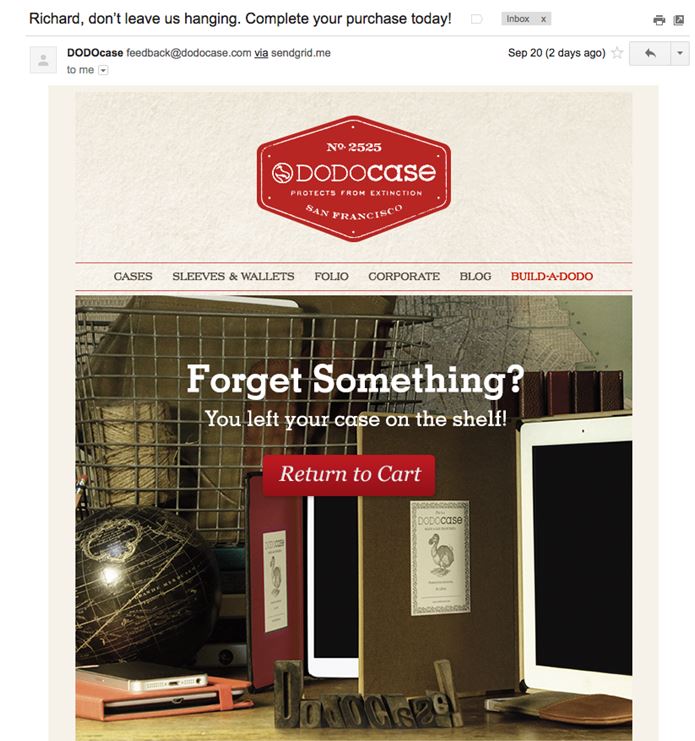 I'm enjoying this case study. Let's see more of what Dodocase has in store for this potential customer who is yet to complete his order.
The next day, while the guy or girl is browsing some information about the new iPhone, to their surprise, they see a retargeting ad from DODOcase offering 20% off. 
This case is starting to look irresistible.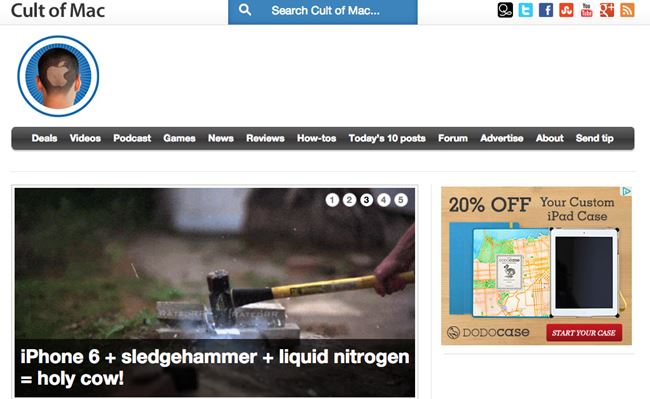 Did you follow me in this case study? From every aspect, Dodocase knows exactly what they are doing. Even though they lost the customer on the checkout page, they didn't relent.
In the same vein, those your top search pages, ensure you continually optimize it for both search users and customers alike. You may not have a budget for retargeting, but building an email list is damn cheap. 
5. Improve Internal Linking with Popular Content
Once you have identified the Landing pages (where people entered your website from search) and the exit pages (where they left off after interacting with your page), it is time to improve internal linking and your overall on-page website optimization.
This is vital because when you implement the right on-page optimization tactics, it can increase your search traffic and rankings. This will also prevent your pages from leaking, which causes people to leave too early because they can't find what they are looking for easily (assuming you even have the right content).
Peradventure your homepage is receiving the most traffic, then it makes sense to link to your internal pages. That way, when you get a trusted link to the homepage, some of the link juice or value of that link is transferred to the internal pages.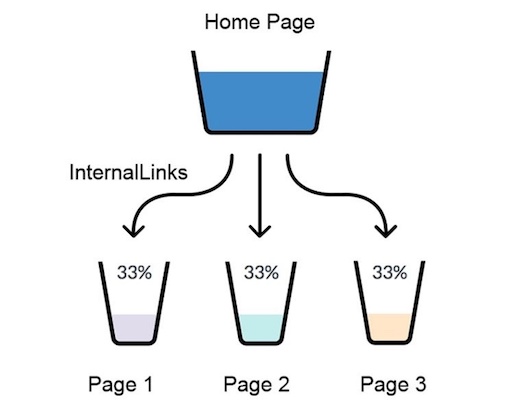 There is a report in Google Analytics that will show you the internal pages you can pass more link juice to through deep linking. 
From the Conversions section, click on the Reverse Goal Path: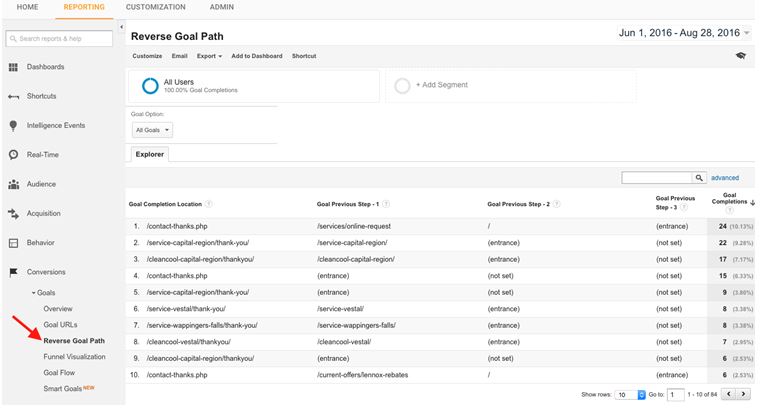 Next, select the primary Goal you would like to view and analyze. And you will see the previous pages the website visitors interacted with before accomplishing this Goal on your page. That is the page they spent more time interacting with before conversion.
From the insights gleaned from Analytics, we understand that these pages are converting most visitors on your website. It is now your job to funnel these pages and others that you have discovered during this process.
Make no mistakes about it - internal linking increases the backlink earning potential of your best pages. 
As a rule of thumb, every time you publish new content, link to your top-ranking pages so visitors can discover them easily. Search engine crawlers also follow links on the page. More importantly, Moz did a study and found that links from fresh pages and fresh websites pass fresh juice that Google likes.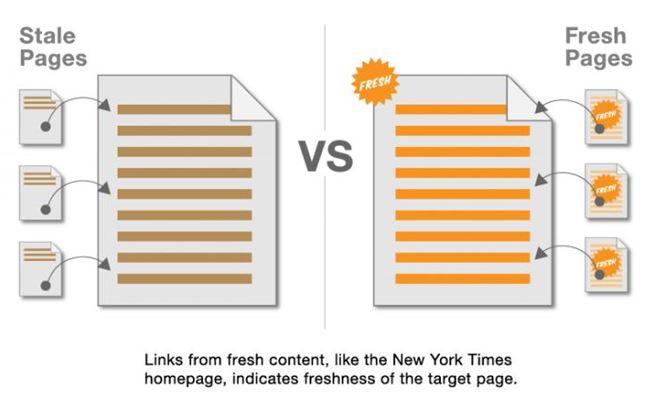 Help your internal pages especially those that offer real value to users thrive again. You should ping the old page with a new link from your new post. This will increase its likelihood of ranking higher in the organic search results.
More so, it will send a signal to the search engines that your older content is still relevant and useful — because readers will follow your internal links and continually refresh it.
6. Increase Your Website Conversion Rate with Bounce Rate Data
The bounce rate is an important metric because it stems from user's engagement with your page and helps you make informed decisions.
Funny enough, bounce rate is commonly misunderstood and misinterpreted by many webmasters, bloggers, and SEO professionals.
Bounce rate is basically the percentage of single-page visits or web sessions. In order words, bounce rate represents the percentage of website visitors who landed on a particular page and navigated away after viewing one page (e.g., the "services" page).
You may not know the quality of your website or web pages and the value they provide. The bounce rate is that metric that reveals how helpful your content truly is.
The lower the bounce rate, in most cases, the better. Which means that a bounce rate of 34% is far better than 87%. Because the lower percentage is an indication that your content is useful, users were satisfied, and they stayed around.
At the end of the day, the goal is to monitor bounce rate and aim to reduce it. For each of your landing pages, you want to lower the bounce rate — so that visitors can have a nice time, then feel excited about your other pages because they want to learn more.
You can follow this path to see bounce rate of your individual landing pages:
Behavior > Site Content > Landing Pages: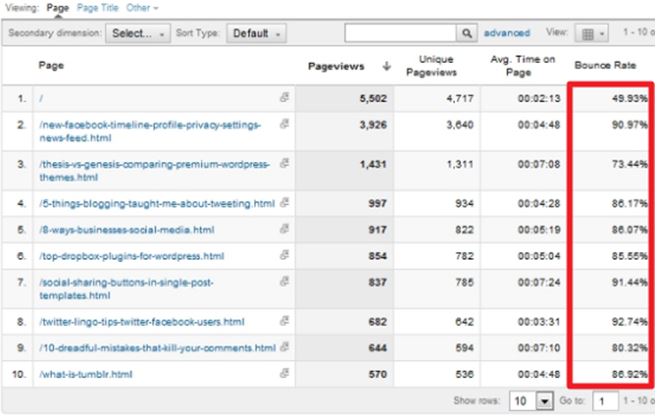 Every little improvement in the bounce rate will likely yield a higher conversion. For example, Sonician, a CRM and Marketing Automation company noticed their bounce rate had increased by 42% over a 3-month period. 
They took the right steps to fix it. They changed text formatting, improved in-linking, and added a video to the homepage. As a result, the company recorded a 15% increase in form submission by 15%.

If you notice a very high bounce rate on a few of your top performing pages in Google Analytics with respect to the other pages, ask yourself what could be the reason. Audit the affected pages, then work your way around optimizing these pages to boost conversions.
7. Utilize On-site Search Queries
A lot of things happen to a new visitor that lands on your website. Worse, most websites are too complicated to use. The important information/content is hidden, and the pages break on mobile devices. 
This scenario pisses website visitors off. On the one hand, if users have to use your search bar before they can find what they're looking for, then you're on point. But most users ignore the search bar.

On the other hand, if they use the search bar, how do you know the search terms they are searching for?
From Google Analytics, it's quite easy to uncover these terms. All, from the On-site search terms report.
By analyzing this report, you get to see the exact keywords people entered into your search bar, right on your website. What a great way to know what people expect to see on your web page?
Here's how to locate this important report:
Behavior > Site Search > Search Terms: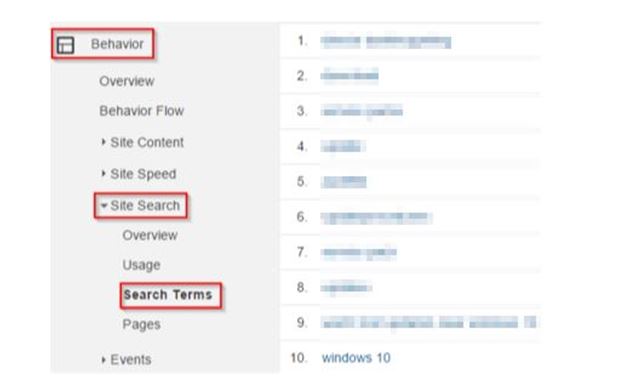 Once you are armed with these on-site search terms, you can improve your conversions in various ways. You can recommend products and services related to the keywords. 
You can even use the insights in your email campaigns. Better yet, research extensively on the keyword and create specific high-value landing pages to cater to this segment of website visitors.
8. Utilize Keyboard Shortcuts to Get More Task Done
You will get the most power and results from Google Analytics if you can automate some of the tasks. This is so important because you want to avoid what I experienced when I started; I wasted a lot of time trying to find useful data.
Running new reports on Google Analytics platform is tedious and time-consuming. You need a way to make it easier, faster, and fulfilling.
Hence, you should learn and master some of the core keyboard shortcuts that works very well on the platform. For example, when you're on your account (the dashboard), hit the "?" key on your keyboard and you will be able to pull the shortcut list:
Just as you have mastered the keyboard shortcuts on Microsoft Office or your favorite Word Editing software on Apple computer, it will take some time before you can memorize these shortcuts.
Stick to it. Because once you can recall and use them, you will save a ton of time and get better results when creating new and editing existing reports.
9. Follow the Lead Generation Path Before They Convert
Most marketers obsess over lead generation. They forget that nurturing the existing leads is the best way to grow a business. You probably have a sales rep or department responsible for nurturing your leads, but when do you delegate the responsibility to them?
Well, that should be after you have qualified the leads by understanding the path they took to your website. According to HubSpot statistics, " only 25 percent of leads are legitimate and should be advanced to a sales rep."
Where are your leads in the buying cycle? What is the benchmark for determining the ideal threshold for getting the sales involved in lead nurturing? 

Potential customers don't just buy your product because it sounded like a good one; they have to go through three basic stages to trust, believe, and like you. This is how online marketing works.
The 3-step process involves:
Awareness
Consideration
Decision
In each stage, your website user is getting to understand their pain points (because sometimes they don't even know them), evaluating available solutions, and making informed decisions to get solutions. 
You can make the sales process simple for the prospect by identifying and analyzing the right data in Google Analytics.
Here is how:
Head to the Behavior section and access the Behavior Flow report to understand the various touch points that people go through before buying — and which pages they navigate to next on your website.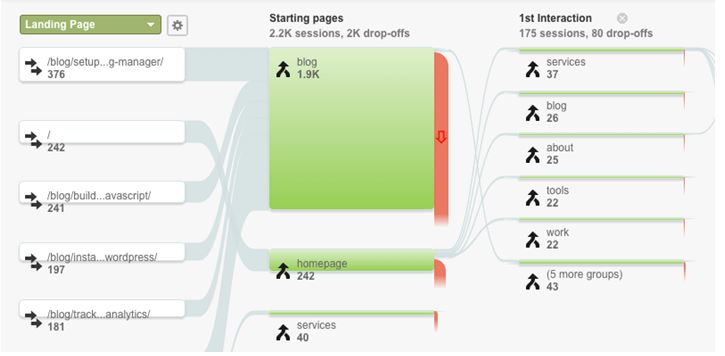 To get unbiased results, focus on new users on your website that have no prior experience with your brand. Hence, sort it by new users or new visits. Then you will be able to see how new users interact with your pages - where they started from, how they left, etc.
Knowing the common sequences of page history and how new users engage, navigate, and use your web pages will help you create a better on-site user experience.
10. Analyze Page Engagement Between Mobile and Desktop
Since  mobile usage has surpassed desktop traffic, according to comScore, you don't have to neglect desktop users. Because not everyone likes to use mobile devices. And certain tasks are easier accomplished on a larger desktop screen than a smaller screen.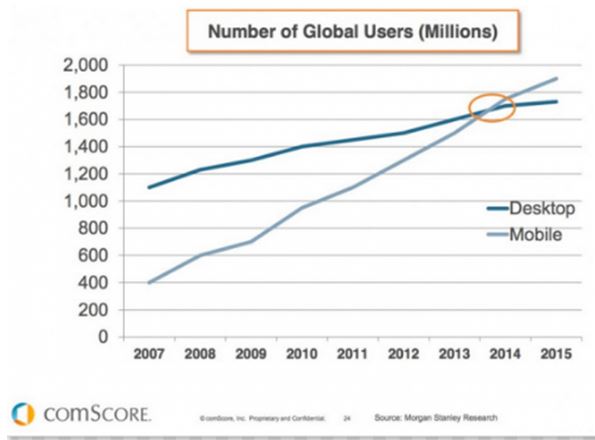 As a business owner, digital marketer, or website owner, don't spend all your time and resources optimizing website conversions for mobile users only, do it for desktop users as well.
Obviously, mobile may be generating the most traffic for your website which is good. Here is how to find and analyze results between mobile and desktop channels.
Under audience, navigate to the Mobile Overview report: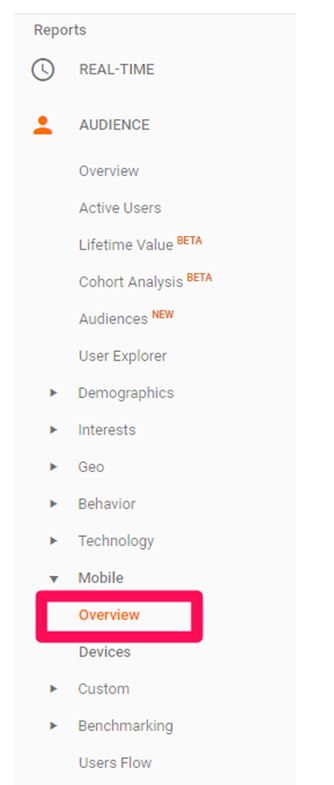 The moment you get into the report, segment your tabulated data by selecting your primary or main conversion/sales goal.
In terms of revenue, you can see that mobile and tablet generated more conversions when compared to desktop. But the sales from desktop sources shouldn't be ignored. Because it is significant!
Pro Tip: If your mobile segment isn't generating enough traffic or sales, there is a tendency to assume that users are not finding it easy to navigate your mobile site. 
Make sure you analyze the differences in traffic, behavior, and conversions (sales).

Conclusion
Google Analytics is your surest bet for discovering priceless data that can boost your organic rankings in Google.
However, search engine optimization isn't a set-it-and-forget digital marketing strategy. 
You have to approach it with a holistic and data-driven approach while leveraging compelling content on your website to gain traction, attract qualified leads to your website, boost your rankings, and grow your sales. 
When you understand what motivates people to use your website, it becomes easier to speak their language and engage them with well thought-out content.