These are interesting times for SEOs and those puzzled by Google's ranking factors. We have had a new algorithm update confirmed by Google – no name so far, so maybe you can come up with some ideas in the comments! But, this update isn't purely a technical issue, it is very political this time.
What do ranking factors have to do with politics? The EU is developing a proposal that could potentially force the search giant to reveal some of the secrets behind its ranking algo. But let's leave the uncertainties behind (until April, to be precise) and move on to the things we know for sure – SERPs that show only one Instant Answer, Google's support of "girl power," and the new productivity reports and metrics in AdWords.
So, as always, before you read the entire digest, watch this week's Search Marketing Scoop podcast on Facebook Live. I discussed all the latest news with the fabulous Anu Adegbola from MindSwan and SALT.agency's Dan Taylor. 
[podcast-subscribe]
And, as usual, keep reading to get the full information on Google news.
GOOGLE SEARCH NEWS
Google Confirms Its Algorithm Update
Last week Google launched a major new algorithm change. Usually, small algo tweaks happen on a daily basis and Google normally never confirms them. But, this latest update deserved a Twitter post from Google. Basically, the search giant claims that these kinds of updates are rolled out several times each year. Yet, Google didn't clarify what exactly has changed this time. As a result of this update, site owners may see changes in their rankings, which, Google says, is very normal. Also, since Google positions these changes as inevitable, there is nothing so far that site owners can do to "fix" their rankings in relation to the new update.
Source:  Google Confirms Algorithm Update Occurred Last Week
Google Tested SERP with Instant Answer Only
A week ago Google started testing a new SERP with a condensed view on which all you see is an Instant Answer – the organic listings are hidden. The condensed SERP was only popping up for queries related to local time, calculations, or exchange rate conversions. For instance, here is an "empty" SERP that was shown for the query "time in Los Angeles":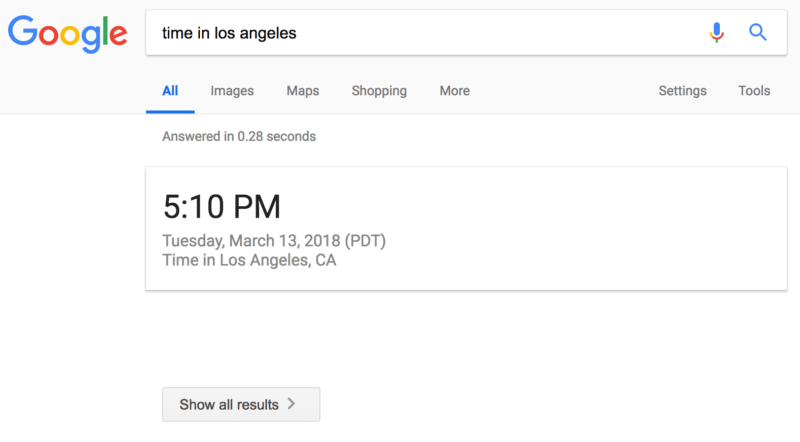 However, on March 20 Danny Sullivan announced that "the condensed view experiment should stop for now" and "the team will look at improving when and how it appears."
Sources: Google Search Results Page Displays Answer Without Any Search Results;  Google stops showing zero search results for time, calculations & conversions
Ladies First: How Google Supports Women-Led Companies
Google My Business will now add a "Women-led" tag to any business established or led by female entrepreneurs. Every time such a company appears in the SERPs and/or on a Map, this tag will appear. This tag can be triggered by any My Business users.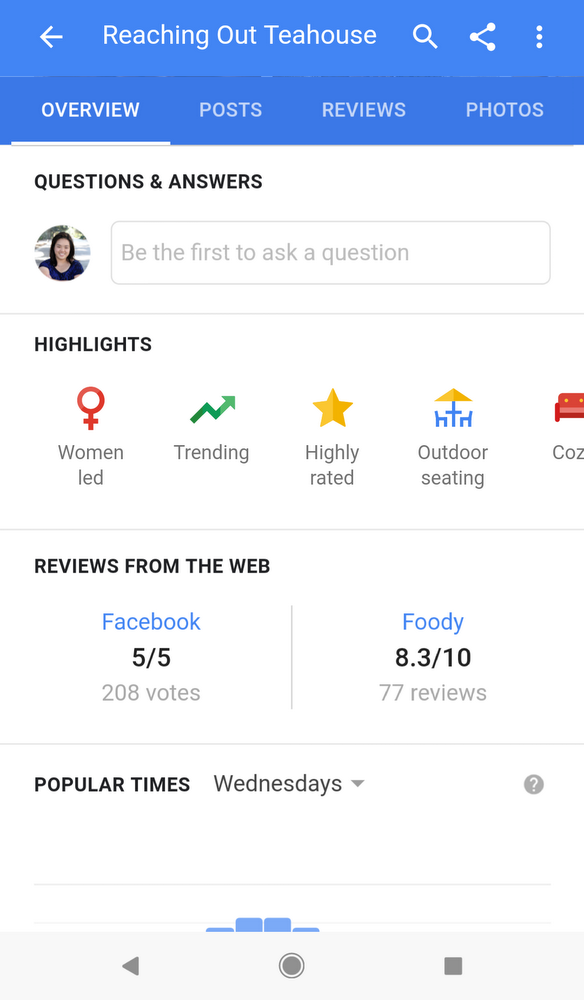 Source: Empowering Women-Led Businesses on the Map and Around the World
Image Search Update: Putting Visuals in Context
Google has implemented some changes to its image search results on mobile devices, namely, it now adds captions to images. The new feature has been rolled out on a global scale and will be available on all mobile browsers, and on the Google app for both iOS and Android. Since these captions are pulled from the image page's title tag, we can assume the captions won't always be relevant. Google also added new "Latest," "GIF" and "HD" filters.
Sources: Google Images Update: Captions Added to Images, Pulled from the Page Title Tag; Get More Useful Information With Captions on Google Images
GOOGLE ADS NEWS
New Productivity Metrics and Reports for Google AdWords 
We can expect several new updates to Google's new AdWords interface:
Notes: Users will be able to add notes to their campaigns, (such as important changes, the launch of new ad campaigns, and so on). This feature will be available at any level of the account.
16 new types of Recommendations will be added to AdWords. All suggestions will be personalized and customized to improve the performance of a particular account. Thus, users might not be able to see the entire range of all available recommendations, but rather only the ones relevant to their account.
Account Performance Score is a visual tool that will show you all the ways you can improve your performance and your optimization potential. But note that this metric has nothing in common with Quality Score, Ad Rank or any other metrics. 
The new Recommendations page
Source: Notes Are Coming to AdWords, Plus Recommendations & an Account Performance Score
AdWords Adds Metrics to Click-to-Message Ads
Google AdWords added new performance metrics for click-to-message ads. You can gain some insights into your ads' performance with:
Chat rate (almost like a CTR) will tell you how often users initiate a conversation with you.
Messages metric shows you the total number of messages from both parties within one session. Evaluating this metric, advertisers will be able to assess which ads lead to the highest level of engagement.
Start time provides you with a timestamp for when users tend to initiate conversations so you can optimize your reply times in relation to the most active times of the day.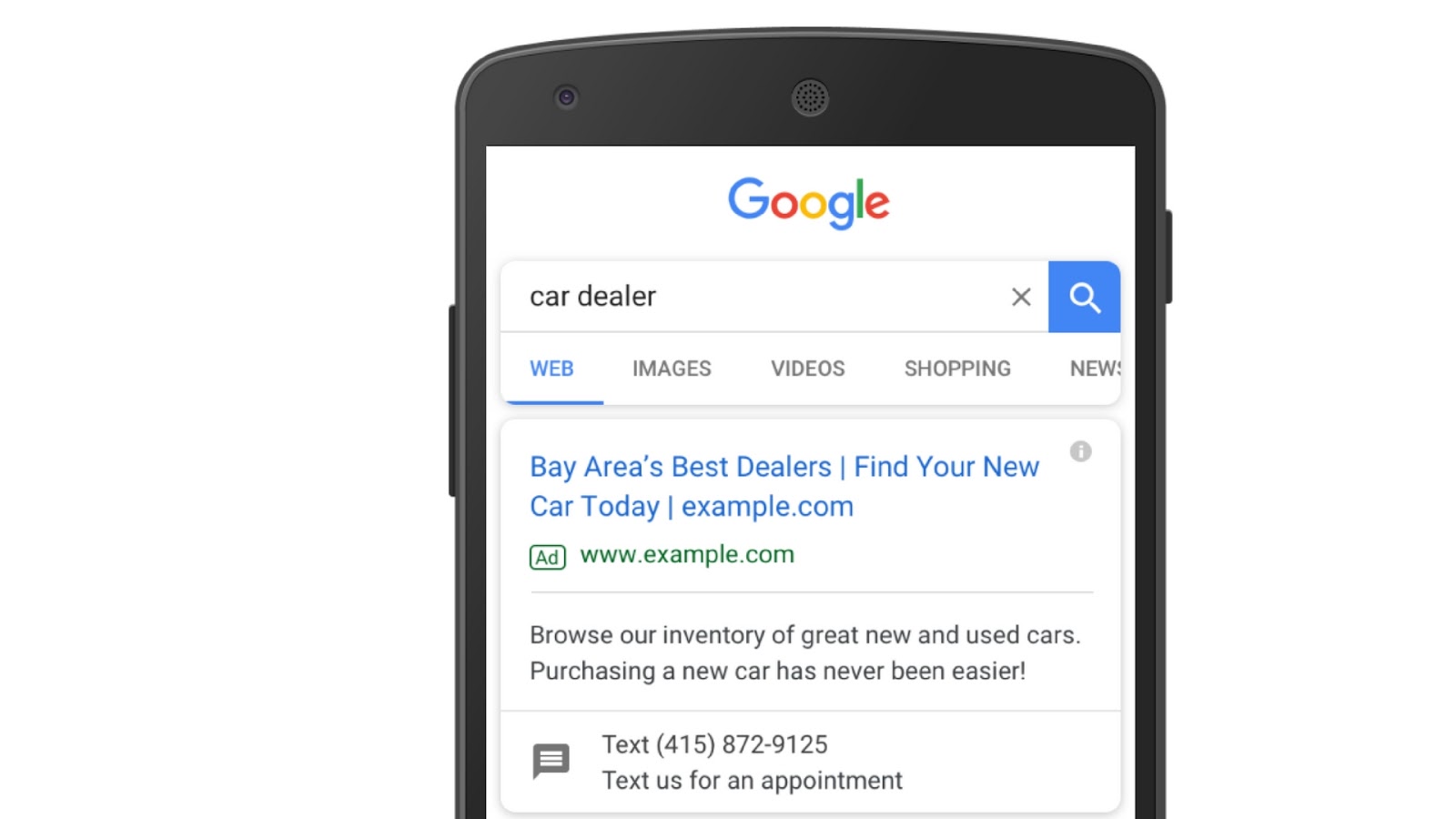 Example of a click-to-message ad
In the upcoming weeks, these metrics will be available to advertisers in the US, Canada, Australia, Brazil, France and the UK.
Source: Message Reporting Delivers New Performance Insights for Click-to-Message Ads
AdWords Guide to Landing Page Optimization
Google AdWords published an official guide to landing page optimization for digital marketers. Within the guide, you can find out how to:
Analyze your landing pages' performance and optimize them accordingly.
Make sure your landing page is mobile-friendly and increase your site speed.
Test and improve your landing pages.
The guide covers all the basics digital marketers should be aware of, yet does not go into too much detail. But it is a good knowledge check for everyone who creates and optimizes landing pages. 
Source: Optimize Your Landing Pages to Drive Conversions: Google Best Practices
Custom Columns in AdWords
Google AdWords now allows users to create custom columns at the keyword and ad level. This feature will help users highlight the most important business metrics for their particular case. Custom columns will only display a specific fraction of data, for instance, you can setup your CTR data column to only display your mobile or desktop CTRs. Custom columns can also display data based on metrics that already exist in AdWords. You can find out more about Custom Columns on the AdWords' Support page.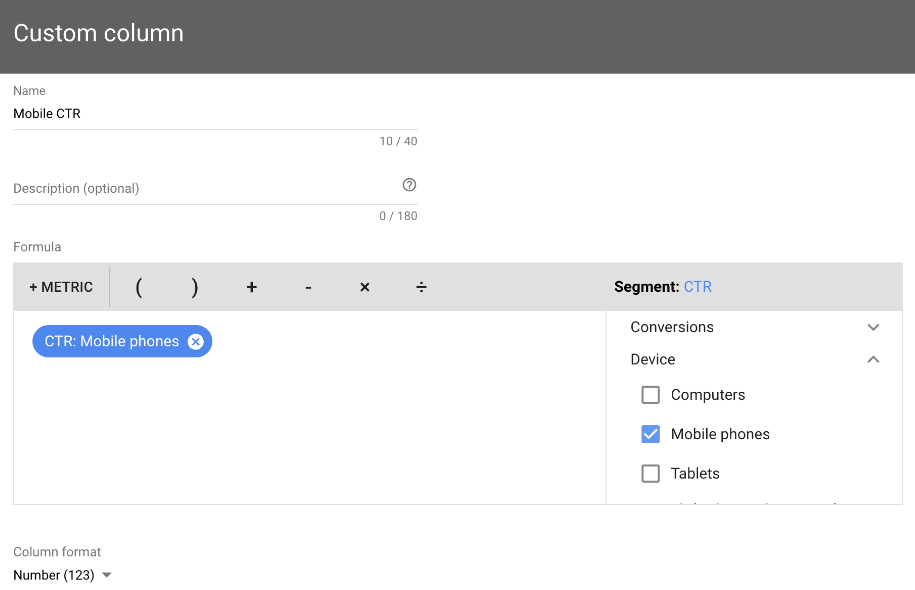 Source: Google +
GOOGLE TOOLS NEWS
AMP vs. the New Web Standard
Google shared its plans to develop a new open web standard that will support accelerated page load without having to implement the AMP framework. Accelerated Mobile Pages are now only available on Google, Twitter, Bing, and Baidu, and this is their weakest point. So, the new initiative will help web developers bring all the AMP benefits – prerendering, offline support – to the new web standard. Websites that adopt the new standards will be able to benefit from the same AMP perks, like Top Stories and so on. This doesn't mean, however, that Google will stop pushing AMP adoption or stop developing its features. Currently, Google cannot outline any timeframe for the launch of the future technology. 
Sources: Google Working to Integrate AMP Benefits Into Future Open Web Standards; Standardizing Lessons Learned from AMP
Learn About Machine Learning and Artificial Intelligence with Google
Machine Learning (ML) and Artificial Intelligence (AI) are gaining more and more traction nowadays. Thus, Google has established a new educational portal – Learn with Google AI. The new website is a comprehensive online machine and AI learning resource that is intended to help those who are interested in finding out about ML's main concepts want to develop ML/AI-based projects and use ML as a solution to whatever challenges they are facing. The website is useful for both beginners and advanced users. Additionally, there is a free machine learning course available – the Machine Learning Crash Course (MLCC). The course is based on Google's internal educational program for its employees, which was initially created to acquaint them with ML and AI. Now it is available to anyone who wants to learn AI basics.
Source: Learn With Google AI: Making ML Education Available to Everyone
BONUS NEWS
EU Pushes Google to Reveal Its Ranking Factors Criteria
The European Commission has proposed new regulations on the web that will require search engines, e-commerce websites, and other online platforms to provide in-depth explanations of how they rank results and to clarify the reasons behind their penalizing or withdrawing sites from their listings or results.
In an effort to bring more transparency to the digital realm and close any loopholes for preferential treatment on the web, the proposal will insist that search engines add personalized descriptions and explanations of "how and to what extent the relevant ranking mechanism takes account of the quality of the products and services offered" and why a particular action like removal or delisting was triggered. 
This proposal will have to be discussed in April by the European Parliament and member states before actually being implemented. 
Source: EU to Ask Google, Others to Publicly Reveal Ranking Factors