There have been many vital updates from Google that have come to our attention in the last couple of weeks, including the availability of Google My Business app, the launch of a new website audit portal, and the unveiling of a major update to the PageSpeed Insights tool. Also, TrueView for Reach and Ad Sequencing are now out of beta and are available to all brands globally. We are excited to share these and other updates with you in the digest below.
However, before we proceed, let's check out this week's Marketing Scoop podcast where Joel Bondorowsky, the COO & Founder at Quality Score, and Sam Noble, the Founder at Biddable Moments, join David Bain and Judith Lewis to discuss all these important updates in greater detail.
[podcast-subscribe]
---
GOOGLE SEARCH NEWS
Google My Business App Update
Curtis Galloway, the Engineering Manager at Google My Business, officially announced the launch of the Google My Business app. According to Curtis, the app provides a simple, free way to stand out on Google with a great Business Profile. You can use the app to upload a photo, create an offer/event, and add that right to your Business Profile on Google.
The app's new Customer tab allows all the types of customer interactions — their messaging, following, booking, or reviews — to be seen in one place and get responded to right from the app. The app also keeps track of significant results related to your business and visitors, such as the number of people who find and connect with you from your Business Profile on Google. The Google My Business App is available for download in both Google Play and App store as of Nov 14.
Source:  Say hello to the new Google My Business app, and say hello to your next customer
Google Really Launches Zero Search Results For Time, Conversions & Math
In a notable launch, Google is showing absolutely no search result snippets for several specific types of queries. As reported by Search Engine Roundtable, searches for conversions, time/date, or math-related answers may yield only the answer with a button that users can click to see the full search results. Google had tested this feature in March, but removed it after a week due to negative feedback. For now, the launch applies only to mobile devices, and is restricted to unit conversion, calculation, and local time-related queries.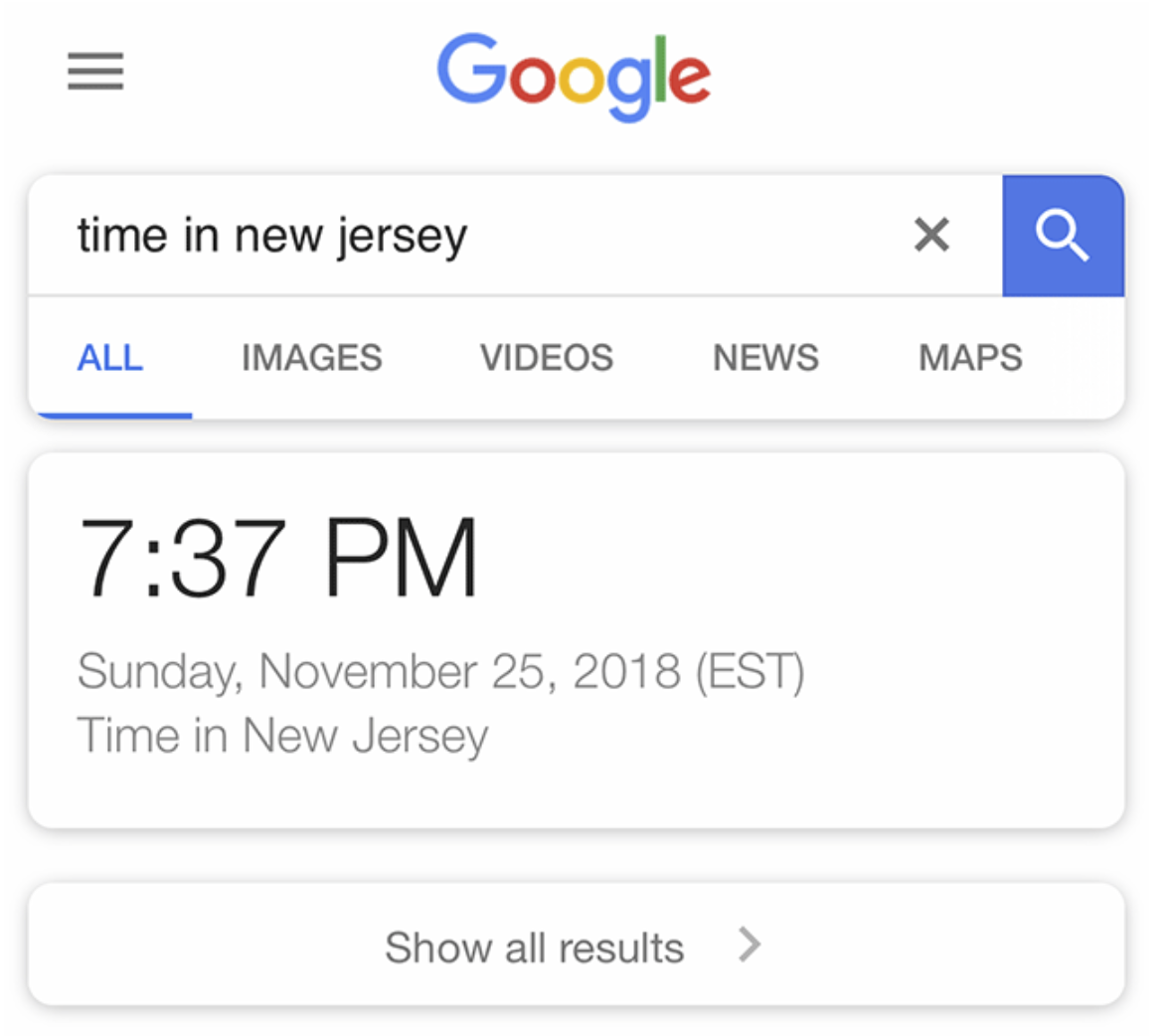 Sources: Google Really Launches Zero Search Results For Time, Conversions & Math; Google showing zero results again for many time, calculations & conversions search results
User Comments Available in Google Search
Google is working on adding a new feature to Google Search that will allow Search users to leave comments for sports games or read comments left by other users. The feature is not yet available for all sports games in all languages and regions. It should be noted, that users who want to write comments must follow Google's policies for content in order to be approved/shown. Moreover, the comments are public, and you can't add anonymous comments that are not linked to the name on your About Me page. The good part is you can always delete your comments, as well as read what other people say and show your reaction by liking, disliking or reporting their comments.
Sources:  Leave comments for sports games on Google Search;  Google to Let Users Leave Comments on Search Results
Hebrew Date and Time Conversions on SERP
Google has added Hijri and Hebrew date conversion support to the Search. Users can now go to Google and ask the current Hijri or Hebrew date, as well as convert any past date to its Hijri or Hebrew equivalent. Google's public search liaison, Danny Sullivan, confirmed this on Twitter, saying "We recently added conversion support for Hijri and Hebrew calendars and are looking to add more in the future."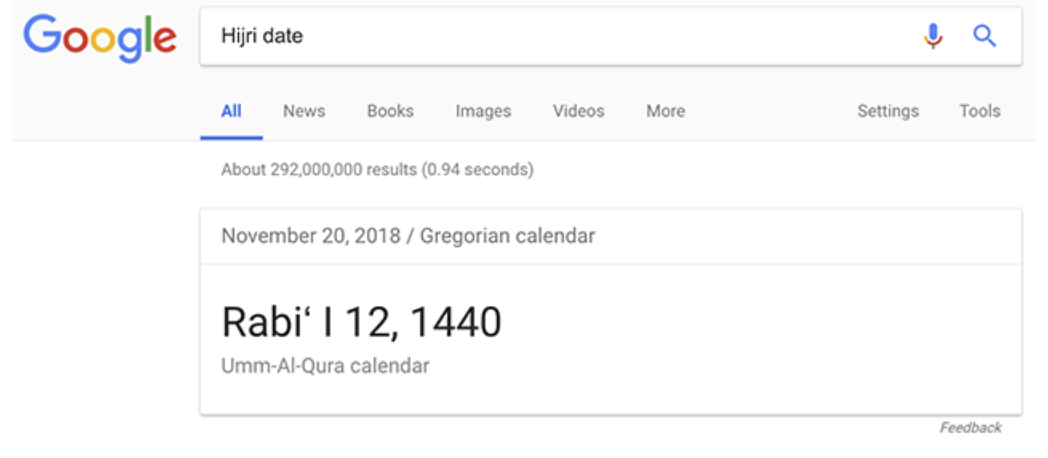 Source:  Google Search Adds Hijri & Hebrew Date Conversions
GOOGLE ADS NEWS
New Bidding Strategy in Google Ads
Google recently announced adding a new strategy to its current Smart Bidding Methods in the form of Target Impression Share. Target Impression Share automatically sets bids to help advertisers achieve their Impression Share goal across all campaigns and ensure their ads are meeting a specific impression threshold. Google suggests that the strategy is useful for campaigns with brand terms. For instance, businesses that want to show their ads 100% of the time when a user searches for their brand can set the Target Impression Share to 100%. The system, in turn, will try to show their ad on 100% of auctions in that campaign.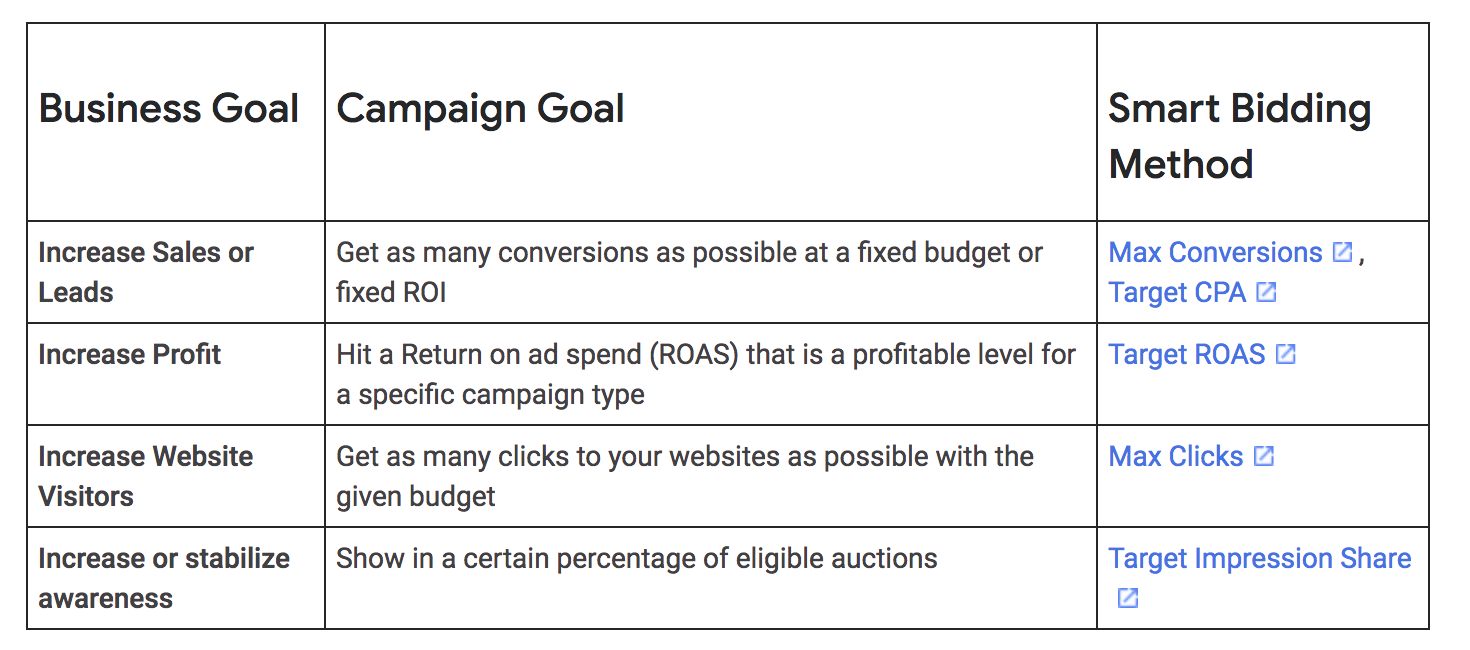 Source:  Use Target Impression Share to increase brand awareness; About target impression share bidding
New Video Ad Type - Ad Sequencing - in Google Ads
Introduced earlier this year, Video Ad Sequencing tool is now available to global marketers in Google Ads. The tool lets marketers tell their brand stories by showing people a series of videos in a predefined order. It works to drive impact for brands of all sizes, industries, and marketing objectives. As per Google, a new study on Ipsos shows that "sequences of 6-second ads and TrueView ads drive brand lift across the customer journey. In fact, sequencing a 6-second ad followed by a TrueView had a significant impact on Ad Recall and Purchase Intent, with an average lift of 118% and 40% respectively."
Google explains, "Video Ad Sequencing...paving the way for customised stories based on rich interest and intent data, delivered naturally to viewers as they move across screens."
Source:  Use Video ad sequencing to tell stories across screens and ad formats
TrueView for Reach Now Available to All
Google's product manager for video ads, Khushbu Rathi, announced that TrueView for reach is now going to be available worldwide and all brands globally can use it in Google Ads and Display & Video 360 to help them reach more of their audience on the web. Combining the popular skippable in-stream format with the simplicity of CPM buying, TrueView for reach will help advertisers reach their desired audience more efficiently than ever.
Khushbu also touched on the stories of two global brands — Philips in France and Fata in Mexico — that are seeing strong success using TrueView for reach. This success seems partly to be the result of YouTube's highly viewable and audible environment. As per Google, "...thanks to YouTube's 95% viewable and 95% audible environment, you can be sure this audience is seeing and hearing your ads."
Source:  Sight, sound and scale: TrueView for reach now available to all brands globally
Ad Pod Testing Coming to YouTube
Google recently announced that they will start testing Ad pods to drive a better ad experience on YouTube. Ad pods are two ads stacked back to back where viewers are given the option to skip directly to the content if they find the ad irrelevant or less appealing. As per Google's user experience research, viewers are quite sensitive to the frequency of ad breaks, in addition to factors such as the length of ads. Also, fewer ad interruptions are correlated with better user metrics, such as higher rates of ad viewing and less abandonment of content.
Through ad pod testing, therefore, Google wants to know if seeing two ads in a break followed by no interruptions later could result in a positive user experience. The new experienced will soon be launched on desktop followed by mobile and TV screens.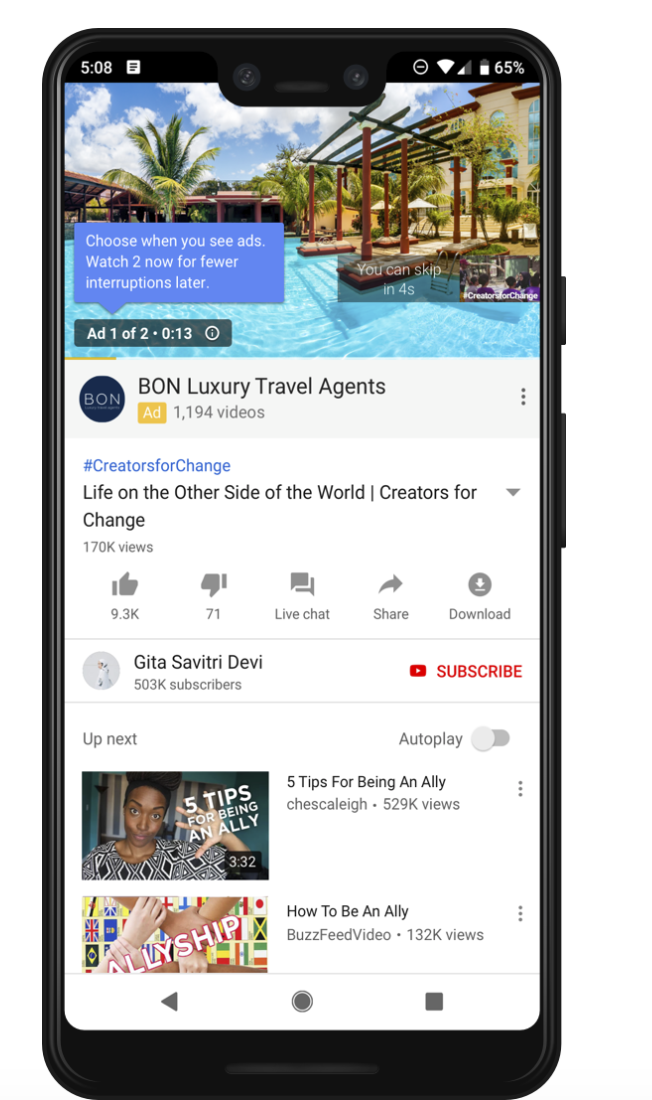 Source:  Ad pod testing coming to YouTube
Black Friday and Cyber Monday Deals Ad Unit 
With the goal of helping retail advertisers increase their search visibility for Black Friday and Cyber Monday deals, Google launched a new experiment with promotion extensions in Google Ads. From November 15th through the 27th, the experiment was structured so that English speaking users who searched for Black Friday and Cyber Monday related keywords -- such as "black friday deals", "black Friday <product or company name>" and variations – were shown an "ad unit" at the top of search results that listed offers linking to each retailer's website.
Sources:  Google launches special Black Friday, Cyber Monday deals ad unit;  Limited Time Google Ads Black Friday & Cyber Monday Ad Units
Developer Preview of better AMP URLs in Google Search
In response to feedback from AMP users and publishers indicating a preference for using original domain names wherever their AMP pages are displayed, Google Search is opening up a developer preview of "better AMP URLs". Named "Signed HTTP Exchanges", a technology Google demonstrated earlier this year, it is currently enabled only in Chrome version 71 or greater and will require installation from the Chrome Beta channel. It will soon be released to all Chrome channels and will support transforming cached AMP URLs on any AMP Cache.
According to Google, Signed HTTP Exchanges is available to any publisher who would like to try it out and has benefits for publishers and users beyond the visual experience of the URL bar. Moreover, it will also:
"Provide a guarantee, using cryptographic signatures, that the content is exactly what the publisher intended to show the user."
"Allow the browser to treat a document as belonging to the publisher's 'Origin'; this allows a publisher to use first-party cookies to customize content, execute service workers, and measure analytics."
To help publishers and users try a Google Search demonstration, Google has provided step-by-step instructions as well as explicit "under the hood" information at its AMP page.
Source:  Developer Preview of better AMP URLs in Google Search
[ create-campaign bg_images="https://static.semrush.com/blog/uploads/media/75/d9/75d968e482d1a761aa18f1a23fbbd17b/amp-compaign-banner.jpg" bg_button="-success" header="Audit your AMP pages" text="with SEMrush Site Audit"]
New Filters in Google Search Console Performance Reports
Google announced on Twitter that it has added event listings and event details under the "search appearance" filter to its Search Console performance reports. Designed to show how a given event markup is performing in search, the two new filter options allow webmasters to filter the report to see event or job listings or details data for rich results. Both contain data about "clicks", "impression", "position" and "URL" that provide insights into how a page containing rich results tends to perform. For now, the two new filter options are only supported for English websites in the US, UK, and India. 
Sources:  Google Search Console Performance Reports Get Event Listings & Detail Filters;  Twitter 
Google Search Console To Replace Search Analytics With Performance Report
Console users were notified that the Search Analytics report will "soon be replaced" by the new Performance report within the new Google Search Console. John Mueller responded to users on Twitter and indicated more changes are coming, "Some of the old Search Console reports are going away, since we have replacements in place. I don't have a date to announce, but at some point we have to take that step."
Source: Notice: Google Search Console To Replace Search Analytics With Performance Report
New Website Audit Portal by Google
Google has launched a new portal at web.dev to help developers and webmasters "learn and apply the web's modern capabilities" to their own sites and apps.
The tool allows developers to run an audit on their sites, scoring its performance against industry benchmarks and standards for accessibility, SEO, progressive web apps, and adherence to best practices. It further provides specific advice on what steps you can take to improve your site's performance via its "learn section" based on the audit.
As reported by Search Engine Land, the categories of the audit include:
Performance: Audits for metrics like first paint and time to interactive to determine lag.
PWA: Assesses your page against the baseline Progressive Web App Checklist.
Best Practices: Looks for everything from HTTPS usage to correct image aspect ratios.
SEO: Checks for best practices to ensure your site is discoverable.
Accessibility: Checks for common issues that may prevent users from accessing your content.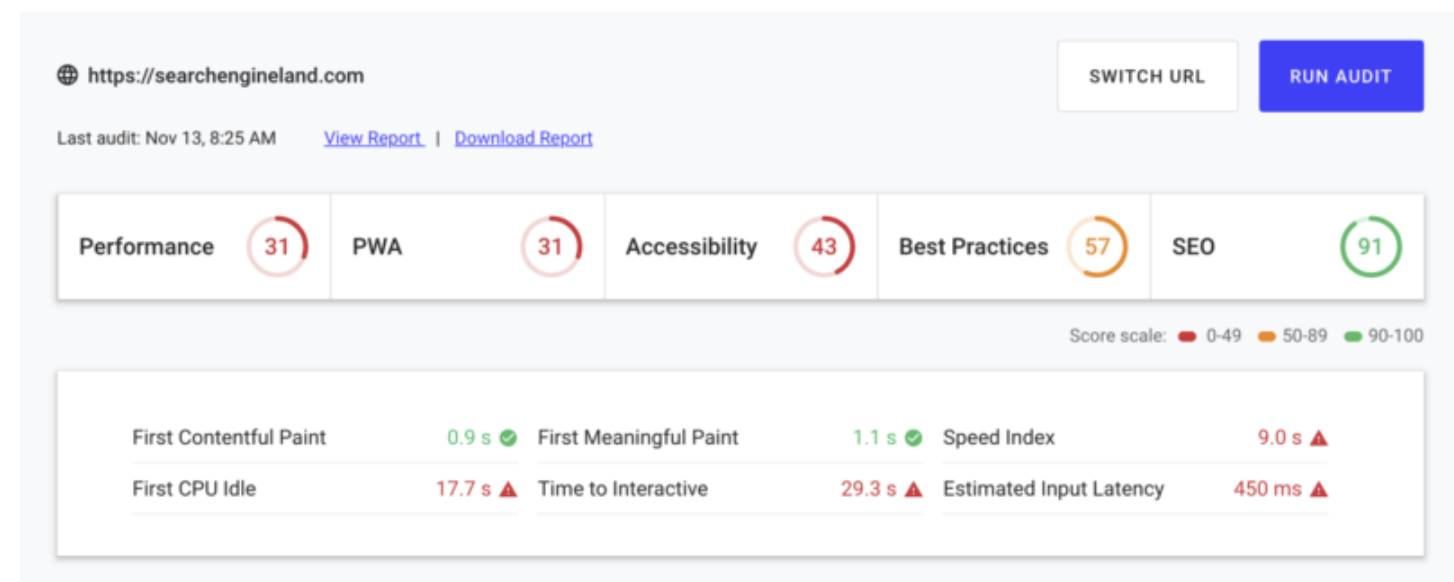 Google has also provided structured curriculums with the portal that developers can access to help them build better websites. These learning resources are available on the portal under various titles including "Fast load times", "Network Resilience, "Safe and Secure", "Easily Discoverable", and "Installable".
Sources:  Google launches portal to help developers build modern websites;  Web.dev: Let's build the future of the web.
PageSpeed Insights Update
Google has rolled out its first major update to the PageSpeed Insights tool since January 2018. Version 5 uses Lighthouse as its analysis engine and incorporates CrUX (Chrome User Experience Report) as "field data". Version 5 of Google PageSpeed Insights is expected to provide a wealth of information with this combination.
The updated tool provides information across several categories, from field and lab data to diagnostics and audits. The release notes for Version 5 says, "v5 of the PageSpeed Insights API was released in November 2018. It now uses Lighthouse as its analysis engine and also incorporates field data provided by the Chrome User Experience Report (CrUX). v5 of the API will now provide CrUX data and all of the Lighthouse audits. Previous versions of the PSI API will be deprecated in six months."
The new report has two tabs, one for desktop and one for mobile:
Sources:  PageSpeed Insights, now powered by Lighthouse,  Google PageSpeed Insights tool gets a major update with more data from Lighthouse;  Tools for Web Developers: Lighthouse;  Make your web pages fast on all devices