Welcome to the first Google News Digest of 2020. We are going to change things up this year and add some of the best and most helpful articles our industry shares, as well as news about Google. The information our industry provides is so important and helps businesses and agencies manage the constant changes Google makes, so we feel it makes sense to share their knowledge in this digest. 
So we are going to start with those articles, and then move into Google news. 
Great Articles I Found This Week: 
GOOGLE SEARCH NEWS
January 2020 Core Update
Google decided to help decrease the stress of a Monday morning by announcing a new broad core algorithm update. 
The search industry wasn't thrilled, but algorithm updates tend to make people a bit nervous (for good reason).
As always, there will be a lot to see and learn in the next week. At this point, we don't much and we can't predict anything; we are in a wait and see game. However, Barry Schwartz is reporting that this update appears to be a lot larger than the last, based on industry chatter. I suggest keeping an eye on industry experts like Glenn Gabe and Aleyda Solis for more insights in the upcoming week. The Webmaster World forum also has some great discussions and insights.
Sources: Google SearchLiaison; Google January 2020 Core Update Is Live & It's Big
Google Announces Brand Icons & Black Ad Labels Now Live On Desktop Search
In May 2019, Google announced a new look for mobile Google search, and said, "With this new design, a website's branding can be front and center, helping you better understand where the information is coming from and what pages have what you're looking for. " The look is now live on desktop and shows black "ad" labels and favicons:
Here is what it looks like in the SERPs: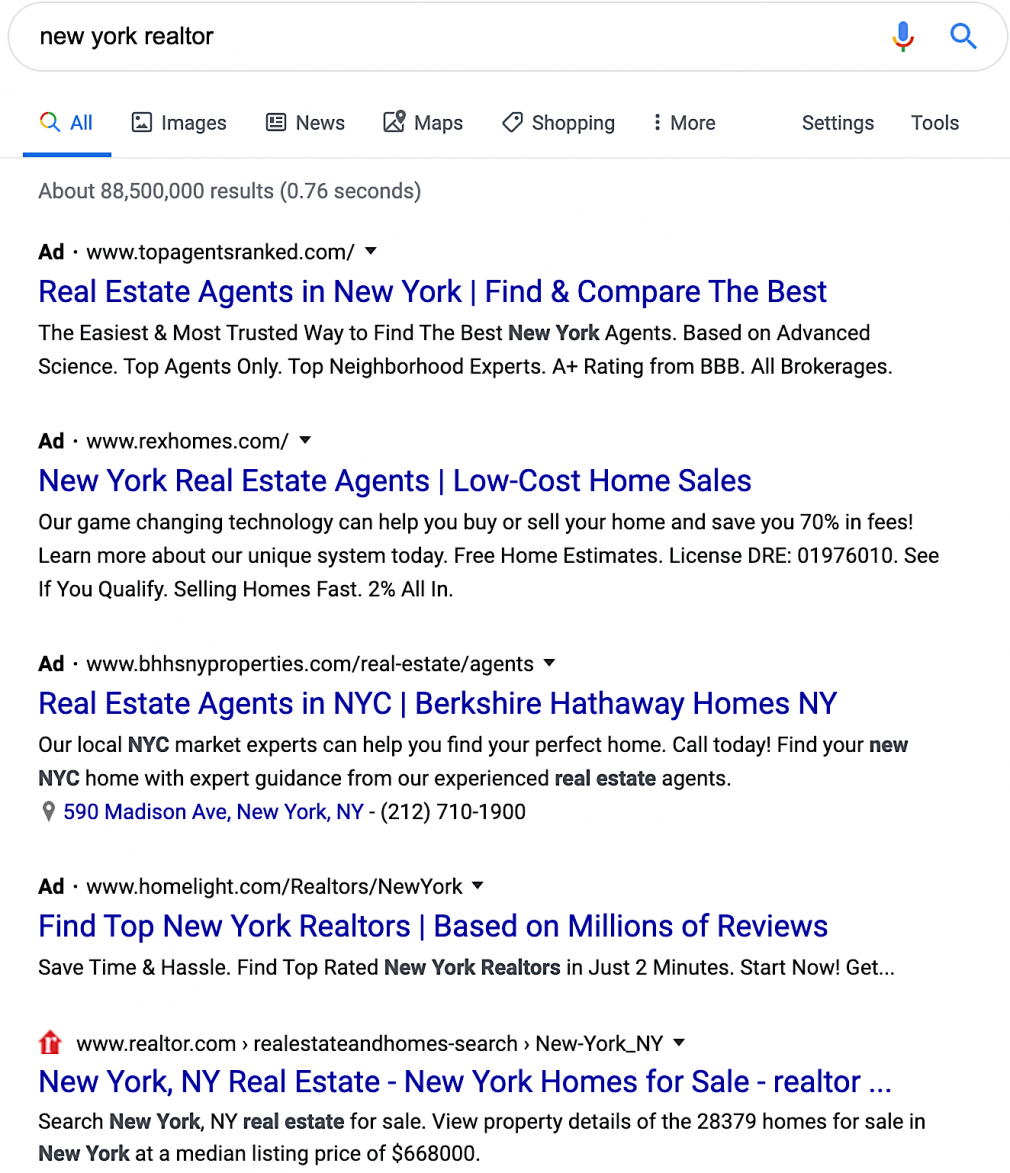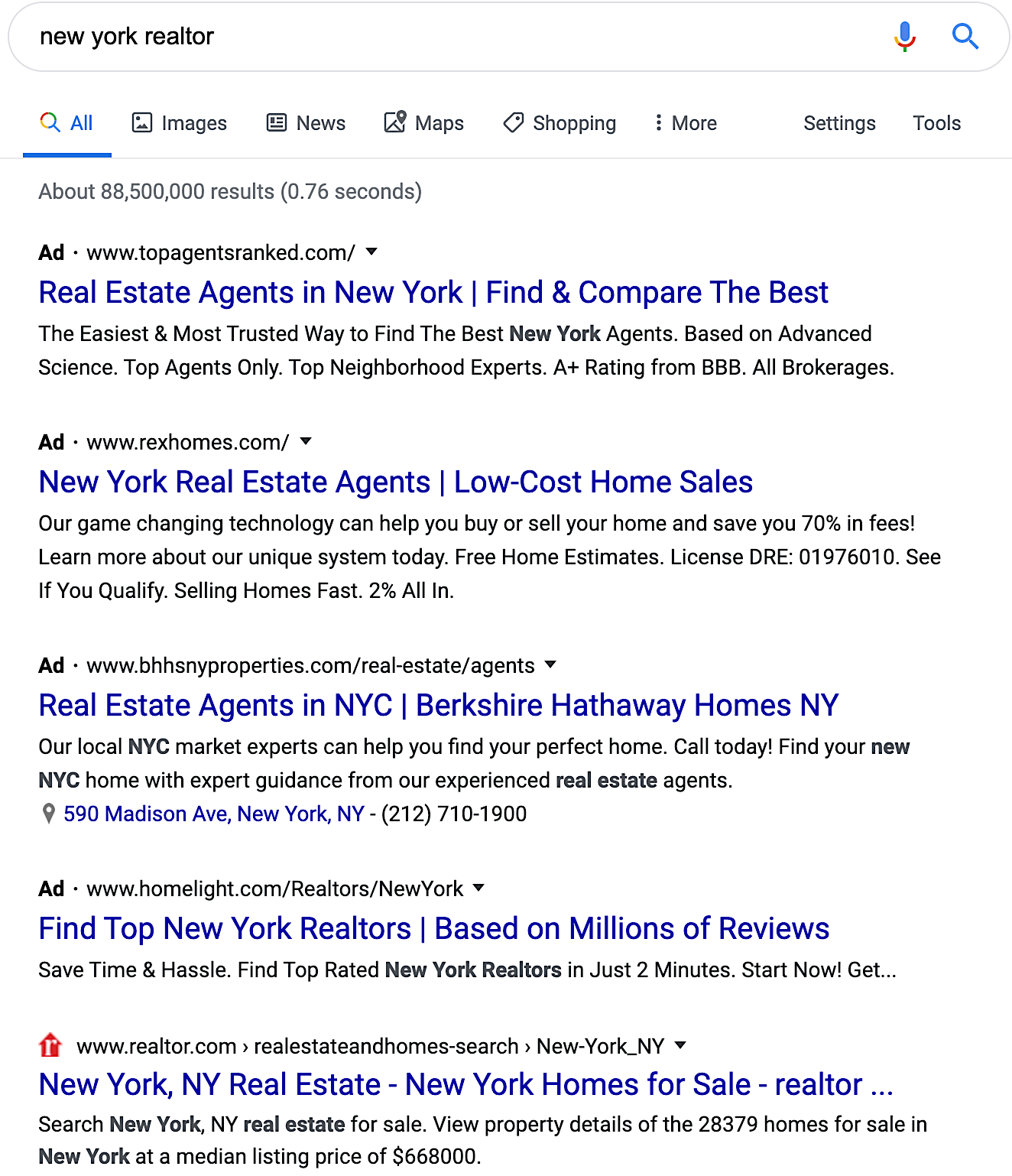 Google has guidelines on how to create, implement, and define a favicon to display in search results. Barry Schwartz pointed out to avoid not following guidelines (i.e., don't do something funny to show off as others have done) because the search engine "will penalize those that play games."
Source: Google SearchLiaison; Define a favicon to show in search results; A new look for Google Search
Google Local Knowledge Panels Added "Get More Reviews"
Joy Hawkins posted in the Local Search Forums that Google added a "Get more reviews" button. She said she sees it in both Google My Business and Search Console. She also said, "This is a big improvement over the "write a review" button that used to appear and wrongly prompt business owners to review themselves."
Source: Google Adds "Get More Reviews" Button in Knowledge Panel
Query Carousels Here to Stay?
On December 29th, Brodie Clark announced on Twitter that he has seen Query Carousels on multiple occasions and that he has seen them working for GMB content, "G Posts, Q&As, reviews, & product feeds, but I'm not seeing them ALL together. Reviews & Q&As can be combined, others remain separate."
On January 5th Brodie published a very informative article you should read (shared above) about the Query Carousel, and on the 7th shared this via Twitter: 
So keep an eye out for these carousels and updates about them. If you have any questions, I suggest you reach out to Brodie and/or Mike Blumenthal on Twitter.
Source: Brodie Clark Twitter
"In Between" and "Right By" Now in Google Local/Maps 
Google is continually expanding Google Local and Maps options. Colin Nielsen noticed the new "In Between" option, which helps users pinpoint where a business is located. 
He also saw "right by" — again helping users find a local business they need. 
Source: Google Local/Maps With "In Between" Links To Other Businesses
Google User Comments Showing Up in SERPs for TV Shows
Niki Mosier tweeted about finding comments in the SERPs for a TV show (don't judge her!): 
Barry Schwartz explained that this feature has been around since 2018 for live sporting events and games, but it appears the search engine is testing it for live TV events that seem to be significant to the audience.
He also pointed out that comments CANNOT be made anonymously, so for reputation management reasons, be careful with what you say. If you said something after having a few beers during the game (or the Bachelor) and regret it, you can manage your comments here. 
Source: Niki Mosier; Google tests user comments for live TV shows
More Protection for Kids' Privacy on YouTube
YouTube has been under pressure by the U.S. Federal Trade Commission (FTC) to protect children using their platform. In September, they announced changes were coming, and now those changes have rolled out. 
On their blog, they stated, "YouTube now treats personal information from anyone watching children's content on the platform as coming from a child, regardless of the age of the user. This means that on videos made for kids, we limit data collection and use, and as a result, we need to restrict or disable some product features.  For example, we no longer serve personalized ads on this content or support features such as comments, live chat, notification bell, stories, save to playlist, and others."
Source: Better protecting kids' privacy on YouTube
GOOGLE ADS NEWS
Parallel Tracking for Video Campaigns Will Be Mandatory March 31, 2020
Google announced yesterday, "Parallel tracking is now available for Video campaigns, and will become mandatory for all Video campaigns starting March 31st, 2020 (as it already is for Search, Shopping, and Display). If you work with a click measurement provider, reach out to them as soon as possible to ensure that there's no disruption to your click measurement system."
Source: Parallel tracking for Video campaigns: mandatory March 31, 2020
Changes to Stats Reporting for Search Campaigns with Display Expansion
Google announced they are changing how stats for Search campaigns with Display Expansion (previously known as Search campaigns with Display Select) are reported by the AdWords API, the Google Ads API, and Google Ads scripts. As of February 17th, they will no longer return display keyword stats for Search campaigns with Display Expansion in the following:
Source: Changes to stats retrieval for Search campaigns with Display Expansion
No More Google Ads Support via Social Media
On December 20th, Google Ads announced that starting January 1st, they will no longer respond to comments or messages via social for support issues. They provided a link to a form you can use. 
Source: Google Ads
Google Ads Adding Bid Simulator Support for Target ROAS
Google's bid simulators have helped users understand their potential performance at different bid levels. Previously, they were only available for campaigns using manual bidding or Target CPA. Google Ads has now added bid simulator support for the Target ROAS bid strategy and a new budget simulator to help you get more insights from a wider variety of campaigns.
Source: Understand how budget and goal changes may impact Smart Bidding
Custom Dimensions 
On January 10th, Steven Johns reported custom dimensions appeared in his Google Ads account. 
He explained more on LinkedIn: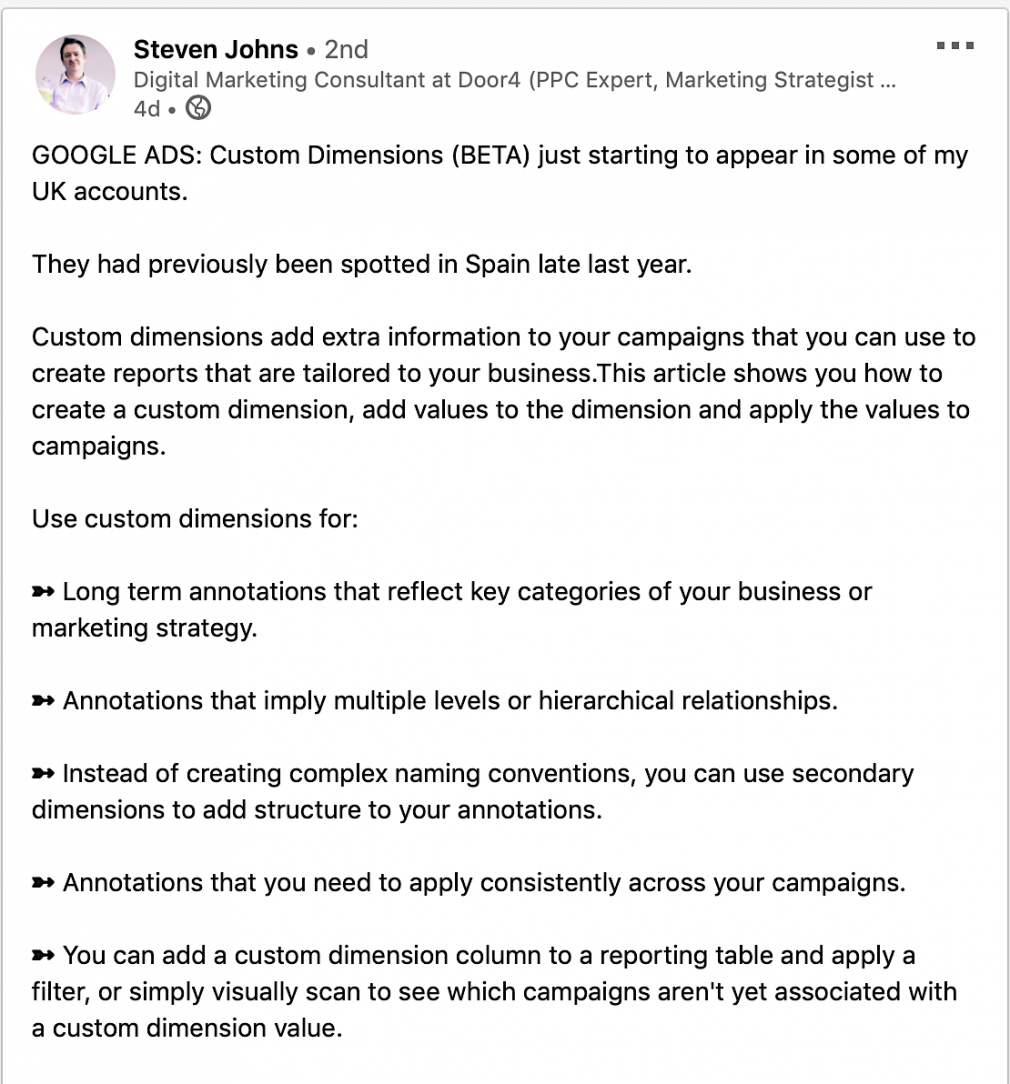 Ginny Marvin explained this option is, "in beta now and accessible from the "Tools" dropdown in Google Ads when enabled." 
Source: Google Ads testing custom dimensions to enable reporting based on your business structure
Photo Test For Google Screen Ads
Joy Hawkins noticed Google Screened ads included photos
Barry Schwartz was not seeing the same results, as he posted in his article. The following tweet implies photos may be a permanent feature. 
Source: Google Screened Ads Tests Photos 
Reminder: January 27, 2020, Message Extensions Will Be Sunset in AdWords
In December, Google announced," On January 27, 2020, message extensions will be sunset in AdWords and Google Ads APIs and Google Ads scripts. After the sunset date:
All existing message extensions will no longer serve.
You will not be able to create new message extensions or update existing extensions.
You will still be able to retrieve data for existing message extensions until the end of 2020.
You will also be able to remove the existing message extensions until the end of 2020."
Source: Upcoming sunset of message extensions in AdWords and Google Ads APIs and Google Ads scripts
GOOGLE TOOLS NEWS
New Options in the Rich Results Test
Google Webmasters announced an improvement in the Rich Results test; it now shows embedded resources
You can learn more about the update at Seach Console help, and you can test your URLs with the Rich Results Test.
Source: Google Webmasters
Google Phasing Out User-agent Strings in Chrome
ZDNet reported that Google engineer Yoav Weiss announced the following on January 14th, "We want to freeze and unify (but not remove) the User Agent string in HTTP requests as well as in `navigator.userAgent`".
Weiss says the reasons for the change were, "The User-Agent string is an abundant source of passive fingerprinting information about our users. It contains many details about the user's browser and device as well as many lies ("Mozilla/5.0", anyone?) that were or are needed for compatibility purposes, as servers grew reliant on bad User Agent sniffing.
On top of those privacy issues, User-Agent sniffing is an abundant source of compatibility issues, in particular for minority browsers, resulting in browsers lying about themselves (generally or to specific sites) and sites (including Google properties) being broken in some browsers for no good reason."
For more information, read the message from Weiss in the Chromium group. 
Source: Google to phase out user-agent strings in Chrome
Improvements in Google Assistant 
Last week, Google announced new features that will make the Google Assistant more helpful for users, whether they are at home, in the car, or on their phone. 
Home Features: A new feature called Scheduled Actions coming will be released later this year. Users will be able to ask the Assistant to turn on/off or start/stop a compatible smart device at the time of your choosing.
Home Organization: New household notes will help users to create digital sticky notes with the Assistant on your Smart Display.  So no more stacks of paper notes that can get lost around the house. You can see all your notes at one central location. As a bonus, anyone in the home can create or view the notes without needing to sign in.
Advancing Speech Technology: The Assistant has some major advancements in language understanding and speech, and now Assistant can offer the natural reading of long-form content. In the future, Google is, "Looking to include auto-scroll and text highlighting capabilities that help users read the text as it's being read aloud."
Privacy: At CES, Google announced, "Two new voice actions for people to easily control their privacy, such as "Hey Google, that wasn't for you," which lets you tell the Assistant to forget what it heard if an unintended activation occurs. You can also ask, "Hey Google, are you saving my audio data?" to learn about your privacy controls and go directly into the settings screen to change your preferences."
For more information on what is new for Google Assistant and devices, read A more helpful Google Assistant for your every day.
Test New Features via Labs in the Google App
9 to 5 Google reports that the Labs menu has appeared for more and more people within the Google app. They claim Labs is now available on most of their devices, and users can test "Pinch to zoom on search results" and "Screenshot editing, sharing and actions", and also provide feedback. Read their article 'Labs' arrive in Google app to let you experiment with features like pinch-to-zoom for more information.
So that is all for this week. We know 2020 is going to be a crazy ride for those in the SEO and SEM space. We are going to try and cover the news that will impact you directly, and continue to include industry articles that will help you manage all the changes Google throws at you. 
---
One last thing  — we are so excited to bring you the new season of Marketing Scoop Podcast powered by SEMrush! Our fresh episodes are all about case-based stories presented by industry experts from local to global brands like Google, Vodafone, SAP, IKEA, Dell, Uber, and many more. Join Espree Devora as she interviews industry experts and talks about:
Real-life success stories.
The latest marketing news and trends from around the globe.
A unique mix of best practices for marketers.
Tools, strategies, and techniques that will give your digital marketing the edge.