In the last few weeks, we have a lot of new features and tools launched by Google that will make our work lives more manageable. This seems to be a focus for Google; a few weeks ago at Google I/O 2018 we learned that some features, like Google Assistant and Duplex, will be performing tasks that will help millions every day.
These sure are exciting times, and we are going to go into all the exciting developments, but before we do, we want to remind you to tune into the latest Search Marketing Scoop podcast to learn about recent developments search marketing in more detail. This week  Matt Ridout, the Head of SEO at Farfetch, and ZATO's Owner,  Kirk Williams, are sharing their valuable insights with our listeners.
[podcast-subscribe]
So, let's review all the new features and tweaks that Google has launched.
GOOGLE SEARCH NEWS
New Google News: AI Meets Human Intelligence
Earlier this month, Google rolled out an all-new Google News app, which uses artificial intelligence to find the best content created by journalists around the world. 
In the "Headlines" section the user can view world news from trusted resources. Google will also offer five stories it thinks are relevant to you, in the 'For You' section. This section can be a mixture of global and local news, based on topics you have shown interest in before.
The more you use the app, the better it gets. It uses easy controls so that you can choose to see more or less of a topic, and offers great images and videos from YouTube to improve your user experience. Google is experimenting with a unique visual format called newscasts, making it easy to dive right into perspectives and learn more about a story.
Source:  The new Google News: AI meets human intelligence
Google My Business Update
With more than one-third of all mobile searches being related to a location, Google is committing to making it easier to find what you need. The search engine has introduced even more ways for businesses to stand out with Google My Business. 
For the first time, agencies will now be able to register for a Google My Business account and get access to a brand-new agency dashboard. Some of the benefits include:
Easier workflows to send and receive invitations.
Single Organization Accounts on Google My Business to manage all locations.
User Groups to manage teams and control access to locations.
Improved search functionality.
Google will also be launching the Google My Business Partners program. Trusted partners will be eligible for early access and the potential to be featured on the Google My Business website.
Source: Making Google My Business work for agency and platform partners
.App Domain is Now Available to Everyone
Google has finally made .app domains available almost three years after paying $25 million for exclusive rights to this top-level domain (TLD). The domain is a great choice for app developers and other tech enthusiasts as it gives an easy-to-remember alternative to the traditional .com domains. 
In addition to this, Google is also requiring HTTPS for all .app websites, as built-in security to protect against malware and safeguard against spying on open Wi-Fi networks. Google has always been an advocate for HTTPS adoption, noting an increase in the number of protected traffic on its Chrome browser on Android. 
Source: .app domain is now available to everyone
Change to the SERP Snippet Size Confirmed
Google has confirmed that their search snippets are now shorter on average, although slightly longer than before the change they made last December. There is no fixed length for snippets, as the length will vary based on what their systems will deem most useful.
Source: Twitter
Finding the Answer to Your Question (on Demand)
Google is testing a new feature that will allow users who couldn't find a satisfactory answer on Google to file a request for creating better content right within search results. In the "Get the answer that you're looking for added to the web" space, you can add the more detailed questions you are looking for. Google takes this information, and they say they "may" forward it to authors that could create better content and publish the info on their own sites. The experiment is now taking place on a limited scale and is intended to enhance the web experience.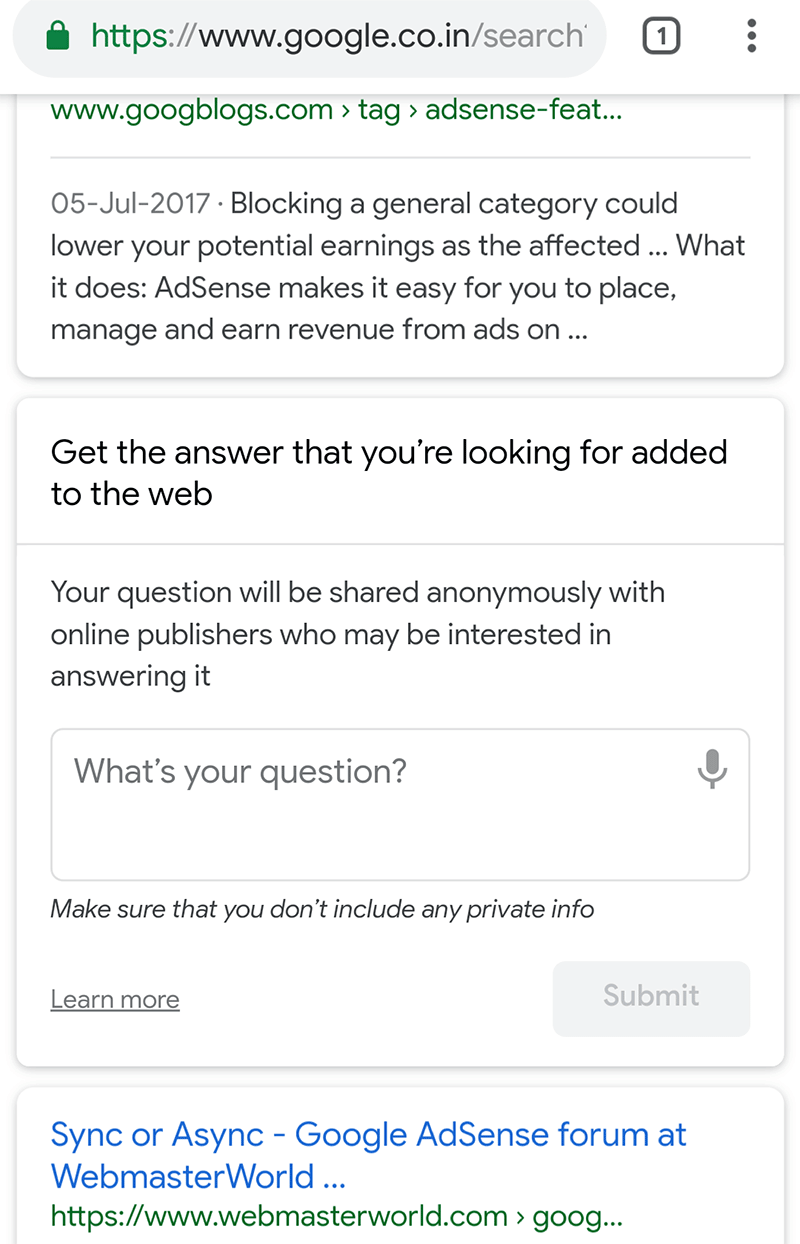 Source:  Google asking dissatisfied searchers to submit questions manually in the search results
New Markup for Recipes
Google has updated your structured data options for recipes to improve visibility in Google Search, on Google Assistant, and on Google Home devices. Google is recommending users fill in four recipe properties: Videos, Category, Cuisine, and Keywords. With the right markup, your page is eligible for different features:
Search: Add structured data for better engagements and rich results. 
Guidance: Enable your recipes to be read aloud by the Google Assistant.
Carousel: Add carousel structured data to appear in a carousel of rich results.
AMP: Build your recipe pages with AMP for instant loading.
By structuring your content according to this guide, your content can enable the recipe badge in mobile image search results and the content action in Google Assistant.
Source: Recipe 
GOOGLE ADS NEWS
New Opportunities for App Promotion
To give users a more complete picture of how their ads are working, Google will be giving access to Conversions report ("View Through Conversion Reporting"), which will be available to AdWords app advertisers later this month.
Source:  Google I/O: Grow and Earn with AdWords and AdMob
A New Version of AdWords Editor
The new version of Google AdWords Editor has been launched. Version 12.3 is here with a list of new features, including filter functions, a search terms report, and account-level extension associations. 
You can now view and download reports about your search terms, including tools to add keywords and negative keywords. You can also use filter functions with powerful queries to combine filters in new ways to find highly specific target items.
With the new version of the AdWords Editor, you can attach ad extensions at an account level, in addition to campaign and ad group levels. Plus, it now supports TrueView for action campaigns, including calls-to-action (CTAs) and headlines. 
Source: Version 12.3
Responsive Search Ads in Beta
Google AdWords is now testing responsive search ads. This new format allows advertisers to create ads that will adapt to show more relevant messages to customers. After choosing the responsive ad option, you will need to add versions of the ad title and descriptions, and AdWords will automatically test different combinations and learn which combinations perform best. The new feature is now in beta and only in English and is not available to all the advertisers.
Source:  About responsive search ads (beta)
Goal-Optimized Shopping Campaigns
Google AdWords launched a new type of commercial campaigns (PLA) - with optimization based on goals. This new type of campaign works on the basis of machine learning and is automatically optimized. This new option will empower you to manage campaigns head-on using the power of automation and machine learning to boost conversion value. The campaigns combine Shopping and display remarketing campaigns and use ad placement and automated bidding to promote products across networks. 
To use goal-optimized campaigns, there are several set-up requirements, like setting up conversion tracking with transaction-specific values. We recommend you read through the requirements and recommendations carefully.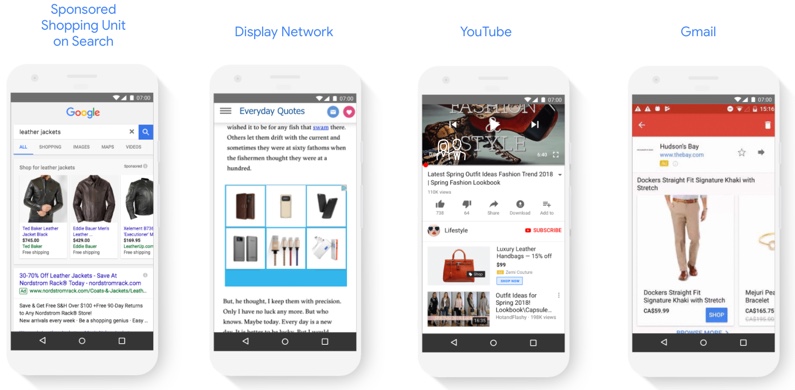 Source: Drive sales and reach more customers with new Shopping campaigns
Update of Impressions Metric in Google AdSense
It is no secret that reporting plays a vital role in AdSense experience. Earlier this month, Google announced they have updated how they report AdSense impressions. 
To remain consistent with the guidelines that standardize how impressions are counted across platforms, Google has transitioned their ad serving platforms from served impressions to downloaded impressions.
"Served impressions are counted at the point that we find an ad for an ad request on the server. Downloaded impressions are counted for each ad request once at least one of the returned ads has begun to load on the user's device. Starting today, publishers will see updated metrics in AdSense that reflect this change."
Source: Update of impressions metric in Google AdSense
Google is Testing a 30-Product PLA Carousel
On their mobile carousels, Google's Product Listing Ads have 10 or fewer products, or at least they used to. Although they have played around with two carousels on top of each other, the carousels are still fairly limited. Google is now testing out a new version of the Product Listing Ads Carousel with 30 products instead of 10. It also includes the keywords carousel to narrow it down even more.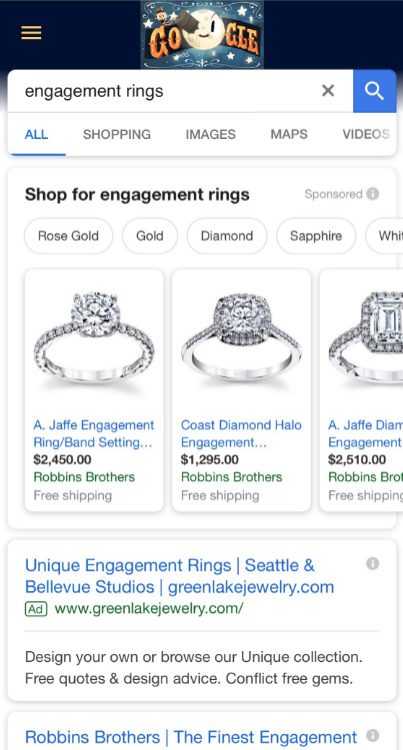 Source: Google Testing Product Listing Ad Carousels With 30 Products on Mobile 
GOOGLE TOOLS NEWS
Introducing Google One, a New Paid Google Drive
People are storing more data than ever before, and Google has provided people with secure ways to create, store and share information online. 
Google has introduced Google One, a simple solution for expanded storage that includes additional benefits to help you get more from Google. Paid consumer Google Drive accounts will be upgraded to Google One during the next few months, but the change won't affect G Suite business customers. 
With Google One you will have more space and better options. You will have enough space to use Google Drive, Gmail, and your original quality photos and videos in Google Photos. Options start at 100 GB all the way to 30 TB. The automatic update will begin in the U.S. and expand globally.
Source: One simple way to get more out of Google
Google Maps Update
Google Maps will be launching new updates that include helping you figure out what to eat and drink, and what to do, no matter where you are in the world. Google Maps aims to help you make quick decisions. 
The Explore tab has been redesigned as a new hub to help you find things to do and interesting spots nearby. If you look at a specific area on a map, you will see dining, events, and activities closeby. There are also trending lists like the Foodie List that show where people are going, with info from local experts and Google's algorithms. 
The For You tab will allow you to follow your favorite places and neighborhoods, so you never miss a thing. There are many new options aimed at personalizing your experience.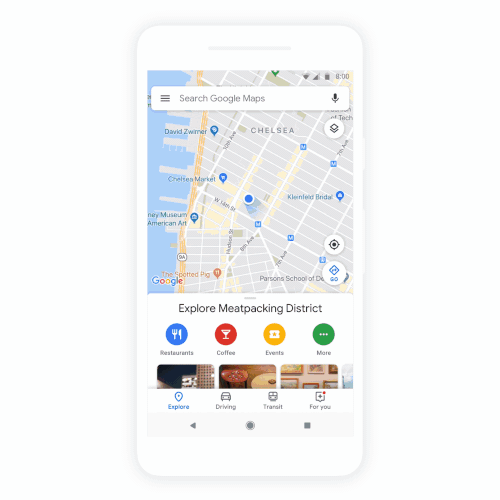 Source: Explore and eat your way around town with Google Maps
Google Privacy Policy Updates 
To comply with the new General Data Protection Regulation (GDPR), Google, like many other companies, has updated their privacy policy; it will be effective May 25, 2018. The actual content of the policy has not changed, but Google has updated the language and navigation of the document and presented videos and illustrations to make it more user-friendly. The updated policy allows users to go directly to their privacy settings, and also explains which data and how Google collects. The new version can be downloaded here.
Source: Google Privacy Policy update
The Launch of Google Pay Web-Version
Google Pay has recently introduced a number of new features that make it easier for you to complete the checkout process. You can now pay faster on desktop and mobile as Google is starting to roll out Google Pay for multiple browsers across multiple devices (this includes iPhones). 
Once you have added your card to Google Pay, you won't need to enter your payment info again, even if you check out in an app for the first time. If you are checking out in Google Chrome, Google Pay can automatically fill out your billing details, shipping, and payment info. So, no need to fill out forms anymore. 
Android users can take advantage of locations that accept contactless payments, and they will also get notifications in the app about special promotions or exclusive deals near them. 
Source: 5 ways Google Pay can save you time and money at checkout
Google Drive UI Update
Google is making some changes to the look and feel of Google Drive. There are no functionality changes, but there are a number of new tweaks, and some icons have been moved. This new interface was designed to create a responsive effect and to feel similar to other G Suite products, like the recently redesigned Gmail.
Some changes include the logo in the top left that changed to the Google Drive logo, custom company logos that are now being displayed in the top right, the Settings icon that moved in line with the search bar, and the 'New' button that has been updated.
Source: G Suite Updates
Introduction of Advanced Analysis in Analytics 360
Google has announced Advance Analysis, a new beta tool for Google Analytics 360 customers. Advanced Analysis offers three powerful techniques to help surface actionable insights into how people use your website. You can use this information offer better experiences to users, which can lead to building a broader customer base that will convert. 
You can do deeper analysis with the Exploration technique, drag and drop multiple variables, and compare multiple tabs in a single view. The Funnel Analysis can be used to better understand the steps users take to complete actions on your site, and the Segment Overlap technique allows you to see how segments you have created in Analytics 360 intersect with one another. Advanced Analysis will be rolled out over the coming weeks.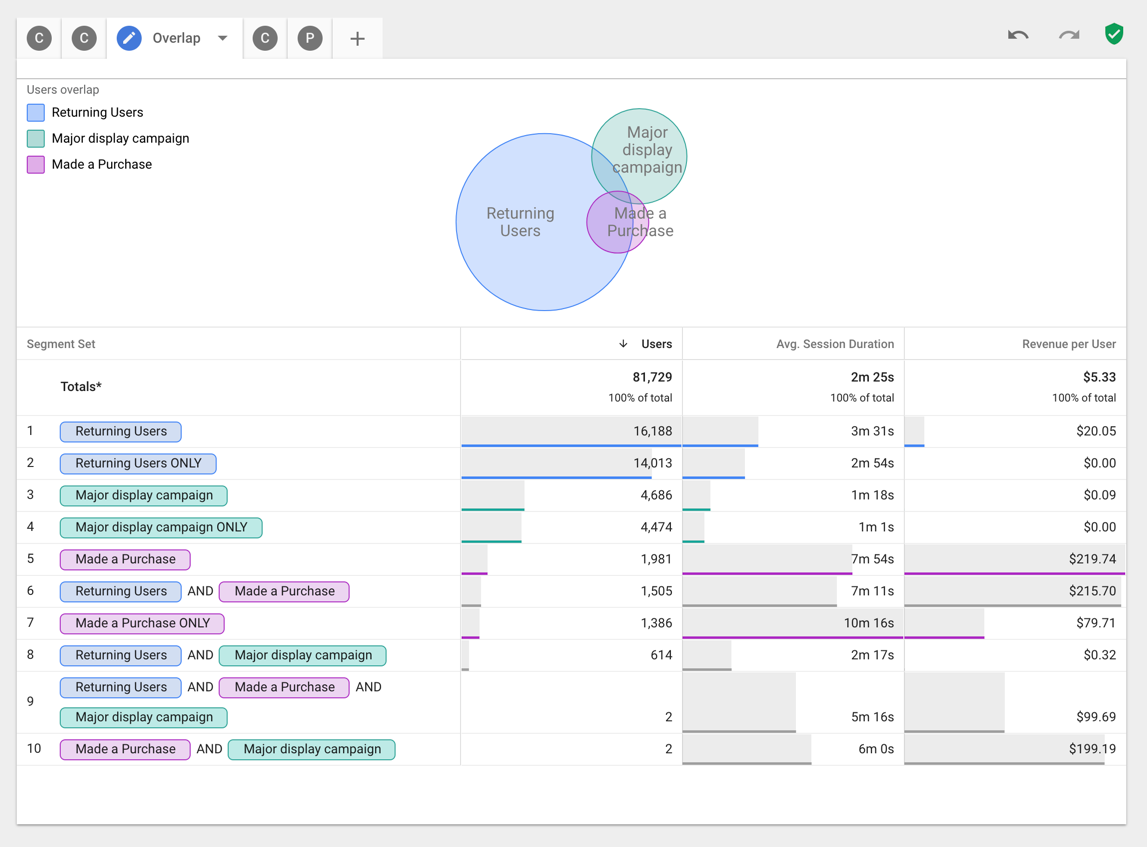 Source: Introducing Advanced Analysis in Google Analytics 360
Google I/O 2018 Recap
On May 8-10 Google held its annual Google I/O 2018 conference where the search giant announced its most significant developments and achievements. 
Google Assistant 
Google Assistant will now be able to recognize and perform multiple tasks that you mention in one sentence. And soon, you can change the sound of your Google Assistant's voice you and will have six different voices to choose from. And seven new countries will now benefit from Google Home that works on the basis of Assistant.
Duplex
Now, this is probably the coolest thing we heard from Google throughout the days of the conference. Google Duplex is a new technology that supports phone conversations in natural language for performing various tasks. Thanks to Duplex, Assistant will be able to conduct human-like conversations over the phone, including pausing in appropriate places and using such commonplace words like "hmmm." Upon testing, the bot made a call to a salon and booked an appointment at a hairdresser's, and guess what? The salon staff had no clue they were talking to an intelligent machine. 
Google Photos
Google Photos is now giving their users the opportunity to enhance their photos. For instance, you can create a PDF from a picture of text and color the image.
Gmail
Google added a new functionality, Smart Compose, that works on the basis of machine learning. The technology will use autosuggestions for quicker message exchange. 
Source:  Check out featured Sessions, and see what people had to say on social about #io18