From enhancing travelers' experiences to enabling businesses to manage their listings right from the search results, Google has been working to improve its products and services for both users and site owners.
AMP adopters and the advertising crowd have received some serious attention from Google over the last two weeks. If the logic behind AMP improvements is that "users love AMP pages for their speed and great user experience, so Google is doing its best to encourage more people to join the AMP club", then the narrative for advertisers and publishers goes in the other direction. Users generally don't like ads or are quite indifferent to them (not to be confused with advertising junkies), so Google wants to make sure it can provide more efficiency with fewer ads.
So, would the latest Google updates convince you to fetch up AMP pages and publish fewer ads? Scroll down to check out the full list of Google updates for the last two weeks and make sure your marketing strategy is aligned with these releases.
---
GOOGLE SEARCH NEWS
AMP-based Featured Snippets Available on Mobile
If you have ever felt like AMP pages, as brilliant as they are, have limited functionality, Google's newest feature will completely prove you wrong. AMP pages can now become the basis for a Featured Snippet on mobile devices. Although Google has once again confirmed that AMPs are not a ranking factor, when displaying a Featured Snippet, the preference may now be given to the AMP version of the mobile page that usually appears on the position zero on a desktop.
Source: Google Officially Adds AMP-based Featured Snippets to Mobile Search Results
Google's "People Also Search for" Feature Placement Tests
Google continues to test for the perfect place for its "People also search for" feature on the SERPs. This feature is the official nomad of Google search: we've seen it appear below the search results, in-between them, and… in the new experimental version of the SERPs desktop interface, it is now situated on the right sidebar.
Here is how it looks: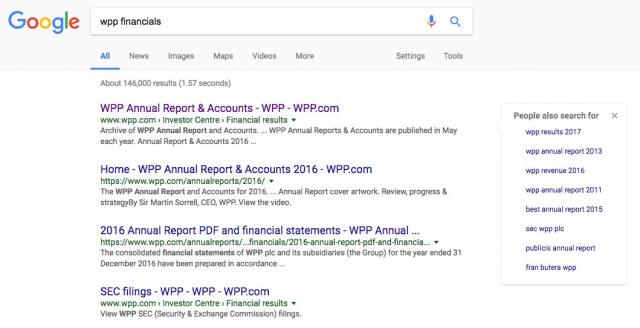 Screenshot from Tom Critchlow on Twitter
Source: Google Tests People Also Search For On Right Side Bar
New Languages Added to Google Trips, Flights, and Destinations
Planning a trip shouldn't take up more time than your actual holiday. It especially shouldn't require a great command of a lingua franca or any other language other than your own. And Google knows this! So Google Trips, Flights, and Destinations services are now supporting even more languages and countries.
Google Destinations, the mobile trip planning service, launched in March 2016 and is now available in 14 new European and Asian languages. Russian, Bulgarian, Croatian, Czech, Filipino, Hungarian, Indonesian, Japanese, Lithuanian, Malaysian, Romanian, Serbian, Slovakian, and Slovenian are among the newest additions.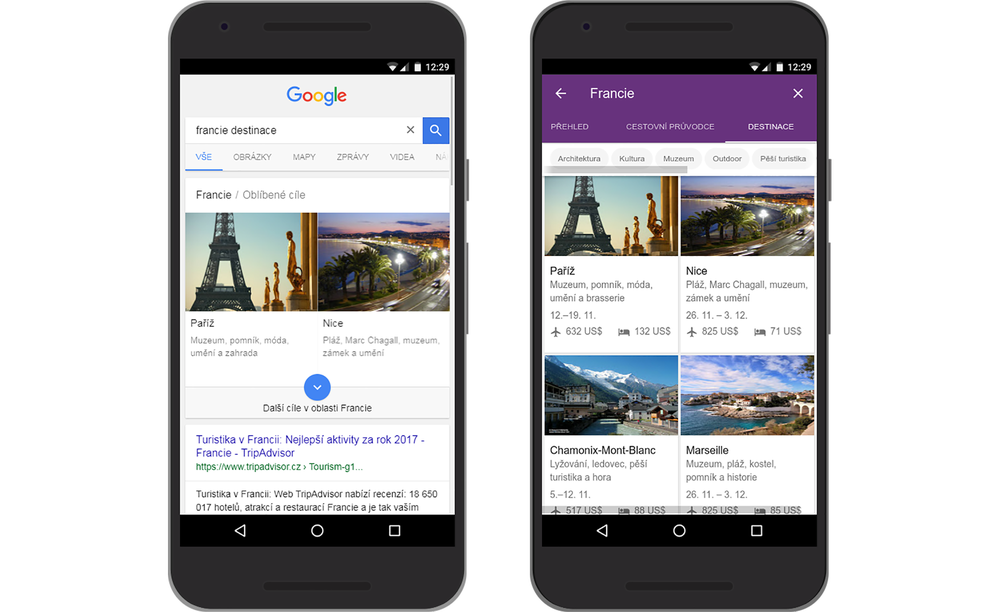 Google Flights, a ticket searching service, has now been rolled out in 26 European states. Ukraine, Albania, Armenia, Azerbaijan, Belarus, Bosnia and Herzegovina, Bulgaria, Croatia, Cyprus, Czech Republic, Estonia, Finland, Georgia, Greece, Greenland, Hungary, Iceland, Latvia, Lithuania, Macedonia, Moldova, Montenegro, Romania, Serbia, Slovenia and Slovenia are the countries that have been added to the service.
Google Trips, a trip planning tool, launched in September 2016 and is now available on both iOS and Android devices in six new languages – French, German, Italian, Portuguese, Spanish, and Japanese.
Source: Google Trips, Flights, and Destinations Add New Languages and Countries
Room Selection With Google's Hotel Search
Google has added one additional feature to make our, travelers' and nomads', job easier. A new carousel is available in Hotel Search on mobile. It offers room selection for particular hotels. For especially picky travelers, the feature includes information on a room's category, photos, an estimated guest count, and Wifi availability. Now, this is a bon voyage from Google!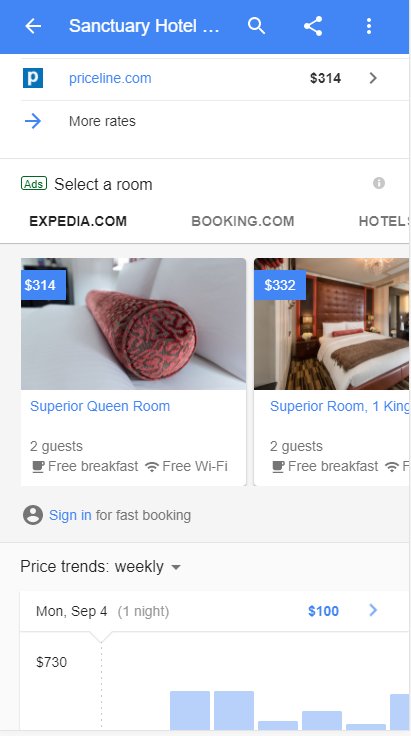 Screenshot from Mordy Oberstein on Twitter
Source: Google Hotel Search Results With Select Room Carousel
Business Listing Management Straight From Google Search
The mantra The simpler, the better is not a new invention. If only you could devote less time, and fewer clicks and tabs to managing your business. Well, now you can. As you may recall, a few months ago Google started experimenting with My Business panel within SERPs. And now it is finally official – Google has launched Business Listings within search results. To access it, simply enter your business's name in the search box; needless to say, you have to be signed into your Google account. You will be able to add and edit company information and photos, publish posts, and check your stats right from your business listing on SERPs.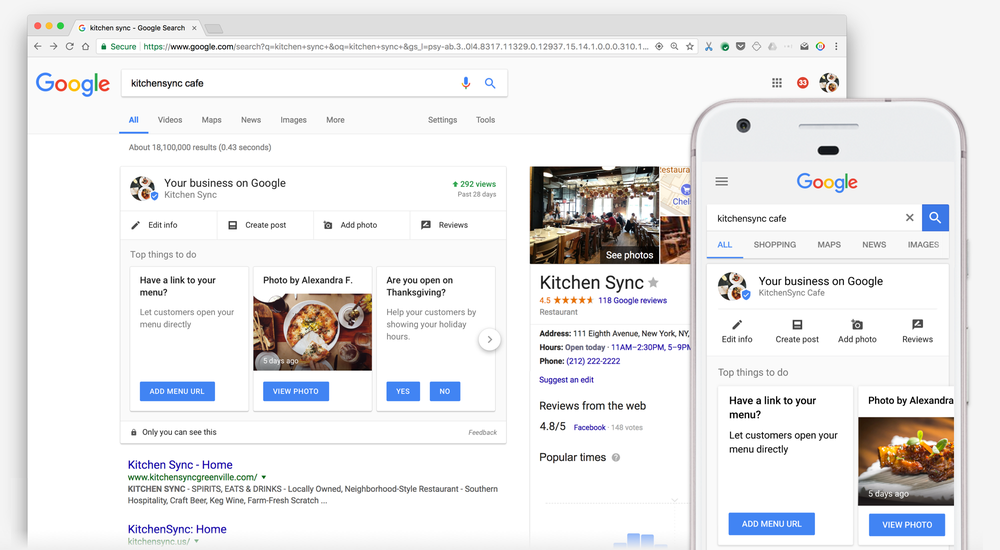 Source: Manage Your Business Listing Without Leaving Google Search
Trending Searches and Instant Answers Are Now on iOS
Following experimentation with Android, Google has updated its search app for iOS, rolling out version 34.1 and adding two new features – Trending Searches and Instant Answers. In the new Google search app, instant answers appear as you type. For instance, when you type in "the height of the Eiffel Tower," the answer appears below the search box. Users will also be able to provide feedback on these suggestions. To do so, you simply need to swipe left and click the "Info" icon.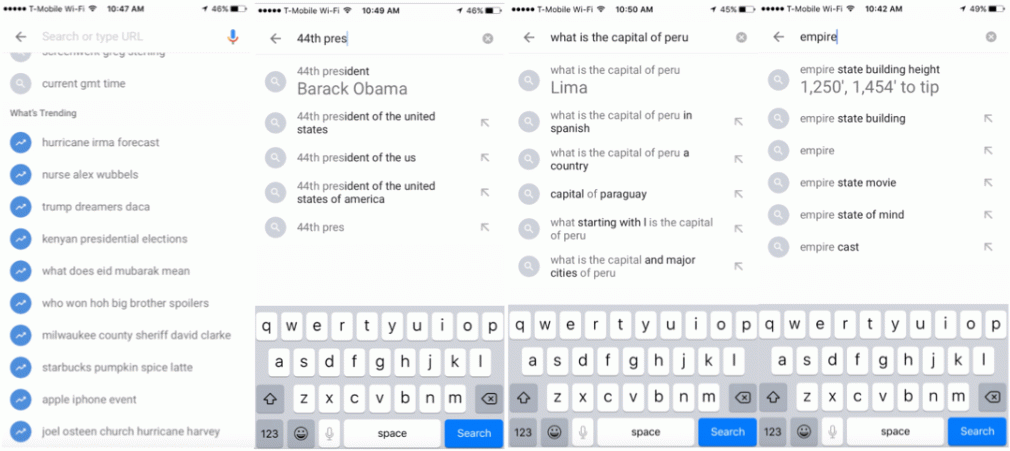 Source: Google Adds Trending Searches and Instant Answers to iOS App
---
GOOGLE ADS NEWS
New Google AdWords Dashboard
Data visualization is the "it" thing in our digital space. The time we spend tracking data and putting all the numbers together is exhausting, so dashboards provide a great solution for getting a panoramic view of your data and spotting new opportunities. Following this trend, Google AdWords is rolling out customizable dashboards, in which you can pick and pull various widgets with metrics you want to keep track of. The new tool provides a holistic view of your entire account. You can find more information about setting up your first Dashboard on the Google AdWords Support page.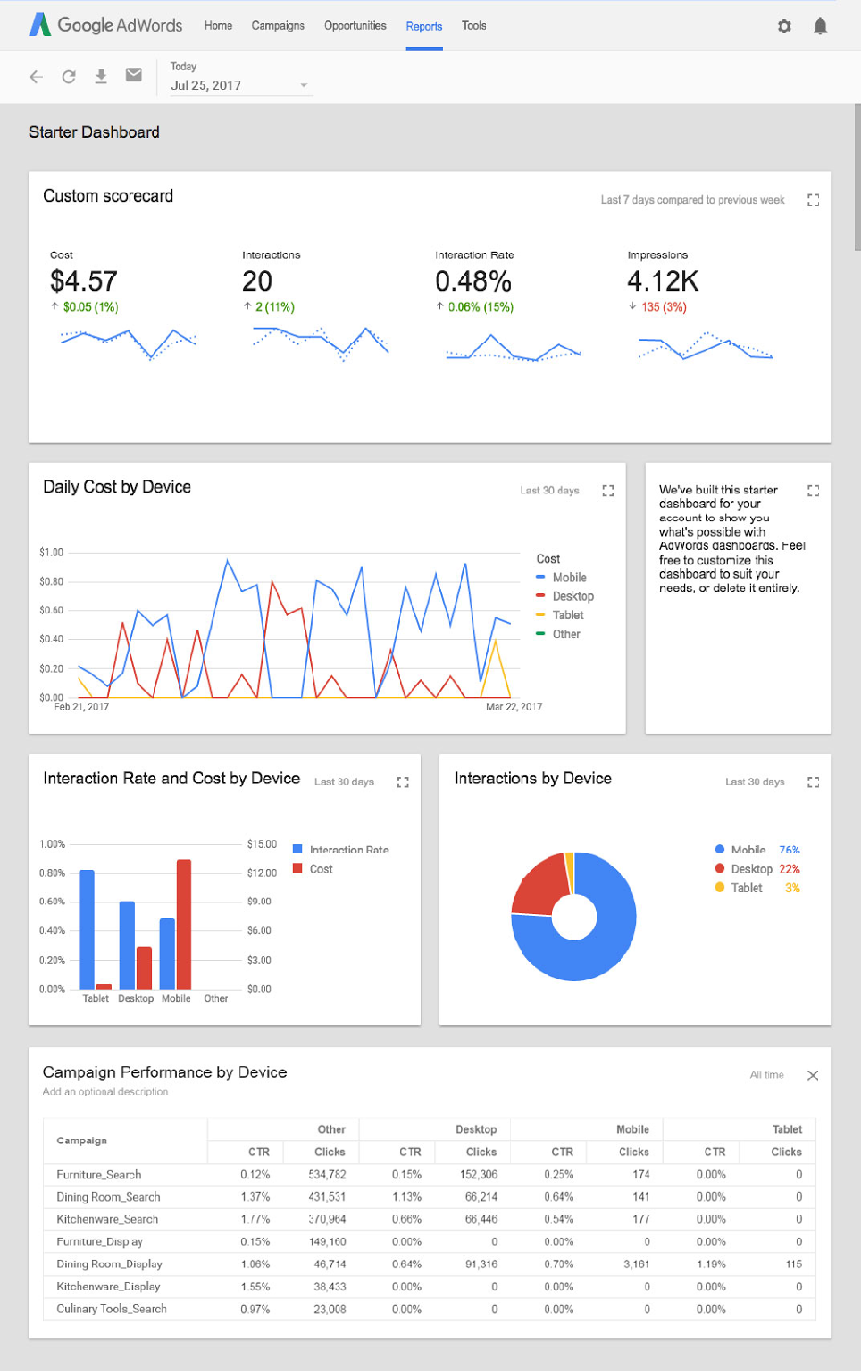 Source: Get a Panoramic View of Your Data With Dashboards
AMP Landing Pages for AdWords
AMP pages are a brilliant solution for speeding up the page's load time and an enhanced mobile experience. We all know that a one-second delay in loading speed can cause some big losses in traffic, sales, you name it. So here is some great news for all AMP adopters: Google AdWords is now starting to support landing pages in AMP format. The functionality has so far been extended to search text ads, which can from now on, lead to an AMP page.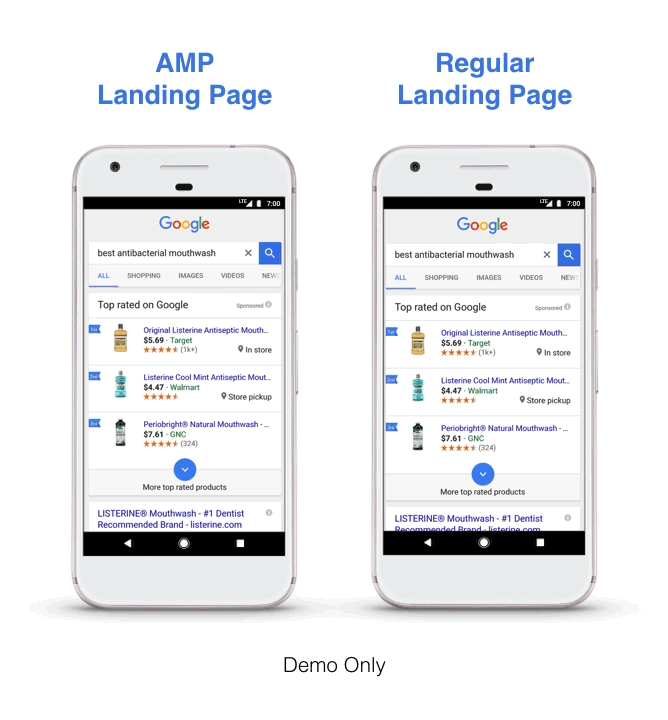 Source: Speed Up Your Search Text Ads With AMP Landing Pages
Google AdWords Rolls Out New Metrics and Reports for PLA
Advertising is all about cost-efficiency. And Google is gradually making it easy for pretty much everyone, even without an ad buyer background, to fetch up worthwhile ads. Thus, Google AdWords has added a new metric and report for advertisers. The "Impression Share" metric reflects your ads' share of displays in the top positions. Each auction offers one such display, making it a really crucial ad visibility indicator.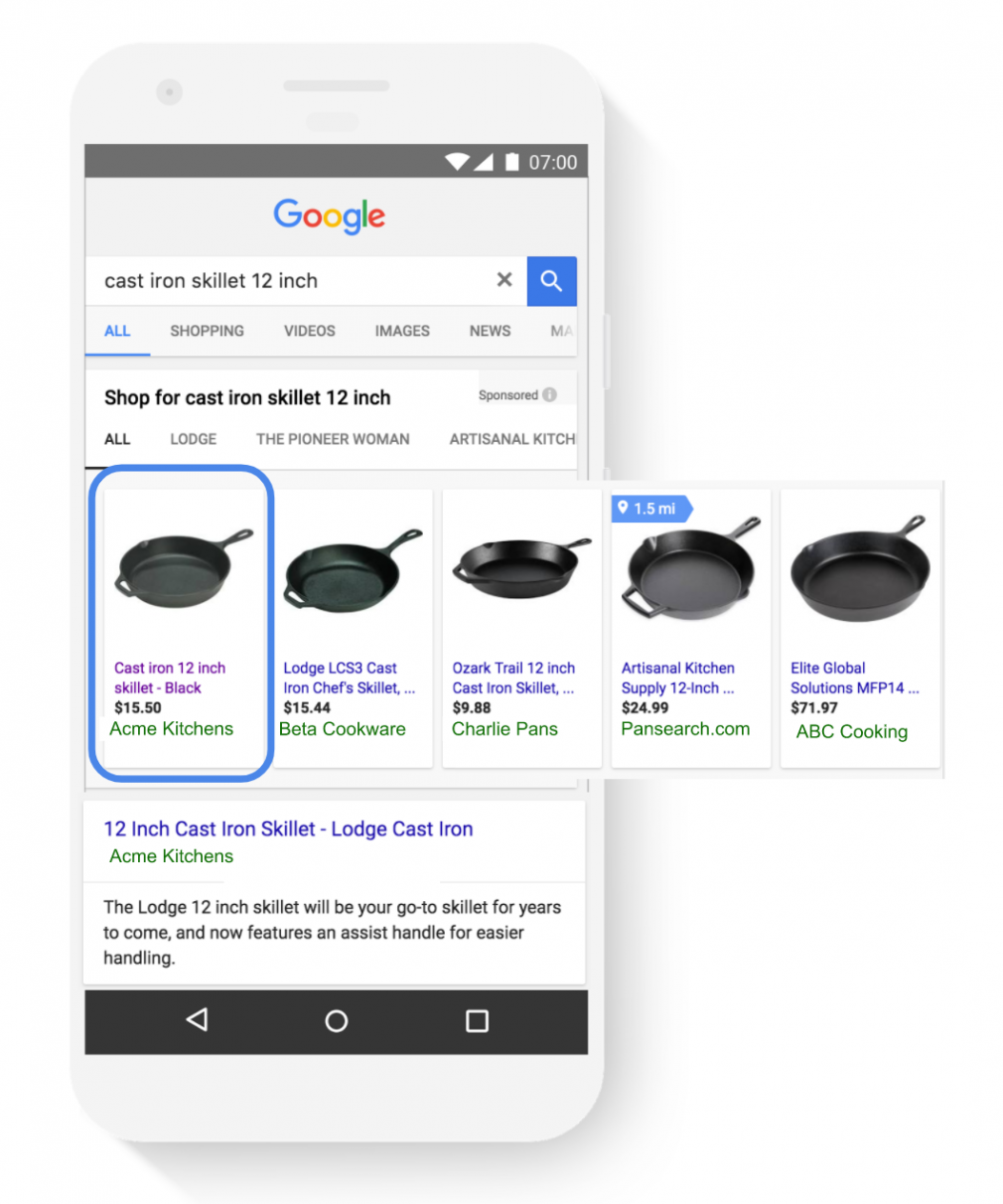 If you aren't sure which areas you need to work on, the new "Diagnostics" report will come in handy. It can be found under the "Products" section. The report provides an overall view of issues across your account, feeds, and items.
Source: New Reporting to Show How Often Your Shopping Ad Is in the Top Spot
User First Beta Program for Google AdSense Publishers
Are you an AdSense publisher who prioritizes user experience? If yes, then this new beta test is just for you. Google is tirelessly working to make  AdSense ads more efficient, so it can generate higher revenues with fewer ads. Is that possible? That's what its User First program is designed to do. The test is supposed to find an optimized recipe for those publishers who already offer a great user experience (fast loading speed, high traffic, quality content) to increase their revenues while showing fewer ads. The experiment is now available to those publishers who only run AdSense ads on their websites.
Source: Google Launches AdSense User First Beta To Test If Fewer Ads & Better Targeting Can Make More Money for Publishers
---
GOOGLE TOOLS NEWS
New Filters Added to Google Search Console Report
Google Search Console beta testers keep sharing new features that Google is about to release soon in its new GSC version. Glenn Gabe, a GSC beta tester, has revealed some screenshots of new filter features for the GSC's Index Coverage Status report.
If you are finding it hard to keep track of what you are submitting or forgetting to submit to the Googlebot, these filters can help.
The "Indexed, low interest" filter identifies pages that have been indexed but rarely make it onto Google's SERPs. This may reveal low-quality optimization issues or other wrongdoings on your side.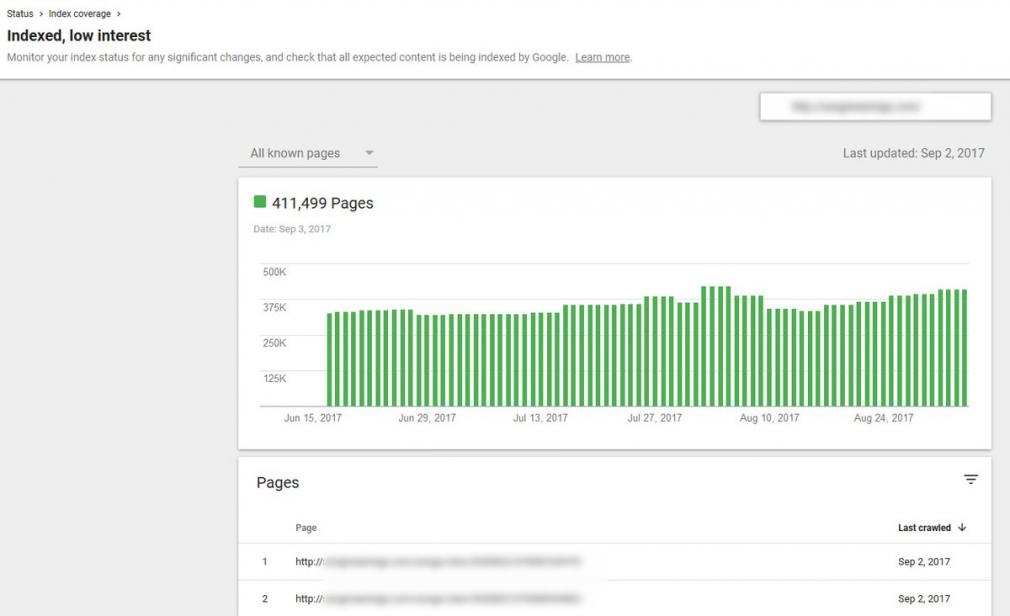 Screenshot from Glenn Gabe on Twitter
The "Indexed, not submitted in sitemap" filter obviously displays pages that were indexed, but not submitted to Sitemap.xml.
Screenshot from Glenn Gabe on Twitter
The "Duplicate page without canonical tag" filter identifies pages that contain duplicates that do not contain a rel="canonical" tag.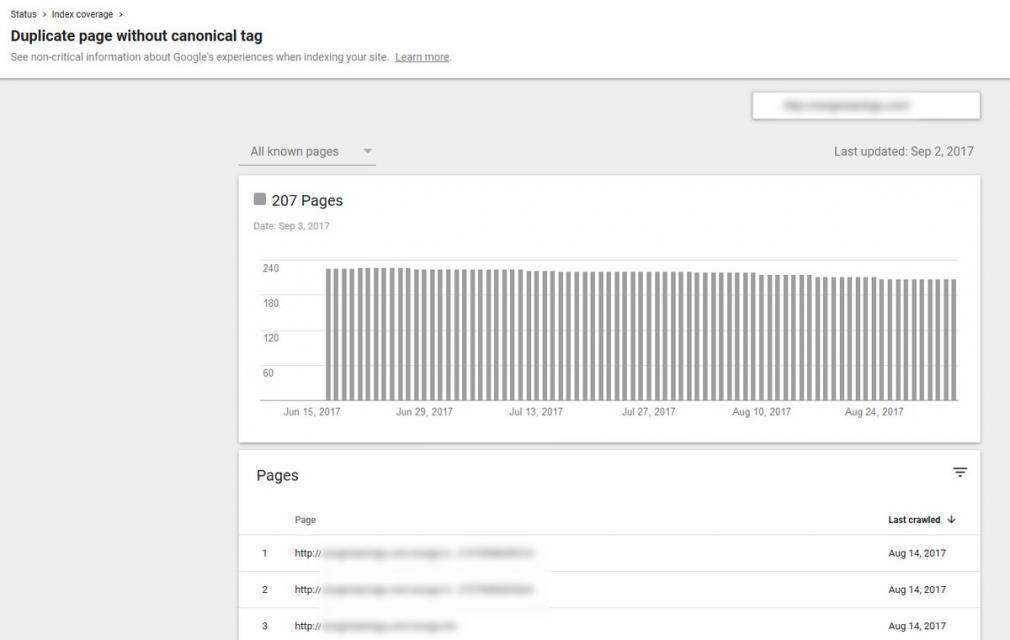 Screenshot from Glenn Gabe on Twitter
The "Submitted URL, marked 'noindexed'" filter shows pages that have been submitted for indexing but contain a noindex mark, either in a metatag or HTTP title.
Screenshot from Glenn Gabe on Twitter
And, finally, the "Submitted and Indexed" filter will display the lucky pages that have been both added to Sitemap.xml file and indexed.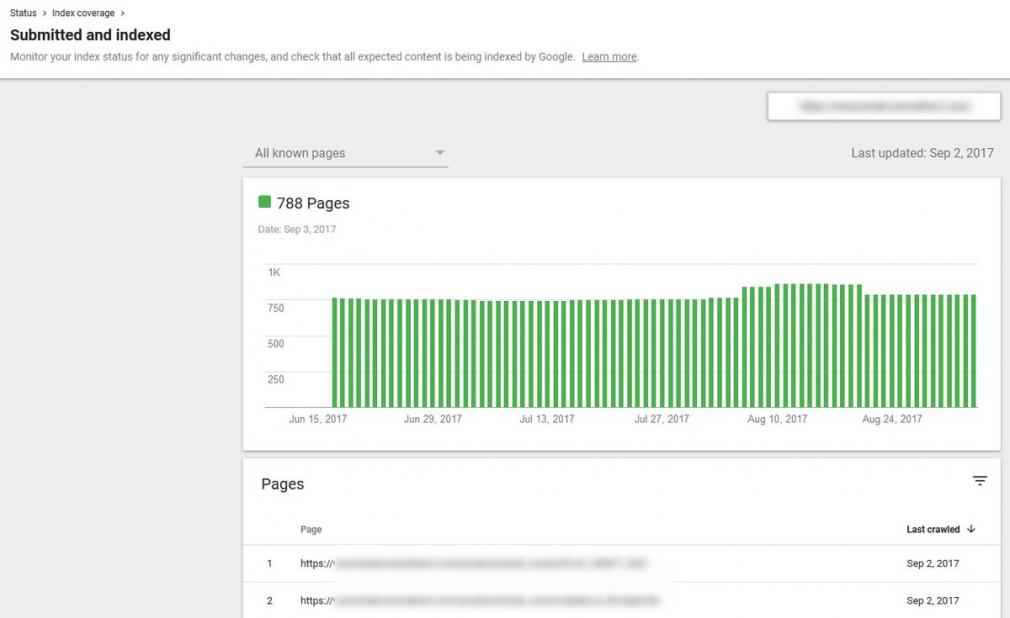 Screenshot from Glenn Gabe on Twitter
Want to see these features for yourself? You can check whether you have access to the new beta.
Source: More Screen Shots: Google Search Console Beta & Indexed, Low Interest Filter
Farewell to the "Fetch As Google for Apps" Feature In Google Search Console
We know Google doesn't like all things duplicate. So it has announced that its GSC's "Fetch As Google for Apps" feature has now become obsolete. The launch of Firebase App Indexing in 2016 already includes its functionality, so to avoid any confusion, it will be turned off.
Check out Barry Schwartz's SEO recap for more insights on the matter.
Source: So Long, and Thanks for All the App-Tests
UPDATED Google Dashboard for Improved Privacy Controls (Google Account)
Google is rolling out a refined new look for its Google Dashboard, a tool that displays your personal data and the services you use. The main changes concern enhanced usability on touchscreens to ensure that the dashboard is conveniently accessible from any device. Moreover, Google has altered the Dashboard's interface to make it easier to spot the products you use and have a glimpse at data on each of them.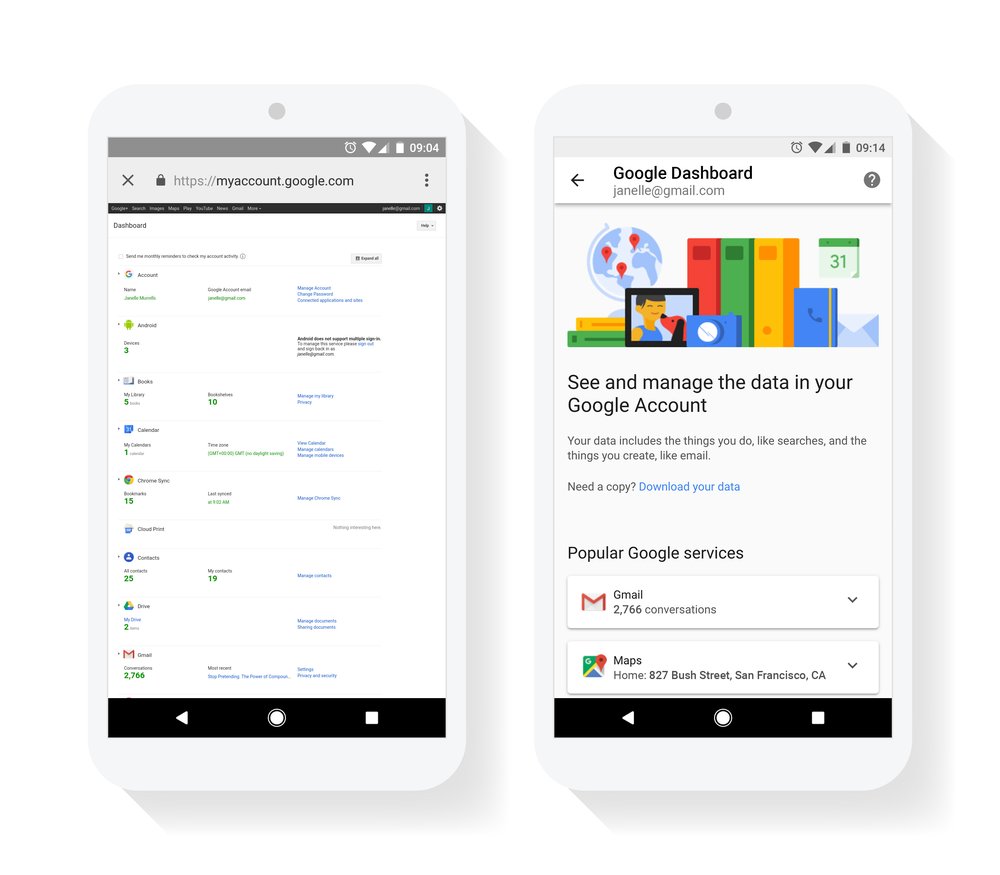 The old interface (left); the new version (right)
Source: Improving Our Privacy Controls With a New Google Dashboard
Enhanced AMP Pages Tracking In Google Analytics
With the increase in AMP adopters, the pressure to display more reliable data on these pages is ever-increasing. We all know that the visitor counter for AMP pages is anything but accurate. And Google Analytics has already come up with a solution -AMP Client ID API offers enhanced and more precise tracking for AMPs. Upon entering a slight code alteration, website owners will be able to see more precise and accurate numbers, as users that were previously distinct are now counted as one. Metrics like "Time on Site" and "Bounce Rate" will also benefit from the new solution and are expected to display more accurate data.
Source: Google Analytics Is Enhancing Support for AMP on Cache
---
FINAL WORDS
Go ahead and try all the new features that we have mentioned and let us know what you think about them. I would love to know whether you find these alterations useful, or if you simply prefer some features the way they were.
The digital space is always moving (even galloping) forward. Something you have just adapted to and even started to love-love can become obsolete in no time. If you are struggling to keep up, or simply need a good old reminder of what has been going on, make sure you follow our Google News Digests, which airs every two weeks.
Let me know in the comments if I have missed something important, or feel free to mention any suggestions for our improvement. And don't forget to share any screenshots or insights if you spot anything new with Google!