Over the last few weeks, Google has been increasingly rolling out new updates around the AMP project. Some of these updates include giving AMP stories (a dedicated section in the Search), coming up with a URL solution for AMP pages, enabling AMP to support custom JavaScript, and adding AMP Stories data within Google Search Console. The search engine appears to be more active than ever when it comes to addressing some of the common objections to AMP that are currently propagating around the web. Adding JavaScript support capability to improve the UX of AMP pages and addressing the URL issue through signed exchanges are just two examples to give us a glimpse into that direction.
Other notable updates in the month of April include testing a new GoogleBot, launching the beta version of Currents (to replace Google+), and introducing new reports within the Search Console including Discover report, Android App data, and AMP Stories report. We have covered all of these in the news digest below and will talk about them in detail on our podcast, too.
As you can see we have quite a bunch of stuff to talk about here. But before we even move on, let's make some space for our weekly Marketing Scoop podcast. Dennis Yu, the CEO at BlitzMetrics, and Gavin Bell, the UK's leading Facebook ads consultant, are this week's experts who are going to discuss all the latest updates and developments in detail.
[podcast-subscribe]
---
GOOGLE SEARCH NEWS
Dedicated Section for AMP Stories
Google has announced adding a new section to the SERP that will be dedicated to AMP Stories. The search engine has recently announced this change at the AMP conference in Tokyo. Kenichi Suzuki, a Google product expert, posted the following on Twitter:
"AMP Stories now appears in a dedicated section in search results for general queries such as "things to do in Tokyo." It's a new opportunity to attract users in SEO."
It appears that the AMP Stories will be available in the U.S. first and will begin with travel-related content. Below you can view the announcement video to get a feel for AMP stories in action.
If you want to start creating AMP stories, follow this tutorial to help you through.
Source:  AMP Stories Now Have a Dedicated Section in Google Search Results
URL Solution for AMP Pages
Google announced that Google Search's AMP web results will now support linking to signed exchanges which enable publishers to display their own URLs on AMP pages. According to the search engine, this service is available in browsers that currently support the necessary web platform features (at the moment, it's Google Chrome only).
Previously, the URLs displayed in browser address bars on AMP pages began with google.com/amp. However, there was a lot of criticism around the AMP project as the Internet community didn't want Google to display the AMP URL in place of the domain the content comes from. And although Google appears to have found a solution to retain AMP's instant loading and still show the content's original URL, many publishers are still concerned whether allowing a third party to serve up their content without users being able to tell the difference is a good idea at all.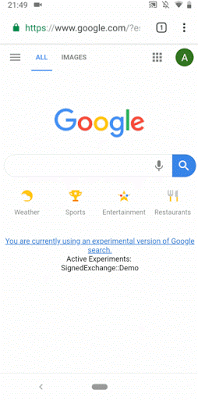 Sources:  Instant-loading AMP pages from your own domain;  Some cheers, a few sneers for Google's URL solution for AMP
New "before:" and "after:" Search Commands
Google has introduced a new search bar command that allows search users to filter their searches based on a specific date range. The "before:YYYY-MM-DD" and "after:YYYY:MM:DD" shortcuts can be used to filter searches before or after a specific date or year. As per Google Search Liaison:
"The before: & after: commands return documents before & after a date. You must provide year-month-day dates or only a year. You can combine both. For example:
[avengers endgame before:2019]
[avengers endgame after:2019-04-01]
[avengers endgame after:2019-03-01 before:2019-03-05]"
Although this feature has been accessible with the right settings under the Tools menu for about a decade now, the new shortcut commands will surely make it more convenient and accessible for users. From an SEO perspective, it will be useful to know how a website currently ranks versus how it used to rank before or within a specific time period.
Source:  Search Google by date with new before: and after: search commands
New Preview Screen Test on Image Search
Mordy Oberstein, an SEO specialist, spotted Google testing a new layout for the side preview on Image Search. The interface does not appear much different from what we have been noticing from previous tests; only that the window preview appears to be on the right side and a black background has been used instead of white.Here is the screenshot Mordy has posted on Twitter: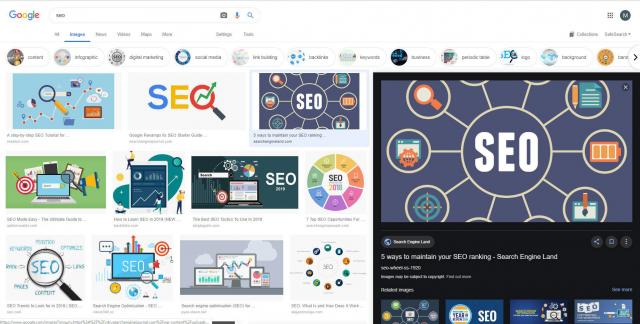 Source:  Google Image Search Tests New Preview Screen Again
Testing a New GoogleBot
DeepCrawl, a website crawler tool, spotted Google testing a new version of GoogleBot that can render web pages like a modern browser. Martin Splitt, a Google Developer advocate, has also confirmed the test on Twitter: "We're testing things all the time and sometimes these experiments are visible." Google is using more advanced JavaScript or advanced web apps to improve GoogleBot's ability to render more. Here is a screenshot from DeepCrawl, showing what the new experimental GoogleBot is able to render.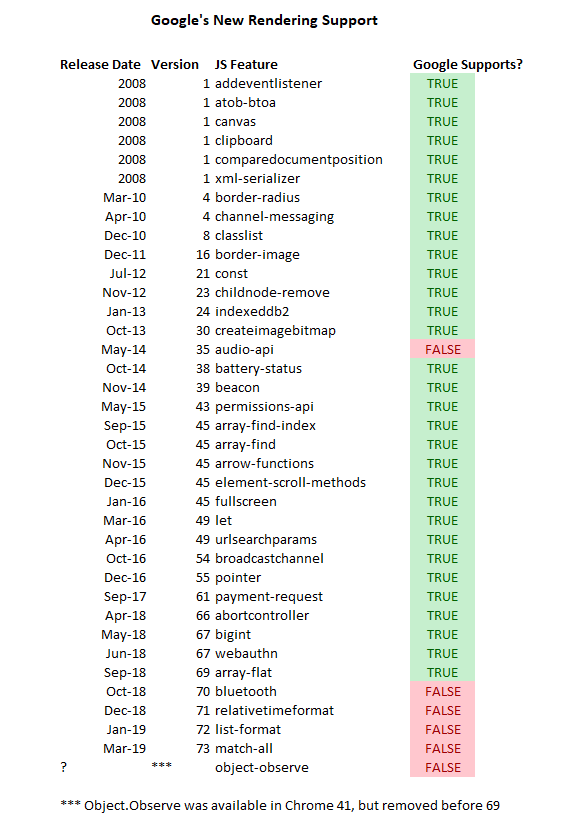 In contrast, this is what the normal GoogleBot can render.
Source:  Google spotted testing version of GoogleBot that can render more content
New Metrics for YouTube Videos
Bloomberg has recently reported that Google is using two new metrics to reward quality content on YouTube. According to the report, one of these metrics tracks the total time people spend on a YouTube video; the other metric (called 'quality watch time') tries to measure how much of a constructive goal a video serves other "than just keeping users glued to their phones." As per Bloomberg, YouTube declined to comment much on the latest metrics though. The spokeswoman from Google only said that "There are many metrics that we use to measure success."
The newly introduced metrics appear to be targeting people who upload or spread irresponsible videos for the sake of gaining viewership. Bloomberg has quoted YouTube's CEO, Susan Wojcicki, how Google is focusing on rewarding content based on a rubric for responsibility. "[The company] saw how the bad actions of a few individuals can negatively impact the entire creator ecosystem, and that's why we put even more focus on responsible growth."
Source:  To Answer Critics, YouTube Tries a New Metric: Responsibility
Companies to Get Short Names and URLs in Google My Business
Google appears to be introducing a simple way to make Google My Business profiles more accessible in the form of short names and URLs. The new feature, once officially launched by the search engine, will let businesses create a short name and short URL that will, in turn, help them easily share their profiles and solicit reviews (using the "/review/" extension). There are many ways businesses can use short URLs, including on posters, business cards, brochures, and other types of marketing collateral. Using a URL on materials like these can help customers easily find the business, access contact information, leave reviews, and get other useful information. The URL requires businesses to limit their names to only five-characters and the format is g.page/[customname].
All businesses verified in Google My Business can create a short name. However, the feature is still rolling out and some businesses might have to wait until it becomes available for them. For more on this, refer to Google's help document.
Sources:  Twitter: Ben Fisher;  Google adds short names and URLs to Google My Business listings
GOOGLE TOOLS NEWS
AMP Stories Data Added in the Search Console
As per Google's latest announcement on Twitter, Google Search Console now includes AMP story traffic from both Search and Discover. The search engine has added AMP story traffic the same day it added the Discover report within Google Search Console under the performance report. The Discover report provides webmasters brand new data about their traffic from Google Discover such as clicks, impressions, and CTR related to Google Discover traffic. However, most users report that they are still unable to see any example of AMP Stories showing up under the performance report within Google Search Console.
Here is what Barry Schwartz from Search Engine Roundtable has to say: "I went ahead and mocked up what the search appearance filter in the performance report might look like, but again, this is a mockup - I do not have any sites that do AMP Stories or QA rich results in my Google Search Console account."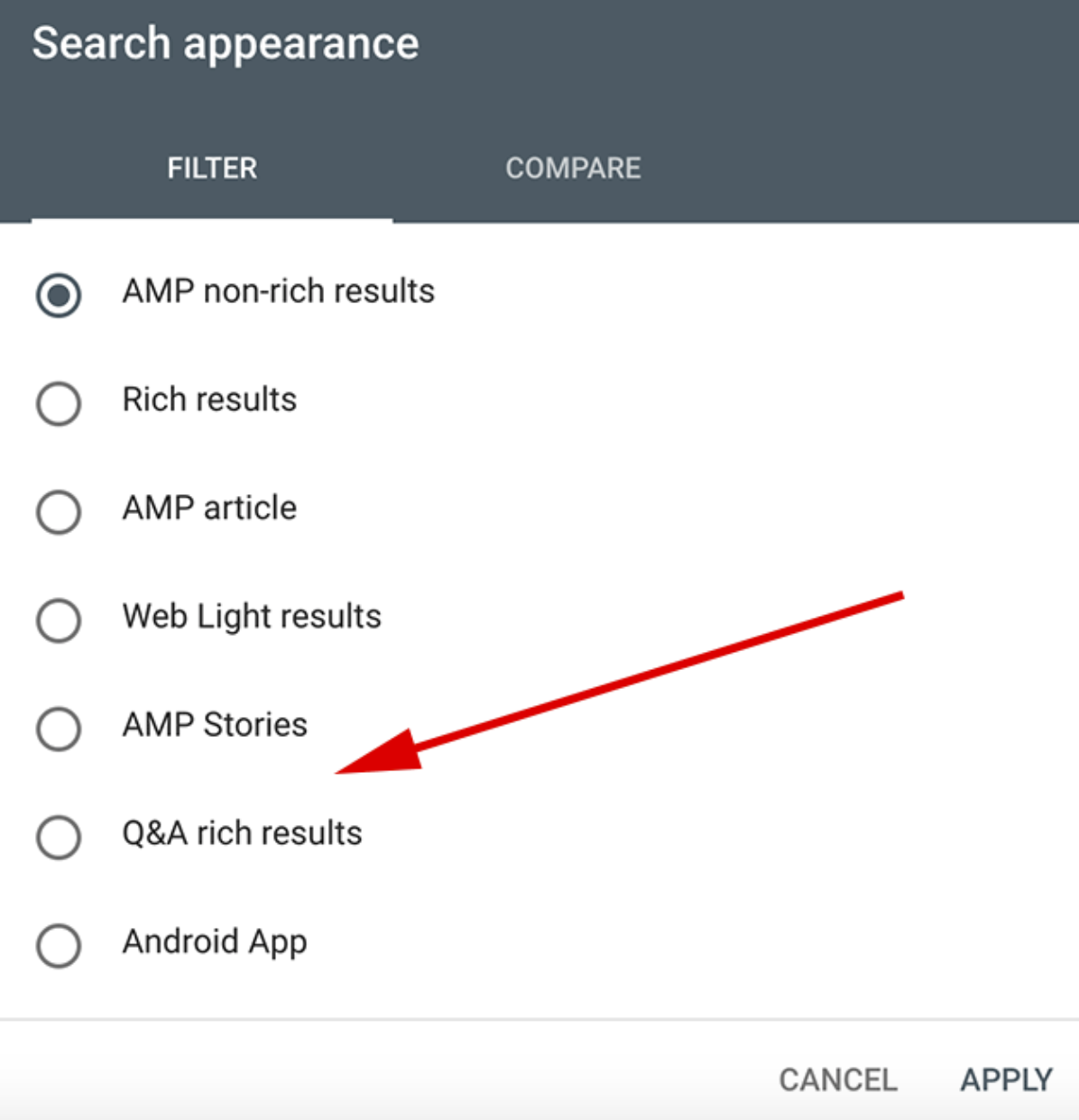 Source:  Twitter: Google Webmasters
AMP to Support Custom JavaScript
Google has announced adding JavaScript support to AMP. "With 'amp-script', custom #JS can operate within AMP Documents. Don't believe us? The animation below was built using AMP Script!" the AMP project team posted on Twitter. Comprehensive coverage of this topic in the AMP conference (2019) was provided by Kristofer Baxter. In his presentation titled "The Glory of AMP Script: Unleashing the Kraken," he talked about how every AMP page essentially shares three key important traits, namely Instant Loading, Privacy Preserving Preloading, and a Reliance on JavaScript (to improve user experience).
The AMP project, as it has now begun to support custom JavaScript, will do so without losing AMP benefits like fast loading and privacy-preserving preloading. For those of you who want to watch the entire presentation, the video is available on YouTube on Google's AMP Channel.
Source:  Twitter: AMP Project
New Discover Report in the Search Console
Google has added a new report in Google Search Console called Discover report. According to the search engine, the new report will provide publishers and sites relevant statistics and visibility into their Discover traffic. More specifically, the report will help answer questions such as:
How often is my site shown in users' Discover? How large is my traffic?

Which pieces of content perform well in Discover?

How does my content perform differently in Discover compared to traditional search results?
The new Discover report is available under the Performance tap within Google Search Console and is shown to websites that have "accumulated meaningful visibility in Discover, with the data shown back to March 2019."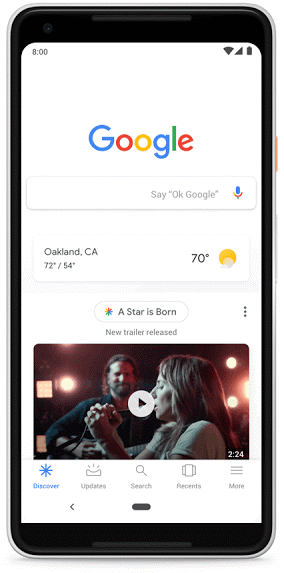 Source:  Search Console reporting for your site's Discover performance data
Search Console to Include Android App Data
Besides AMP Stories and Discover reports, Google has added another capability to show data related to Android Apps within Google Search Console. Accordingly, webmasters having an android app associated with their websites can now see "the app's clicks, impressions, CTR, and position with a separate search appearance" under the performance report within the Search Console. The announcement came from Google on Twitter. However, we still need to learn if there is any documentation available to help webmasters integrate their Android apps within the Search Console and access this data.
Source:  Twitter: Google Webmasters
Google Assistant Update
The search engine has announced bringing a new update to Google Assistant on Android phones. Accordingly, GA will provide better visual responses and more complete information at a glance. The update also comes with a new interface for categories like events as well as access to useful tools like "the tip calculator, metronome music pacer and bubble level." As per Google, you can now ask your Assistant things like "Events in Mountain View" or "Why is grass green?" and you will get answers with cards that clearly and accurately represent the information you are looking for.
It is also possible that, in some cases,Google Assistant shows you relevant links to a variety of sources on the web so that you can learn more. In these cases, the Assistant will show you the full set of search results from the web. And according to Google, "when relevant, these results may include the existing ads that you'd see on Search today."
Source:  New types of answers from your Google Assistant on Android
New App Screens for Android Users in EU
In response to feedback from the European Commission and following the changes Google made to comply with the European Commission's ruling in 2018, the search engine giant will start rolling out new screens for Android users in Europe over the next few weeks. The new screens will have an option to download search apps and browsers and will be presented to users the first time they open Google Play after receiving an upcoming update. As per the search engine's official announcement, users will see two separate screens for search apps and browsers. Each will contain five apps in total, including the ones already installed on a user's device. These screens will be rolled out over the next few weeks and "will apply to both existing and new Android phones in Europe," as Google mentions.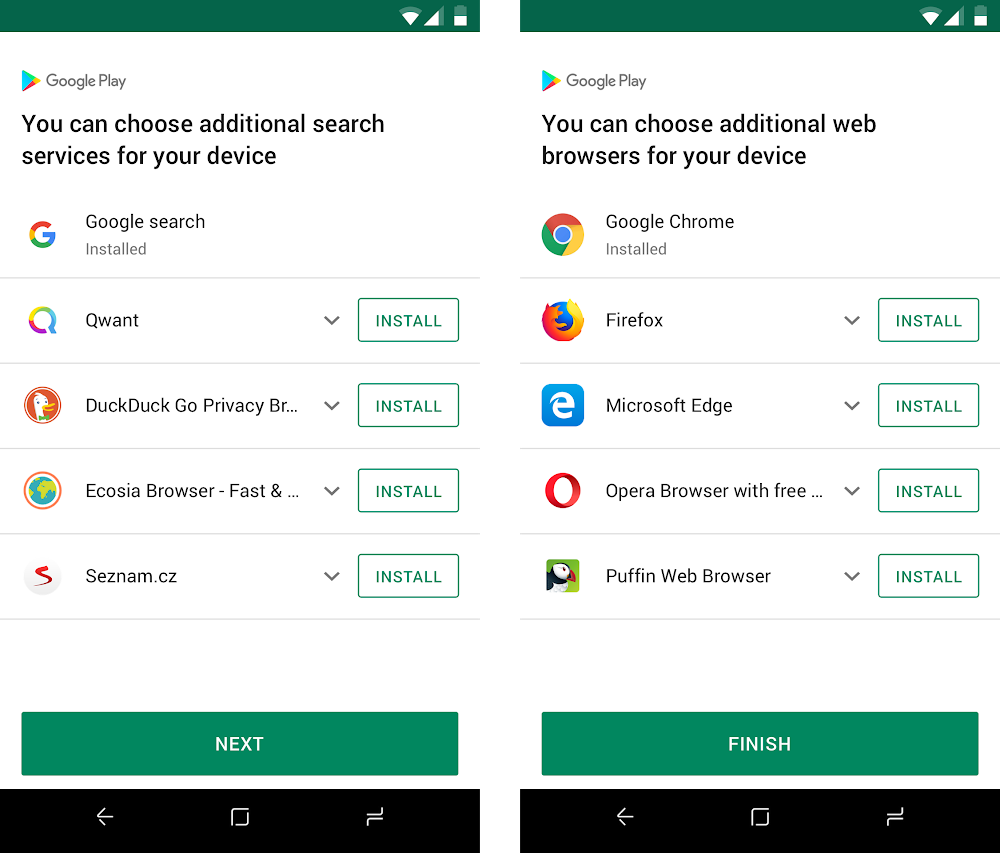 Source:  Presenting search app and browser options to Android users in Europe
Google Launches Currents to Replace Google+
Google has announced the launch of Currents — the new G Suite app that enables people to interact with one another and have meaningful discussions in an organizational setting. According to the search engine, Currents is replacing G+ for G Suite and organizations willing to get enrolled in the beta will see their existing Google+ content automatically transfer to Currents. Google says that the new G Suite app comes with a new feel, look, and set of features.
As per Google, Currents is going to be very useful for users as it will enable them to exchange ideas at scale, connect them to useful and timely content, and help them manage and curate content with ease. To get started, corporate users with admin access to their G+ page(s) can send a request email at: CurrentsBeta@google.com. For end users, Google says, "no action is required."