We are back, with another list of Google News items you need to see. Yesterday Google made three announcements SEOs, marketers, and businesses need to know about, including a broad core update. So check out all the news on SERP changes, Google Ads, and tool updates below, and be sure to comment and tell us what you think of each of them. 
---
GOOGLE SEARCH NEWS
Broad Core Update is Underway
A new broad Google core algorithm update, creatively called "September 2019 Core Update", was announced yesterday.
As usual, no further details are provided, and we are yet to see which changes it brings upon SERPs, but updates tend to take a few days. So keep an eye on the SERPs and SEMrush Sensor. 
More Options to Help Websites Preview Content on Google Search
Google announced last night that there is now a set of new ways for you to preview the pages that could be shown in Google Search. 
We know that Google search provides content previews like  text snippets and media to help people decide whether a result is relevant to their query. Now you may have some input or idea of how the information you provide will be generated in search results. Google explained the update in their blog post: 
"...we recognize that site owners may wish to independently adjust the extent of their preview content in search results. To make it easier for individual websites to define how much or which text should be available for snippeting and the extent to which other media should be included in their previews, we're now introducing several new settings for webmasters."
"Previously, it was only possible to allow a textual snippet or to not allow one. We're now introducing a set of methods that allow more fine-grained configuration of the preview content shown for your pages. This is done through two types of new settings: a set of robots meta tags and an HTML attribute."
You should check out Google's post and see what they had to say about robots meta tags, the new data-nosnippet HTML attribute, the AMP Format, and more. 
Source:  More options to help websites preview their content on Google Search
Updated Documentation for Robots Meta Tags and Headers
Google's Gary Illyes announced the Robots meta tag, data-nosnippet, and X-Robots-Tag specifications have been updated. Developers and webmasters should review what has changed. 
Source:  Robots meta tag, data-nosnippet, and X-Robots-Tag specifications
Original Reporting Gets Ranking Boost
Google released a statement about their new approach to "original reporting". As the company's VP Richard Gingras explained, "In today's fast-paced world of news, the original reporting on a subject doesn't always stay in the spotlight for long". Google wants to give more credit to original sources of information by moving them up on SERPs and making sure they stay on top longer. Updated Rater Guidelines explain how such sources will be determined: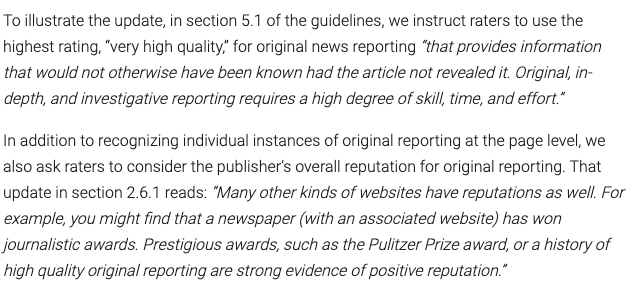 New ranking principles will take effect in Google Search, as well as News and Discover.
Sources:  Elevating original reporting in Search,  Google now gives more preference to original reporting in search 
Key Moments Make a Debut on SERPs
A new feature announced by Google allows users to see key moments within videos on SERPs. A timeline with each moment's descriptions is visible under the video. These descriptions and timestamps must be added by content creators. At the moment, this feature works only in English search and is available for a small number of providers. If you want to become one of them, fill out  this form.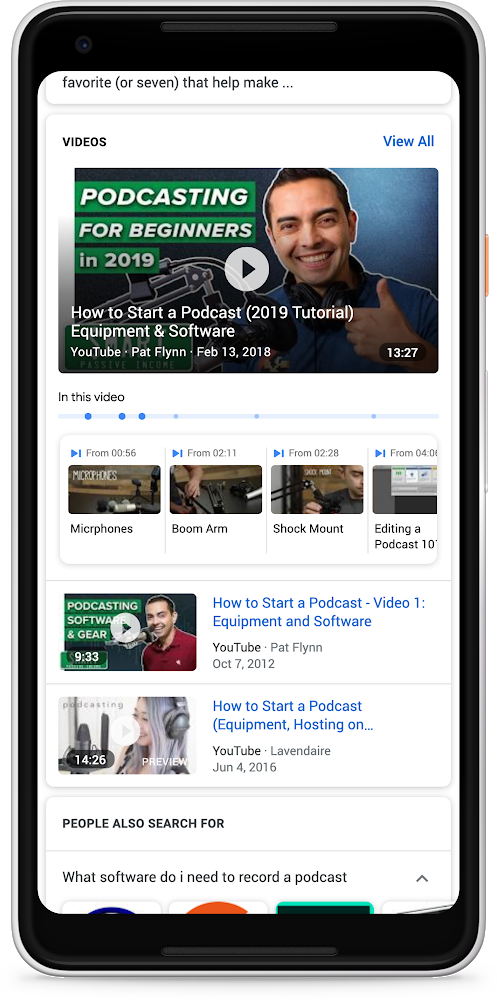 Source:  Search helps you find key moments in videos 
Review Markup Update
A few changes have been made to Review Rich Results documentation. All of them are summarized in this tweet by Google Webmasters:
Specifically, for now on, only certain schema types will be accompanied by review snippets: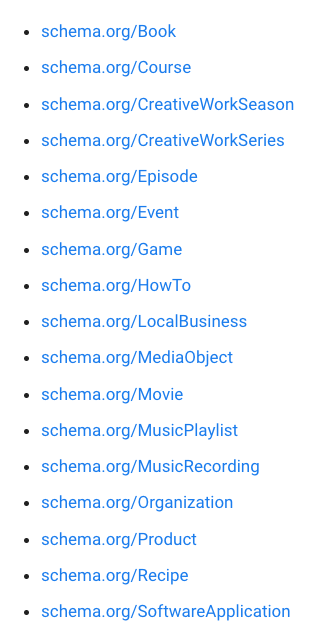 Apart from that, Google has stopped displaying "self-reviews" in rich results. "In the past, an entity like a business or an organization could add review markup about themselves to their home page or another page and often cause a review snippet to show for that page. That markup could have been added directly by the entity or embedded through the use of a third-party widget.", – says the post on Webmaster Central Blog. Google insists that no action is needed from site owners who used this scheme; their review snippets will simply disappear from SERPs.
Source:  Making Review Rich Results more helpful
GOOGLE ADS NEWS
New Manual CPC Bidding Option
Google Ads users who opted into enhanced CPC can now manually set conversion value as their goal. 
Source:  Optimize for conversion value with eCPC in Google Ads
Ban for Experimental Medical Treatments Ads
"Speculative and experimental medical treatment" advertising is now officially prohibited by Google. Among treatments in this list are "most stem cell therapy, cellular (non-stem) therapy, and gene therapy" and generally any type of therapy that has "no established biomedical or scientific basis".You can check the latest version of Google's healthcare and medicines ad policy here.
Source: A new policy on advertising for speculative and experimental medical treatments 
GOOGLE TOOLS NEWS
Fresh Results in GSC
Have you ever dreamed of not having to wait for three days before being able to see your website organic performance in Google Search Console? Of course, we all did! And it happened! Now you can watch your website crash and burn after the latest update in almost-real-time! Isn't it exciting?
Source:  Fresher data in your site's Search Performance report
New GSC Reports: Datasets and Breadcrumb Structured Data
Two new reports are now available in the Google Search Console. One report is on Datasets: 
And the other is on Breadcrumb Structured Data
Source:  Twitter: Google Webmasters
[ create-campaign bg_images="https://static.semrush.com/blog/uploads/media/9f/4e/9f4eebb206604bf5c4b6b367c17d9e0a/banner-site-audit.jpg" bg_button="-success" header="Check your website health" text="with SEMrush Site Audit"]
Lazy Load WordPress Plugin by Google
Google has released a new WP plugin. The WordPress plugin page explains the purpose of the new plugin:
It "relies on the new  loading attribute, which makes lazy-loading a native browser functionality. The attribute is already supported by Chrome and will be rolled out to other browsers over time. The solution being "native" means that it does not rely on custom JavaScript logic, and thus is more lightweight. And "more lightweight" means "faster".
Last but not least, a neat thing to keep in mind is that this plugin will essentially improve itself over time, as more browsers roll out support for the loading attribute."
If you have a WordPress site and want all of your images and iframes in post content to be loaded lazily, just install (with the help of a developer to avoid a potential problem) and activate the plugin.
Source: Lazy Load WordPress Plugin 
---
This is all the search news we have for you, but stay tuned for our next digest in two weeks. And don't forget to sign up for Global Marketing Day – the world's first 24-hour online marketing conference. More than 50 top-level experts will share their knowledge with you, and it is completely free! Don't miss your chance to learn about new tactics, the most useful tools, and unique insights. Travel around the marketing world without leaving your home or office!