Marking its 14 years as a public company, Google celebrates the occasion with the way it always celebrates all significant occasions, with the release of new tweaks and updates. From a major revamp of Google Drive that now turns into Google One and more experiments with Featured Snippets, to a restyle of Display ads and many new features for advertisers, all the novelties explain how and why Google is now the world's 3rd largest public company with a market capitalization of over $766 billion.
Without further ado, let's go over these updates one by one. And once you're finished reading through (or even before you begin reading), make sure you get a taste of our bi-weekly Search Marketing Scoop podcast  on YouTube Live. This time we have three leading experts on SEO, PPC, and Content Marketing - Mark Traphagen, Content Strategy Director at Perficient Digital, Marie Haynes, Owner at Marie Haynes Consulting, and Gianluca Binelli, Founder at Booster Box - discuss all the biggest search headlines that impact your online presence.
[podcast-subscribe]
---
GOOGLE SEARCH NEWS
New Type of Featured Snippet with Video Overlay
Google has rolled out a major update with Google's featured snippet videos in the search results. The featured snippet video will now be overlayed directly into the search results instead of sending users through to the YouTube video landing page. The overlay doesn't include all the features of YouTube and is instead a very plain format. Users can still choose to go to the YouTube video page by clicking the video title or clicking the title in the overlay. With the overlay, Google is not providing the video "suggested clip" feature of YouTube, nor is there any option for users to like, comment, or share the video.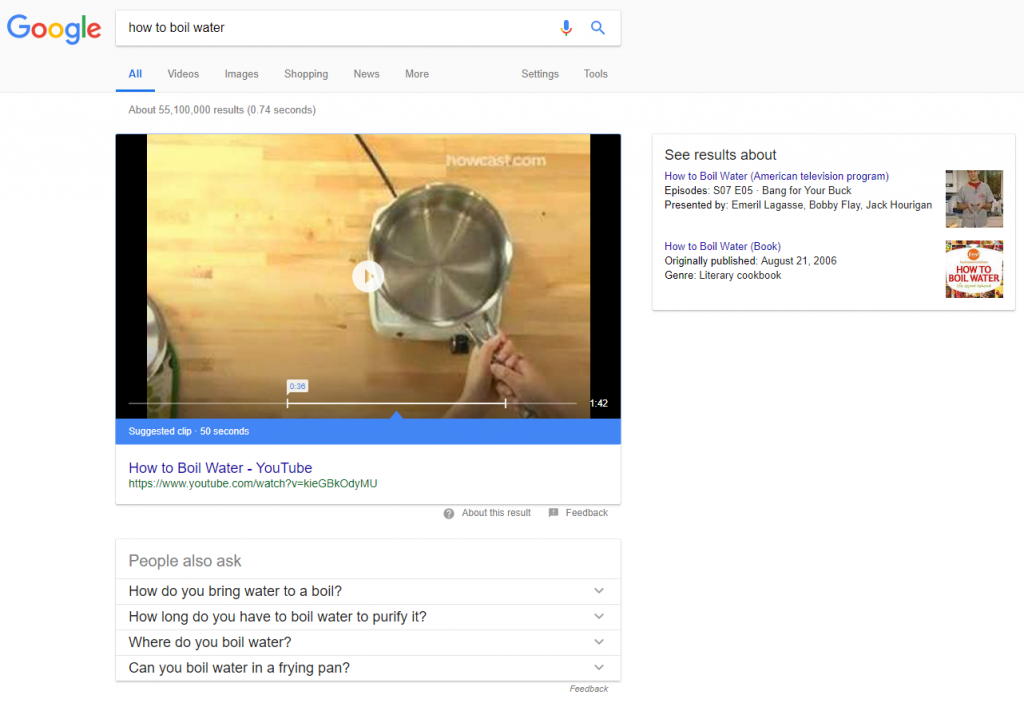 Source:  Google's Featured Snippet Videos Now Overlay in Search Results
Testing New SERP Design
Search Engine Land has recently rolled out a blog post stating that Google has confirmed with them that they are testing a new design for the search results that will feature a sticky header with a rounded search bar and a smaller Google logo. As per a Google spokesperson, "We're always experimenting with new ways to improve the Search experience for our users." Here is how it looks: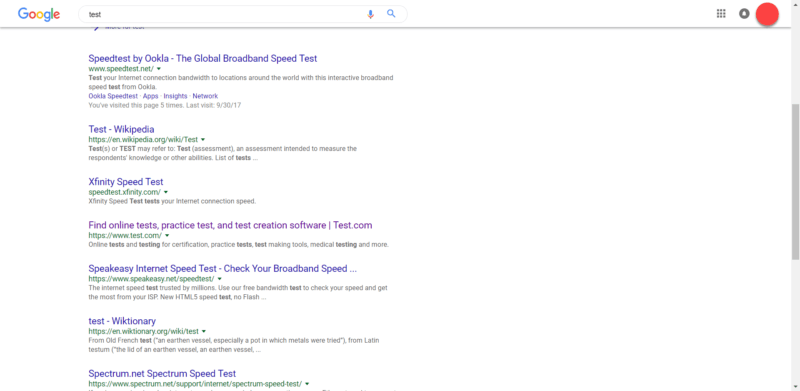 Source:  Google confirms testing new search results design with sticky header, rounded search bar
New Features in Hotel and Plane Tickets Search
For holiday travellers there is good news from Google. The search engine giant has recently announced sharing 'holiday price trends, tips, and a few new tools' that will be added to Google Flights and Hotel Search. As a collaborative effort of Google News Lab and Polygraph, a new tool has been designed that shows how prices for popular holiday destinations change over time. It also helps find hotel deals for events like Thanksgiving, Christmas, and New Year holidays. Based on the hotel prices data analysis, the tool will even show holiday destinations with unusually low hotel prices during these events. So, from seeing how your Thanksgiving flight price stacks up to finding good flight deals in the Explore Map to checking hotel price trends and comparisons, users who plan to go on a vacation can take advantage of this handy tool in many ways.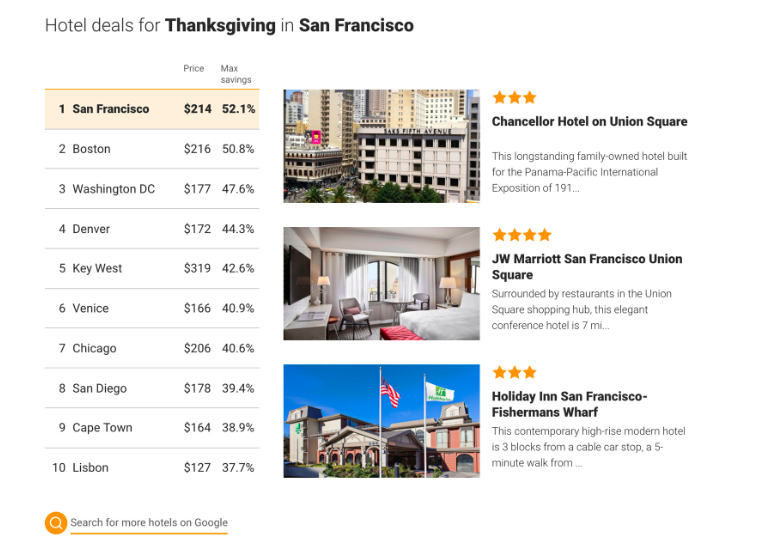 Source:  'Tis the season for planning holiday travel
Testing New Image Search Design
Google appears to be testing new designs for image search. A Twitter user, named Thibault Adda, spotted the first design and posted the interface image on his Twitter page. The new interface features a new preview for the selected image, round-shaped filter buttons at the top, and a new white background for the selected image on the right side of the page (instead of the current black background under the image).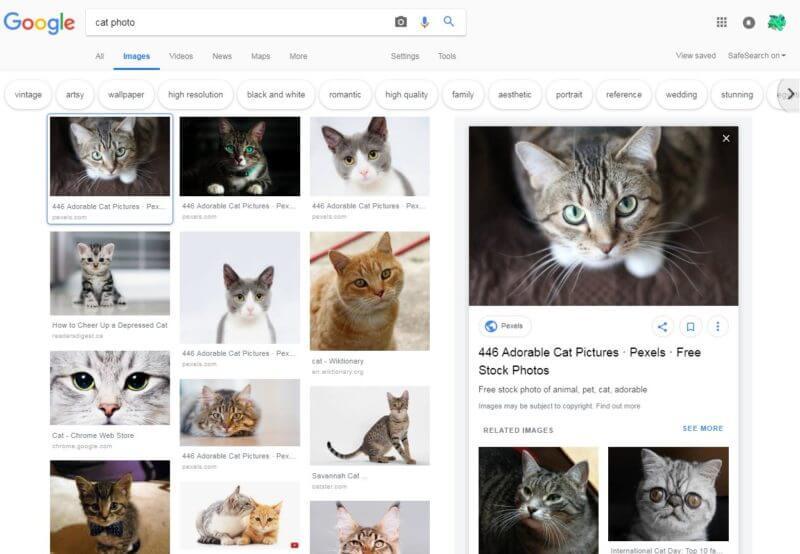 There is another version of the new design spotted by another Twitter user, Matt Docherty, that comes with an overlay preview. The overlay for the selected image hovers over the main results page. Here is how it looks.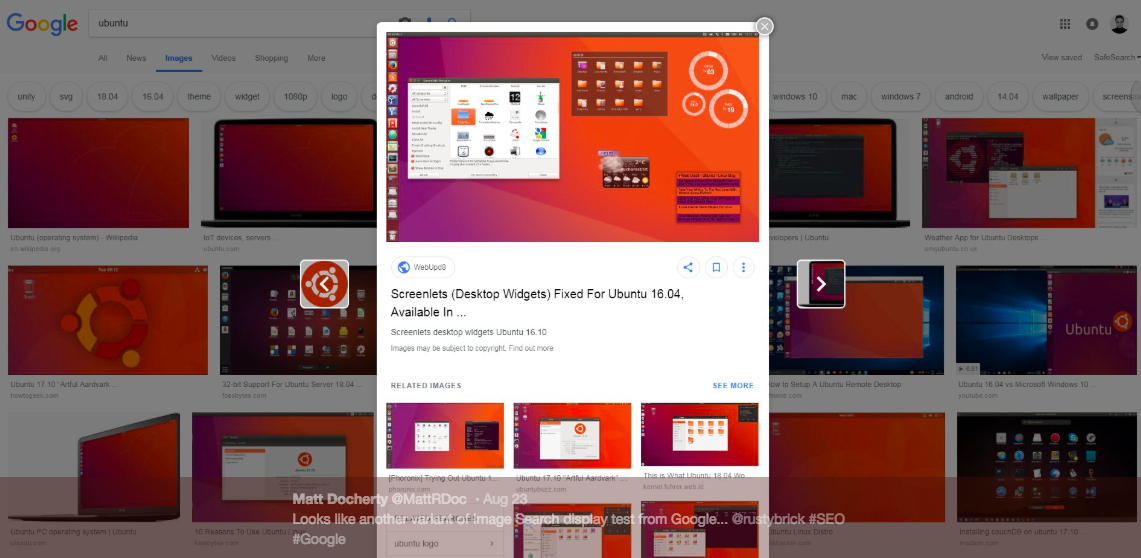 Sources:  Users spot redesigned Google Image search results design;  Google Tests Another Image Search Results Design With Overlay Preview
New Expandable Featured Snippet
Google has launched a new form of expandable snippets to provide access to multiple additional sources about a search query. Users can now find more useful aspects of the topics they are looking for by expanding the new snippets which are suggested below the main featured snippet. By default, there seem to be four additional featured snippets that can be expanded to show you more ideas. But as you start expanding them, additional snippets are added to the list, providing even more specific ideas around the user's intended topic. Here is how it looks.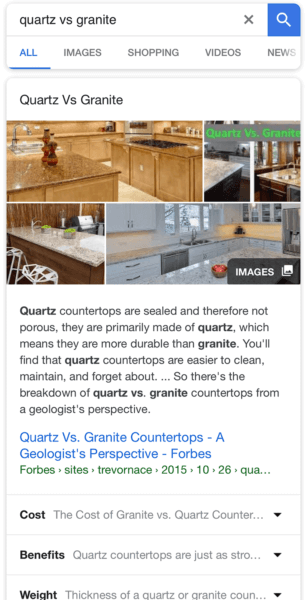 Source:  Google launches new expandable featured snippets with more information
---
GOOGLE ADS NEWS
Non-skippable YouTube Ads Expansion
YouTube launches non-skippable ads for all channels that are already monetizing their videos. Maximum length is 15 seconds, and 20 seconds in several regions (Europe, Middle East, Africa, India, Malaysia, Singapore). This functionality used to be available only for selected channels.
Source:  Video Ads: Technical Specifications
New Functionalities for Adaptive Search Ads in Google Ads
Detailed specifications for Video Ads (formerly in-stream video ads) are now available for advertisers. Google has provided the specs for both YouTube-hosted and third-party video ads which are served on websites. Also, the guidelines include best practices for uploading videos, such as Google's recommended video format, maximum file size, SSL-compliancy, video length, and so on. For the browsers, Google recommends Internet Explorer 10+, Firefox 25+, Safari 6+; and Chrome 33+ as they are compatible with video ads.
Source:  Create more effective ads for today's consumer
New Display Ads Design in Google Ads
Google has updated the visuals to give display ads a more modern look and to help advertisers get better performance from their ads. Text ads, too, can now feature a logo, a new font, and a rounded call-to-action button. Once these changes are live, there will be an option to add custom colors so that advertisers can tailor the ads to their branding preferences. Secondly, using machine learning, Google will create a layout that approximates fully-designed image ads by extracting colors from the images advertisers provide to Google Ads. Google believes that ads created this way are going to be content-aware and closely matched with the 'style of top performing human-created image ads.'
Source:  Modernizing the look of display ads for better performance Local display ads in Google Ads
Local Catalog Ads Update
Google has rolled out its local catalog ads update to let advertisers build Display ads with local inventory feeds. Showcasing store-level inventory ads on Display is now easy as Google pulls product details and images directly from product feed to create Display ads that will be disseminated across different websites, blogs, and apps. This is an especially handy feature if advertisers want to create display ads that feature locally relevant products.
Sources:  Twitter user;  Showcase your in-store products on Display with local catalog ads
Campaign Editing in Google Ads Overview
Google has added a new feature to the Overview page whereby users can now make some of the changes Google recommends directly from the overview page itself. These actions, as Google outlines, include the following:
Pause or unpause campaigns, ad groups, and keywords.

Edit campaign budgets.

Edit keyword and ad group bids.

Edit ad copy.

Exclude irrelevant search terms by adding negative keywords right within the "searches" card.
Here is a visual example of implementing it on a keyword card within the Overview page.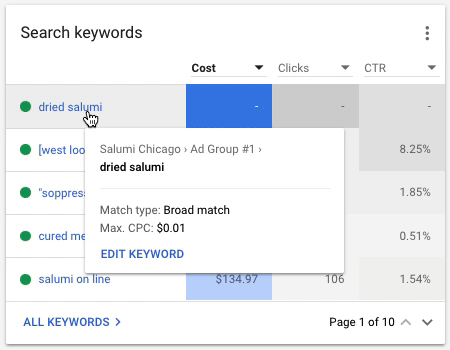 Source:  Take action on cards within the Overview page
---
GOOGLE TOOLS NEWS
Chrome Turns 10 and Presents a Revamped Look
As a celebration of its 10 year anniversary - don't forget SEMrush also recently turned 10 - Google Chrome has rolled out major updates: its fresh looks follow a huge number of new features. 
From a curvier design to automatic passwords, quicker search results and a more personalized browser experience, the new Chrome presents itself in an entirely new package. So, here is what you can do with the updated Chrome 69:
Omnibox Smart Answers: you can get answers to your questions right within the address bar (no need to load a website).
New coding capabilities: developers will find lots of interesting new features under the Chrome's covers - scroll snap, CSS Conic Gradients, margin, padding, and border properties; and display cutouts; JavaScript ReportingObserver API; WebRTC improvements; Web Locks API (prevents scripts from running); Keyboard Map API (helps assign functions to keys) and Mid-ligature text selection.
Auto-translate: you can now just right click on any page of the site you are visiting and get an automated translation of that page.
Multi-tab organizer: you can navigate through your tabs by using keyboard shortcuts - open them in a new window, or go through the tab to tab just with the help of your keyboard.
Fast payments: you can now safely save your payment card info within Chrome to make your payments faster.
Password manager: if you've been spending a bunch of your budget to password managers, you can now save up some money. Chrome promises an outstanding built-in password manager within the browser.
And this is not an entire list of all the Chrome 69 updates, but we listed the most significant ones here. So what's the best way to celebrate the anniversary? Try out the new 69 Chrome experience for yourself!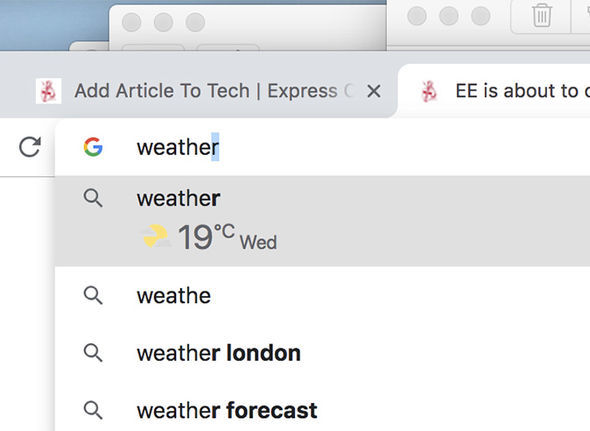 Sources: Chrome Update: Changes for SEO and Developers;  Chrome gets a huge update and Google reveals 10 things every user needs to know
Image Search Traffic in GA
Google has announced the addition of a new source to Analytics report called 'google images'. In a blog post published on Aug 21, Google mentioned that this new item in the Acquisition data reports is more of a response to the requests coming from analysts and webmasters for more granularity in their analytics data.
Webmasters and analysts will now be able to "compare total Google Organic traffic to that of Google Images traffic via any of the acquisition reports" in the Analytics. The new source line item will display as 'google images' in the Source Report and 'google images / organic' in the Source/Medium report within Analytics.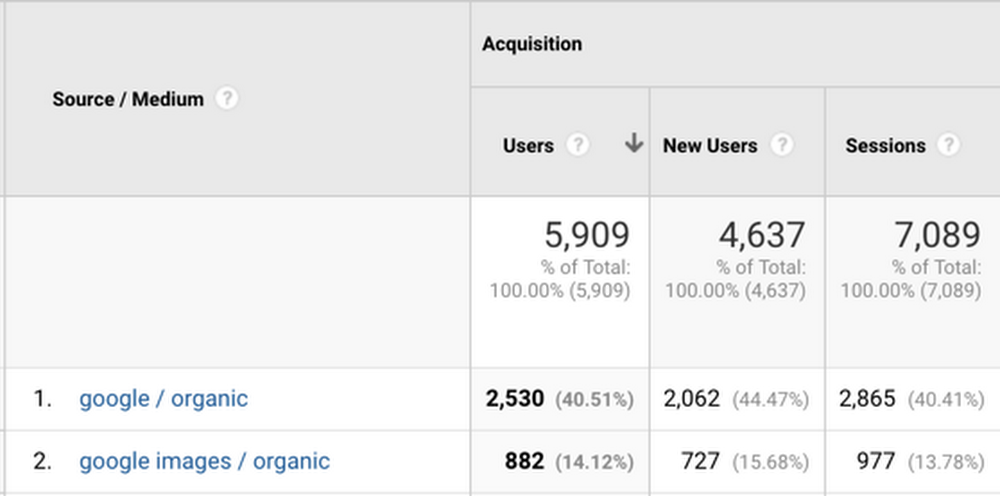 Source:  Google Images data in Google Analytics
Commonly Used Metrics in GA
Google officially announced the launch of Commonly Used Metrics and Dimensions in Google Analytics reporting. 'Commonly Used' will now be added as a new category at the top of every metric or dimension list. What it basically will do is surface the commonly searched dimensions, for example 'Page', at the top of the list (under 'Commonly Used'), and analytics user won't have to go through a long list of other similarly titled dimensions to find the option. Google hopes it will speed up the analysis process and help Analytics users get to the answers they seek more quickly.
Source: Introducing Commonly Used Metrics and Dimensions
Automatic GSC Account Verification for GA Owners
To enable website owners to discover website issues quicker and learn about the improvement opportunities in Google Search, Google has announced the launch of auto-verification for websites. Site owners now don't have to manually configure Analytics and Search console for their websites. However, they will need to follow the existing requirements to become a verified owner and have their Search Consoles auto-configured.
Source:  Easier Search Console access for Analytics owners
GSC Removes Anonymous Queries
Google announced removing "anonymous query" from Google Search Console from August 19 onward. As a result, the number of clicks and impressions might drop when you apply "Queries not containing:" filter in the chart totals. Google believes that omitting anonymous queries will serve users privacy purpose and the results will also be more consistent for webmasters.
Sources:  Data anomalies in Search Console;  Google Search Console Reports Removes Anonymous Queries 
New Links Report in GSC Beta
Since the launch of the new Search Console, many useful features have been introduced that make this tool much more effective. In a recent announcement made on Google Webmaster's central blog, the search engine giant mentioned importing existing popular features from the old Search Console to the new product. These features include:
A new Links Report that combines with the old Search Console's "Links to your site" and "Internal Links" report functionalities.
A Mobile Usability report that allows users to submit a validation and reindexing request when mobile usability issues are fixed.
A new option to allow adding and verifying new sites in the Search Console, and managing the property's users and permissions.
Source:  Links, Mobile Usability, and site management in the new Search Console
User Management in New GSC
Google has recently announced on its official webmaster blog that the new Search Console will gradually provide better history tracking functionality to show which user performed which property-affecting modifications. As soon as these changes come into effect, Google will also plan to enable all users to see critical site messages. Moreover, the announcement outlines some specific features the new Search Console will provide, such as a new user management interface and users' ability to share a read-only view of many reports, along with a new role definition and best practices for managing user permissions in Search Console.
Source:  Collaboration and user management in the new Search Console
Google Drive's Rebrand to Google One Includes Offers for Hotels Found in Search
Google is going to launch its rebranded Google Drive plans under the brand name of Google One. The updated plans will feature a newly added section, called Benefits, and will also cost less to gain marketers' interest. Google One customers can get a $5 credit for the Google Play store at the launch, as well as discounts on hotels found in Google Search. There is a dedicated link for Google One customers that goes "Look for Google One member prices and save up to 40% on selected hotels you find in Google Search."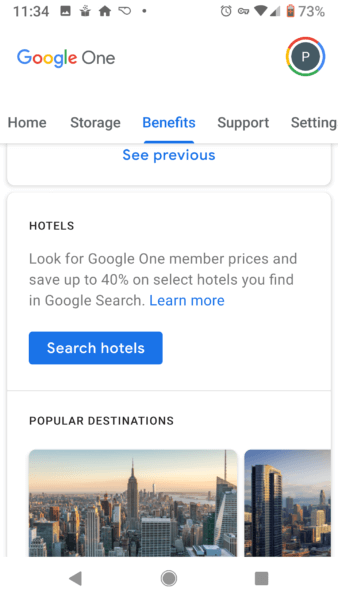 Source:  Google Drive's rebrand to Google One includes offers for hotels found in Search
Google Adds New 'Veteran-Led' Attribute to Google My Business Profile
Google has recently announced adding a new business owner identity attribute to Google My Business profile called the 'veteran-led' attribute. With the 'women-led' attribute added in March this year, this one is going to be the second business owner identity attribute that Google believes will help identify local businesses as veteran-led on Google Search and Maps. The announcement was made through an official blog post published on Aug. 27th: "Google is making it easier to identify your local business as veteran-led on Google Search and Maps. If your business is owned, led, or founded by a veteran, you can enable this "Veteran-Led" attribute through Google My Business, and it will appear on your Google listing alongside other details like 'Has Wifi' or 'Outdoor Seating."
Source:  Google adds new 'veteran-led' attribute to Google My Business profile
BONUS NEWS
Google Marks 14 Years As a Public Company
On August 20, Google marked its 14th anniversary as a public company. Its parent company, Alphabet, is now ranking third as the world's largest company in terms of market capitalization, behind Apple and Amazon. Google now accounts for over 90 percent of worldwide internet traffic and is the dominant search engine in most areas of the world. Google went public on August 19, 2004, with its shares jumping 18% on the first day of trading, valuing the company at more than $23 billion. Since then, its value has soared to $766 billion, making it the world's 3rd largest company fourteen years later.