Google has introduced a number of notable changes over the past few weeks. Among them are the availability of Duplex for public testing in select regions, the phasing out of Google+, and a possible new algorithm update that seems to have affected search rankings. In this news digest, we cover the stream of important Google announcements affecting search users, businesses, and the SEO and advertising community.
So let's check out the latest developments. Also, tune in to our Marketing Scoop podcast, where Ross Tavendale, the Managing Director at Type A Media, and Garrett Moon, the CEO and Co-Founder at CoSchedule, are discussing all of these developments in greater depth.
[podcast-subscribe]
---
GOOGLE SEARCH NEWS
Pay Your Respects to Google +
At the beginning of the year, Google's Project Strobe began reviewing third-party developer access to Google account and Android device data. It further investigated how the search engine's privacy controls operated when providing access to data to third-party platforms and apps. Based on its analysis, Google announced its first four findings and future actions focusing on users' data privacy, security, and control:
Finding 1: There are significant challenges in creating and maintaining a successful Google+ product that meets consumers' expectations.
Action 1: Google is shutting down Google+ for consumers.
Finding 2: People want fine-grained controls over the data they share with apps.
Action 2: Google is launching more granular Google Account permissions that will show in individual dialog boxes.
Finding 3: When users grant apps access to their Gmail, they do so with certain use cases in mind.
Action 3: Google is limiting the types of use cases that are permitted.
Finding 4: When users grant SMS, Contacts and Phone permissions to Android apps, they do so with certain use cases in mind.
Action 4: Google is limiting apps' ability to receive Call Log and SMS permissions on Android devices, and are no longer making contact interaction data available via the Android Contacts API.
In the coming months, Google will roll out additional controls and update policies to bring more APIs into compliance with their regulatory policies. This will be done in collaboration with developer partners to ensure that they have enough time to make changes, and update their apps and services.
Sources:  Project Strobe: Protecting your data, improving our third-party APIs, and sunsetting consumer Google+;  Google+ Is Shutting Down: How Will It Impact SEOs?
Algo Ranking Update, Again?
Barry Schwartz, CEO of RustyBrick, noticed some unusual fluctuations in search rankings on October 8th and 9th. He believes that this spike in rankings is a sign that Google is probably testing a new algorithm update that will potentially impact organic search rankings and web traffic. The effects of the update have also been reported by observers from across the SEO and webmaster community.
Source:  Google Search Algorithm Ranking Update Again On October 8th & 9th?
Agency Account Migration in Google My Business
Allyson Wright, Community Manager at Google My Business, announced the launch of a new tool for corporate users. The new tool will help improve the process of "transferring listings to organization accounts." At the moment, a limited number of organization accounts can access the tool, but it will be made more broadly available soon.
Source:  Google My Business News & Updates:Agency account migration
Search Console Stats Are Now in Search Results
Google is now providing verified owners of websites another way to look at Google Search Console statistics. In search results, site owners can now access a brief dashboard providing a summary of the statistics related to their site's impressions, clicks, and average position, with a percentage comparison of the last 7 days to the previous period.
Here is how it renders: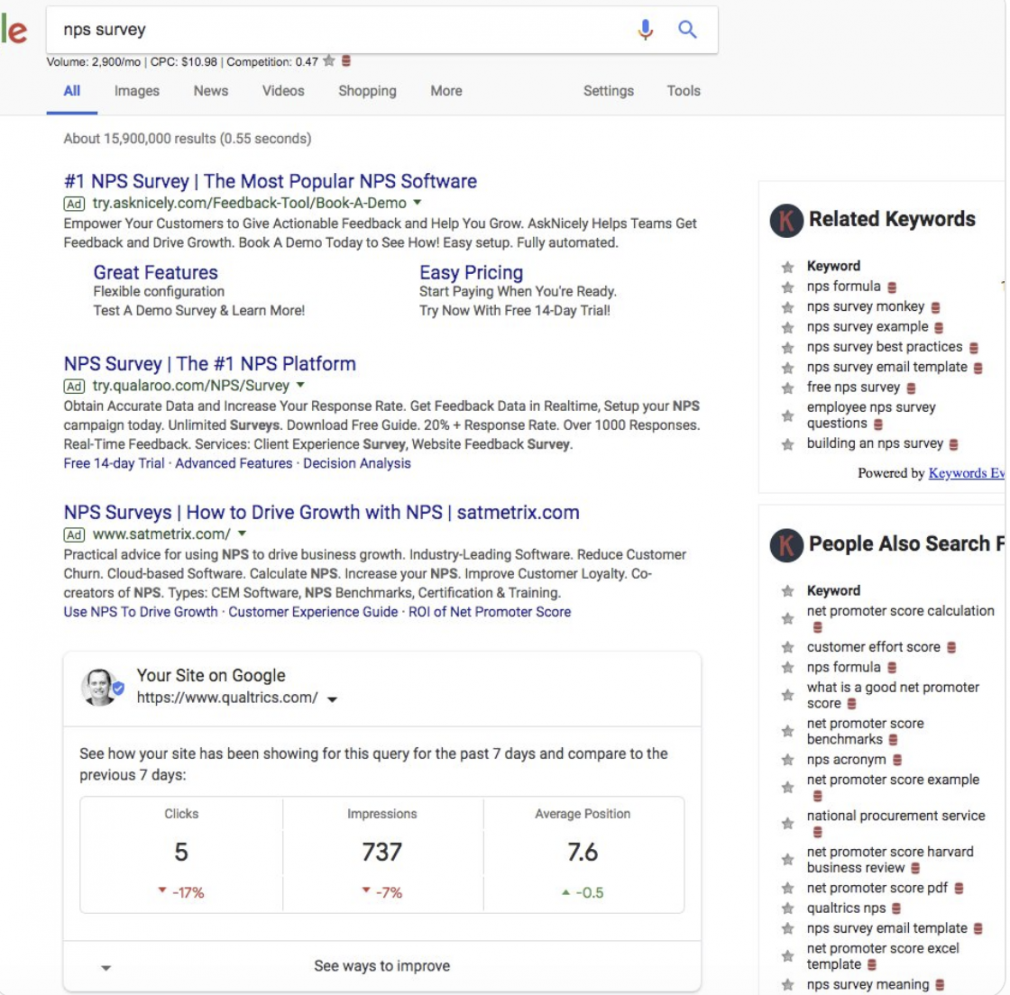 Source:  Google Displays Search Console Stats In Search Results
New Sitelink Format?
SEMrush has spotted Google testing a new SERP feature in the form of extended site links. The feature is positioned in the middle of the SERP rather than the top, and there seem to be five expandable links by default that are related to the users' search topics. However, we are not sure at the moment if Google will actually launch the feature in the near future.
Source:  SEMrush: Twitter Official
Testing a Minimalist Look for Local Pack
Google is testing a minimalistic local pack again. Although the new layout previously had been noticed on mobile search results, a Twitter user, Mike Blumenthal, posted another screenshot showing a new layout that eliminates the gold stars and photos of the venue. The new look is cleaner, more subtle, and minimalistic. Here is a comparison of the two versions: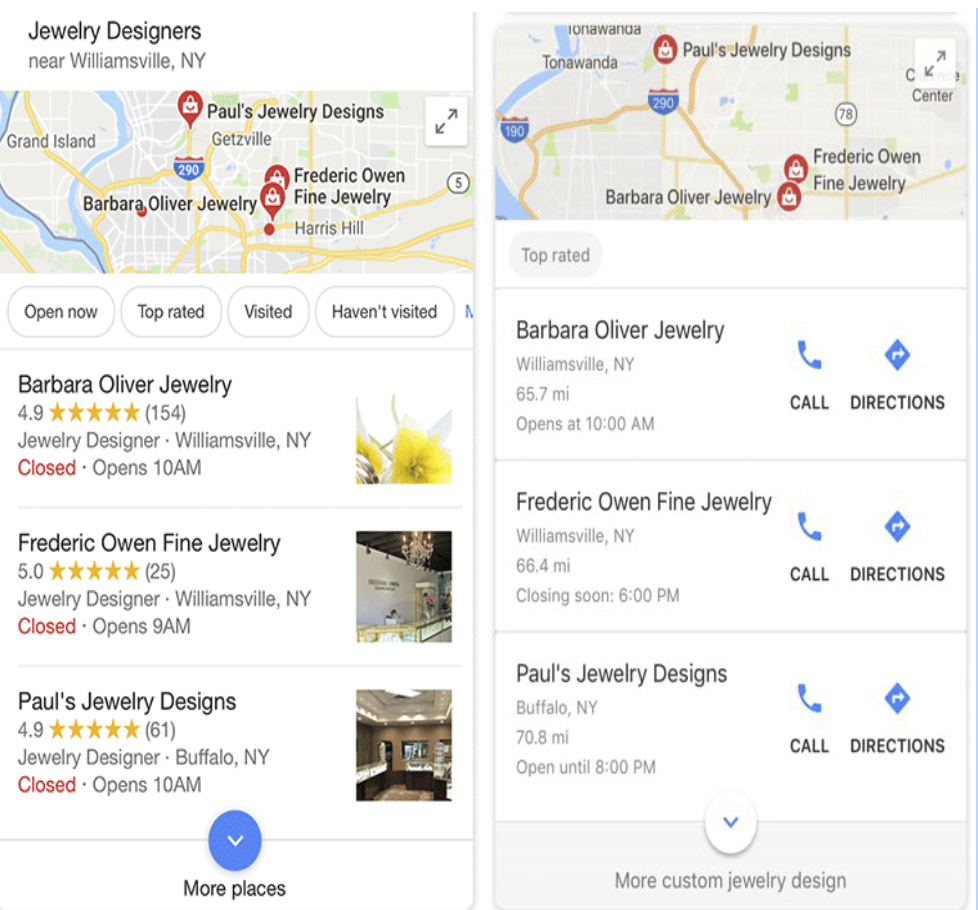 Source:  Google Tests Minimalist Local Pack Again
New Navigation Slider in Mobile Search
Google is testing a new update for mobile search results. This one comes in the form of a scrolling navigational slider that "slides in from the right once you begin scrolling and disappears after a few seconds after inactivity." Google also says that the tool gives a new overlay with waypoints once users touch and begin scrolling through it.
Source:  Google Tests Navigation Slider For Mobile Search Results
Local Pack, Who's Trending?
Google appears to be testing a new "trending this week" feature for the local pack. Although the Local Search Forum and Joy Hawkins, a Google My Business contributor, noticed the feature on October 10th, other observers have not able to replicate it as yet. So, we are not sure if this is something the search engine giant will widely experiment with or consider launching. 
Source:  Google Local Pack With Trending Icons On Business Listings
[Confirmed] Google Enters the Chinese Market with Dragonfly
Google CEO Sundar Pichai has finally confirmed that Dragonfly is not just a distant possibility, but is already in the making. Dragonfly is a project by Google that is specially crafted to operate in China, where the search engine is being adapted to operate within the local legislative and political realities. What has been widely perceived as a contradiction to Google's core values - transparency and public access to information - its Dragonfly project is taking a long-term perspective, as Pichai suggests. Its top executives believe that Dragonfly can serve up to 99% of queries that are currently being operated by Google, and the 1% that are censored lose the battle in giving Chinese users other important information such as cancer treatments. They also believe that by opening up Google to the Chinese market, the advantages can outweigh the controversial matters. 
Source: Google is Really Trying to Build a Censored Chinese Search Engine, Its CEO Confirms
GOOGLE ADS NEWS
Say Goodbye to Google Ads' Old Interface
Google announced it is eliminating the old AdWords interface for users. Effective October 4th, advertisers can manage their accounts only with the new Google Ads interface, and access to the "previous experience will no longer be available." According to Google Ads Help, the new interface is designed to help businesses achieve their advertising goals, save time, and get more things done.
Source:  Google Ads: Twitter Official
Call Recordings in Google Ads
To protect users from fraud and spam and to ensure that advertisers operate within a trusted environment, Google has announced its launch of a spam and fraud detection program focused on call ads. The search engine will select a few sample calls from call-only ads and call extensions in the ads to evaluate their quality and authenticity. Through this method, Google believes it will be able to prevent spam and other negative user experiences, as well as reduce wasted marketing spend for advertisers. Advertisers in the U.S. who want to use all the call ads features will now need to opt into the program. However, they won't gain any insights or access to the call recordings selected by Google for this purpose.
Source:  Google to record some calls from ads for quality assurance
AdSense and Its 15-Year Plans
Google's senior product manager, Matthew Conroy, published an update in its official AdSense page that provides a preview of how the search engine is planning to help digital content creators grow, as well as how Google will play its part to make sure advertising work for everyone, over the next 15 years.
According to Conroy, Google will work on its plan to achieve the following three objectives:
Smarter sizing, better ad placements, and new formats with the help of its machine learning capability.

Make quality content profitable for digital content creators by adding new assistive features that provide more insight into content performance and other parameters.

Ensure that advertising works for everyone, and that the ads ecosystem supports the diverse needs of advertisers, publishers, and consumers.
Over the next 15 years, it also anticipates the need to seek users' help to work on delivering these new features.
Source:  Inside AdSense: Looking back, looking forward
New YouTube Ad Extensions for TrueView In-Stream
As per Google's latest announcement, YouTube is going to expand its TrueView in-stream ad format so that it will now push viewers to take meaningful actions when viewing ads, such as downloading apps, booking trips, finding movie showtimes, etc. Google believes that with the new extensions the ads will become more useful, and users who show interest will have the option to initiate the buying process instead of simply getting excited about the offer. For example, users may come across a movie ad that will also show them some nearby theatres where it will be playing on a certain date and time.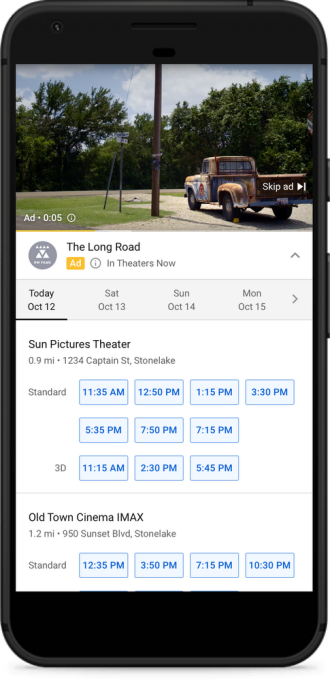 Source:  New YouTube ads will push viewers to download apps, book trips, find movie showtimes
GOOGLE TOOLS NEWS
A Guide on Dynamic Rendering
Google has posted its official guide on dynamic rendering that will enable the indexing of JavaScript sites for Google search. Processing JavaScript is a difficult task for search engine crawlers, so Google has recommended dynamic rendering as a workaround solution (although it hopes that this problem will be fixed in the future). In short, dynamic rendering is Google's alternative solution to help webmasters get their JavaScript sites indexed in Google search. The guide gives a walkthrough of how dynamic rendering works, which sites should consider using it, steps to set up dynamic rendering, how to verify the configuration, and troubleshooting tips to resolve the most common issues.
Source:  Get started with dynamic rendering
G Suite Admins Can Now Lock Company-Owned Devices
G Suite admins in domains with advanced mobile management enabled can now remotely reset passwords and lock functions on company-owned Android devices. The expanded capabilities are intended to ensure that G Suite admins have more control over their company-owned devices and protect their important data from being stolen or misused.
Source:  Reset passwords for and lock company-owned Android devices
Google Posts Now Allows 1,500 Characters
Google has become more precise with its word limit for Google Posts. Previously, the limit was 100-300 words. Now it supports 1,500 characters so writers will know when their posts will be cut off. The actual length of the posts in words would, however, depend on a writer's choice of words. Generally, it appears to be around 300 words or a bit longer.
Source:  Google Posts Now Allows 1,500 Character Posts
Alert Center for G Suite
Google recently announced that it will make its G Suite alert center generally available to organizations. The center provides a unified view of essential notifications, security alerts, and mitigation actions across the G Suite platform. Specifically, the "essential notifications" include account warning, Gmail phishing, malware, and device management alerts, covering a number of scenarios and security concerns. The unified view provided by the alert center will ensure that G Suite admins are able to manage alerts more efficiently, and will offer security insights at both the domain and user level.

GIF
Source:  Alert center for G Suite generally available to help identify security threats
Duplex is Open for Public Testing
Google's community manager, Allyson Wright, officially announced the expansion of the public testing of a new feature in Google Assistant, powered by Google Duplex, which is intended to help people easily find information and get things done. It also helps businesses readily connect to their potential customers. Allyson said that later on this month, Google Pixel users at "restaurants in New York, Atlanta, Phoenix and the San Francisco Bay Area" will be able to use the new feature within Google Assistant. On their part, however, these restaurants will need to do nothing to get the new feature set up per se. They will keep operating the way they used to, while also "taking advantage of booking through the Google Assistant."
Source:  Public testing with the Assistant's Duplex technology kicks off this month, see what to expect