The past couple of weeks have brought a number of substantive updates within the Google ecosystem. Among the more notable developments is the new editor in Google Ads, updated functionalities in Gmail, and what Google calls the "Masterful Mobile Web" resource for webmasters.
Going beyond the news, guest speakers Casie Gillette, Sr. Director of Digital Marketing at KoMarketing and Colin Gray, Founder of ThePodcastHost.com are discussing best practices for content marketing research in this week's  Marketing Scoop podcast. They are addressing everything from how to use the best tools available to how to determine the topic that will resonate most with your target audience. You don't want to miss it.
Feedback and comments are welcome! Please feel free to weigh in on the digest as well as this week's podcast. 
---
Google Search News
Hotel Search Update
Google announced the expansion of its "hotel search experience" to include a wider range of vacation rentals worldwide. Mobile users can now view and book vacation rentals from a variety of service providers (with Google partners such as Expedia, Hotels.com, and TripAdvisor) and narrow their search by applying filters such as price, amenity, and availability, as well as read reviews and browse photos. Google says its vacation rentals filter will be available for desktop users in the next month.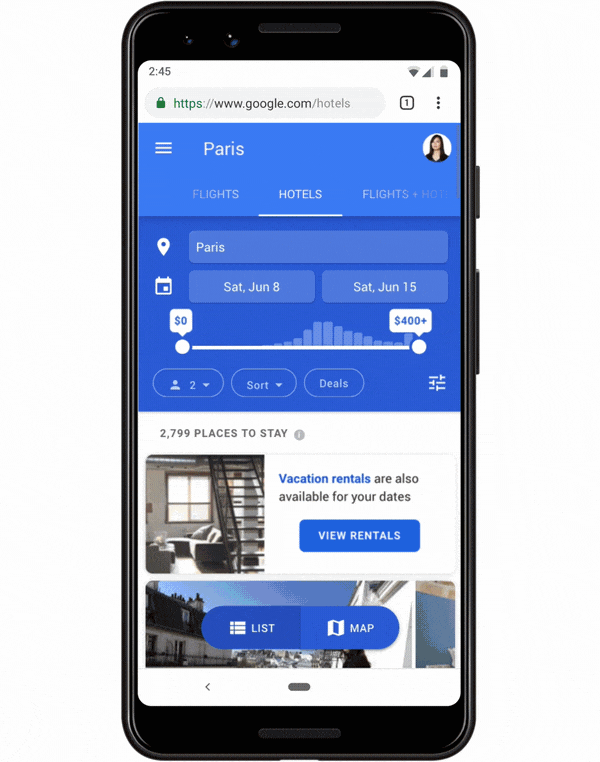 Source:  Find and book vacation rentals, with help from Google
Testing New Search Menu with Icons
Sharing screenshots on Twitter, Joe Youngblood notified the SEO and search community that he had spotted Google testing a new search bar menu. As reported by Search Engine Land's Barry Schwartz, Google is displaying icons next to search categories like news, images, maps, and shopping. Schwartz noted that Google had experimented with icons next to the same search filters in 2010, but removed them from the desktop version the following year. He further stated that it is unlikely any changes to the user interface will impact search marketers and SEOs.

Sources:  Google testing new search menu with icons for maps, news, shopping and more;  Twitter: Joe Youngblood
2018 Webspam Report
Google recently published its 2018 webspam report, outlining trends and its efforts to combat it. Although "well under 1 percent of results visited by users are for spammy pages", it says three types of spam persist: "spam on hacked websites", "user-generated spam", and "link spam". According to its post, Google helped to reduce the impact of user-generated spam by more than 80%, and acknowledging the value of relevant and authoritative links as an important ranking signal, has been dealing swiftly with egregious link spam to keep the search rankings from being manipulated. Google continues to offer resources to webmasters, developers, and users to help overcome this problem and make the web a safer place for everyone. Some of these resources can be accessed on: how to prevent abuse of your site's public areas, help, I think I've been hacked!, SEO starter-guide, and reporting link spam.
Source:  This year in Search Spam - Webspam report 2018
UX Improvements with Mobile Search Page Speed
Acknowledging that webmasters have increased their page speed for mobile search since it was included as a ranking factor in 2018, Google recently highlighted the performance improvements on its webmaster blog:
"For the slowest one-third of traffic, we saw user-centric performance metrics improve by 15% to 20% in 2018. As a comparison, no improvement was seen in 2017.

We observed improvements across the whole web ecosystem. On a per country basis, more than 95% of countries had improved speeds.

When a page is slow to load, users are more likely to abandon the navigation. Thanks to these speed improvements, we've observed a 20% reduction in abandonment rate for navigations initiated from Search, a metric that site owners can now also measure via the  Network Error Logging API available  in Chrome.

In 2018, developers ran over a billion PageSpeed Insights audits to identify performance optimization opportunities for over 200 million unique URLs."
Google went on to thank webmasters for their efforts and encouraged them to continue optimizing their sites for better user experience. Google suggests webmasters who are unsure how their pages are performing can refer to its the tools and documents on the subject: PageSpeed Insights, Chrome User Experience Report, and Documentation on performance on Web Fundamentals. Google also said to bring any questions to its help forums, specifically mentioning  its webmaster help community.
Source:  User experience improvements with page speed in mobile search
---
Google Ads News
Google Ads Editor V1 Announced
Google has introduced Google Ads Editor, v1, which it describes as a new and improved version of its Editor of the past 13 years. According to its announcement, the release "incorporates a significant update that addresses long-standing requests from the community." The new Editor supports full, cross-account management, meaning that users will be able to use it seamlessly across their Google Ads accounts. In addition, Google says it has improved the interface of its ads editor to help campaign managers navigate features and execute tasks more quickly and easily. The announcement further touts how the new ads editor will help users to manage accounts at scale with functionalities for bids and budget, calls and messaging, and workflow.
Sources:  Manage across accounts with the new Google Ads Editor;  The Google Ads power tool.
Cross-device Conversion Data in All Attribution Reports
Starting May 1st, all attribution reports in Google Ads will include cross-device activity and conversions, giving campaign managers insights into how users interact with their ads on multiple devices. Previously, cross-device activity in Google Ads was limited to Devices, Assisting Devices, and Device Paths attribution reports which made it difficult for advertisers to understand the different aspects of their conversions data. According to Google, the update is in response to feedback from users that its existing cross-device attribution reports "resulted in inconsistent conversion counts across different reports".
Source:  Adding cross-device activity to all attribution reports
---
Google Tools News
New Way to Discover and Suggest Google-selected Canonical URLs
Google has updated its URL inspection tool in Search Console so it now displays any Google-selected canonical for a URL, instead of just those users manage for properties. Webmasters can now check whether or not Google is using the best canonical URL for the site owner's content by entering a given page's address in the URL inspection tool within the Search Console. If the URL is not the best match, webmasters can follow the steps Google has provided on their duplicate URLs help page and suggest your preferred URL for consideration. With these changes implemented, Google is now retiring the info: command which, until now, has been an alternative way to explore canonicals. As per Google, the info: command "was relatively underused, and URL Inspection tool provides a more comprehensive solution to help publishers with URLs."
Source:  How to discover & suggest Google-selected canonical URLs for your pages
Upcoming Changes in the New Search Console
In January, Google had announced some imminent changes in search console that would take effect towards the end of March. The changes include the new index coverage report for crawl errors and sitemaps data, the URL inspection tool, and additional dedicated reports per vertical in the structured data dashboard. Old reports will be retired, as Google recently announced on Twitter: "As we announced in January, today we're retiring another set of reports. If you didn't check the new reports, please do, and let us know what you think – we're committed to enhancing our product to support you better."
Sources:  Focusing on the new Search Console; Twitter: Google Webmasters
15 Years of Gmail and New Features
Marking the 15th birthday of Gmail, Google provided a rundown of all the new features available to Gmail users worldwide. These features include the following:
Updating Smart Compose to Expand Its Reach and Include More Languages
Previously, Google's AI-powered Smart Compose was only available on Pixel 3 devices but now it is available on Android, and soon, iOS. It will also include new languages such as Spanish, French, Italian, and Portuguese. According to Google, Smart Compose is getting smarter as it will now provide personalized suggestions for users, including a subject line based on the email content.
Scheduling Email to Be Sent At a More Appropriate Date or Time
With this feature now added, Gmail users can decide when they would like their emails to be delivered to someone's inbox. According to Google, it's a helpful way to manage your emails if you're "working across time zones or want to avoid interrupting someone's vacation."
Taking Action Without Leaving Your Inbox
Users will now be able to take actions without leaving their Gmail inboxes, such as responding to a comment thread in Google Docs, without having to open a new tab or app. 
Dynamic Email
Google has also announced that it is "making emails more useful and interactive in Gmail" with dynamic email. With dynamic email capability added, users can stay up to date and always see the freshest information within their inbox. In addition, as mentioned above, they can "easily take action directly from within the message itself, like RSVP to an event, fill out a questionnaire, browse a catalog or respond to a comment."
Sources:  Hitting send on the next 15 years of Gmail;  Take action and stay up-to-date with dynamic email in Gmail
New Guide to Google Analytics and Google Ads Integration
Google recently introduced an "integrated solution" via a "powerful partnership" that links Google Analytics and Google Ads to help marketers gain a deeper insight into the customer journey." The details are is explained in its guide, "Linking analytics and ads: The solution to today's marketing challenges".
According to the search engine, linking Google Analytics and Google Ads enables marketers to make the most of insight-driven marketing, optimized bidding, customized messaging, and advanced machine learning, which in turn helps them to deliver better experiences and gain higher returns on their investments.
Sources:  Google Analytics and Google Ads: A Powerful Pairing;  Linking analytics and ads
A New Resource for Mobile Usability Evaluation
Google has launched its "Masterful Mobile Web" resource to help webmasters discover how the world's top brands are creating mobile experiences so they can start doing the same. According to Google:
"71% of users globally now access the internet via a smartphone

72% of internet users globally rely on their smartphone as much as, or more than, a desktop or tablet

28% of users globally purchase products and services at least as often via a smartphone as via computer"
Google came up with the list of top brands providing "smooth, fast and highly-engaging" mobile experiences in Retail, Travel, and Finance categories by assessing over 1,000 of the most visited sites in these categories for five usability areas: findability, product pages, registration and conversion, mobile design, and speed. The sites that top the list in their respective categories are Coolblue (Retail), Booking.com (Travel), and Bank Norwegian (Finance).
For webmasters wishing to build masterful mobile websites, Google has also included a comprehensive list of resources for them to uncover customer insights, design, and implementation solutions, as well as to test and improve their mobile sites. These tools and resources can be accessed from the resources menu of the webpage.
Sources:  Masterful Mobile Web;  Twitter: Google Analytics
Mobile Friendly and AMP Test Tools Update
Google has rolled out a new feature to both AMP and Mobile Friendly Tests tools which now supports code editing and rerunning tests live. With code editing, webmasters can make code changes and see how they are impacting the AMP and/or mobile-friendly tests of their websites in real time.
Source:  Twitter: Google Webmasters
---
So, that is it for this edition of the news. Hope to see you back for more news in two weeks and as David always says at the end of the podcast, "Stay fantabulous and do one thing that scares you". Remember to comment on and share this article.