2018 has been quite an eventful year for Google so far. We saw many changes and updates taking place within Google's search engine and its advertising platforms. One of these major updates was rolled out just recently with the introduction of Google Ads and the merging of DoubleClick and Google Analytics 360 Suite.
We will be talking about this and a number of other important updates that have been officially announced by Google or observed by the outsiders in the last two weeks. But, first of all, if you want to discover some context around the updates and hear a bit of a background story to the biggest headlines, tune into this week's Search Marketing Scoop podcast on YouTube. Listen to the discussions and feel free to leave your comments or ask questions, should you have any.
[podcast-subscribe]
---
GOOGLE SEARCH NEWS
*The Speed Update is Here*
As you know from our previous digests, Google has been "teasing" us with speed becoming a ranking factor for mobile search sometime in July. Well, that time has finally arrived!
From now on, speed is officially a ranking factor in mobile search, meaning the faster your page load speed is, the better. The "Speed Update" is rolled out worldwide and now affects all mobile sites. But, as per Google, mobile site owners who have already ensured high speed for their sites have nothing to worry about. The update should only affect mobile sites that are significantly slower than others. However, the slower sites will still be ranking given that they provide relevant content that answers a user's query.
Sources: Google "Speed Updates" is Rolling Out Now for All Users; Twitter 
Google My Business Insight Update: a New Report Showing Queries Used to Find the Business
Some users have noticed in the Insights section of Google My Business a new report that shows specific queries people use on Google Maps or Google Search to find businesses in the local listings. This report is called "queries used to find your business" and contains the most popular queries from the users in a given time period. Mike Blumenthal spotted the new update first and has shared the details on his personal blog.
As per Search Engine Land, the update has been confirmed by a Google Spokesperson as well, and it is going to be rolled out more widely. However, for the majority of users, the report is still not available within Google My Business account.
Source:  Google My Business Insights Adds Queries Used to Find Your Business
Subjective Attributes in Google My Business
Google has announced the launch of subjective attributes in Google My Business. These attributes in the Insights tab will help restaurant and cafe owners learn how their customers subjectively perceive the qualities of their businesses. As per Google, "this section of Insights provides customers' opinions of your restaurant or cafe." The attributes are subjective as every customer's opinion of a business varies depending on their individual experiences and may not apply to others.

Sources:  Google My Business Twitter Page; Google My Business Help: About Insights; Sergey Alakov: Twitter Page
Adding "LGBTQ-friendly" and "Transgender Safe Space" Attributes on Google My Business
Google has introduced some attributes within Google My Business that allow small businesses to mark themselves as "LGBTQ-friendly" and "Transgender Safe Space." These marks will be shown on Google listings to let the LGBTQ and Transgender communities know that they are welcome as users and customers. Once enabled within Google My Business, these marks will also appear on Maps and Google Search.
Source:  Adding "LGBTQ-friendly" and "Transgender Safe Space" Attributes on Google My Business
New URL Inspection Tool in Search Console
Google's new URL inspection tool is an update on the recent progress that is taking place within their Search Console. The update is more of a response to the users' request for more details on how the search engine looks at a specific URL. The URL inspection tool provides detailed information about the crawling, indexing, and serving of website pages, directly from the Google index.
A user just needs to enter the URL for the tool to produce information about crawling such as the last crawl date and status, indexing errors, canonical URL for the page, as well as recommended enhancements.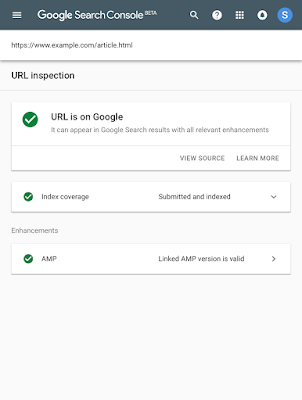 Source:  New URL Inspection Tool & More in Search Console
Testing Hyperlink URL in Snippets
Currently, there is one clickable location in Google search snippet (i.e., the title), but Google is testing making the URL component clickable as well. Eric Hedekar at STAT seems to have noticed it first. His remarks on Twitter are as follow:
"Looks like Google is rolling out a new formatting for blue organic links in a few English markets. Now the green link underneath the blue link is also wrapped inside the link tag, making it clickable. Interesting, but only on ~0.5% of SERPs so far."
Source:  Google Tests Making URL In Search Results Snippets Clickable
Indexing API for Job Postings
Google has rolled out a new API, called Indexing API, to provide more up-to-date information and listings to the job searchers. The need for Indexing API arises from the quickly changing nature of job listings. Google wants its job search database to reflect these changes and provide real-time data that the searchers look for. At the current, only job posting pages with structured data can be crawled by Indexing API. However, it is not yet clear if and when Google might consider using the Indexing API more widely instead of just job posting URLs.
Sources:  Google launches Indexing API for job posting URLs; Google Search: Quickstart; Google Search: Submit URLs to Google for crawling
---
GOOGLE ADS NEWS
AdWords, DoubleClick and Google Analytics 360 Suite Rebranding
As per the latest news from Google, Google AdWords is soon going to become Google Ads. The new brand will feature a full range of advertising capabilities and campaign types that are currently available, including search ads, display ads, and video ads. To make the platform even more viable for small businesses, Google Ads will also incorporate machine learning technology that will help produce better results.
Also, the search engine giant has decided to unify DoubleClick and Google Analytics 360 Suite under a single brand, Google Marketing Platform. This step, accordingly to Google, is going to help marketers understand their customers well and achieve greater performance. It will also help plan, organize, measure and optimize customer experiences across channels and devices.
Sources:  Google AdWords Will Soon Become Google Ads; Google Marketing Live Keynote; Introducing Simpler Brands and Solutions for Advertisers and Publishers
Smart Campaigns for Small Business in Google Ads
As mentioned earlier, Google has recently launched its Google Ads brand to replace Google AdWords. With the introduction of Google Ads, a new default ads experience is offered to small businesses through Smart campaigns.
Smart Campaigns is the first new solution under the Google Ads brand that comes with a blend of innovation and advertising technology. Small businesses can now quickly create effective ads and drive real results in the form of phone calls, website traffic, and online inquiries. Google mentions that Smart Campaigns are 3 times better at getting advertisers' ads in front of the right audience. They are fine-tuned to get the results businesses care about.
Sources:  Google Ads, Helping Small Businesses Do More; Google Introduces Smart Campaigns for Small Businesses — the First New Solution to Launch Under the Google Ads Brand
AdWords: New Words Cards and Adgroup Shifts on the Overview Page
The overview page in Google AdWords has got an update. AdWords users can now see two new insights in the form of a New Words card and he Adgroup Shifts insight. The New Words card monitors new keywords and alerts, allowing you to address them in a timely fashion. Whereas, the Adgroup Shifts insight highlights the spending shifts that happen across different ad groups within a campaign.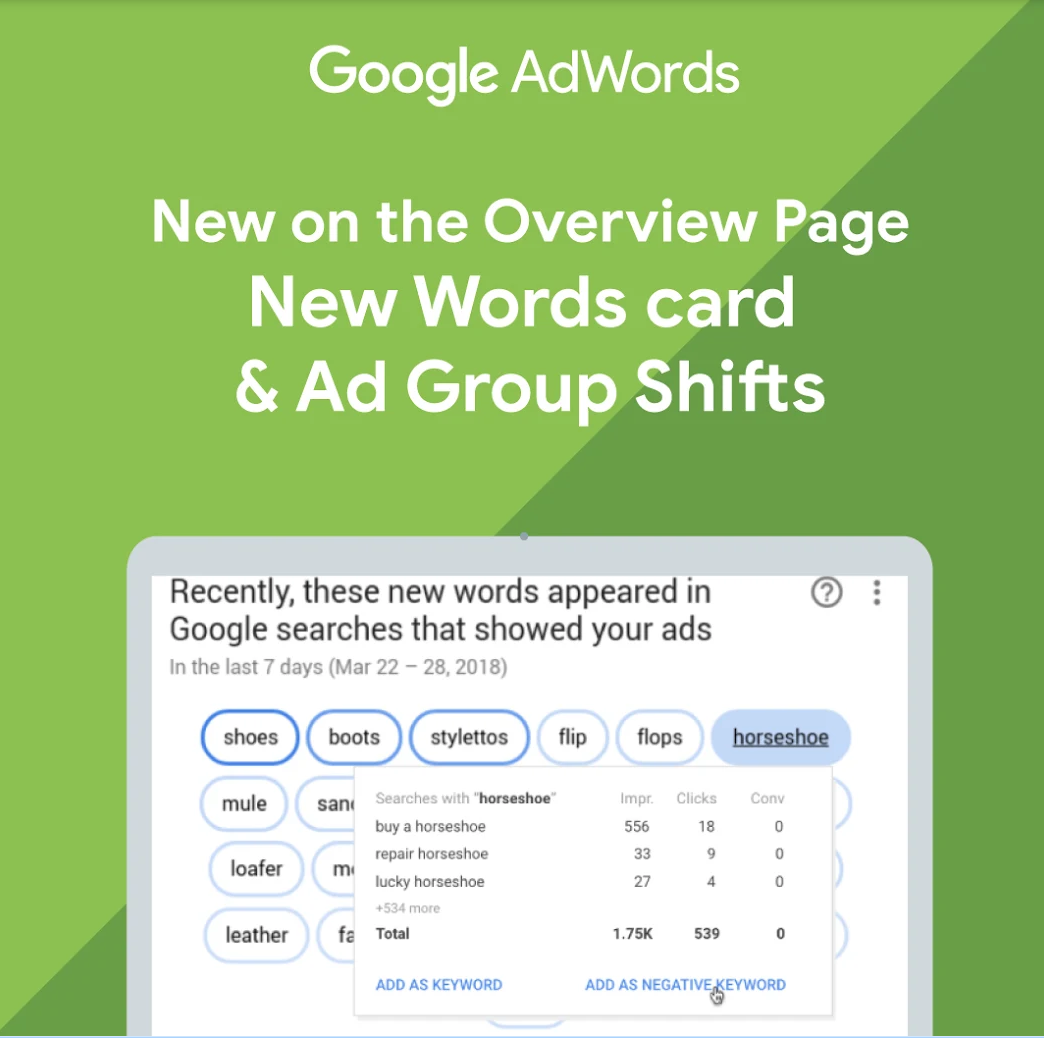 Sources: About the Overview page; Google AdWords: New on the Overview Page
Google Issued Shopping Automation Guide
Google has issued its new Shopping Automation Guide to help merchants create automated platforms and provide a seamless user experience for enhanced performance. The guide provides a step-by-step process to manage large numbers of Merchant Center and AdWords accounts through various Google APIs. The three automation options currently available for merchants include Full Automation, Feed Management, and Campaign Management.
Source:  Your Guide to Building an Automated Platform for Google Shopping Using Google APIs
Google is Testing a New Design for Product Panels (Single-Product PLAs)
Dr. Pete Meyers posted on Twitter that he noticed their systems capturing a new design for product panels in Google search. As per this observation, we can say that Google is probably testing a different layout and interface for product based search results. However, it is unclear if and when the new design would come into effect and become widely available.

Source:  Dr. Pete Meyers Twitter Page
---
GOOGLE TOOLS NEWS
Marketing Platform Partners Launch
As part of its recent branding initiative, Google has announced the launch of Google Marketing Platform Partners to ensure that advertisers get optimum value from Google Marketing Platform. The new program is designed to provide scaled training and capability-building across Google Marketing Platform products. Essentially, it provides a robust ecosystem of resources to ensure that advertisers get the needed skills to succeed. The three unique designations are categorized as Certified Individuals, Certified Companies, and Sales Partners.
Source:  From Basecamp to Summit: Achieving New Heights with Google Marketing Platform Partners
Out of Office Option and Working Hours in Google Calendar
The official G Suite feed announced on June 27th a recent update and new features in Google Calendar. With the new update in place, users will be able to have more control over how their working time should be spent. It will feature customizable working hours that allow them to select an "Out of office" Calendar entry type while creating an event on the web. Doing so will signal to others that they are not available in those hours. Any meeting requests created during that specific time will also be automatically declined. They can even customize the decline message and visibility of the 'out of office' title on their Google Calendar.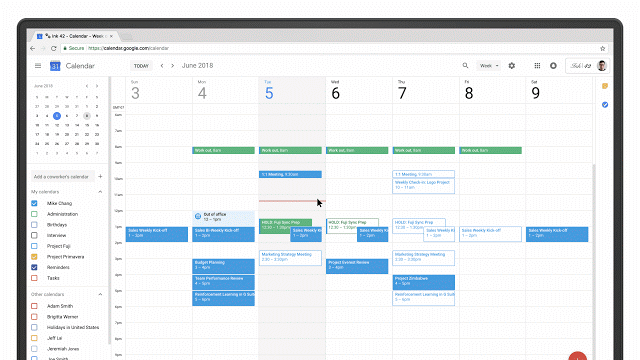 Source:  Better Manage Your Work and Personal Time with Google Calendar
How We Fought Webspam - Webspam Report 2017
Google has rolled out a new blog post on what has been done by the search engine giant to combat various abuses and spam in Google Search for 2017. In Google's words, they call "these various types of abuse that violate the webmaster guidelines 'spam'." They found an increase in website hacking, "both for spamming search ranking and for spreading malware", and offered guides for website owners in the hopes of reducing the threats to users. 
Another type was spam content generated in comment sections or forums. Google works with popular CMSs such as WordPress and Joomla to fight spammers that abuse their resources to generate spam content. Google's report offers a breakdown of their most significant challenges and provides a variety of guides and resources for webmasters and users. Their goal is for all of us to work as a team to reduce all forms of webspam.