In the past couple of weeks, we have been quite busy catching up on all the big announcements Google made during two of its biggest annual events: Google I/O and Google Marketing Live 2019. We have tried to cover every notable update from these events, including the new AR feature in Google Search and Images, new capabilities in Lens (Google's image recognition technology), new tools for App promotion, new ad units, and bidding innovations, and Google's move to simplify programmatic buying.
To provide a detailed summary regarding each update, we have invited Jon Rognerud, the Founder at Jon Rognerud Media, and Joel Bondorowsky, the Executive Director at PPC Designs, to our  Marketing Scoop podcast. Please tune in to the podcast for detailed insights.
---
GOOGLE SEARCH NEWS
The Long-Awaited Google Bot Update
Google has recently announced that Googlebot, the crawler that visits and indexes web pages, has started running the latest Chromium rendering engine to render pages for Search. Google said, "The number one question we got from the community at events and social media was if we could make Googlebot evergreen with the latest Chromium." According to the search engine, Googlebot now supports 1000+ new features which were not available on the previous version, like the following:
- ES6 and newer JavaScript features

- IntersectionObserver for lazy-loading

- Web Components v1 APIs
To ensure support for the latest web platform features, Google mentioned that it will regularly update Googlebot's rendering engine.
Source:  The new evergreen Googlebot
See How Web Crawlers Scan Your Site
Fix your website's crawlability with SEMrush
New Types of Structured Data: FAQ & How-to
The search engine has announced adding support for FAQ and How-to structured data on Google Search and Google Assistant. In addition, two new enhancement reports have been added to the Search Console to help webmasters monitor how their sites are performing. Google's new structured data options will improve search results and offer better how-to and FAQ information to Google Assistant users.
To see what is required and the recommended properties to use in your markup, read the  How-to developer documentation. Also, check out the FAQ implementation details in the  FAQ developer documentation.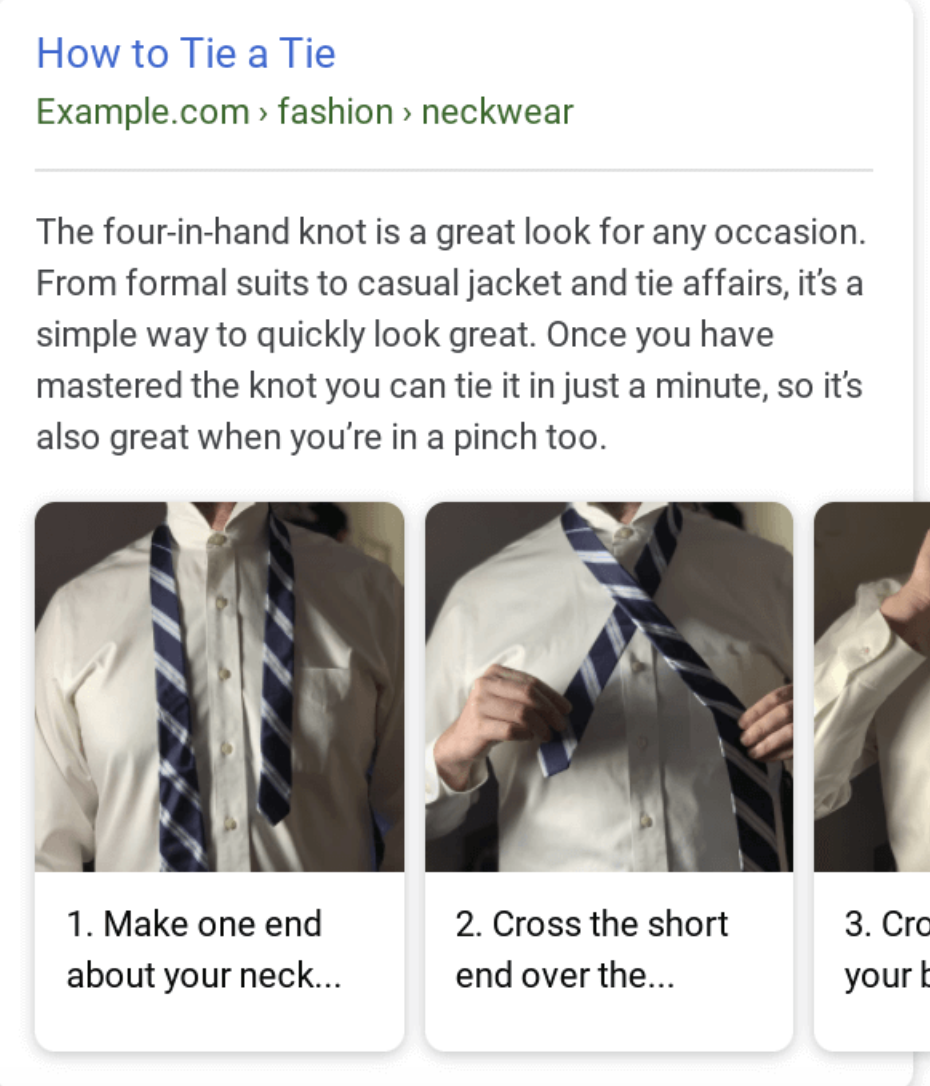 Sources:  New in structured data: FAQ and How-to;  Google Search adds support for FAQ and How-to structured data
New Features in Image Search
At the 2019 Google I/O developer conference, the search engine announced that it will be launching support for three additional features in Google Images: higher quality image, 3D images, and the ability to swipe up images to AMP pages.
Google said that soon it will be rolling out a new program to allow webmasters to submit higher resolution images to Google Image search. Keep an eye on the  Official Webmaster Blog for an announcement on how to opt-in when the program is available. Here is the slide introducing the new program: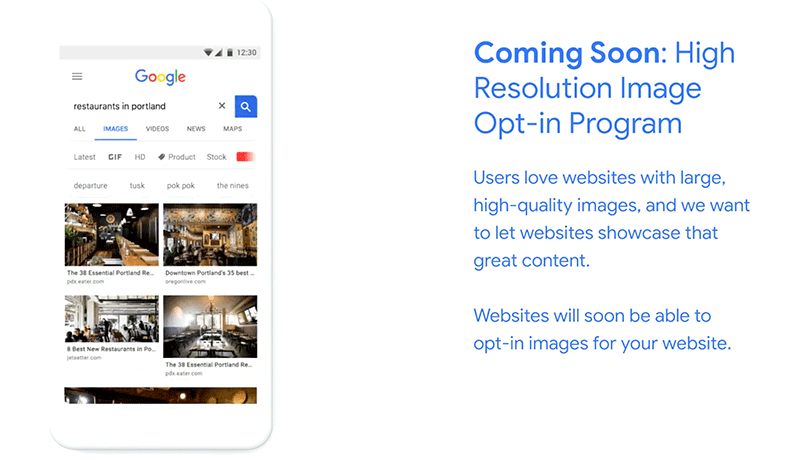 Google also demonstrated where and how you could bring up 3D images and place them in your desired location using augmented reality (AR). Here is the potential markup Google showed that could be used to implement this capability: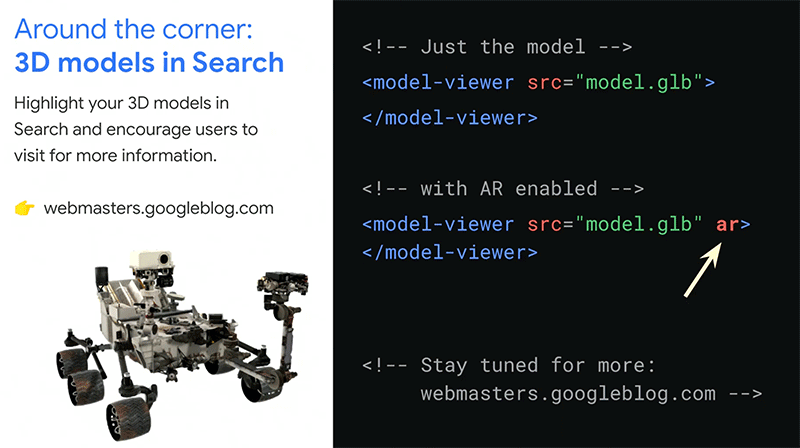 Another feature that was announced to be launched soon is swipe up. Once rolled out, it will enable users to swipe up from an image search results to find AMP pages related to that image. Here is the slide showing what this feature will do:
Source:  Google to add support for higher quality images in search, swipe up images & 3D images
Google I/O 2019: What's New in Search?
As Aparna Chennapragada, VP of Google Lens and AR, said, "At I/O, we announced features in Google Search and Google Lens that use the camera, computer vision and augmented reality (AR) to overlay information and content onto your physical surroundings – to help you get things done throughout your day."
Later this month, new AR features will appear in Search. You will then be able to view and interact with 3D objects and place them into a space that will give you an indication of scale and detail. Aparna explained, "For example, it's one thing to read that a great white shark can be 18 feet long. It's another to see it up close in relation to the things around you. So when you search for select animals, you'll get an option right in the Knowledge Panel to view them in 3D and AR."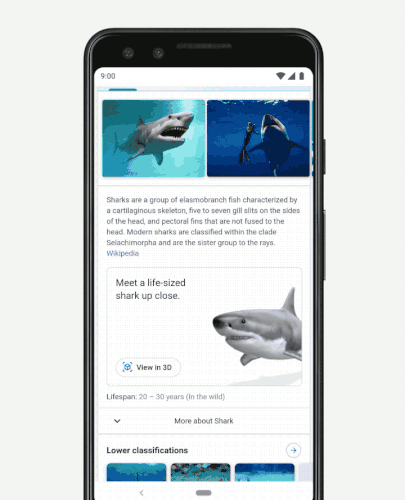 GIF
Google is also evolving Lens to cater to its users' growing needs for visual answers to visual questions. Accordingly, Lens will help users by doing things like automatically highlighting which menu items/dishes are popular at a restaurant, what they look like, or what people are saying about them. Lens can also help detect a language unfamiliar to users and overlay the translation right on top of the original words. All the users need to do is point their camera at the text.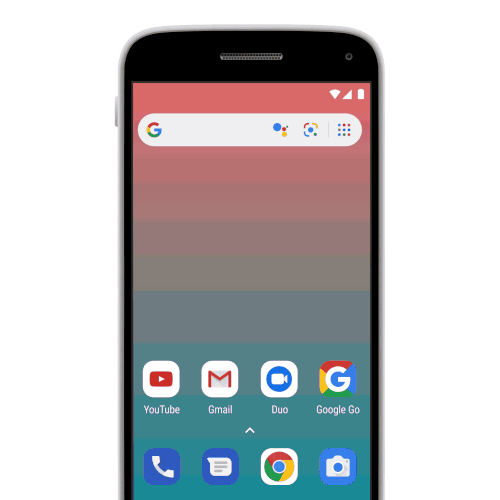 GIF
In addition, Lens will be able to read the text aloud, so users who struggle with reading or seeing can follow along and understand the full context of what they see.
Sources:  Helpful new visual features in Search and Lens;  Twitter: Google;  I/O '19 was a success! Check out featured Sessions, and see what people had to say on social about #io19
Podcasts Search Now Available in Google Search
Zack Reneau-Wedeen, founder and head of Google Podcasts, posted on Twitter that Android, iOS, and Desktop browsers will now allow playing podcasts directly in Google Search. Accessing podcasts across these platforms has now become easier and, as Zack mentions, it is "a step toward making audio a first-class citizen across Google." Here is the GIF showing how it appears in searches.
Sources:  Twitter: Podcast Search;  Twitter: Zack Reneau-Wedeen

GOOGLE ADS NEWS
Exporting Google Ads Data to Google Sheets
Google added a quick feature to its Report Editor in Google Ads that allows users to export Google Ads data to Google Sheets and then share it with others. For users who frequently need to download and share their Google Ads data, this feature may come in quite handy.
Source:  Export Google Ads data to Google Sheets
Google Moves to Simplify Programmatic Buying
Sam Cox, Google Ad Manager, announced that the search engine is in the process of simplifying programmatic buying for its partners. In the coming months, Google will start transitioning publisher inventory to "a unified first price auction for Google Ad Manager." This, according to Google, will help create a fair and transparent ad market and reduce complexity for everyone, including publishers, advertisers, and agencies.
Below are the screenshots Sam has shared, showing the current auction scenario and the unified first price auction that will replace it in the future.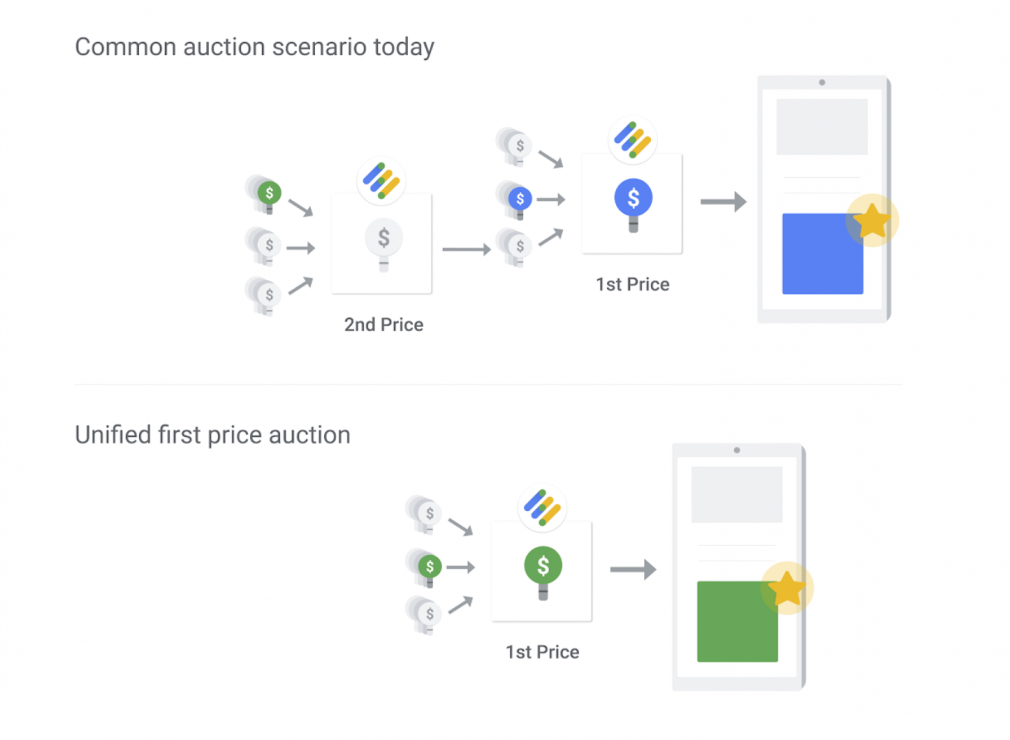 It should be noted that Google's move to a single unified first price auction will have no impact on auctions for ads on AdSense for Search, Google Search, YouTube, and other properties; it will only impact display and video inventory sold via Ad Manager. Advertisers who use Display & video 360 or Google Ads also do not need to take any action.
Over the next few months, Google expects that buyers and sellers of programmatic ads will make the required changes in their programmatic strategies and prepare for the transition which, Google hopes, will be complete by the end of this year.
Source:  An update on first price auctions for Google Ad Manager;  Simplifying programmatic: first price auctions for Google Ad Manager
New App Policy Center for AdMob and Ad Manager
Google has introduced the new App Policy Center to help app publishers maintain a healthy advertising environment. It helps build and maintain a trustworthy advertising ecosystem by providing publishers with "a single centralized hub to review and monitor policy violations and appeals." Google expects that App Policy Center will reduce the risk of potential revenue losses resulting from honest mistakes as it will provide all the needed information to remain policy compliant in a single place.
The App Policy Center is available for Ad Manager and Google AdMob users and can be accessed from the homepage dashboard of a user account.
Source:  Introducing the New App Policy Center
Performance Planner: A New Tool in Google Ads
Google recently launched a new tool, "Performance Planner", designed to help advertisers better plan their advertising spend by creating a plan, exploring their forecast, and quickly adapting to the adjustments that are "prescribed."
According to Google, they have "seen advertisers can drive 43% more conversions by using Performance Planner to better plan their Google Ads spend." The Performance Planner can also be used to try other adjustments, such as different spend levels and CPAs, to see their impact on conversions. Within Performance Planner, users can even zero in on things at the campaign level (such as campaign-level forecast) and allocate their spend accordingly.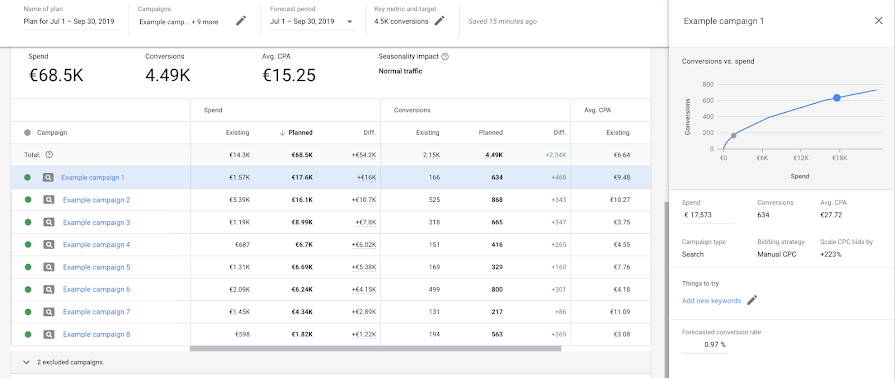 Sources:  New Performance Planner coming to Google Ads;  About Performance Planner
Google Marketing Live: New Ad Units
Emphasizing discovery, this year's Google Marketing Live event in San Francisco introduced new ad products that are intended to address "top-of-funnel consumer scenarios", including a redesigned Showcase Shopping ads feature to bolster its competition with Amazon.
The ad units include Discovery ads, Gallery ads, as well as an extended reach for Showcase Shopping ads. According to Greg Sterling of Search Engine Land, what is common with these ad formats is that they are all automated, highly visual, and appear across multiple Google properties.
According to Google, Discovery ads will become available to advertisers later this year (as of now, they reach 800 million users globally). These are the kind of ads that appear across multiple Google feedback environments and according to Google's VP of Product Management, Brad Bender, these ads feature three main qualities: they are visually rich, mobile first, and use the power of user intent.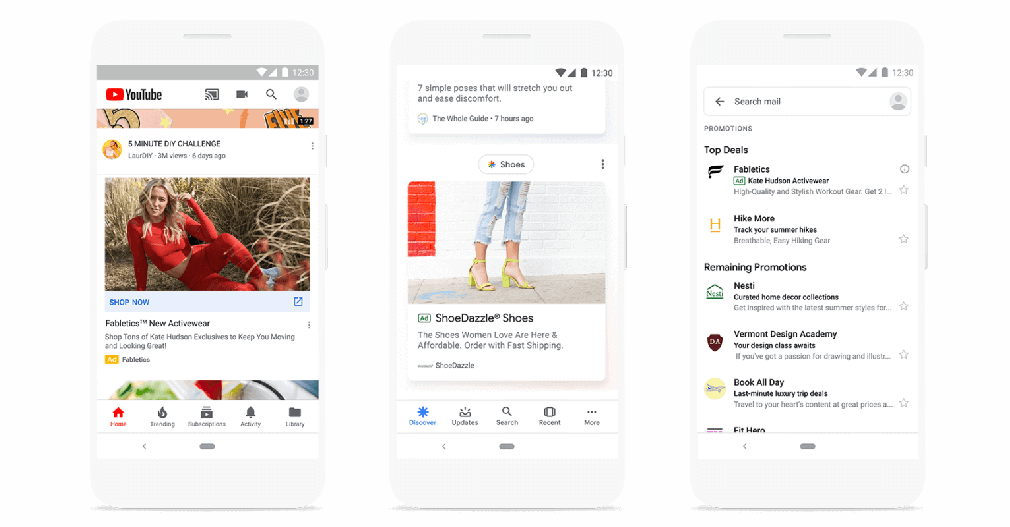 Gallery ads are another type of visually compelling ad unit that will appear at the top of mobile search results. These ads will feature a scrollable gallery with 4-8 images and up to 70 characters for each image. Advertisers of these ads will be charged either on a CPC basis or when a user swipes through to the third image in the sequence. However, the cost for the paid swipe and CPC will remain the same.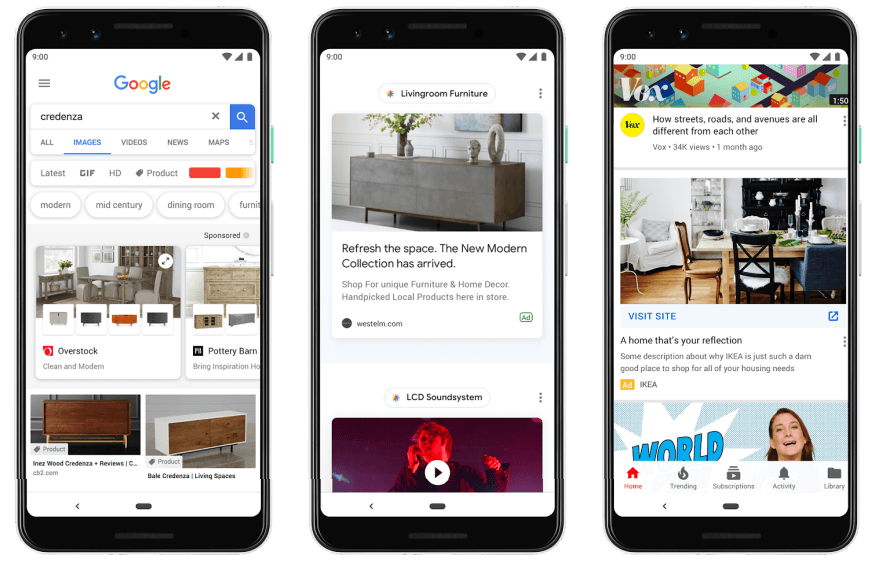 Finally, Showcase Shopping ads will be extended to Google Images, the Discovery feed, as well as the YouTube feed. These ads will feature smaller images along with the main image and will contain location information of the nearby retailers who offer these products.
Discovery ads: As Google describes them, Discovery ads will help advertisers reach their target audience "across Google properties in the moments when they're open to discovering your products and services." These ads feature rich and relevant creative, provide unmatched reach, and produce better results.
Gallery Ads: It combines search intent with a more interactive visual format, making it easier for advertisers to communicate what their brands have to offer. According to Google findings, "on average, ad groups including one or more gallery ad have up to 25 percent more interactions—paid clicks or swipes—at the absolute top of the mobile Search results page." These ads will be released later this year.
Showcase Shopping ads: Google explains these ads as "a highly visual ad format that incorporates rich lifestyle imagery into your Shopping ads." These ads will now be added to areas Google knows people are using to find ideas, such as Google Images and the feed on Discover. 
Frictionless Mobile Experience: To improve insights and measurement for advertisers and deliver better experiences for consumers, Google is going to enable app deep linking from Google Ads and provide more robust reporting across web and apps. Accordingly, app users will now be able to land on relevant pages in a mobile app after clicking on ads placed on Search, Display, or Shopping ads properties (if they have installed the app already). This means that customers will be able to complete their desired action in a smooth and seamless way, increasing the chances of getting the highest value for advertisers' ads.
The new Google Shopping: Finally, Google has announced unveiling a redesigned Google Shopping experience this year that comes with new and immersive ways to help shoppers "discover and compare millions of products from thousands of stores." For retailers and brands, it helps them better connect with the consumer across their shopping journey as it brings together ads, local, and transactions in one place.
Sources:  Google announces new 'discovery' ad formats, revamped Shopping experience, native placements at Google Marketing Live;  Google Marketing Live: Building for the new consumer journey;  Making it easier to shop across Google
New Bidding Innovations in Google Ads
To help marketers scale with automated solutions, the search engine giant has unveiled four new bidding innovations at Google Marketing Live. Google hopes that these new developments will help add more flexibility in reaching marketer's business goals. Here is a brief rundown:
Campaign-level conversion setting: Advertisers will now have more flexibility and customization within their accounts. They will be able to set any conversion goals at the campaign level (instead of just the account level), allowing them to manage performance for campaigns with differentiated goals more effectively than ever.
Seasonality Adjustment: This feature is going to give advertisers more controls to their accounts when it comes to ad hoc events like one-time promotions. As per Google, "if you know that your conversion rates will spike due to an upcoming promotion, you can schedule an appropriate adjustment for that period."
Maximize conversion value: This is a new bidding strategy that allows advertisers to optimize for the most conversion value within a specified budget. It is particularly helpful for advertisers who are more focused on growth and volume.
Value rules: Value rules will differentiate how conversion values are different based on characteristics like audience, location, and device. They will also, help you "customize conversion values, so they align more closely with your business goals." Google will be introducing this feature in the coming months.
Sources:  New bidding controls to help meet your goals;  About Maximize conversion value bidding
GOOGLE TOOLS NEWS
New Structured Data Reports in Google Search Console
Google has rolled out a blog post, discussing what webmasters can do with Search Console to monitor and make the most of structured data for their site. The search engine recommends webmasters check their accounts sporadically for issues related to structured data and make sure everything works as intended. To discover the errors related to a specific structured data feature, go to the Enhancements menu in the left sidebar of the Search Console and click a feature to get asummary of warnings and errors; you will also see valid items as well.
Google also announced two new features, the Unparsable Structured Data Report(aggregates parsing issues) and new enhancement reports for  Sitelinks searchbox and logo.
Here's what the Unparsable Structured Data report looks like: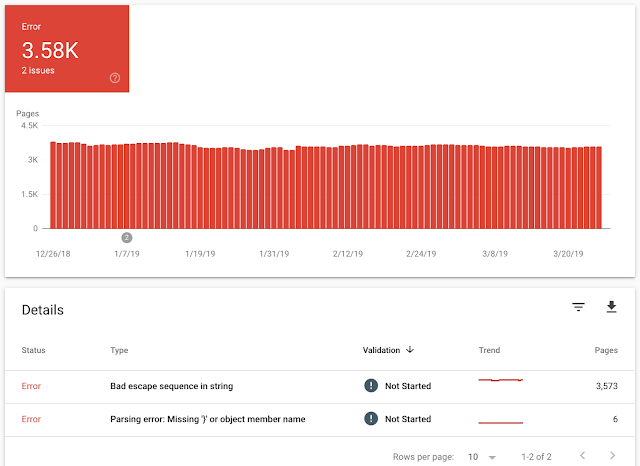 Here's what the enhancement report looks like: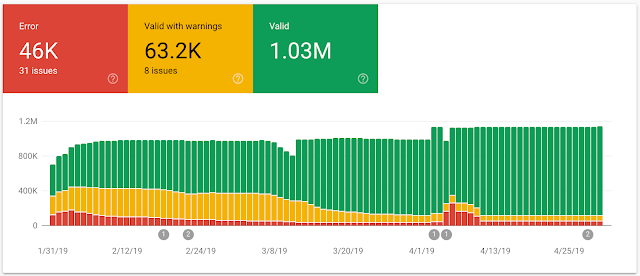 Source:  Monitoring structured data with Search Console
New Speed Report in Search Console (in Testing Phase)
Google is testing a new Speed Report within Google Search Console, which is in beta right now and can be signed up for through this form. Powered by CrUX data, the new report provides an aggregated view of your website field metrics, and users can dig deep into specific issues that could be causing problems. Here is a screenshot that Ilya Grigorik, one of Google's performance engineers, has shared on Twitter. Notice the metrics showing slow, average, and fast pages that you can click on to find more specific details.
Sources:  Google Search Console New Speed Report;  There's a new Speed Report coming to Google Search Console
New Tools for App Promotion
At Google I/O 2019, Google shared a few ways to help app developers scale their businesses using Google's growth and monetization solutions. Here are the highlights of how app developers can make the most of Google solutions for their businesses:
They can choose a bidding option in Google App campaigns that best supports their growth goals.

They will soon be able to bid on a TROAS (target return on ad spend) basis so that they can automatically pay more for users who are likely to spend more and vice versa.

They will have new ways to develop and manage their creatives, making it easier for them to show their customers more relevant ads in more places.

They can grow their overall app revenue, via AdMob, and protect user experience utilizing resources like image search, maximum ad, and user metrics.
Source:  Smart strategies for growing your app business with ads
SEO Mythbusting: New Video Series from Google
To clarify common misconceptions and address essential questions in SEO, the Google Webmaster Trends Analyst team is rolling out new video series on their official YouTube channel. They have named the series "SEO Mythbusting." Martin Splitt from the Google Webmaster Trends Team will be hosting the discussions and developers and SEOs will also be invited to discuss advanced topics like "SEO & Googlebot, SEO & JavaScript, SEO & Web Performance, SEO & Web Frameworks, and SEO & Future of the Web."