They did it again — they caused an uproar, stress, some panic, and of course, some traffic fluctuations. Google claims they are trying to do what is best for users with this update, and are decluttering and deduplicating the search results. We have also seen SERP design changes — favicons and then no favicons, and now a blah SERP design that people, again, don't like. 
January has seen a lot of changes from Google, and everyone is just trying to keep up. SEMrush has tried to get insights from experts that could help, but at this point, everyone is still watching the fallout and studying data to determine if these changes will help or hurt them. Some are reporting improvements in traffic, and some are not — we all need time for evaluation. 
Great Articles I Found This Week: 
Before we jump into all the latest news, I want to share some articles that might be helpful to you. 
GOOGLE SEARCH NEWS
Got a Featured Snippet? Your URL is No Longer in the SERP
It all started with this tweet:
Not sure if you've been tipped off yet @rustybrick but big changes recently to featured snippets. If you own the featured snippet, you only get that one listing and your 'normal organic' ranking is pushed to be the number one result on page 2. So instead of 2 listings, just one.

— Mark Barrera (@mark_barrera) January 22, 2020
And Google's Danny Sullivan replied: 
If a web page listing is elevated into the featured snippet position, we no longer repeat the listing in the search results. This declutters the results & helps users locate relevant information more easily. Featured snippets count as one of the ten web page listings we show.

— Danny Sullivan (@dannysullivan) January 22, 2020
And the next day, many more clarifications come from Search Liaison (Click on the tweet to see the full thread of updates): 
If a web page listing is elevated into the featured snippet position, we no longer repeat it in the first page of results. This declutters the results & helps users locate relevant information more easily. Featured snippets count as one of the ten web page listings we show....

— Google SearchLiaison (@searchliaison) January 23, 2020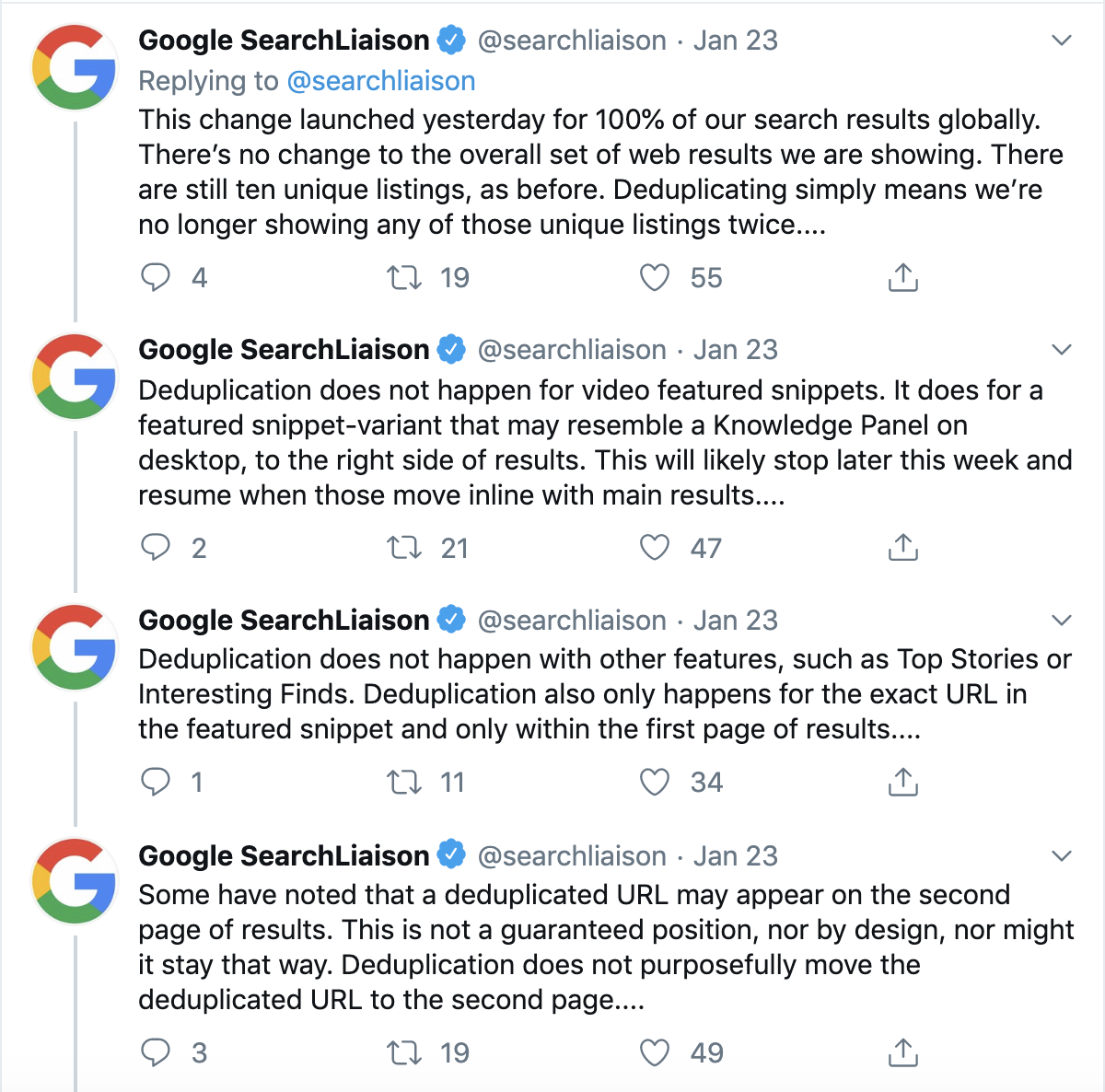 And since that time, there have been many questions asked via Twitter; you can see many of them sent to Search Liaison and Danny Sullivan. SEO's have been reporting a lot of fluctuations; some are reporting better traffic, and others are not. They have been very vocal about what they are seeing, so keep an eye on Twitter. 
Things have changed rapidly in the last few days, so we just have to wait until this update is fully rolled out to understand the implications. 
Related Resources: 
---
There Were Favicons in the SERPs ?, and Then There Were Not
Google added favicons to the SERPs and people were not happy!
Via Carrie Hill
Many thought the change made it more difficult to see or find what users were looking for. There were endless complaints everywhere: 
It looks like Google was listening, and they decided to test another design.

Currently, there are no favicons, but the new plainer look they are testing isn't loved either. We will have to wait and see what changes are coming or if we can just go back to normal. 
Is this seriously what the SERP looks like now? My eyes hurt. I take back everything I said about favicons. Bring them back, Google. I need some color in my life. pic.twitter.com/sI3AsrJZf5

— Lily Ray ? (@lilyraynyc) January 24, 2020
---
Updates for Developers Documentation on Mobile-First Indexing
Google announced updates to the mobile-first best practices documentation. The questions in the threads in the tweet below are very informative and helpful. You should check those out. 
We made some significant updates to our developers documentation on mobile-first indexing (☎️#⃣1⃣??), Whether your site has been moved over already or not, it's worth checking it out ? https://t.co/yo4mGQZkqh

— Google Webmasters (@googlewmc) January 22, 2020
If you do not want to compare old documents to the new one, and just want to know what to look for, check out this thread by Aymen Loukil.
[Thread] New details from @googlewmc on Mobile-first indexing best practices ! They added :
- Focus on having "same content" on Mobile VS Desktop
- Same meta robots
- No interaction based lazyload
- Resources must be crawlable
- Same structured data on both versions
1/4

— Aymen Loukil (@LoukilAymen) January 22, 2020
Source: Mobile-first indexing best practices
---
New Removals Report in Search Console
Google launched a new version of the Removals report in the Search Console, which allows site owners to temporarily hide a page from appearing in Google Search results. There are three areas of the new Search Console report you should be aware of:
Temporary Removals -This can be used to remove specific content on your site from Google Search results.
Outdated Content - This section provides information on removal requests that have been made through the public Remove Outdated Content tool. This tool can be used by users and site owners to update search results showing information that is no longer present on a page.
SafeSearch Filtering - This section in Search Console shows a history of pages on a website that were reported by Google users as adult content using the SafeSearch Suggestion tool. The URLs submitted are reviewed, and if Google determines that the content should be filtered from SafeSearch results, the URLs are tagged as adult content.
Source: New Removals Report in Search Console 
Data-vocabulary Markup No Longer be Eligible for Google Rich Result Features As of April 6, 2020
Google announced on January 21st that while the "Data Vocabulary" project was an important milestone in the development of structured data, it is now very outdated, and it is preferable to use more widely shared vocabulary from Schema.org. They will be issuing warnings via Search Console for pages using the data-vocabulary.org schema to help users prepare for the sunset in time. 
Note: Google stated, "Data-vocabulary.org markup will stop being eligible for Google search result features and enhancements.", so focusing schema should be a priority. 
Source: Sunsetting support for data-vocabulary
---
New "Find Results On" Box for Generic Local Queries
Nicolai Helling discovered a "Find results on" box in search results for generic local queries that lead to external links, such as Yelp, Trip Advisor, YP, Groupon, and more. As you can see from the tweets below, this feature has shown up in a few countries already.
---
Twitter URLs Seen in Featured Snippets and People Also Ask
Your helpful and info-filled tweets could end up in a snippet or People Also Ask. It looks like Google is using info from more places to answer questions their users have. Let us know if you are seeing thee same thing. 
Source: Tweets In Google Featured Snippets & People Also Ask
---
GOOGLE ADS NEWS
Automate Google Ads Conversion Imports with Zapier
Google has collaborated with Zapier to help develop its Google Ads integration. Zapier's automation solution will make it easier for users to identify and extract CRM-based conversion events, format data, and upload it directly to Google Ads.
Google provided a link to a guide that will provide more info on the Zapier integration. For information on offline conversion tracking, visit the Google Ads Help Center. 
Source: Automate your Google Ads conversion imports with Zapier
---
Google Removing Ads and Sponsored Labels From Flight Search Results
Google announced it will no longer charge partners for referral links on Google Flights, and as of this month, they are "removing the ads and "sponsored labels from Google Flights and the flights unit in Google search results." More info on SEL.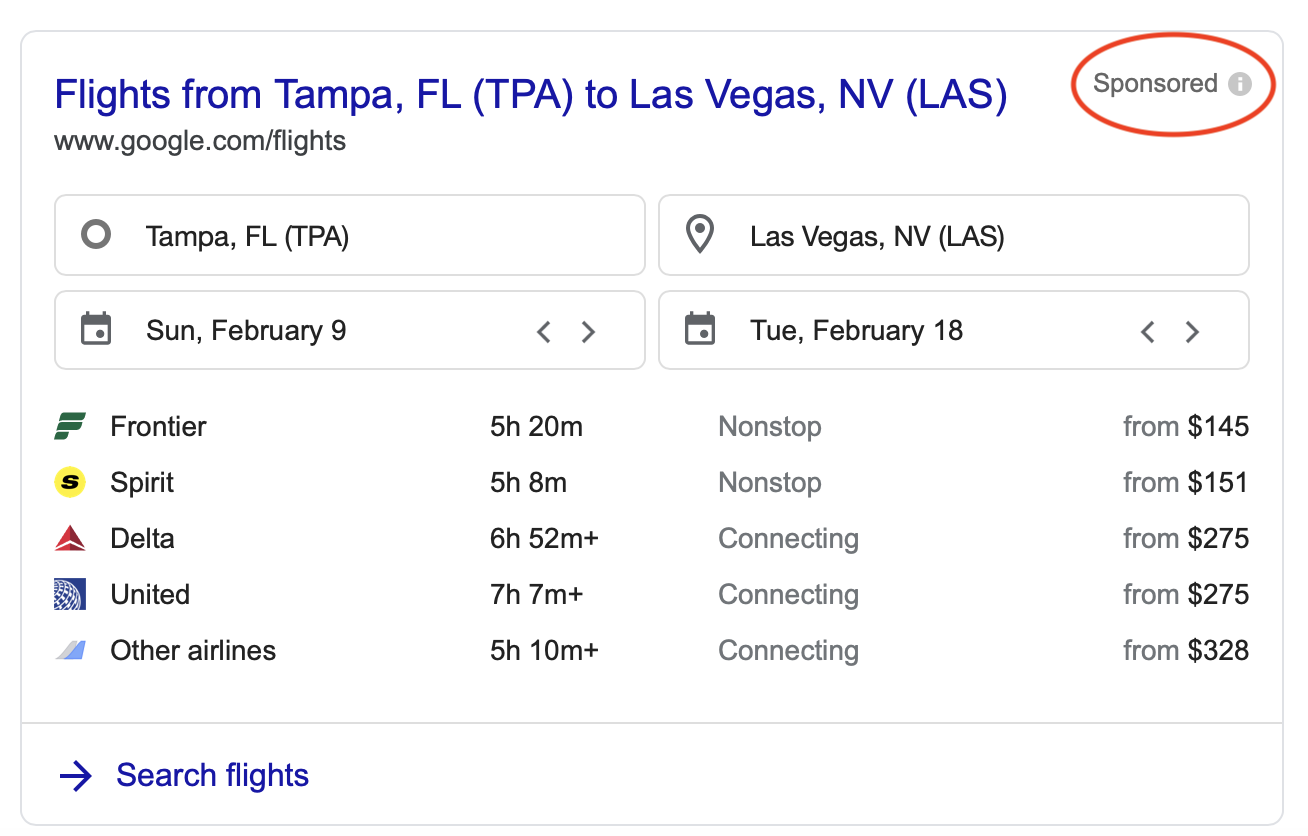 Source: Google removes 'ads' and 'sponsored' labels from flight search results 
---
GOOGLE TOOLS NEWS
Data Studio Community Visualizations 
Currently in beta, Data Studio Community Visualizations will allow you to create and integrate custom JavaScript components into your dashboards. Google says, "You can use Community Visualizations to expand your chart selection, customize your report styling, or create custom components that perform advanced analysis or even in-browser machine learning. Community Visualizations can add to a Data Studio dashboard in different ways - from providing custom charts and styling to integrating calculations with reporting."
There is a Community Visualization Report Gallery where users can see how others have utilized the dashboards. They also have a Partner Community Visualizations gallery: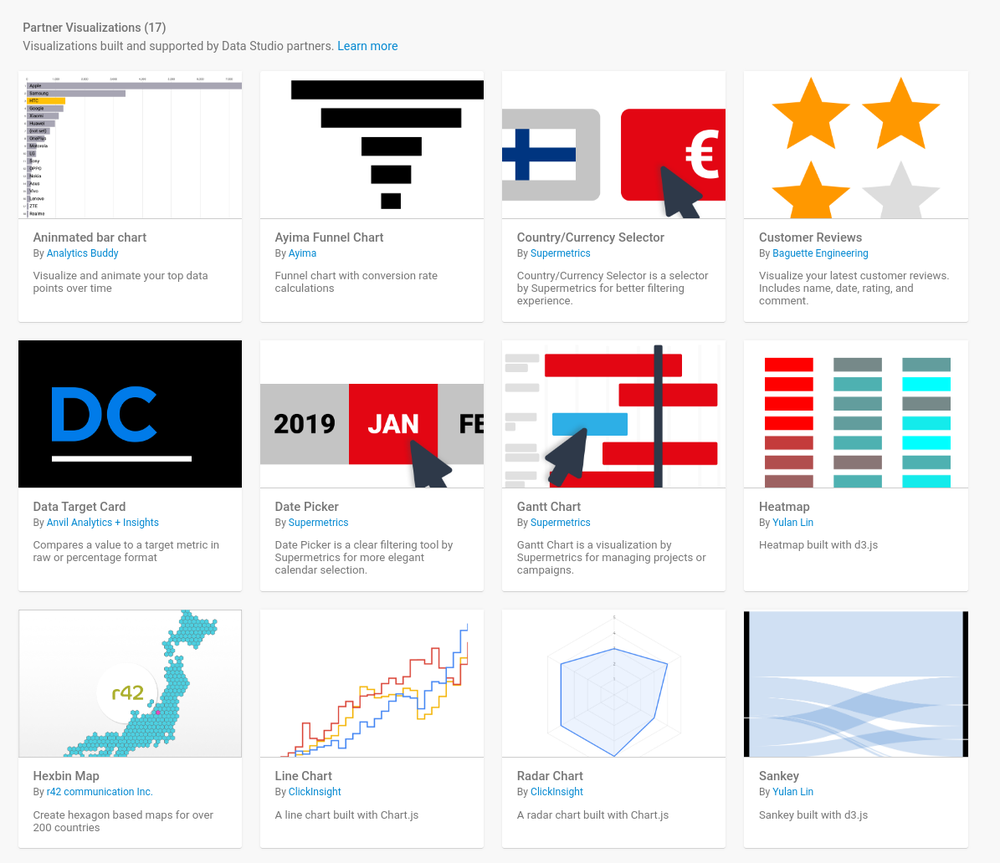 Source: Do more with Data Studio Community Visualizations
---
Chrome Commercial Extensions Suspended
Last Friday, Google announced the following to extension developers, "Earlier this month the Chrome Web Store team detected a significant increase in the number of fraudulent transactions involving paid Chrome extensions that aim to exploit users. Due to the scale of this abuse, we have temporarily disabled publishing paid items. This is a temporary measure meant to stem this influx as we look for long-term solutions to address the broader pattern of abuse."
Simeon Vincent explained that this suspension might result in a rejection "Spam and Placement in the Store" for those with paid extensions, subscriptions, or in-app-purchases. You can use the account reinstatement form to appeal a suspension.
Source: Announcement: Paid CWS Item Rejections 
---
URL Inspection Tool - Google Search Console Training
Google's Daniel Waisberg reviews how to use the URL Inspection tool in Search Console. This video will show you how to find out the current index status of your pages, test a live URL, ask Google to crawl a specific page, view detailed information about the page's loaded resources, and more. 
---
That is it for this digest.
We hope the next few weeks will slow down a bit for everyone. If you have any questions about recent updates you would like answered, please share them in the comments below or tweet them to me and we will try to get your questions answered.