Google is testing, updating options, and making changes - as always. Below we have summarized different tests and changes the SEO community has found and documented, as well as the updates Google has announced over the last two weeks. There have been some major changes in Google Ads and some updates in Google tools all marketers should know about. So keep reading, and share your thoughts in the comments below.
---
GOOGLE SEARCH NEWS
What's New on SERPs
Here are some of new Google Search features and tests that users spotted in the last two weeks:
1. SERP with Infinite Scroll
Sources:  Google Search Tests More Pagination Options: More Results, Infinite Scroll & More; Ukiran_2 Tweet
2. URL Above Title Tag Snippets
3. Ads Inside Business Listings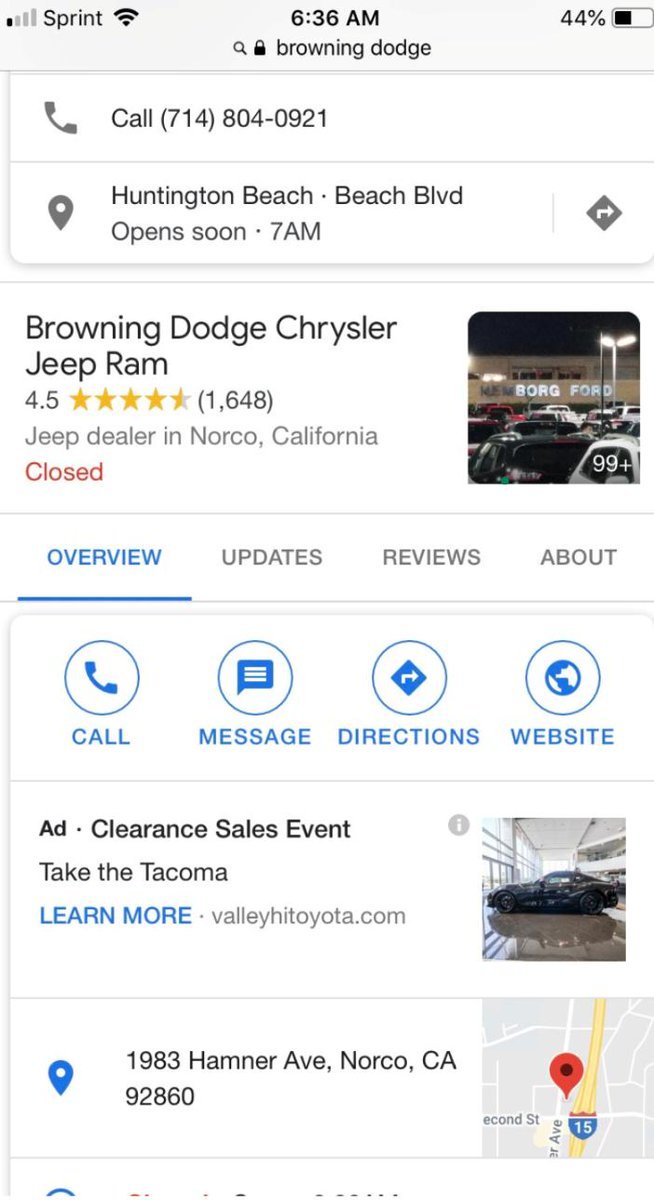 Source: TheSocialDude Tweet;  Google Local Listing For Dodge Dealership Shows Toyota Advertisement
4. Expandable "People Also Search For"
5. "People also view" with Thumbnail Images
Source:  Google People Also View Images;  RrRatan Tweet
6. Delivery Icon in Local Pack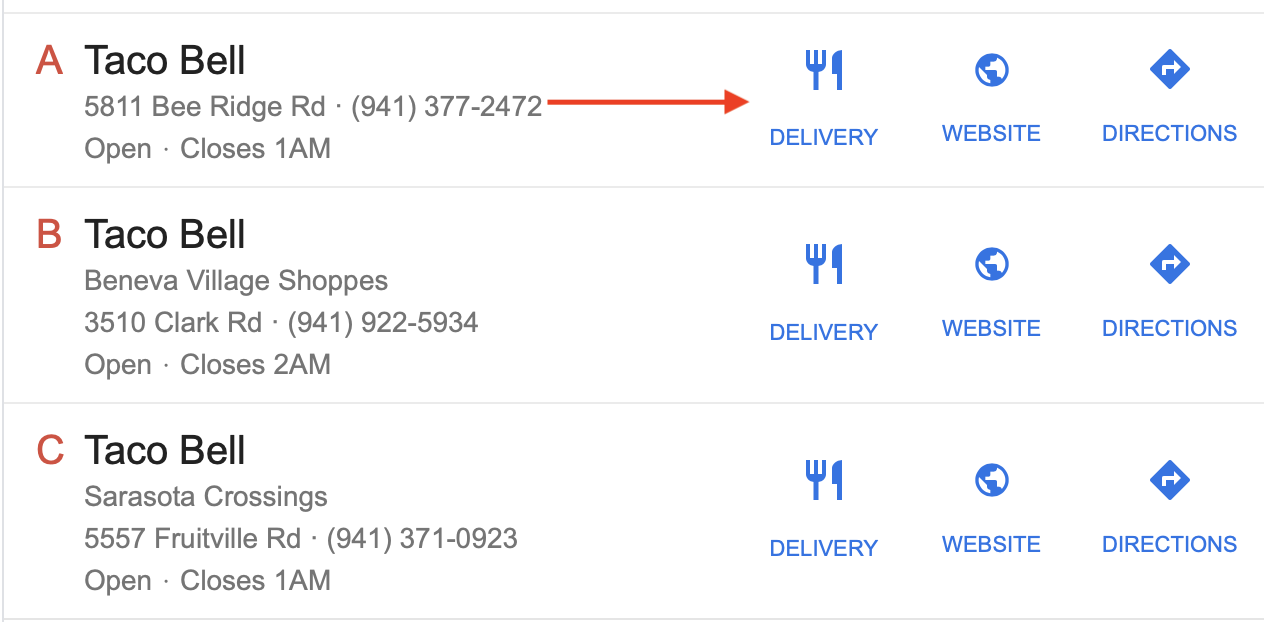 Source: Google Adds Delivery Icons To Local Pack
GOOGLE ADS NEWS
New Bidding Strategy in Google Ads
Google announced a new  Smart Bidding strategy "Maximize conversion value" in May, and now it is here. The new automated bidding strategy will help you maximize the total conversion value of your campaign within your specified budget. You can now use Maximize conversion value for all Search campaigns. Before you start, you should  set conversion values for your conversion types or  use transaction-specific values.
Source:  New Smart Bidding strategy: Maximize conversion value 
Optimization Score for Shopping Campaigns 
Google recently expanded  optimization score to include Shopping campaigns "to provide more, real-time recommendations for improving overall account performance." The optimization score for Shopping campaigns is the same as Search campaigns, 0% to 100%. If you can reach 100%, it means that your campaigns are set up properly and will perform to their full potential.
Google said, "We also added unique  recommendations just for Shopping campaigns, like switching to Smart Shopping campaigns and adding seller ratings. "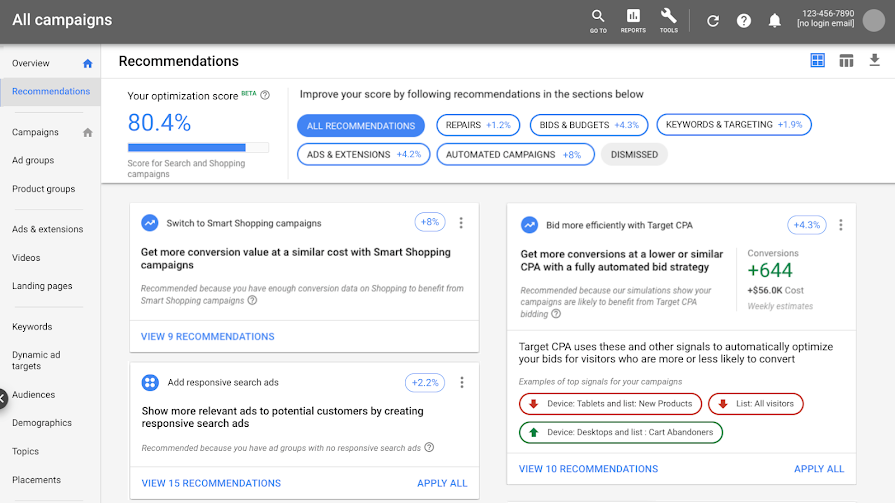 Source:  Optimization score now includes Shopping campaigns 
Average Positions Removal from Google Ads
As announced at the beginning of the year, Google is going to remove the average position indicator starting September 30th. According to Google, this indicator does not reflect the real picture of the display of ads (since, for example, you see one position, but it can be in the lower block). They recommend, "using  Search top impression rate and Search absolute top impression rate. These metrics reflect the actual placement of your ad on the page, rather than the position of your ad compared to others."
Due to this change, the following will be disabled starting the week of September 30, 2019: 
Rules using average position
Custom columns using average position
Saved reports that filter on average position
Saved filters with average position
There could be an impact on Google Ads  scripts that use average position, so Google recommends reviewing them to make sure they continue working as intended.
One more change — the average position metric will also be removed from the following: 
Saved column sets
Saved reports that use the average position column, but don't filter on it
Scorecards that use average position in dashboards
Source:  Average position sunset begins the week of September 30th
Accelerated Delivery to Be Disabled in Search and Shopping Campaigns
Google Ads announced that starting September 17th, they will be updating ad delivery options to maximize performance within your daily budget. Accelerated delivery will no longer be an option, and Standard delivery will be the only ad delivery method for Search campaigns, Shopping campaigns, and shared budgets. If you are using Accelerated delivery, it will be automatically switched to Standard delivery by October 1, 2019. Accelerated delivery will be available for Display campaigns and Video campaigns. 
Source:  Search and Shopping campaigns will now be using improved Standard delivery
GOOGLE TOOLS NEWS
JavaScript Support for AMP
At its AMP Conference earlier this year, Google introduced the preview of <amp-script> to developers and recently announced that it is generally available.
As explained in Google's announcement, <amp-script> is an AMP component that runs JavaScript in a separate Worker thread, allowing for adding custom JavaScript to an AMP page while keeping its speed. It also allows for sharing code across AMP and non-AMP pages.
The new <amp-script> is compatible with frameworks such as React, Angular, and jQuery, among others. It also has some constraints, including a limit on script size and API support. 
Source: Google AMP Script Blog
Spelling & Grammar Check in Gmail 
Google has introduced a spelling and grammar correction feature in Gmail (though for now only for G Suite users). According to its announcement, Gmail will employ AI "to make smarter spell-check suggestions while also detecting potential grammar issues", and the most common spelling errors will be corrected automatically with its new "as-you-type" feature.
Source: G Suite Updates
Google Go Worldwide Release
Google recently announced its launch of the Google Go app for all Android devices worldwide. Google Go is an optimized version of the search application that saves up to 40% of data, even for old phones and slow or spotty connections. Among its features is its lightweight in size (7 MB), can read text aloud, and uses less storage and memory to not hinder phone speed.
Sources: The Keyword; Google Play
Privacy Sandbox Project
Google is launching a new Privacy Sandbox project aimed at "building a more private web", with the goal of finding a compromise between personalizing ads and protecting personal data. Within the framework of this project, new standards of confidentiality will be developed, and the quantity and quality of data collected from users will be determined by artificial intelligence. For example, one of the ideas is to set a privacy budget, which will allow sites to collect user data only within a given budget. All the ideas of the new project can be found on the link in the Google Chrome blog.
Sources: The Keyword; Chromium Blog
New Rich Results Error Types in GSC Reports
Google has updated its rich results reports within Google Search Console, adding new issue types of structured data: product, Sitelink, Searchbox, and unparsable. Now, if you made any mistakes when implementing these types of markup, you can find and fix them using the information from GSC.
Sources: Search Console Help; Search Engine Roundtable
Google Travel Updates
Google has announced new Google Maps travel information when you do a  search for flights and hotels. They already showed whether prices for a flight were high, low or typical, and now you can see the same data for your specific travel itineraries. The search giant has taken the extra step of guaranteeing users that if it fails to show the best prices for their travel, it will refund their money.
If you book a flight and receive a confirmation in Gmail, they can assist you with recommendations when searching for hotels, restaurants, and things to do. They can also help you find the best neighborhoods to stay in, the best time to visit, and will show you the typical hotel prices at the top of your hotel results. 
Sources: The Keyword; Search Engine Roundtable
All My Business Reviews in One Report
Google My Business now has the ability to view reviews on all listings in one report. Now, if the company has many branches, you do not need to switch between listings to monitor and respond to reviews. The new feature is not available for manager accounts or for accounts with more than 500 listings. 
Businesses can view reviews for multiple listings at once. With bulk reviews, you will be able to view, reply to, and flag reviews for multiple listings from one place.
This feature is available in all location groups with 500 or fewer locations. It is not available for organization accounts.
Source:  Google My Business Help; Google My Business adds bulk review management
---
These are the important news items we found for this digest. If you saw something interesting, please tell us in the comments. See you in two weeks!