We are halfway through 2019 and have already seen a slew of significant updates within Google's ever-evolving ecosystem of products, technologies, and services. In the last two weeks, we have seen the search engine giant announcing a series of other important updates, including a broad core algorithm update, launching a revamped design for mobile SERPs, food ordering in search results, custom templates in Google tag manager, and the plan to enable mobile-first indexing for all new websites.
In our news digest, we have given you a rundown on all these important updates. We have also invited Marie Haynes, the Owner at Marie Haynes Consulting Inc., and Bill Hunt the Global Strategy Consultant at Back Azimuth Consulting, be our guests on this week's Marketing Scoop podcast; they will provide you with some more context around these updates. Don't forget to tune in and share your comments on what you think of these updates!
[podcast-subscribe]
---
GOOGLE SEARCH NEWS
June 2019 Broad Core Algo Update
At about 1 pm EST on Monday, June 3rd, Google announced on Twitter that the broad core algorithm update was rolling out across data centers. They announced on Sunday that the update was coming and that it is one of several broad core algo updates Google releases each year; this announcement included a previous tweet on broad a core update that was announced last year (October 11, 2018), with a note: 
Please note that these broad core algorithm updates don't require any corrective measures from the users' end. Last October,  Google said, "there is nothing in particular to "fix", and we don't want content owners to mistakenly try to change things that aren't issues…" Core algorithm updates, in general, don't target any specific area in SEO (such as the quality of content or link relevance), unlike most other algorithm updates.
Sources:  Twitter: Google SearchLiaison;  Twitter: Google SearchLiaison
Mobile-first Indexing for New Websites
John Mueller, Webmaster Trends Analyst at Google, recently announced that starting July 1, 2019, the search engine will enable mobile-first indexing for all new websites as a default feature. John pointed out that in newer websites, they are seeing the same content being displayed on both mobile and desktop devices. If you have taken steps to update your website, you can check for mobile-first indexing of your website by using the  URL Inspection Tool in Search Console. 
Google is going to monitor and evaluate pages of older sites for their readiness for mobile first indexing; owners will be  notified via Search Console once they are are considered ready.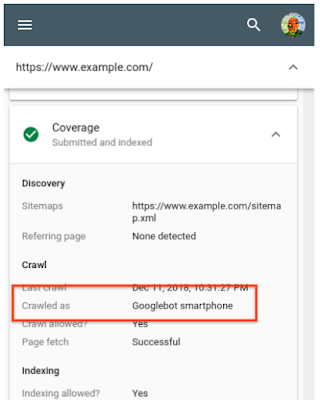 Source:  Mobile-First Indexing by default for new domains
New Design for Mobile SERPs
Google announced a revamped design for mobile search results pages, "With this new design, a website's branding can be front and center, helping you better understand where the information is coming from and what pages have what you're looking for."
In the new design, the focus seems to be on websites' branding and attributing information back to its source. Here is a breakdown of the changes :
The name of the website and its favicon will appear at the top of the search results card.

The URL of a search ad (landing page URL) will appear at the top of the search ad results card alongside a bolded "Ad" icon (showing the source of information).
Here is the side-by-side image of the current and the upcoming search results page that Google has shared:
Site owners can learn how to choose their preferred icon for organic listings  here. Google also stated, "As we continue to make new content formats and useful actions available—from buying movie tickets to playing podcasts—this new design allows us to add more action buttons and helpful previews to search results cards, all while giving you a better sense of the web page's content with clear attribution back to the source."
Source:  A new look for Google Search
Order Food Online with Google
Google is now enabling its users to order food directly from Google Search, Maps, and the Assistant. When restaurants are participating in this program, Google will show an "Order Online" button in search results and in Maps. Users can make their "selections with just a few taps, view delivery or pickup times, and check out with Google Pay." According to Google, some of the food ordering services included in this program are DoorDash, Slice, ChowNow, Postmates, and Delivery.com, with Zuppler and others expected to join soon.
To order via Assistant, users can simply say, "Hey Google, order food from [restaurant name]." Or they can use the line, "Hey Google, reorder food from [restaurant name]" to reorder their meals. The reorder command will prompt the Assistant to pull up any past records and replace them with the new instructions provided by the users.
Source:  What's for dinner? Order it with Google
Hotel Pricing Charts on SERP
Google has been focusing on making SERPs more action oriented and relevant to users' search intent and has been testing hotel prices in the past year. It has now started to feature hotel pricing charts in search results; the chart is interactive and allows users to go back and forth over historically listed prices of the hotels that interest them. When approached by Search Engine Land for comments, a Google spokesperson said, "To make our hotel search experience more useful for travelers and better connect them with travel providers, we are surfacing more price and availability information on the search results page."
Here is how the chart looks for a search query "Chicago Hilton":
Source:  Google moves hotel pricing chart into the SERP
Google Penalizes Favicons
Google's new mobile design came with a favicon feature to help companies improve their branding in Google SERPs, but it appears that many of them are trying to misuse the feature or are implementing it the wrong way. Google has started penalizing these users by removing their custom favicons and replacing them with a default icon — though it is not yet clear whether this penalty would have any effect on their SEO rankings.
We are also not clear if Google is sending these users any notification, stating what causes the favicons to be removed. However, the search engine has provided its favicons guidelines to help webmasters and SEOs make their sites eligible for favicons in the search results. The list of guidelines and other related information can be accessed here.
Sources:  Google Already Penalizing Favicons In Search;  Define a favicon to show in search results
April and May Google Index Outages
Roger Montti from Search Engine Journal published a report on the recent Google's Search Index outages, referring to the stories shared by a Googler at the May 2019 Sydney Search Conference and another person who he calls "totally unknown and unrelated to the first person".
According to the Googler, it started as a mistake from a developer's end. The "developer mistakenly deletes the entire Google web index on all servers." Then, another mistake followed but, this time, from Google Rendering Team just before Google I/O. The team intended to adjust some font sizes but ended up introducing "a bug that redirects millions of pages to Facebook." They couldn't fix it there and then because of the lockdown caused by the first mistake. According to SEJ's account of the second person, here is how the problem surfaced:
The Googler later added that a developer in Zurich deleted the Google index (not the live on, but one waiting in the wings) from all 18 distributed Google servers, so they locked everything down while they were trying to figure out what happened.

When the second issue happened, they were able to figure it out soon enough, but couldn't fix it right away.
The report, however, clarifies that the search engine didn't redirect users to Facebook. According to the second person, "the URL showed Facebook, but the link sent users to the correct page." You can go through the report for more info on this.
Source:  April 2019 Google Outages Due to Human Error
See How Web Crawlers Scan Your Site
Fix your website's crawlability with SEMrush
GOOGLE ADS NEWS
New Optimization Score Recommendations in Google Ads
Google has announced adding some more recommendations to make its optimization score more useful in Google Ads. These new recommendations include target ROAS and Target Impression Share (Smart Bidding suggestions for more efficient bidding), bid adjustment recommendations, and seasonal budget.
The optimization score helps advertisers prioritize the actions Google recommends for their ad campaigns. Placed within the Recommendations tab, the optimization score ranges from 0%-100%. An optimization score of 100% can be reached "by applying or dismissing the recommendations in your account."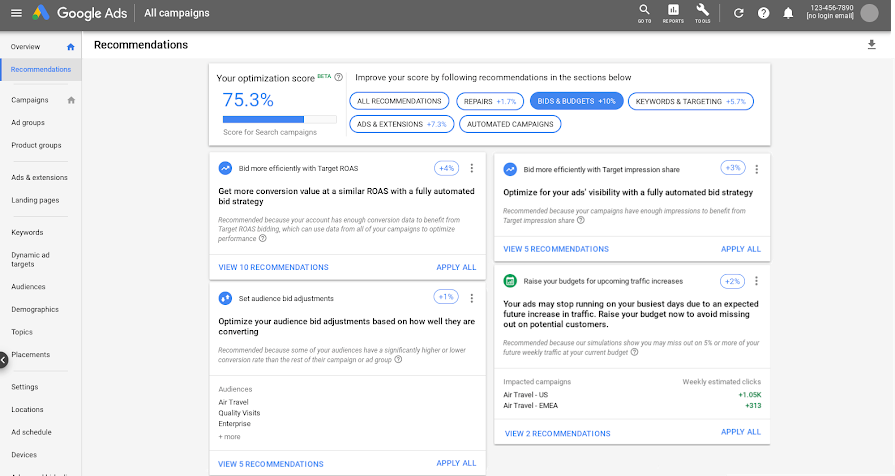 Source:  New recommendations added to optimization score
'Target Search Page Location' and 'Target Outranking Share' Bid Strategies To be Removed in June
According to Google's recent announcement, Target Search Page Location and Target Outranking Share bid strategies are going to be removed from Google Ads in late June. The search engine believes that since Target Impression Share, the smart bidding strategy introduced last year, provides "more flexible and granular controls to optimize for your desired impression share and search page location", advertisers will no longer require 'Target Outranking Share' and 'Target Search Page Location' bid strategies.
Existing campaigns that utilize these strategies will be automatically moved to Target Impression Share. Once migrated, they will be optimized based on their previously stored information such as their target locations and historical impression share, etc.
Source:  From Target Search Page Location and Outranking Share to Target Impression Share
GOOGLE TOOLS NEWS
Updated Guidelines on How-to Structured Data and Mobile-first Indexing
Lizzy Harvey, a tech writer from Google, recently sent out a tweet, informing users of the new documentation updates for how-to structured data. Webmasters who want Google to consider a piece of content as a 'how-to article' and feature it on Google SERPs as a rich snippet will now have to abide by the updated guidelines on using 'how-to' structured data. More specifically, they should be careful about the following, as mentioned by Lizzi (and updated in the help document too):
- Don't mark up extra info as a step, like "step 1" or an intro to the how-to

- Use a different image for each step

- Marked up images must be visible on the page and relevant to the how-to

- Only 1 HowTo per page
Following this announcement, the mobile-first indexing document has also been updated to align with the latest changes and guidelines.
Sources:  Google Updates Guidelines on Using 'How-to' Structured Data;  Prepare for mobile-first indexing;  How To structured data
Custom Templates in Google Tag Manager
Google announced introducing custom templates in Tag Manager and Tag Manager 360 to give webmasters and marketers more control over the tagging process. Google Tag Manager and Tag Manager 360 already have built-in templates in place that allow users to get the data they require without having to access the code or making any changes in it. However, there are scenarios where built-in templates don't cover everything. So to help IT teams and webmasters deploy their custom HTML and JavaScript with more control and transparency, Google has brought build-in Template Editor to Custom Templates that help "design tag and variable templates that can be used throughout your container."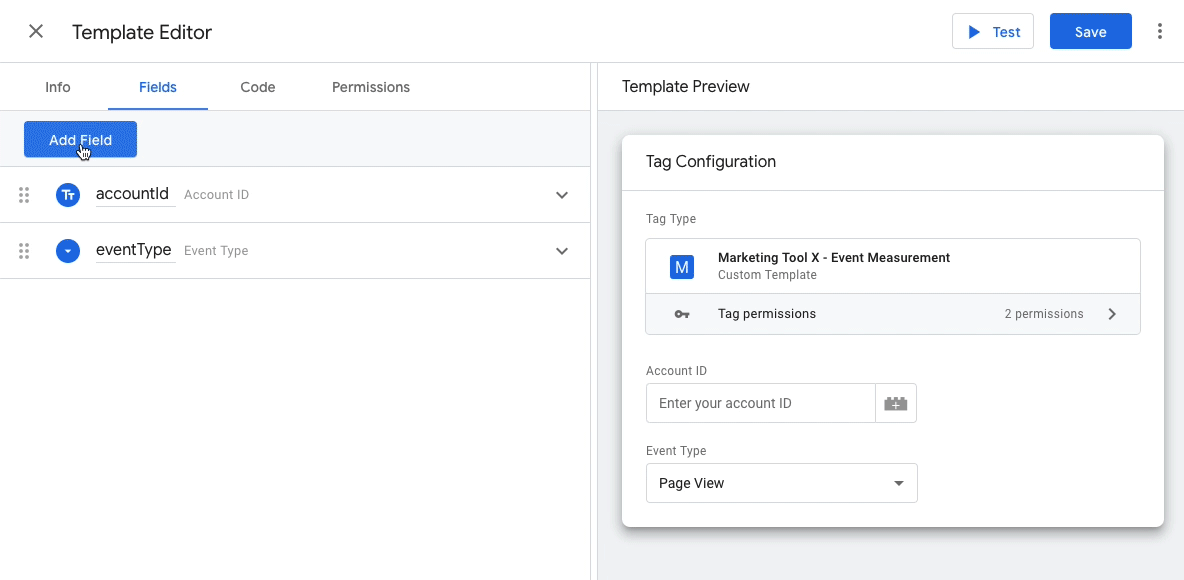 The biggest advantage of Custom Templates appears to be their simplicity and ease of use. Even less technical users can handle instances of custom tags just like the built-in tags, without having to deal with the source codes. Google has provided a complete guide to help users learn all about Custom Templates and how they should be implemented. You can access the guide here.
Sources:  Tag Manager: Introducing Custom Templates;  Custom templates quick start guide
Changing Geolocation in Google Chrome
Kayce Basques, one of Google's technical writers, posted a blog on how to "override geolocation with Chrome DevTools". Websites that utilize user locations to provide a more relevant experience, usually need more control over how they behave in different places around the world. To address this issue, webmasters are given the option to override their geolocation in Chrome DevTools.
Kayce has provided the following three steps to have it implemented:
1. Press Command+Shift+P (Mac) or Control+Shift+P (Windows, Linux, Chrome OS) to open the Command Menu.

2. Type sensors, select Show Sensors, and press Enter. The Sensors tab opens up at the bottom of your DevTools window.

3. From the Geolocation list select one of the preset cities, like Tokyo, or select Custom location to enter custom longitude and latitude coordinates, or select Location unavailable to see how your site behaves when the user's location is not available.
Source:  Override Geolocation With Chrome DevTools
Google Marketing Platform Partners Accepts Applications
Chip Hall, Managing Director of Global Channel Sales at Google, announced that Google Marketing Platform Partners is currently accepting applications for new partners worldwide. At the moment, the search engine claims to have 600 partners in the program and is looking for new partners from the "most major markets around the world." Prospective partners who have mastered one or more Google Marketing Platform products can review the process and policies for their certifications and submit an application. These potential partners may fall in one of three categories: certified individuals, certified companies, or sales partners.
Source:  Google Marketing Platform Partners now available globally
New Q&A Episode by John Mueller
In another announcement on Twitter, John Muller announced he will be creating more Q&A videos for interested users, addressing their queries related to SEO and Google Search. He said if anyone with questions can send a tweet to @googlewmc and tag it with #AskGoogleWebmasters.
John and his team started the short Q&A series back in 2018 and created and a dozen videos, addressing various queries from webmasters and the SEO community. You can watch the whole series here.
Source:  Twitter: John Mueller