There is no way I can start this digest without blurting out the biggest news of the search world - Google's long-awaited Mobile-First Index is here! We have been talking about it for months now, and although it seemed like a huge deal, Google seems to want to take things smooth and slow. But, more on that in this week's Search Marketing Scoop podcast with PPC Machine's digital marketing consultant, David Miles, and TopRank Marketing's senior SEO and digital advertising manager, Steve Slater. 
[podcast-subscribe]
You would expect that with this news, everything else would not seem important, but there were some other noteworthy developments, like Google's new Shopping Program which appears to be Google's response to the financial world valuing Amazon over the search giant. And, the end of our favorite goo.gl links.
So, dive into our digest and make sure the Mobilegeddon has not completely blurred your vision, and stay tuned for all the latest digital news.
GOOGLE SEARCH NEWS
The Mobile-First Index is Here!
The age of tests and experiments is gone - Google is now officially rolling out the Mobile-First Index to more sites. First and foremost, the new index will touch upon the websites that are already following the best mobile practices. So, those who haven't gone completely mobile, have the time to adapt to the new mobile realities. A notification in Google Search Console will let website owners know if their site has been affected. Google confirms sites that are subjected to the new indexing will not yet have any advantages over the "old" ones. However, the search giant underlines that going mobile is always the best approach even if your website won't get penalized for being non-mobile-friendly. The full rollout of the Mobile-First Index should be completed by Autumn 2018.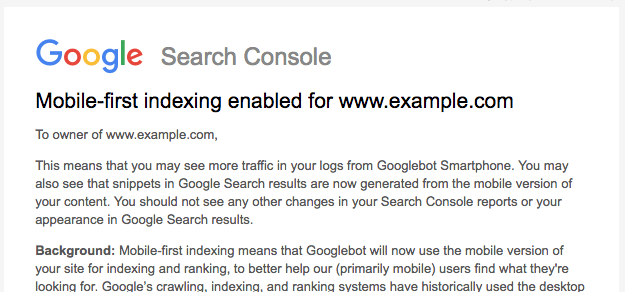 Sources: Google Begins Rolling Out Mobile-First Indexing to More Sites; Rolling Out Mobile-First Indexing
New Google My Business Dashboard
Google My Business launched a new dashboard. Meaning all business owners, small and large, will now be using the same interface. The new dashboard is more intuitive, and simpler to navigate, as all users will be able to edit their listing right within the listing view window. Features like Posts and Insights are moved to a side panel, which gives easy access to all the needed insights on your listing. Moreover, if you happen to have multiple listings, your page load speed won't be affected to any extent.
Sources: New Google My Business Dashboard for Multiple Listings Rolling Out; New Google My Business Dashboard Slowly Rolling Out
Company Description Right on Google My Business
There is one more perk for Google My Business users - business owners will also be able to now add a company description to their search results page. All you have to do is press the "Add business description" button. It is up to you what you include as essential business information - be it your unique selling proposition, your company history, or product/service listing. Simply make sure the description does not exceed the 750 character limit and does not have any URL or HTML-codes. For more information on making the most of this feature, you can visit the Google Support page.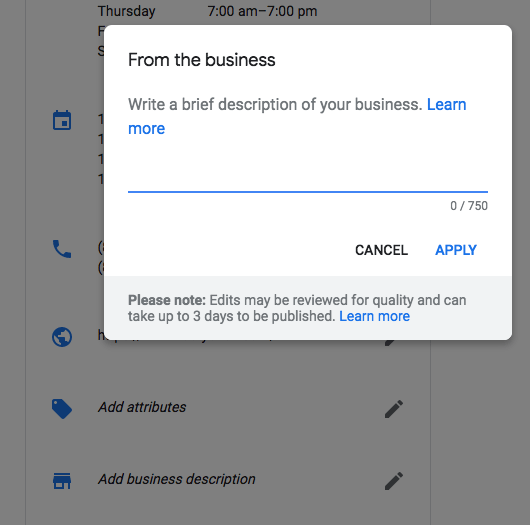 Source: You Can Now Add Your Business Description in Google My Business; Twitter
Direction Requests Report on Google My Business
Google My Business adds a new "Direction requests" report to its Insights. This report shows where people who request directions to your business are making the request from. The report creates a heat map where your business address location is separately marked and shows where your potential customers create a Google Maps direction request from. You will also be able to check the volume of these requests coming from various cities or neighborhoods. The feature can help business owners better optimize their online or even offline outreach strategies, like local search triggers and/or outdoor advertising.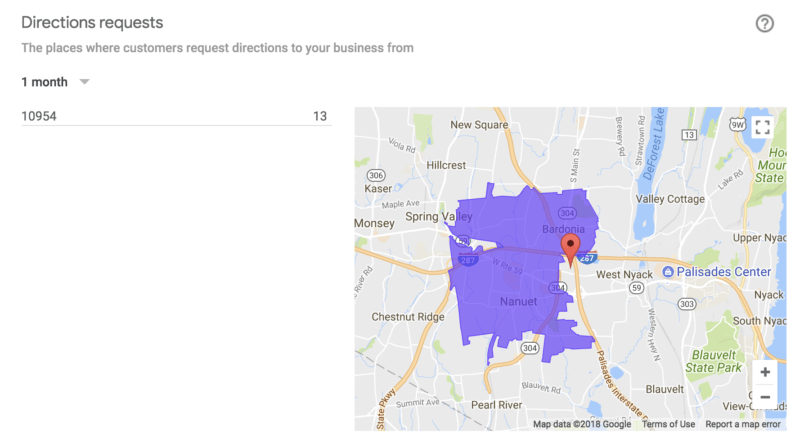 Source: Google My Business Updates the Directions Heatmap in Insights Reporting
New Visuals on Google Search Console Interface
The new Google Search Console is kind of old news. But there are a couple of new visuals worthy of our attention. The novel design concerns reporting and user interface:
New annotation cards with graphs

Difference columns that display data changes over time

Improvements to date picker & comparison view
Sources: Google Search Console Updates Visual Reporting Features; Twitter
Google Search Console Loophole to Hijack Search Traffic Volumes
No one is perfect, not even Google! A recent vulnerability in Google Search Console was discovered by a curious Brit, Tom Anthony, who works at a prominent UK SEO agency, Distilled. With the help of google.com/ping, the webmaster was able to submit an XML-sitemap for the site he controls in the shape of a website he has no control over. As a result, just within 48 hours, the site located on a test server started receiving traffic. In a week, the test domain was already ranking on Google's #1 page for competitor's target keywords.
Tom Anthony was awarded a $1,337 bug bounty for uncovering the issue.
You can read more about the experiment on Tom Anthony's blog, where he first revealed the vulnerability.
Source: Hijacking Google Search Results for Fun, Not Profit: UK SEO Uncovers XML Sitemap Exploit in Google Search Console
New Sitelinks Format Tested
A curious user recently spotted a change in mobile sitelinks. It seems like Google tests new sitelink formats on mobile SERPs. In the new design, sitelinks look like a list of drop-down elements, where each part has a separate short snippet. It is still unclear whether Google will stick to this format and roll it out to all mobile users.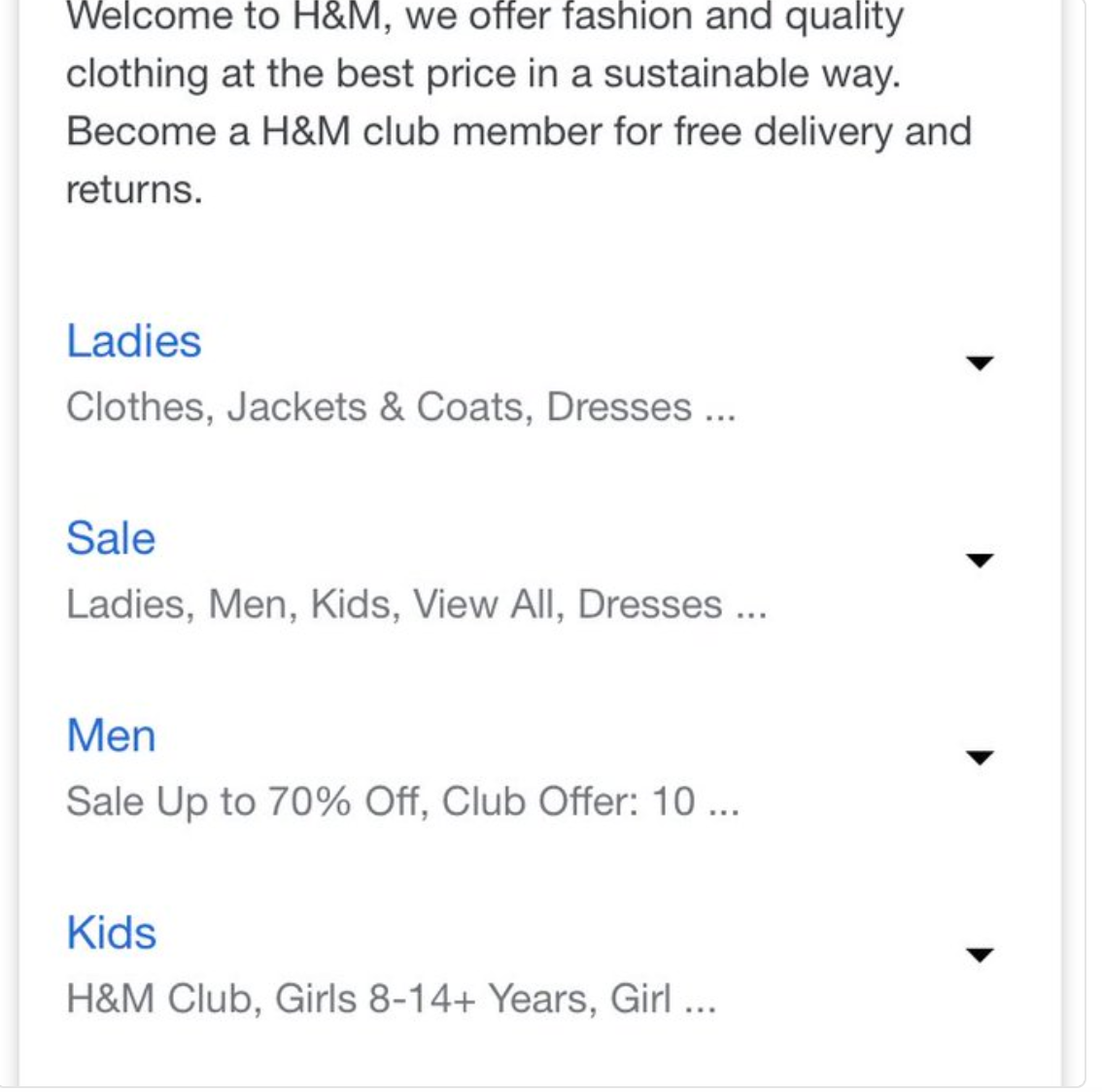 Source: Twitter
Air Quality Data Right Within Search Results
To breathe, or hold your breath? Now you will know for sure. Google has recently started showing data on air quality in a searched region in the search results. You can spot the new feature if you enter queries like "air quality", "air pollution" or "air quality in nyc". For the latest query, Google will showcase the air quality rating in NYC. This feature is now available on both mobile and desktop search but is not yet rolled out to all countries.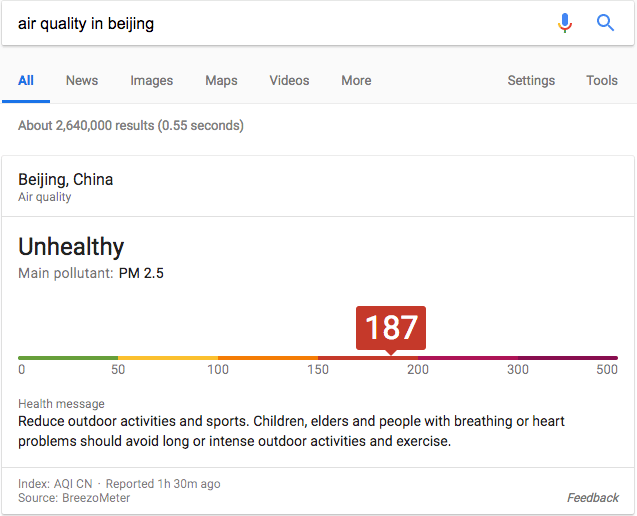 Source: Google Adds Air Quality Data in Search Results
GOOGLE ADS NEWS
AdWords Showcases Ad Version History
If you are one for experimentation and ad tests, the new Google AdWords feature is perfect for you. You can now access your ad version history and the efficiency data of each edition of your ad. Every time you make a slight tweak to your ad, Google AdWords creates a new copy of your ad - it kind of works like Google Docs, if you are familiar with the service. The ad version history allows you to view how your ad looked before, as well as how it performed. You can see the dates of the ad changes, the period they were running live, and the tweaks themselves.
Sources: About Version History, AdWords Now Shows Ad Version History
New AdWords & AdMob Opportunities for Game Developers
AdWords and AdMob are now giving more support to mobile games developers. With a beta version of video ads on Google Play, there are two new ad types on AdMob (playable ads and multiple-option video ads) and ability to target similar audiences in Universal Ad Campaigns (UAC) for apps. With open bidding on AdMob, game developers will be able to reach a wider audience and create more appealing advertising to promote their mobile games.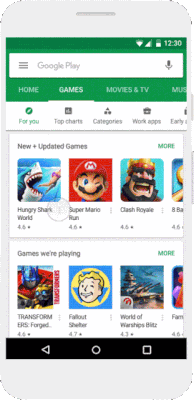 Source: Become the GOAT of Mobile Gaming With New Innovations from AdWords & AdMob
A Unified Shopping Program for All Retailers
Since Amazon overtook Google as the world's most valuable brand, it was time for the search giant to do something about it. Google released a new unified shopping program, Google Shopping Actions, where the search giant will take its relations with retailers one step further. Google will charge retailers each time a sale occurs thanks to organic search, the so-called cost-per-sale basis model. All the retailers participating in the program will have access to display their products on Google Search, Google Express, and Google Assistant. And in return for loyalty program placements and links, Google will receive a percentage of each sale.
The program is open to retailers of any scale, with Target Corp, Walmart Inc, Home Depot Inc, Costco Wholesale Corp and Ulta Beauty Inc. among the first companies to join the club. The program is currently only available in the US.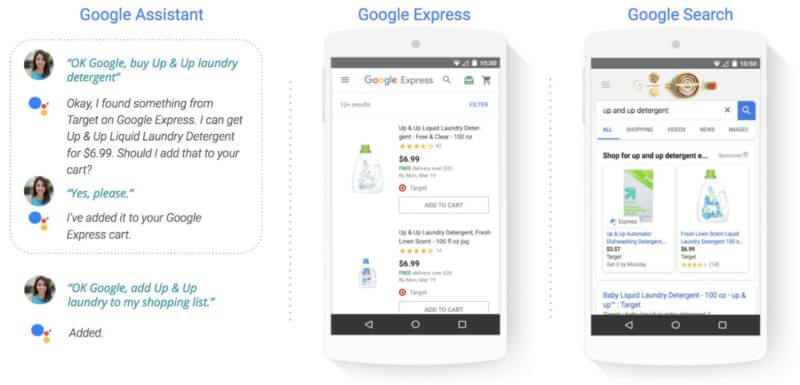 Sources: Google Launches Cost-Per-Sale Shopping Actions, Unified Shopping Program Across Search, Assistant & Express; Help Shoppers Take Action, Wherever and However They Choose to Shop
GOOGLE TOOLS NEWS
Farewell to "goo.gl", Move On to Firebase Dynamic Links Instead
Google shut down its URL shortener service and replaced it with Firebase Dynamic Links (FDL). Starting April 13, only existing users will be able to create shortlinks via goo.gl. Meaning, anonymous users and users who have never used the Google shortener will no longer have the option. Instead, Google recommends using Firebase Dynamic Links or other popular URL shortener services like Bitly and Ow.ly.
If you have previously created shortened links via goo.gl, you will have access to the analytics until March 30, 2019. Following that, the console will completely shut down; however, the links will still redirect the users to the designated URLs.
Source: Transitioning Google URL Shortener to Firebase Dynamic Links
Google Surveys' Global Roll Out
Google Surveys and its paid version, Surveys 360, are now available in over 50 countries worldwide. The Google Surveys service is aimed at facilitating the market research process. And the paid enterprise version, Surveys 360, does not only allow its users to create surveys but also has expanded targeting, reporting and sharing features. Up until now, the service was only aimed at surveys that targeted 12 markets: the US, Australia, Brazil, Canada, France, Germany, Italy, Japan, Mexico, the Netherlands, Spain, and the UK.
Sources: Google Surveys Goes Global; Overview of Targeting Options
Learn Everything About Google Analytics 360
Each time Google launches some big new service, it is often followed by an educational course. If you haven't yet grasped Google Analytics 360 entire functionality, Google's "Analytics Academy: Getting Started With Google Analytics 360" is right for you. In the course, you will learn all about the basics and main features of Google's advanced GA version, including roll-up reporting, custom funnels, unsampled reports, and custom tables. You will also see how integration with BigQuery and DoubleClick can enhance the overview of your digital performance. The course is now rolled out to all users but is only so far available in English.
Source: New Analytics Academy Course: Getting Started With Google Analytics 360
Google Cloud Platform Users are Now More Secure
Google rolled out a Cloud Security Command Center, a platform that ensures data security and identifies potential data threats of all Google Cloud Platform (GCP) clients. The service allows enterprises to gather security data, pinpoint possible issues, and react to them before they lead to any damages. The Cloud SCC makes an inventory of a company's entire cloud assets via App Engine, Compute Engine, Cloud Storage, and Cloud Datastore. As a result, such a helicopter view on all the enterprise's data helps the service quickly identify which resources are frequently being used, where the confidential information is stored, and what changes occur in cloud assets, so that you can take timely action in case some unauthorized changes get spotted.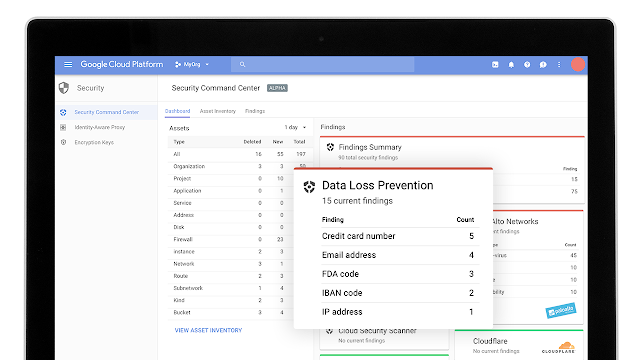 Source: Monitor Your GCP Environment With Cloud Security Command Center
BONUS NEWS
Where's Waldo? Check on Google Maps!
And let's finish up this digest with a bit of fun. Google is rolling out a mini-game Where's Waldo? on Google Maps. So, don't get surprised if you stumble upon a guy in red and white stripes across Android, iOS, and the desktop. Upon clicking on him, you will receive an option to play the game you used to play as a child. You would think this was an April Fools' Day joke, but the game is actually on.
Just ask your Google Assistant "where's Waldo?" and...well, according to Google, something should happen. Hurry up - the game will not be live for long!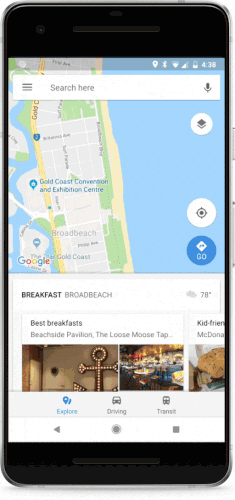 Source: Google Maps is Adding a Where's Waldo? Mini-Game for the Next Week