Google continues to challenge us with an ever-evolving digital landscape that we all have to catch up with. And while we were away enjoying the holiday season, Google made some tweaks and released some new features. So, if you feel like you have been left behind and might have missed some updates, here is everything you need to know in Google News from the previous month.
From some final preparations for the Mobile-First Index, which seems to really be the main thing on Google's agenda, to drawing conclusions from 2017 and the introduction of new metrics and testing tools, the past month has been a busy one for the search giant. So without any further ado, let's jump in and get down to business.
GOOGLE SEARCH NEWS
The Year 2017 According to Google
If you have ever wondered how to easily sum up the year 2017, Google has come to your aid and released a report on the most resonating events and topics of the past year. On the Trends page, you can find the top queries, people, movies, memes, losses, news, songs and much more, from "Despacito" to the iPhone 8. You can get a helicopter view of everything that was trending in 2017 and also see the top searches in a particular country. In short, if the Brits were completely overwhelmed with Meghan Markle, Americans were most frequently googling Hurricane Irma.
Source: Year in Search 2017
Start the New Year with a New Search Console
As we all anticipated, Google was planning to roll out the new Search Console early in 2018. So far, the new console has only been available to a limited number of beta testers, but soon it will be accessible to all users. Initially, the new console will only contain four reports – Search Performance, Index Coverage, AMP status, and Job Posting, and the reports from the old console will appear gradually. Both versions are available while the transfer process takes place. In the new Search Console, Google is extending its data storage period. From now on, the Performance report that replaced Search Analytics has the following data storage range: 7 days, 28 days, 3 months, 6 months, 12 months, or 16 months.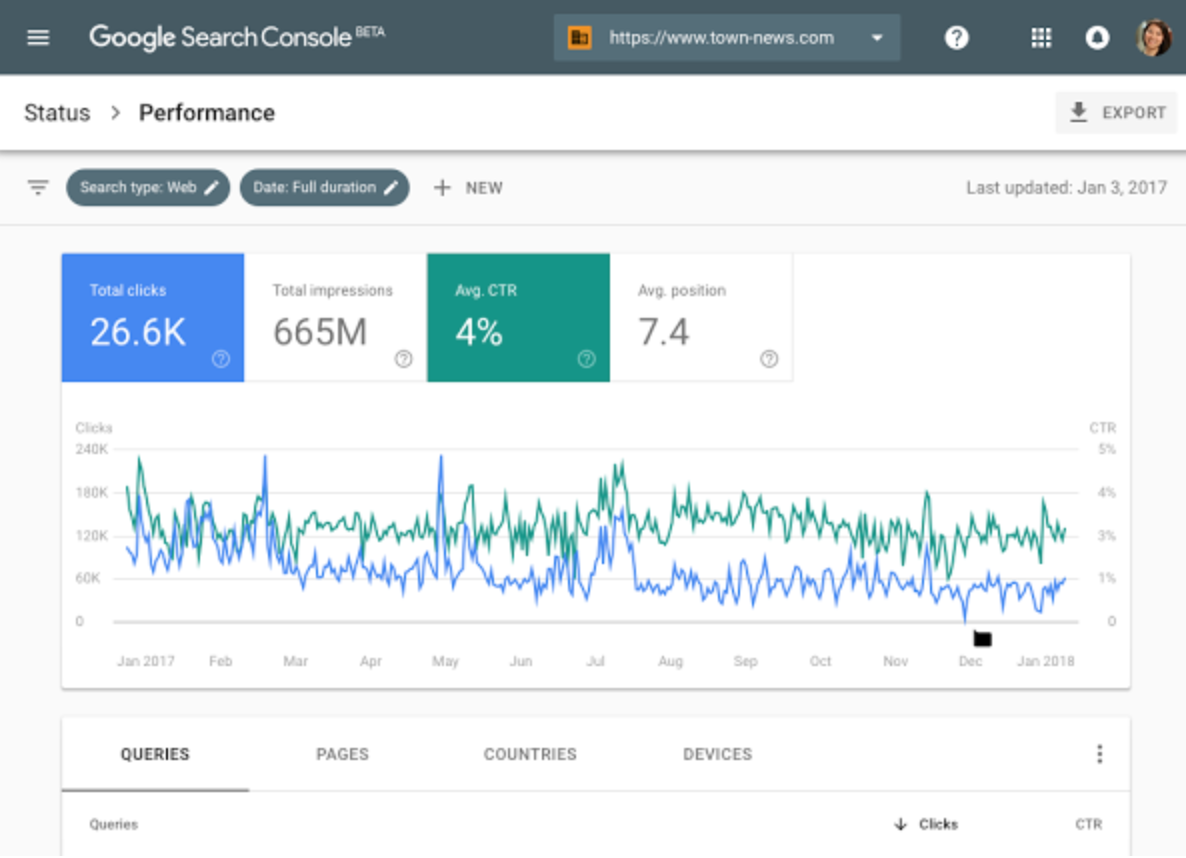 Source: Introducing the New Search Console
New SEO Reality in the New SEO Starter Guide
Google released its SEO Starter Guide back in 2008. A lot has changed since then, so it is high time the search giant updated its guide for webmasters. So, instead of a good old PDF, the new SEO Starter Guide is available right from Google Support. The new guide builds on top of previous content from the PDF and the Webmaster Academy, with added sections on structured data markup and mobile-friendly optimization. The new guide is available in nine languages – English, German, Spanish, Russian, French, Italian, Japanese, Portuguese, and Turkish.
Source: A Revamped SEO Starter Guide
Be Ready for Mobile-First: Google Tips
Mobilegeddon is approaching at the beginning of 2018, so Google reminded us of what to expect and how to prepare once we all enter the era of mobile. As previously, Google recommends using a responsive web design, checking canonical and hreflang attributes, and making sure you enter metadata and meta descriptions, and, of course, taking care of your site's speed.
Currently, the Mobile-First index is still on its way and is being tested, yet a fraction of websites are already being indexed, in accordance with Mobile-First. To find out whether your website is one of the chosen few, all you have to do is check which bot – mobile or desktop – is crawling your website.
Source: Getting Your Site Ready for Mobile-First Indexing
Testing the New Mobile Search Interface
Google is constantly testing its mobile search interface to refine the experience for mobile users. The new look for mobile SERP displays fewer – two or three – results, with an option to press the "More Results" button to (you guessed it) see more results. Moreover, Google is also testing new search refinement buttons that will appear right in the search result snippets. The scope of these tests remains unclear.
So, here is how your mobile search results might look in the near future: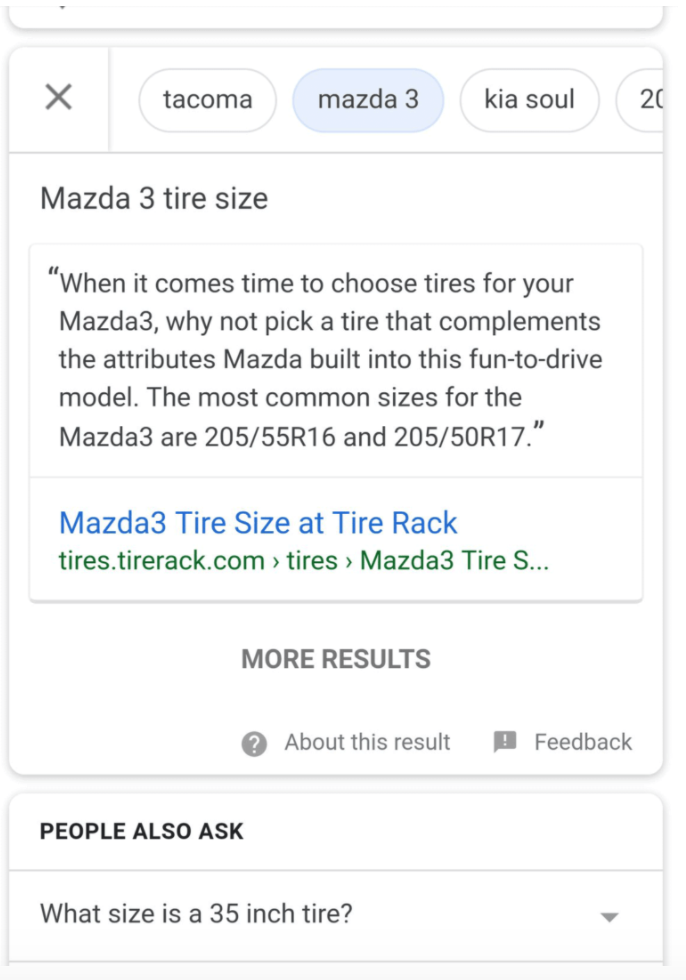 Source: Google Tests "More Results" Mobile Search Interface and New Search Refinement Buttons
Related Search is Now in Image Search Results
In the race towards providing the utmost mobile experience, Google is testing new features for mobile search. Some users are spotting a related search box within image searches on mobile devices. This is, so far, yet another test on the verge of entering the Mobile-First Index. The feature is only available in the US.
Source: Google Image Search Results Tests New Related Searches Box
Google Released Assistant Quality Guidelines
Google has established guidelines for assessing the quality and progress of voice search enabled by the Google Assistant. By and large, the new PDF follows the logic of a similar guideline document for rating search quality. By using explicit linguistic algorithms and machine learning, Google ensures that the answers provided by the assistant are concise and grammatically correct. But human evaluation matters too, that is why Google has created a set of guidelines by which assessors can judge the quality and modern stance of voice search. You can find the guidelines in this PDF.
Source: Evaluation of Speech for the Google Assistant
---
GOOGLE ADS NEWS
AdWords Data Export Through API is Extended
Google's 2012 antitrust agreement with the US Federal Trade Commission expired on December 27, 2017. In accordance with the terms, Google allowed AdWords data exports via API. But Google confirmed that the search giant does not intend to make any changes, which means that users will be able to continue receiving data on AdWords ad campaigns and their efficiency via API.
Source: Extending Domain Opt-Out and AdWords API Tools
Image-Testing in Search Text Ads in AdWords
Google is trying a new feature for search text ads on mobile. Some users have spotted images appearing right on text ads. Apparently, the images that appear on the right-hand side of the ad are being taken from the landing page. It is unclear on what scale and in which countries the tests are currently taking place.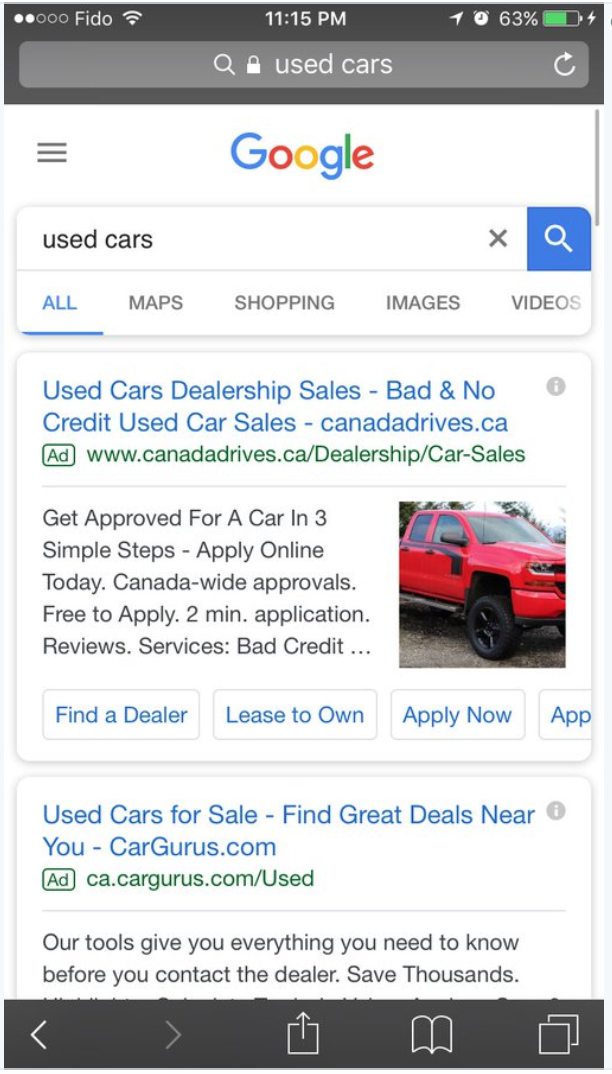 Source: Google Is Testing Images in Search Text Ads
New Addition to the Landing Pages Report 
Google AdWords has updated its "Landing Pages" page. Information on expanding landing pages is the newest addition to the page. An "expanding landing page" URL is reached by the user after some contextual substitutions have been made. For instance, some websites direct your clicks to land on a certain page based on signals such as browser or URL parameters. If the user employs specific parameters or keywords, they will be displayed in a designated area within the report. Thus, you will receive a more detailed analysis of how users end up on a certain webpage of yours.
Sources: More Detailed Reporting for Your Landing Page URLs;  About the "Landing Pages" Page
---
GOOGLE TOOLS NEWS
New Metrics and Reports Within Google Analytics
Google Analytics is starting the new year with the introduction of new metrics and reports:
What the report offers is a unique shift from an aggregated user behavior metric – sessions, to an individual user metric - users. With the new "User Explorer" report, you will now be able to analyze individual user behavior. This data will be collected by isolating users according to their Client ID or User ID. You will be able to access data from March 9, 2016, and the report will display the top 10,000 users that mostly comply with your indicated sorting criteria.
You can now create custom audiences within the Audiences report, with the option to export the segments to other Google products, like AdWords and DoubleClick.
Google Analytics is introducing a new metric – Conversion Probability, which, as the name suggests, shows the probability of a conversion for each user during a 30-day period. The calculations are based on a machine learning algorithm that analyzes data from users who already converted. The new metric comes in handy when creating remarketing campaigns in AdWords and DoubleClick. The feature is now in beta and will be available to all Google Analytics users in the coming months.
Source: New Ways to Measure Your Users in Google Analytics
A Brand New Rich Results Testing Tool
Diagnosing your webpage's structured data can be a challenging task. So, Google began this year by introducing a new tool – the "Rich Results Test." Rich results is a name that combines all the terminology we used to employ before – rich snippets, rich cards, and enriched results. The new tool focuses on the kinds of structured data that are displayed as rich results, and it allows users to check all data sources, including JSON-LD, Microdata, and RDF. You can now test the tool on Recipes, Jobs, Movies, and Courses. The tool will soon support other types of structured data, too, so stay tuned to our news.
Source: Introducing Rich Results & the Rich Results Testing Tool
SEO Snippets: Quick Answers From John Mueller
It seems like this year Google is placing a big bet on education. And the launch of a new video series that covers SEO and addresses webmasters' widespread concerns is just another example. SEO Snippets is hosted by Google's John Mueller. You can already check out these six videos on YouTube. So far, they are only available in English. Each edition is dedicated to one SEO-related question, like "What works better – subdomains or subfolders?", "How and when does crawling works?" and so on.
Source: Introducing the New Webmaster Video Series
Low-Quality Ad Blocking on Google Chrome
Google Chrome will start blocking ads that do not comply with Better Ads Standards beginning February 15, 2018. The ad blocking function on Chrome is one of many areas covered by the "Coalition for Better Ads." Ad blocking will concern those websites that have a "Failing" status in the Ad Experience Report for more than 30 days.
Source: An Update on Better Ads
---
FINAL WORDS 
I am delighted to start the year with a big teaser for our next Google News Digest – all I can say is stay tuned because we have quite a few surprises up our sleeves. Meanwhile, make sure to prepare yourself for the era of Mobile-First, as we can anticipate forthcoming Google updates and tweaks will largely have to do with the new index. And to make sure you haven't missed out on any important pieces of Google News, read our bi-weekly digest, which will tell you all you need to know about Google to stay competitive in the digital space.
And one last thing: we highly encourage you all to leave a comment – be it a suggestion or an idea for improving our digest, or maybe you've noticed something about Google that we have not yet spotted!