The year is coming to an end, and Google has been working on all the tweaks and changes it can make before beginning the new year afresh. We haven't seen any dramatic updates or game-changing additions to Google over the past few weeks, but there are still changes you should be aware of, so keep reading. 
The next Google News Digest will cover all of the biggest Google updates that happened this year. Make sure you don't miss it; we expect lots of discussions along with the special edition of our Marketing Scoop podcast!
But before we say our farewells for this year, read on to stay abreast of all the industry news and get yourself into the holiday mood (pssst....there's a special piece of news for you all at the very end)!
---
GOOGLE SEARCH NEWS
Google Officially Rolls Out a New SERP Design
After months of tests, Google is now officially rolling out the new SERP design. The changes mainly affect the search bar with a more rounded shape and a sticky header that stays within the top of the page while you are scrolling. For now, you can only see the changes while on desktop.

Source: Google Officially Rolling Out New Search Bar With Sticky Header, Rounded Search Bar
Main SERP Experiments:
"Sold Here" Label in the Local Pack
Google is testing a new "sold here" label within the Local Pack. The label gets triggered if the type of product you googled is being sold in that particular store. Sergey Alakov shared the feature via his blog, and claims it appears both on desktop and mobile: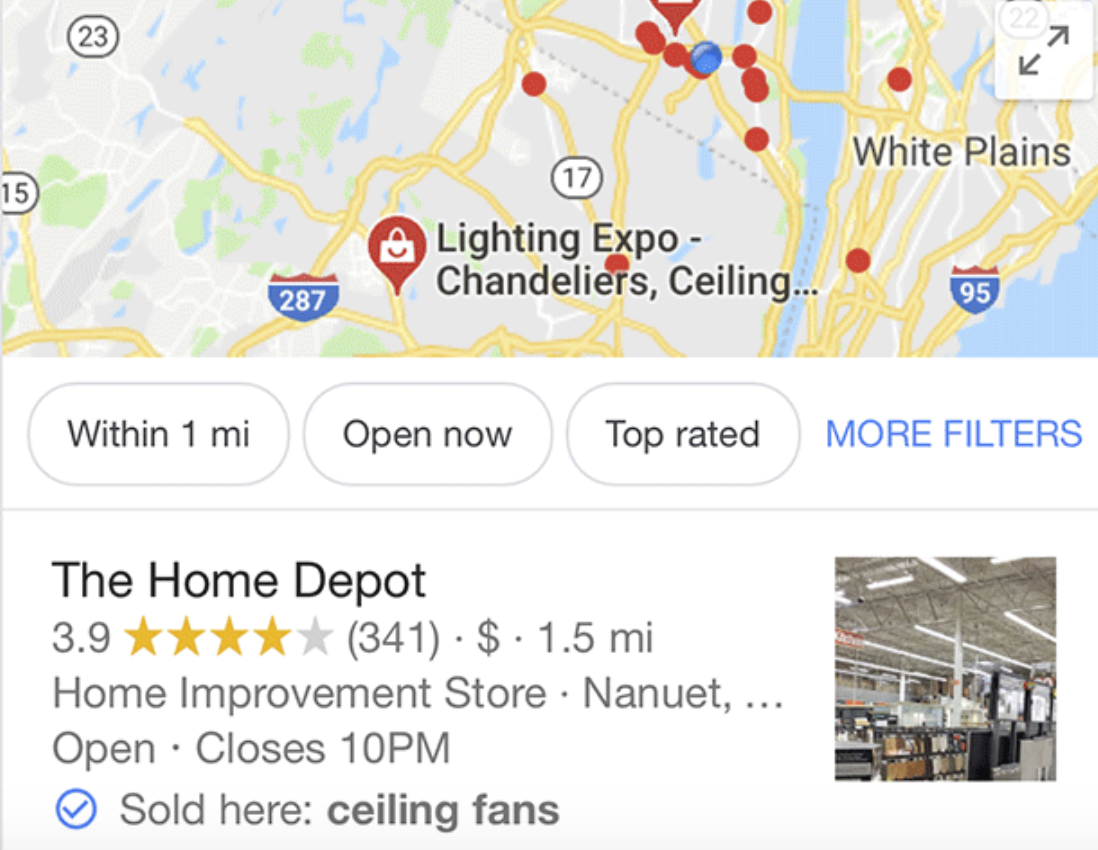 Source: Google "Sold Here" In Local Pack Results
Testing SERP Without a Knowledge Panel
Google is running yet another test on SERP - triggering search results that contain no Knowledge Panel. You can always leave your feedback at the bottom of the search results page to let Google know what you think about the experimental SERP look. Here is how it looks: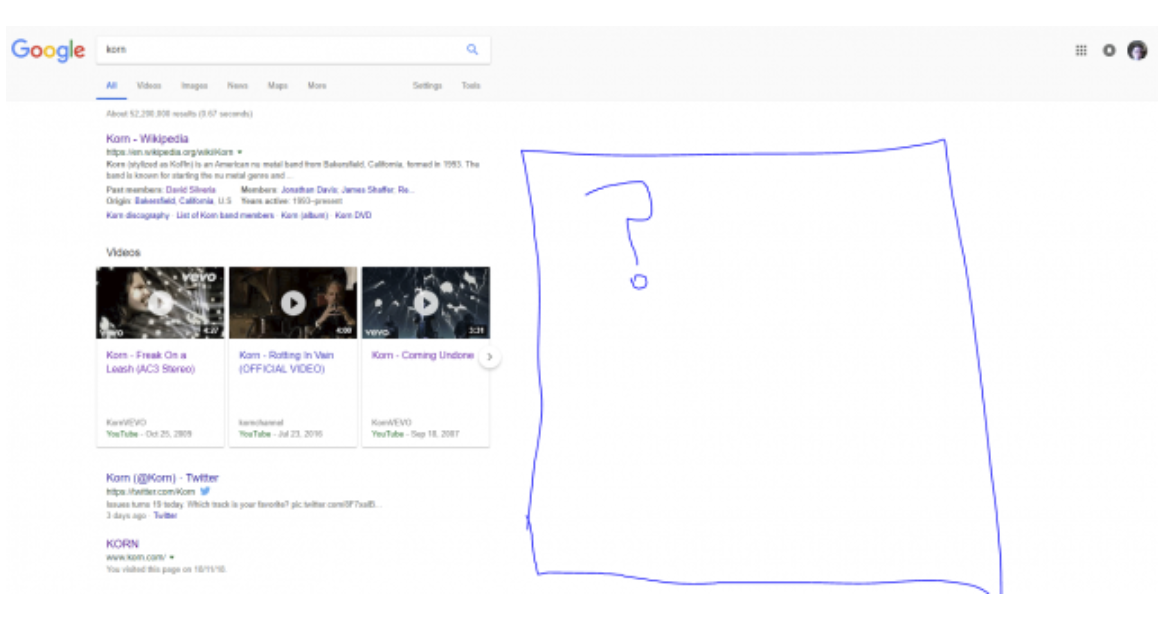 Source: Google Tests Dropping The Knowledge Panel From Search Results
Adding "Like" Button to Google Posts
Brodie Clark spotted an experimental "like" button on some Google posts that appear on search and/or maps. It appears as though you can only like a post once per one Google account. However, the feature is not currently rolled out to all users, so it is not easy to replicate it.
Source: Google Posts Tests Like Button
New Image Design for Local Listings

Google is testing a new design for how the images get displayed within Google local or Google My Business. They appear in a carousel format, sorted by "categories" - inside, by owner, videos, and others.
Source: Google Local Listings Tests New Design For Images
Carousel Images Within the Featured Snippet
One other carousel image test concerns the Featured Snippet. Google is experimenting with image carousels within the position zero. It is still unclear whether the test is here to stay.
Source: Google Tests Featured Snippet Image Carousel
Introducing a Related Videos Block Within the Video-Carousel
SEMrush didn't stay behind on spotting something new on Google's SERP! Apparently, there is another Google test concerning the video carousel — SEMrush noticed a new "related videos" feature right underneath the carousel on mobile.
Source: SEMrush Twitter
Question & Answer Within Rich Results
Google rolled out new markup types — QAPage, Question, and Answer — for pages with various kinds of Q&A content. The new feature triggers rich snippets with questions and answers in the carousel format. Google can also recognize the "top answers" based on the number of "votes" per each answer. The Q&A markup allows Google to identify the most relevant snippet per page. You can find more guidelines on enabling the new feature on Google's Developer page.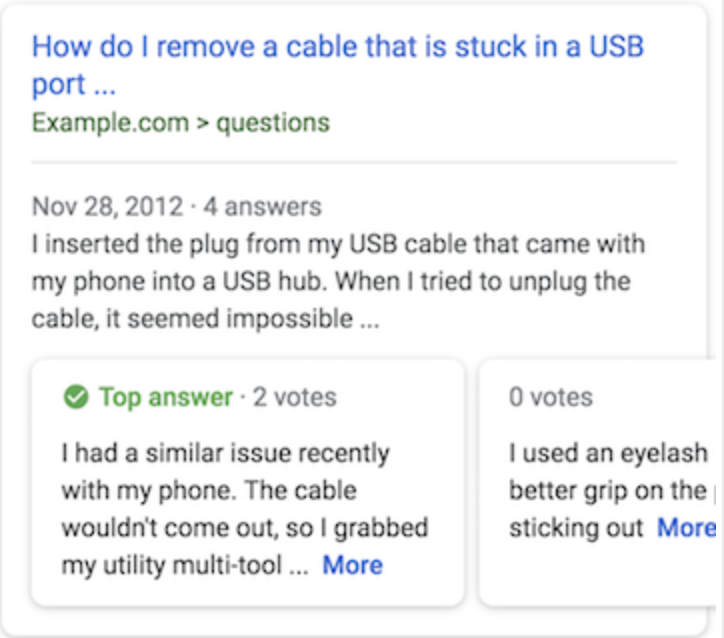 Sources: Q&A Page; Rich Results Expands for Question & Answer Pages
Video Livestreams Available Right Within the Search Results
Google added one more type of structured data markup to enable livestreams within the search results so users can find your streams in Search and Assistant. You can let Google know your stream is live using structured data and the Indexing API; this makes you eligible to appear with a red "live" badge. As a reminder, the API can be used to accelerate the indexing process of video streams. The Livestream markup is perfect for any public video streams of any length.
Source: Introducing the Indexing API and Structured Data for Livestreams
Updated Google Images Best Practices Guide
Google announced on Twitter that they updated their images best practices guide and there is additional information on sitemaps, supported formats, and responsive images. They also announced they added more details on lazy-loaded images in their development guide. 
Source: Google Webmasters: Updated Google Images
GOOGLE ADS NEWS
Updates in Responsive Search Ads
Google has introduced more language support and new tools for its responsive search ads. Besides supporting 10 additional languages - Danish, Dutch, Italian, Japanese, Norwegian, Polish, Portuguese, Russian, Swedish, and Turkish - it now has four new reporting and feedback tools for creating more relevant responsive ads, including suggested headlines and descriptions and real-time feedback on ad strength.
Source: More Language Support and New Tools for Responsive Search Ads
Calls From Location Extensions are Now Counted as Conversions
Google Ads is now counting calls from location extensions as conversions for businesses that have enabled account-level call reporting. By default, calls counted as conversions are those that last over 60 seconds, but that can be changed according to your business goals. It also has added call and message reporting to the main extensions in Google Ads, so you can track results from individual extensions.
Source: Extending Call and Message Reporting to More Places
Call-Only Ads Policy Change
Google has altered its policy for call-only ads. As of December, service providers will have to use their actual business name, meaning their displayed name on call-only ads have to be specific and clearly differentiated from similar businesses. For instance, generic or location-specific business names (unless your business actually goes by such a name) like "Taxi NYC" or "Mountain View Plumbers" are now unacceptable. Furthermore, its call-only ads policy update now stipulates that advertisers answering calls from call-only customers must first state their business name as it appears in their ads.
Source: Update to Call-Only Ads Policy
Introducing a Comprehensive FAQ on AMP Indexing
Google's Webmaster Central Help Forum recently published a comprehensive FAQ on AMP indexing. The guide not only answers the most frequent questions about AMP indexing but includes an abundance of links to resources for learning more about it and related subjects, such as the prioritization of crawling.
Source: AMP Indexing FAQs
GOOGLE TOOLS NEWS
Prepare to Say Your Farewells to Google Hangouts "Classic"
In an updated Google statement posted in 9to5google.com, the search giant announced that 2019 will be the last year consumers can use Google Hangouts "classic" as it slated to shut down sometime in 2020. This news should come as no surprise, as last spring Google announced its pivot from the consumer app to enterprises with Google Hangouts Chat and Hangouts Meet. Hangouts Chat works similar to Slack; you can create channels for chats and comment on messages in threads, while Hangouts Meets is intended for holding videoconferences. To ensure a smooth transition from one service to another, Google claimed that it will make the Chat and Meet services available to its general users.
Source: [Update: Google statement] 2019 is Your Last Year to Use Google Hangouts 'Classic' If You Haven't Moved on Already
Data Anomalies Within the Search Console
Google has updated its Index Coverage report within the Search Console, adding data on mobile-first indexing. As a result, websites that have already migrated to its mobile-first indexing might see a change in their index coverage status. While your site might see anomalies in error counts and new issues, indexed page counts are not affected, and it does not reflect any changes on your site: it is only a reporting change.
Source: Data Anomalies in Search Console
Allo Messenger is Just About to Shut Down
Google is going to stop supporting its Allo messenger app after March 2019 and instead will transfer features like GIFs, Smart Reply, and desktop into its Android phone messaging app, Messages. Users will have the chance to export their conversations from Allo until the service is shut down.
Source: The Latest on Messages, Allo, Duo and Hangouts
Google Gets Into a Holiday Mood
For the fifteenth year in a row, Google welcomes all of its users to Santa's Village, the place where you can celebrate and countdown to Christmas, find out about winter holiday traditions from all over the globe, and play holiday-themed games like competing for speed gift-wrapping, or creating a postcard while learning to code. Starting December 24th, you can also follow Santa's journey via Google Maps.
Of course, Google doesn't just cover Christmas; its global coverage means international users can find holiday-inspired search results by typing in [Chanukah], [Festivus], or [Kwanzaa].
Sources: Live From the North Pole: What's New at Santa's Village; Google 2018 Holiday Decorations For Hanukkah, Christmas & Kwanzaa Now Live
---
Ho, ho, ho! Watch out for SEMrush's own Snow Rush Winter Game — it is a heck of a challenge, but the Snowman really needs your help, and he might even treat you to a special present! ;)