It appears that Google decided that the holidays don't mean anyone gets to take a break and not worry about any updates for a few days. Oh no, they kept them coming all last week, and then on Monday of this week, they hit us with the first-ever confirmed Google local update (which may explain why there have been so many fluctuations recently). 
We have tried to find all the new features and recent news and include them below. Check out all the updates, and let us know if any of them will make your life easier. 
---
GOOGLE SEARCH NEWS
Google Confirms Neural Matching in Local Results
On December 2nd, Google confirmed they are "making use of neural matching as part of the process of generating local search results." They also confirmed that the Nov. 2019 Local Search Update has rolled out. Barry Schwartz believes this is the first-ever confirmed Google local update.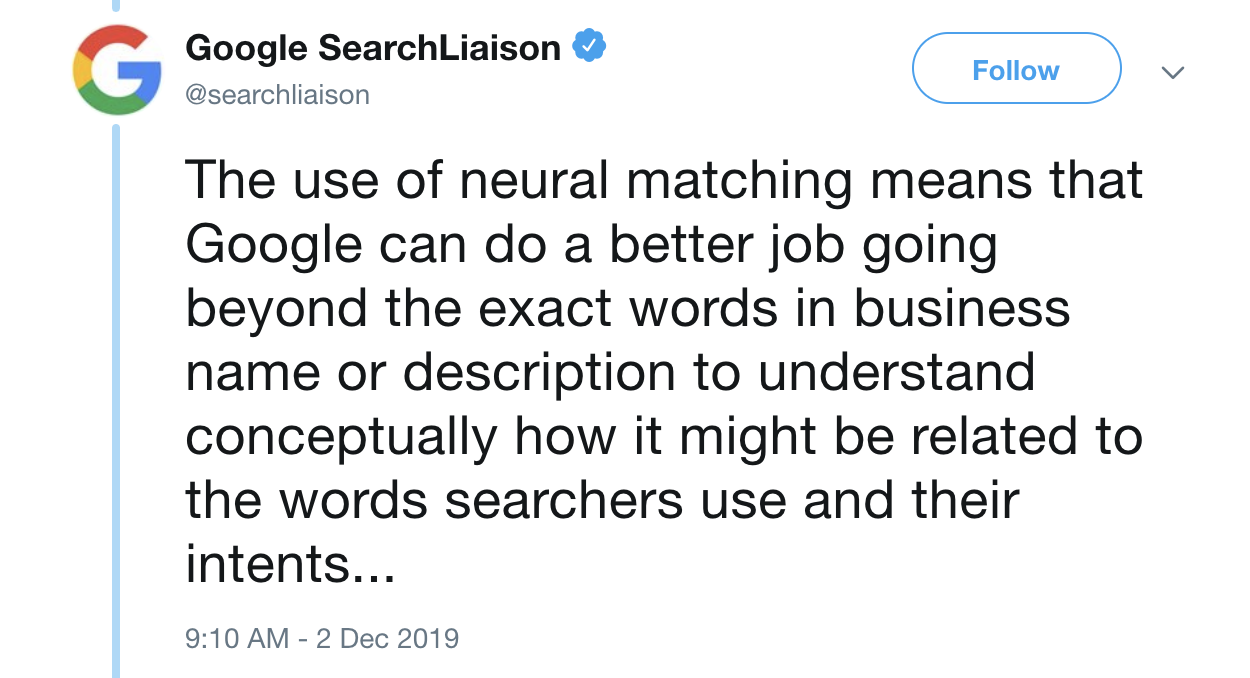 Some key factors to know based on Danny Sullivan's tweets.
Barry Schwartz broke down everything he knows on SEL, so you can learn more about this update there.
Sources: Google Liason;  Google Confirmed The November 2019 Google Local Update - Here Is What We Know;  Google confirms Nov. 2019 Local Search Update
Google is Offering Searching Tips When It Can't Find Search Results
Our own colleagues at SEMrush noticed a new type of suggestions that Google offers when a query does not return any relevant results. Such tips may include some proposed searches instead of the failed one and general advice on creating a query. 
However, looks like there is plenty of room for improvement for this feature. As Lily Ray pointed out, these recommendations did not make a lot of sense:
Source:  Google Offering Searching Tips When It Can't Find Search Results
Other Search New Features and Tests
Here are some more new features and tests spotted by users in the last couple of weeks:
More Space Between Search Result Snippets
Source: Google Tests More Spacious Search Result Snippets
Car Rental Price Comparison
Sources:  SEMrush Twitter
Images in Dictionary Search Results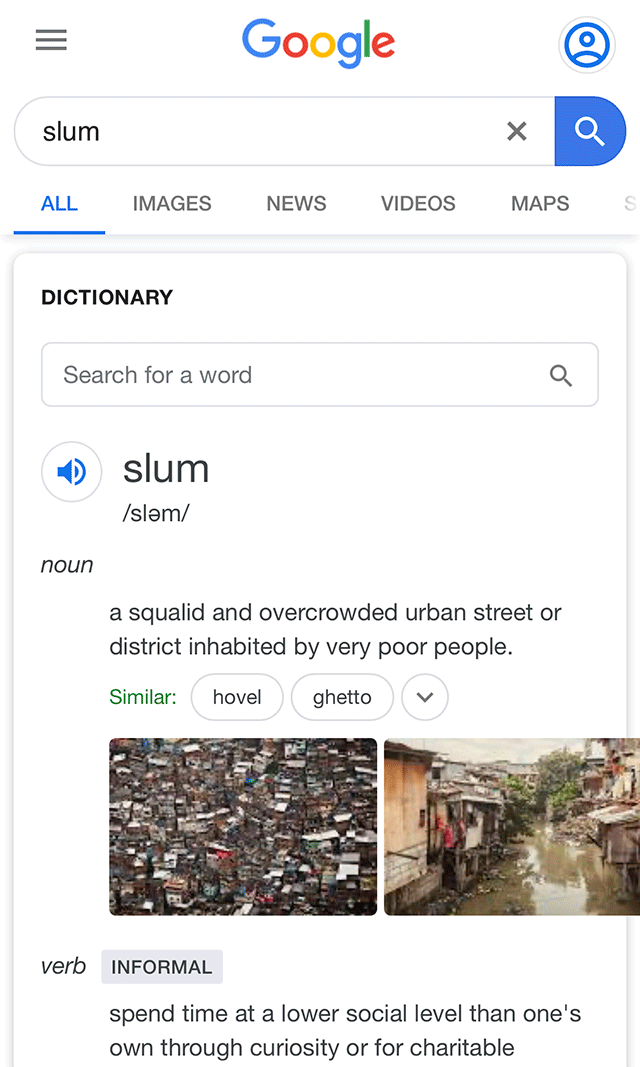 Source:  Google Dictionary Search Results Add Images
Recipe Rich Result Preview
Source:  Google Tests Recipe Rich Result Preview; Making It Harder To Go To Publisher
GOOGLE ADS NEWS
YouTube Masthead Coming to TV screens
Not sure how happy TV viewers are going to be about this, but Google announced, "After successful test campaigns in select markets, the YouTube Masthead is now globally available on TV screens for all advertisers to buy on a CPM basis. It can be purchased as part of a seamless cross-screen buy that runs on mobile, desktop and TV screens or as part of a single-screen only buy that runs just on TV Screens."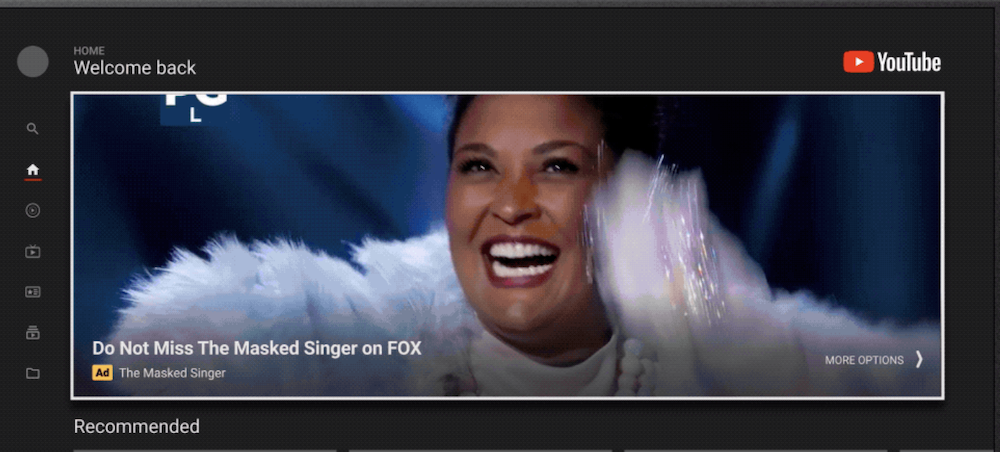 Source:  YouTube Masthead now available on TV screens
Bid Strategy Report Now Offers Top Signals Data
Google announced you can now view some of your top bidding signals in the  bid strategy report. The top signals may include, but are not limited to:
Device type
Location
Day of week
Time of day
Keywords
Google also stated that the report could include combinations of different signals. "For instance, it may show you that people searching for the keyword [business] in Los Angeles, California on the weekend are more likely to convert." Based on this comment, we assume the data in this report will improve and continue to more and more helpful. 
Source:  Gain more insight into your bid strategy with top signals 
Political Ads Policy Updated
Google announced, "...given recent concerns and debates about political advertising, and the importance of shared trust in the democratic process, we want to improve voters' confidence in the political ads they may see on our ad platforms. So we're making a few changes to how we handle political ads on our platforms globally...we believe these changes will help promote confidence in digital political advertising and trust in electoral processes worldwide."
Google does not and has not ever offered granular microtargeting of election ads. They are limiting election ads audience targeting to the general categories of age, gender, and general location (postal code level). Contextual targeting will still be available to political advertisers.
Google Make a Statement on Ad Policies 
"It's against our policies for any advertiser to make a false claim—whether it's a claim about the price of a chair or a claim that you can vote by text message, that election day is postponed, or that a candidate has died. To make this more explicit, we're clarifying our ads policies and adding examples to show how our policies prohibit things like "deep fakes" (doctored and manipulated media), misleading claims about the census process, and ads or destinations making demonstrably false claims that could significantly undermine participation or trust in an electoral or democratic process."
Election Ad Transparency Expanded
Google already provided advertising transparency in the EU and India, and also for federal U.S. election ads regarding who paid for ads, how much was spent, how people were targeted, how many people saw the ads, and the content of the ads. Beginning December 3rd, 2019, Google is expanding the election transparency and will include U.S. state-level candidates and officeholders, ballot measures, and ads that mention federal or state political parties.
Source:  An update on our political ads policy 
GOOGLE TOOLS NEWS
Google My Business Adds Job Types For Services with Services Editor
Google My Business users can now choose from suggested types of services. Google gave examples, "Install faucet" or "Repair toilet." If the type of service you offer is not listed, you can add your own as a custom service. Google says this option has been made available to help customers to find the services they need, and to help merchants generate more relevant leads for the services they offer.
To learn how to add a service or edit your current listing, follow these steps: 
Sign in to  Google My Business.
If you have multiple locations, open the location you would like to manage.
From the menu, click Info.
In the "Services" section, click Edit.
Add your sections and items.
For more information, visit  About the Services Editor.
Source:  Launch: Job types for services
Deliver Consistent Site Experiences with Google Optimize
In November, Google announced that  Google Optimize can now understand when a customer has returned to a site they visited before and deliver a consistent site experience to return visitors. You can now make sure that customers see the same Google campaign throughout their research, decision making, and buying journey — no matter how many times they leave and come back. 
Source:  Deliver consistent site experiences with Google Optimize 
New Google Hotel Features & Filters With Hover Overlays
Barry Schwartz was notified via Twitter of several new features being tested by Google, including map overlay hovers and a number of new filters to find the perfect hotel. His article includes several screenshots of these features in his article. Check them out. 
Source:  New Google Hotel Features & Filters With Hover Overlays 
Google Assistant and Google Home Recipe Markup 
With the new testing tool, recipe publishers can preview how their recipe looks on different smart displays that utilize Google Assistant. This will allow providers the opportunity to adjust formats and images before publishing. You can learn more at Developers.Google.com.
Source: Google Webmasters Twitter
Manage Tags Easily and Safely with the New Community Template Gallery
If your business is working with a partner to add an important feature to your website, the new  Community Template Gallery for Google Tag Manager will be a great resource. It is an open platform where partners can share their tag templates, and then businesses can customize the templates to easily implement tags on their websites.
Google said, "Community Template Gallery reduces the potential for incorrect implementation. Once your partner shares their  tag template in the gallery, you can find it and simply enter the required information in an intuitive UI. You do not need to customize any HTML or Javascript."
Source:  Manage tags easily and safely with the new Community Template Gallery 
Protecting Users from Government-backed Hacking and Disinformation
Many are not aware that Google has a Threat Analysis Group (TAG) that works daily to counter targeted and government-backed hacking against Google and its users. They are continually detecting threats and working to defeat them while also warning users and customers when issues arise.
Google recently said in a blog post, "In the past, we've posted on issues like  phishing campaigns,  vulnerabilities and  disinformation. Going forward, we'll share more technical details and data about the threats we detect and how we counter them to advance the broader digital security discussion."
The search engine offers a great deal of information and data on phishing, threat detecting, and disinformation in the post. 
Source:  Protecting users from government-backed hacking and disinformation
Twitter Poll: The Best SEO at Google Is John Mueller
Barry Schwartz asked the Twitter community which Google employee would win at an SEO ranking competition and who would perform the best SEO for their website. See the results below. Do you agree? 
Source:  Survey Says: The Best SEO At Google Is John Mueller 
---
Thanks for checking out all the latest news!
We will be back in two weeks with new updates. Be sure to tell us what you think of all the news above in the comments.