As always, we have a lot of updates for you. In a previous digest, we discussed Google redesigning their Hotel Search experience for mobile users. Now, after months of testing, Google finally released its newly designed interface that comes with a modern look and feel for hotel search results. Other updates include an unconfirmed and spooky Halloween algo update, the arrival of new ad position metrics in Google Ads, the introduction of reCAPTCHA v3 with its new way to stop abusive traffic on websites, and more.
But before we move and talk about these updates, we want to remind you to not miss this week's  Marketing Scoop podcast where our honored guest, Bas van den Beld, a Public Speaking and Marketing Coach, offers actionable tips and insights about these updates and help you get up to speed with the latest information. Do not miss our list of the top marketing podcasts, where you could listen to the opinions of the experts in every digital marketing niche. 
[podcast-subscribe]
---
GOOGLE SEARCH NEWS
Unconfirmed Google Halloween Algo Update
There seems to be a new algorithm update from Google that has been affecting search rankings since the Halloween night, as reported by some users. Although we don't have an official update from Google yet, there is a considerable amount of chatter going on about it within the SEO world. The signals and chatters at WebmasterWorld and Black Hat World are getting momentum, and we can expect something from Google soon, should they decide to formally roll out an algo update.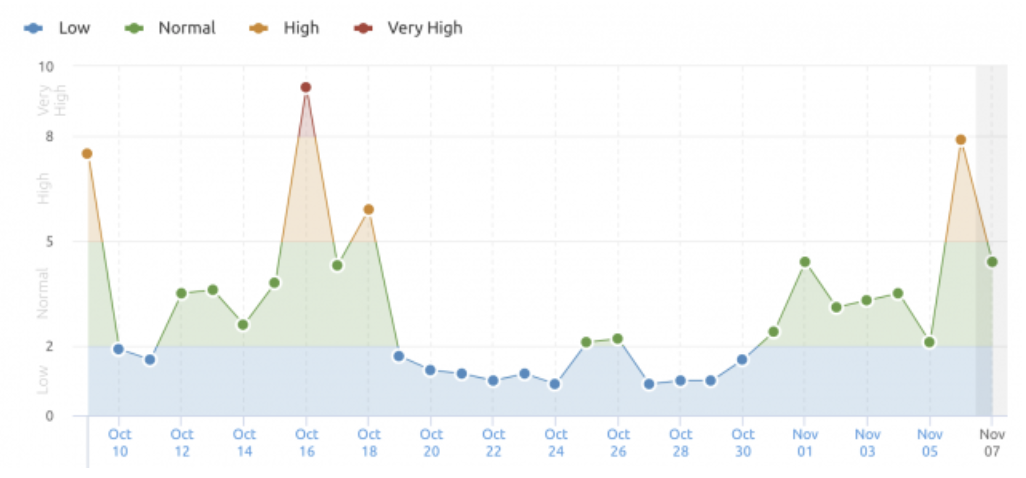 SEMrush Sensor Data
Sources:  Google Creepy Search Algorithm Update Continues With Stronger Volatility;  Google Halloween Ranking Update: Possible Targeted Update Yesterday?
Multifaceted Featured Snippets in Desktop SERPs
Google appears to be testing multifaceted featured snippets in desktop search. Like the earlier version rolled out for mobile search, the desktop version of multifaceted featured snippets appear to be surfacing for queries that are not very clear or broad enough to allow for more than one interpretation.
As some observers noticed, Google is showing more than one featured snippet in the search results, and also rearranging the original question in a way the algorithm assumes was intended by the user. However, the update seems to be in its testing phase and is yet to roll out in search to be broadly available.
Source:  Google tests multifaceted featured snippets in desktop search results
Google Lazy Loading Implementation Guide
Google has released the first version of its lazy loading SEO guide to help sites with lazy-loaded content find a way to be seen by Googlebot. Although pretty concise, the guide covers some tips to ensure Google can crawl and index pages that deploy lazy-loaded content. These tips include:
Load content when it's visible in the viewport

Support paginated loading for infinite scroll

Test implementation
We can expect that Google will continue adding more instructions and tips as the guide evolves.
Sources:  Google Releases Lazy Loading SEO Help Guide;  Make sure Google can see lazy-loaded content
New Hotel Search Results Design
Google has been testing a new design for Hotel Search results for months, but it has finally been released. Google users searching for hotel listings will now see a new design showing in the form a grid and card interface. The interface can be reorganized and sorted by the search filters available at the upper section. You can alter your price range, required amenities, date range, reviews, and more. You can also use the map to filter your searches by dragging it around or just zooming in.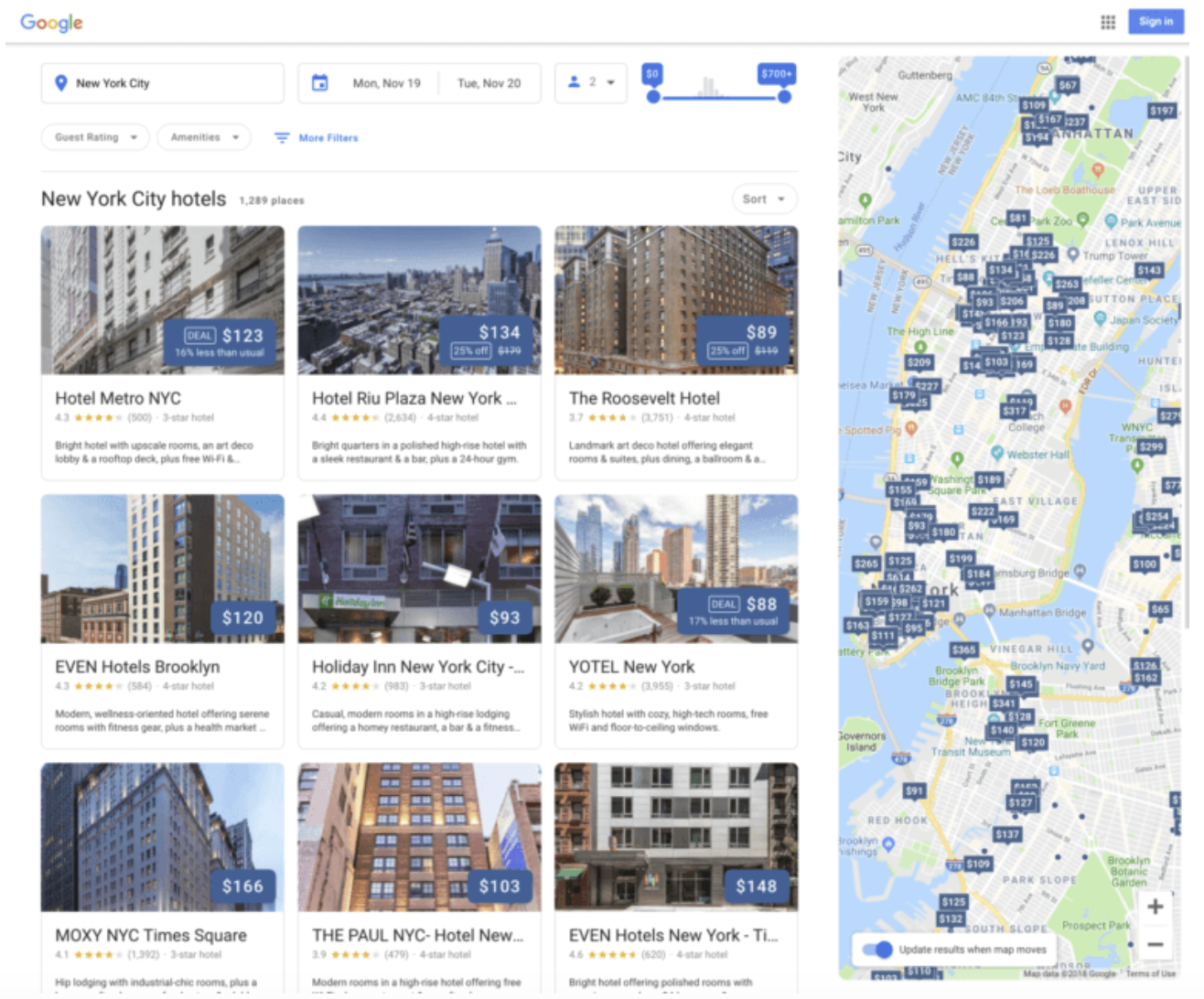 Source:  Google launches new design for hotel search results
GOOGLE ADS NEWS
New Ad Position Metrics in Google Ads
Google recently announced it is introducing four new search ad position metrics to help inform strategy via its official Google Ads Help page. The search engine explained that people commonly perceive the average position of ads to describe where an ad appears on the SERPs. However, Google explains, average ad position doesn't refer to its sequential position on the search results page, but rather its position relative to competing ads in the ad auction: "...an ad position of '1' means that your ad shows ahead of all other ads, but it doesn't mean the ad was at the very top of the page."
In light of this misperception, Google said it will be rolling out four new metrics over the next several weeks to help advertisers clearly see where their ads are appearing on the search results pages. 
Impr. (Absolute Top) % - the percent of your ad impressions that are shown as the very first ad above the organic search results.

Impr. (Top) % - the percent of your ad impressions that are shown anywhere above the organic search results.

Search (Absolute Top) IS - the impressions you have received in the absolute top location (the very first ad above the organic search results) divided by the estimated number of impressions you were eligible to receive in the top location.

Search (Top) IS - the impressions you have received in the top location (anywhere above the organic search results) compared to the estimated number of impressions you were eligible to receive in the top location.
Summarizing which of the given metrics advertisers should consider for their specific situations, Google advises "if you are using average position to understand the location of your ads on the page, it's better to use Impression (Absolute Top) % and Impression (Top) %. If you are using average position to bid to a page location, it's better to use Search (Abs Top) IS and Search (Top) IS."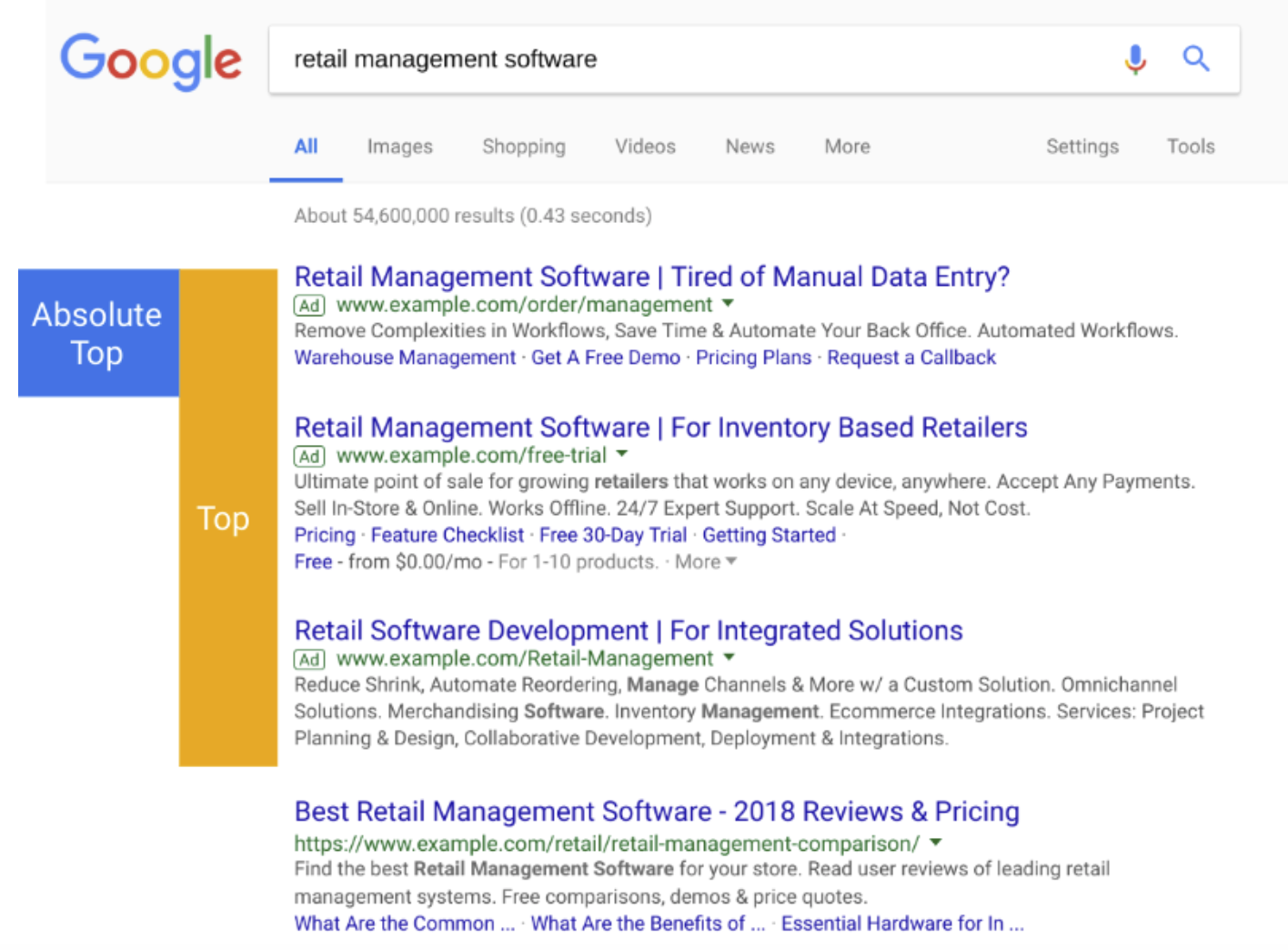 Source:  Introducing four new search ad position metrics
New Customer Match Rules in Google Ads
Google has updated its Google Ads policy for advertisers worldwide, scheduled to take effect October 22nd. Advertisers who have been using "Customer Match" in their campaigns will now have to meet the following additional requirements to continue using the feature:
A good history of policy compliance

A good payment history

At least 90 days history in Google Ads

More than USD 50,000 total lifetime spend
As of October 22nd, those advertisers who don't meet the above requirements will no longer be able to use Customer Match, and their existing campaigns that use the feature may also stop running. Advertisers can contact their assigned account manager or Google Support to check whether they still meet the account history requirements and may continue using Customer Match; advertisers can contact their assigned account manager in Google Ads or Google Support.
Source:  Update to Customer Match policy (October 2018)
Introducing Store Visits "New vs. Returning" Segmentation in Google Ads
Google announced the availability of "New vs. Returning" segmentation for store visits. The new feature will help advertisers better understand how many store visits come from new or repeat customers. Based on these insights, advertisers can tailor their messaging and adjust their marketing strategy to reach the customer segment with the most value. Here is the example Google offers to describe its new feature:
"If your business goal is to maximize sales from existing customers, identify which campaigns and ad groups reach the most returning customers and focus your budgets, bid increases and keyword expansions there."
Source:  Store visits "New vs. Returning" segmentation now available
New Features for Google Ad Preview and Diagnosis Tool
On October 26th, Google announced the addition of two new features to its Ad Preview and Diagnosis tool. According to its announcement, these new features will allow advertisers to get a clearer view of who is seeing their ads, and to take immediate action to get their ads to show.
Although it does not specify names for these features, they will now allow advertisers to use the tool to filter by search audiences. Google explains the functionality of the new features as follows:
See which ads are showing for a particular audience: Advertisers can now preview/filter their ads by search audience, in addition to by search term, location, location, language, and device.
Take immediate action to get your ads to show: Advertisers can now fix issues related to their ads' visibility in search within the Ad Preview and Diagnosis tool, "starting with adjustments to campaign budgets."
Google believes that these two updates to the Ad Preview and Diagnosis tool should save advertisers' time with related workflows as they provide quick and actionable insights into who is seeing their ads.
Source  Two new features available in the Ad Preview and Diagnosis tool
Compulsory Check for New Sites in Google AdSense
Google recently published an update on its AdSense blog about their upcoming quality efforts to make the platform "more attractive to advertisers which in turn leads to better outcomes" for its partners. Toward that end, Google is making some changes to the way advertisers, and webmasters monetize new sites with AdSense. For new websites, these changes include:
Adding a site to your AdSense account before you can show any ads on it.

A verification process which will check domain ownership or the authority to modify a site's content.

Compliance with AdSense program policies that will be reviewed in the verification process.
For the vast majority of existing AdSense users, things will most likely remain as they were other than a new "Sites" tab replacing the "My Sites" one, except that Google may ask for help to find the correct ad code when adding a new site. For that, make sure that your email preferences are up to date and you have the correct email address where Google may reach you.
Source:  Continuing to strengthen the quality of Google AdSense
Ad Block in New Chrome 71
Google has announced it will be expanding its set of user protections against "abusive experiences" on the web, such as pop-ups and new window requests. Although the search engine giant already has a set of user protections in place against harmful experiences "designed to intentionally mislead and trick users into taking action on the web", they apparently did not go far enough. Therefore, starting in December 2018, Google will be implementing additional measures that will help better protect users against such experiences. Specifically, Google said:
Starting December 2018, Chrome 71 will remove all ads on the small number of sites with persistent abusive experiences.

Site owners can use the "Abusive Experiences Report" in their Google Search Console to see if their site contains any of these abusive experiences that need to be corrected or removed.

Site owners will have a 30-day window to fix experiences flagged by the Report before Chrome removes ads.
The announcement states that these stronger protections will "ensure users can interact with their intended content on the web, without abusive experiences getting in the way."
Source:  Further protections from harmful ad experiences on the web
GOOGLE TOOLS NEWS
.new Domain to Instantly Create Google Docs & More
Google account users can now use ".new" in their browsers' address bar to instantaneously open any of Google office tools (Docs, Sheets, Slides, Sites, or Forms) instead of going through the normal way to open them. This is a time-saving trick and makes it easier for users to access Google office tools while they are online. Google announced the update through Google Doc's Twitter page.
Introducing a ✨ .new ✨ time-saving trick for users. Type any of these .new domains to instantly create Docs, Sheets, Slides, Sites or Forms ↓ pic.twitter.com/erMTHOsdyH

— Google Docs (@googledocs) October 25, 2018
Source:  Google Docs: Twitter Page
Google Testing New Domain Property Type In Google Search Console
Google Search Console is experimenting with "Domain properties". The property includes aggregated data of all protocols, subdomains, and subpaths for a given domain. This new type of web property is in its experimental phase, and selected participants are contacted via message to test it. Here is a Twitter screenshot shared by one of the selected participants, Tristram de Silva.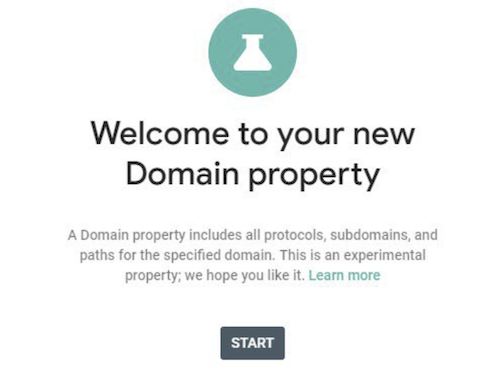 Source:  Google Search Console Tests New Domain Property
Google Assistant Calls Over Duplex in Google My Business
As shared by Michael Wallace on Twitter, Google appears to be now asking restaurant businesses to consider enabling Google Assistant Calls (or keep it disabled) by giving them the option within their Google My Business dashboard. If implemented, this will give businesses more control over whether or not they want Google Assistant to call them to make reservations on their customers' behalf.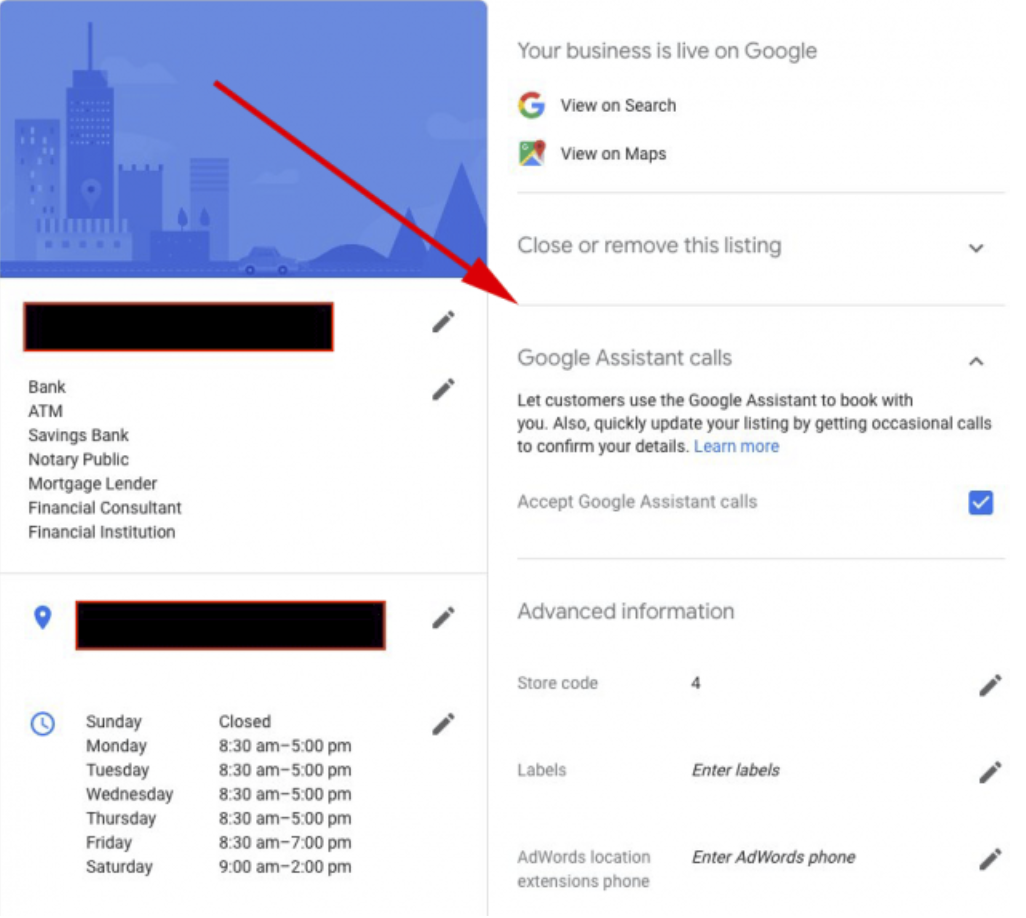 Sources:  Google My Business Adds Setting For Google Assistant Calls Over Duplex;  Michael Wallace: Twitter User
New reCAPTCHA v3
Google recently introduced reCAPTCHA v3, their newest API to help site owners protect their sites against bots and malicious traffic while ensuring "a frictionless user experience". The latest version works by returning a score that tells the site owner how suspicious an interaction is and eliminates the need to interrupt users.
What this means is that, reCAPTCHA v3 works in the background (rather than on the front end) and alerts site owners through adaptive risk analysis whether the traffic on their site is genuine or malicious, while letting human users enjoy a frictionless experience on their sites.
Furthermore, site owners can use an "Action" tag to define the key steps of their user journey and enable the reCAPTCHA v3 to run a contextual risk analysis. In doing so, they will get a full overview of their reCAPTCHA score distribution and a breakdown of the stats for the top 10 action items on their sites, helping them to identify what specific pages are being targeted by bots as well as how suspicious the traffic was on those pages.
Source:  Introducing reCAPTCHA v3: the new way to stop bots
Following Places in Google Maps
Paul Cole, Product Manager at Google Maps, has announced two updates that will allow users of Andriod devices to follow places right from their Google Maps app. All they have to do is tap the "Follow" button in the app and wait for the future events, offers, and other updates from their favorite places to appear in the "For you" tab.
Android users on Google Maps also will be able to keep track of all the new places opening around town. Google Maps will show the profiles of new businesses prior to their actual opening on Google Maps for Android and mobile searchers (with their future opening date mentioned in orange color). Places that expect to open soon can create a free business profile with Google My Business for people to notice them on Maps and Search three months in advance of their official opening.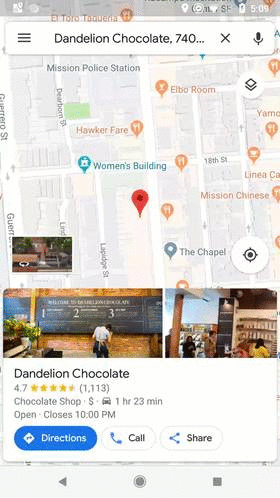 Source:  Fresh ways to stay up to date on your favorite places and find new ones