There were some notable changes in Google's SERP experiments over the past two weeks, foremost among them being its unannounced and to date, unexplained, "Maverick Update". There have also been a number of SERP feature tests you should be aware of; keep reading to see them all, and learn about changes in Google Ads and tools.
---
GOOGLE SEARCH NEWS
First off, there was significant Google SERP volatility in the past two weeks, followed by a cool-down in the last few days. 
July's Unconfirmed "Google Maverick Update"
As first reported by Search Engine Round Table and then by Search Engine Land, Google unleashed a series of updates noted by the SEO and search community on July 11th, 12th, and 16th, with more significant changes on July 18th. That spasm was followed by a relative calm within a few days preceding July 23rd.
Google would not confirm or deny the updates, so Brett Tabke chose to call it the "Google Maverick Update" and the community grabbed on to the name.
Among those initially weighing in with their tools' analytical results were SEMrush and RankRanger. Afterward, tracking tools from Moz and Algoroo corroborated those of SEMrush and RankRanger.
As reported by Barry Schwartz via Search Engine Land, Olga Andreinko and the SEMrush team provided some "surprising" data on the changes they classified as a "general update" on July 18th, with volatility charted as shown:
Sources:  The Google Maverick Update Slowing Down; What's up with the unconfirmed Google search ranking updates in July?
What's New on SERPs
Here is a list of new features tests that were noticed by users on SERPs in the past two weeks (as always, kudos to Barry Schwartz who keeps track of all these novelties!).
Product labels on image carousels in organic search:
Source: Google Shows Product Labels On Images Within Web Search Results
Shareable search results:
Source: Google may be testing shareable search results snippets
AMP pages accessible with a swipe in Image Search: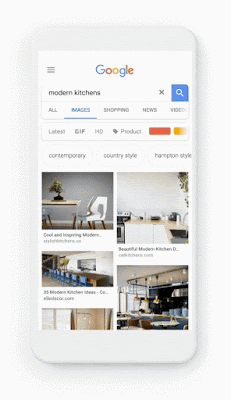 Source: Helping publishers and users get more out of visual searches on Google Images with AMP
New Branded Local Pack tabs:
Source: Google Tests New Tabs For Branded Local Pack & More Carousels
"Get a Quote" button on local knowledge panel:
Source: 'Get a Quote' button added to Google business local knowledge panels
SERP features icons:
Source: Google Test Maps, Top Stories, Video, Images & More Icons In Search Results
GOOGLE ADS NEWS
CPM is Enabled for YouTube Masthead
YouTube Masthead ads are now available on a click-per-thousand (CPM) basis. Google has announced that after extensive testing in select markets, the new option is now accessible for all users. 
In case you forgot, Masthead is a huge video ad that users see at the top of YouTube's main page. Initially, it was only available on a cost-per-day basis. If you want to check how your ad might look atop YouTube, try this page.
Source: YouTube Masthead now available with CPM buying
Google Video Partners to Support TrueView for Action
TrueView for action video ads will soon be available not only on YouTube. Google video partners are expected to start supporting such ad types in the next few weeks.
TrueView for action is a video ad that also contains CTA headline text overlays and an end screen; you can learn more about it here.
The option of showing these ads on partner sites will be enabled for all new TrueView for action campaigns by default. For existing campaigns, it will have to be enabled manually in campaign settings.
Source: Drive More Conversions with TrueView for Action on Google Video Partners
Parallel Tracking Becomes Mandatory for All Display Campaigns
All display campaigns are using parallel tracking starting today. This feature reduces the ad's target page loading speed, providing a better experience for mobile users. Parallel tracking "sends customers directly from your ad to your final URL while click measurement happens in the background," as documentation explains.
Google advises all advertisers to ensure that their click measurement provider is compatible with parallel tracking. Otherwise, they may experience problems with their click measurement system.
Later this year, parallel tracking will become available for Video campaigns as well. 
Source: Parallel Tracking Will be Mandatory for Display Ads Starting July 31st, 2019
Bye-Bye AdSense Apps 
AdSense apps for Android and iOS are about to get deprecated; they are expected to disappear from apps stores by the end of 2019. Developers decided to invest resources into the mobile web interface. "By investing in a common web application that supports all platforms, we will be able to deliver AdSense features optimized for mobile much faster than we can today," said in a statement from the AdSense team.
It is unclear what kind of improvements to expect, but devs promised to provide more details later this year.
Source: Upcoming Changes to the AdSense Mobile Experience
GOOGLE TOOLS NEWS
Users' Photos in Google Shopping
A new feature in Google Shopping allows advertisers to enhance their shopping ads with customers' photos. Users can upload images after they leave reviews for products they bought. Currently, this feature is available to advertisers working with review providers, such as Yotpo, PowerReviews, Influenster, and Bazaarvoice.
Image source: Yotpo
Source:  New Google Shopping program enables customer photos to show with their product reviews
Google Teaches JavaScript SEO Basics
A new guide on JavaScript SEO basics is now available on the Google Developers website. The author is Martin Splitt, and its content is in many ways similar to what you already can find in his YouTube videos. This guide covers such topics as crawling, different rendering types, JavaScript content indexing, and much more.
Source: Understand the JavaScript SEO basics
[ create-campaign bg_images="https://static.semrush.com/blog/uploads/media/54/76/5476cf573bc10e6880ca2862c0c8fc4f/website-migration-banner.png" bg_button="-success" header="Inspect your website's health" text="with SEMrush Site Audit"] 
Google's China Project "Terminated"
Last year there was a lot of buzz around the new Google project named "Dragonfly." It was believed to be a special search app designed for the Chinese market. Many experts considered it controversial due to strict Internet legislation in China; looks like Dragonfly is now history. At least, that is what Google's Vice President of Public Policy, Karan Bhatia, claimed at the recent Senate Judiciary Committee hearing. Whether Google is planning to come back to China with a different tool, remains uncertain.
Source:  A Google VP Told The US Senate The Company Has "Terminated" The Chinese Search App Dragonfly
---
This is all the news items we found for this digest. If you saw something interesting, please tell us in the comments. See you in two weeks!