Every two weeks, we bring you our news digest that covers a detailed list of the latest updates and developments from Google. Keeping abreast of these new developments is important as they are going to impact you as an advertiser, a website owner, a marketer, an SEO professional, or a regular user of Google's products. In this round of updates, we have outlined all
the important updates from February, from Google's latest move to fight disinformation to its rollout of new features in display campaigns to the launch of Google docs API and .dev domains.
Don't forget to tune in to our Marketing Scoop podcast, where our guests JD Prater, the Evangelist at Quora, and Joe Martinez, the Director of Client Strategy at Clix Marketing, discuss the latest Google updates and developments in more detail. Meanwhile, let's jump right into the summary.
---
GOOGLE SEARCH NEWS
Google Fighting Disinformation
Google released a white paper at the Munich Security Conference that addresses how it plans to tackle the intentional spread of disinformation. According to Google, false and misleading information is a growing challenge given the internet's complexity and scale, and organized campaigns that use online platforms to spread disinformation. Google's white paper provides more details about the work which is underway to address this problem. According to Google, it is based on the following three foundational pillars:
"Improve our products so they continue to make quality count;

Counteract malicious actors seeking to spread disinformation;

Give people context about the information they see."
Besides providing details about how Google tackles the intentional spread of misinformation across Google Search, Google News, YouTube, and other advertising platforms, the white paper also explains how the search engine giant works beyond its own products to support a healthy ecosystem of online information for everyone.
Sources:  Fighting disinformation across our products;  SEO Tidbits From Google Fights Disinformation White Paper
Replying to Customer Reviews from Google Maps on Desktop
Kara Jancourtz, a community manager from the Google My Business (GMB) team, recently announced that businesses will now be able to reply to customer reviews directly from Google Maps on desktop. Now businesses don't have to open their GMB center or download the mobile app to make replies; they can do it on Google Maps directly. In addition, the announcement touches on how businesses should take positive or negative reviews as an opportunity to identify areas to improve customer experience. To help businesses respond to negative reviews in an effective way, Google also provides some helpful tips that can be followed to "leave a positive impression with both current and future customers."
Sources:  [Launch] Reply to reviews on Maps on desktop;  Business owners can now reply to reviews on Google Maps desktop
Job Posting Markup for Remote Jobs
Dan Shure, an SEO consultant, posted on  Twitter that he had received a notification via his Google Search Console (GSC) which allows users to add remote job posting markup to postings in Google Search. The feature is intended to make it easier for people to explore jobs that allow them to work remotely. Google is sending this announcement to site owners directly (via their GSC). Businesses looking to take advantage of this feature will need to mark up their remote job postings with structured data before they can be labeled as such in Google search.
Source:  Twitter: Dan Shure
"Get in Line" Button in the Local Panel
Barry Schwartz reports that Sergey Alakov, an SEO specialist, has spotted Google testing or launching a "get in line" button in the local panel. Sergey's post says, "Some restaurant local panels now display 'Get in Line' call to action that can be used by users to get on a waiting list. The CTA seems to be available across all devices." As users click on the CTA, a waitlist interface opens, providing information about approximate wait time and an option to select a party size and join the waiting list. Here is the screenshot Sergey shared on his blog post and on his Twitter feed, showing what the new feature looks like: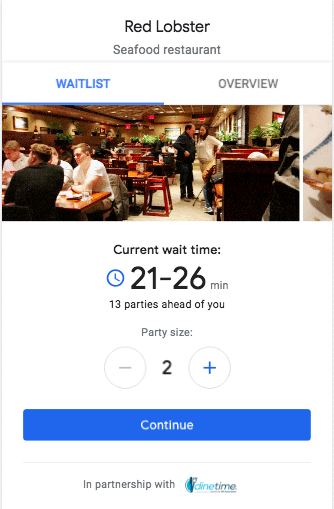 Sources:  Google Local "Get in Line" Button;  Twitter: Sergey Alakov
Testing New Video Format in Mobile Search
Barry Schwartz from Search Engine Roundtable recently reported he was notified by many SEOs of a new format Google is using to show videos in mobile search results. He said that he believes it is a fairly new user interface. As Glenn Gabe posted on Twitter, it used to be a video carousel. Barry says the videos in this grid format in mobile Google search results show between two to eight videos for a single search results page.
Sources:  Google Shows Video Grid Format In Mobile Search Results With Up To 8 Videos;  Twitter: Glenn Gabe
GOOGLE ADS NEWS
Mobile Page Speed Score Update in Google Ads
Google has updated its mobile speed score algorithm, so it now requires fewer ad clicks while calculating a score for mobile pages. This means the tool calculates a speed score that is more reflective of mobile pages. The algorithm bases its evaluation on a number of factors, including page speed and potential conversion rate, and then outputs a score on the scale of 1-10. Google recommends website owners consider adopting mobile technologies like Accelerated Mobile Pages (AMP), which, according to Google Data, load 85 percent faster than standard mobile pages.
Source:  Updates to mobile page speed score on the Landing Pages tab
Newly Located Icon for Predefined Reports in Google Ads
Google has rolled out a new reporting feature in Google Ads for predefined reports. Accordingly, advertisers will now be able to access the predefined report at the campaign or ad group levels and apply it to narrow their data to a particular ad group or campaign type. Previously, predefined reports were only available through the 'Reporting' icon on the top navigation bar, which opens predefined reports for the entire account. Now, Google Ads users can locate a 'Reporting' icon right above the statistics table while looking at campaign or ad group data. This report carries over the same scope of data (campaign level, ad group level, ad level, etc.) users view in their Google Ads account.
Source:  Easily find predefined reports for the dataset you're viewing
Click Share Metric for Search Campaigns in Google Ads
Click share - the estimated share of all achievable clicks you have received - has been available for use in Shopping campaigns since 2015. Now, it is going to be available for Search campaigns as well, with Google's announcement that it is as begun rolling it and plans to have it available for all campaigns in the coming weeks. The search engine recommends advertisers use click share to "view click growth opportunities with more extensions or bid or budget increases" as a best practice and to use impression share "to view impression growth opportunities with bid or budget increases."As click share becomes available in the coming weeks, advertisers running Search campaigns will be able to use this metric at the campaign, ad group, and keyword levels.
Source:  Click share coming to Search campaigns
Introducing Three New Features for Responsive Display Ads
Google has announced that it is introducing three new features for responsive display ads: video assets, combinations report, and ad strength scorecard.
In its announcement, Google claims that with video assets, advertisers will now be able to improve campaign performance by incorporating videos in their responsive display ads, "all the while scaling ad creation, testing, and optimization." Google further states that adding videos will help advertisers "adapt to the increasingly diverse mix of content types and screen sizes." To begin, advertisers can create or edit their responsive display ads and select up to five (optional) videos from their YouTube page.
Referring to the combination report, Google says that by using it, advertisers will "be able to learn how different creative asset combinations perform." Top performing asset combinations will show in separate sections of the new report "based on images, text, dynamic feed, and videos". As a best practice, Google suggests advertisers test the top performers across different campaign types once they know "which creative combinations resonate with potential customers".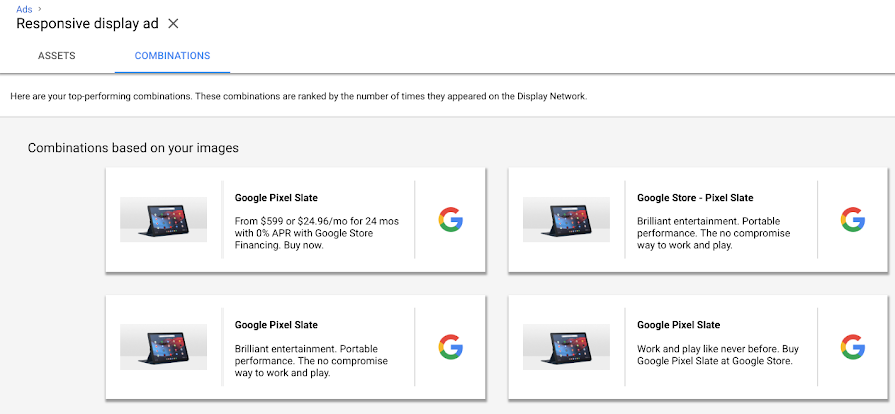 The third new feature announced, the ad strength scorecard, is designed to help advertisers create better responsive display ads by checking that they have "the optimal number of unique headlines, images, and descriptions." Google suggests advertisers consider taking the "Next steps" highlighted in the scorecard to help them improve their ad strength.
Sources:  Introducing three new features for responsive display ads;  Google Ads Help Center: About responsive display ads
Parallel Tracking for Display and Video Campaigns
Google announced that its parallel tracking will be available for Display and Video campaigns starting May 1st. Its initial announcement from September 2018 said parallel tracking was to be available in March 2019, but Google has given advertisers more time to prepare before the feature "becomes mandatory for all Display and Video campaigns (starting July 31st, 2019)." As a general practice, any changes made to ad URLs will need to be reviewed to make sure they comply with Google Ads policies. Google recommends that advertisers with Display and Video campaigns across multiple accounts consider spacing their changes over multiple days.
Source:  Parallel tracking for Display and Video campaigns available May 1st, 2019
Google Shopping Product Panel Update on Desktop
At Search Engine Land, Barry Schwartz recently reported that Google has added three new buttons to its card-style Shopping product listing ad on the right rail of desktop search results: "details", "reviews", and "stores". Clicking on these buttons yields more details that are overlaid on top of the search results. Although the features are similar to what Google uses on mobile search, they render differently on desktop. Here is the screenshot Schwartz shared of the panel with the buttons placed above the product images for Apple iPhone XR:
He also shares a screenshot of what renders when a user clicks on the store's button, which triggers an overlay to pop up over the search results.
Sources:  Product card buttons pop up on desktop search;  Google Launches Shopping Product Cards Buttons On Desktop Search
Renaming of Universal Apps in Google Ads
Google announced that they have simplified the name "Universal App Campaigns" to simply "App campaigns." However, it is just a name change and so does not require any action for existing campaigns, nor will it affect campaign features and functionality in any way. With its new name, App Campaigns will join the other top-level campaign names available in Google Ads, including Search, Display, Video, Shopping, and Smart. Google says advertisers will start seeing these changes rolling out over the next month, says and hopes that "this more direct name will help advertisers and developers get started with Google Ads and select the right campaign type for their business goals."
Sources:  App campaigns make their landing: introducing a simpler name for Google's app ad solution;  Universal App campaigns are now simply App campaigns
Ads Testing in Google Assistant results
Google seems to be testing the surfacing of ads in Google Assistant results. While it is too early to assume anything about its possible rollout at this point, it appears Google has started experimenting with the idea already. As Search Engine Land reports, Gennaro Cuofano, Creator of FourWeekMBA.com, spotted this while performing a search on an Android phone (for an Executive MBA program in Italy). Gennaro, who posted about it on Twitter as well, said that "the answer on the voice assistant pretty much mirrored the search result page on that one." Search Engine Land's Greg Sterling reports they couldn't confirm Gennaro's results themselves in multiple attempts on both iOS and Android, but notes that Google Assistant ads are "probably inevitable."
Source:  Google tests ads in Assistant results
GOOGLE TOOLS NEWS
Google .dev Domain Available for Everyone
On February 19th, Google Registry announced its new top-level domain (TLD), ".dev", which it says is dedicated to developers and technology but available to all, including designers, architects, and writers. According to its announcement, .dev domains will be secure and provide a new place where you can learn the latest tech, build communities, and showcase your projects - all with your ideal domain name. Google's .dev domains are available to register as part of its Early Access Program until February 28th for an additional fee, and afterward, its .dev domains will be available to register at a base annual price through a registrar of your choosing. The announcement notes that Google has already started using .dev domains for its own projects, like web.dev and opensource.dev. It further encourages people to visit get.dev to see what companies like Mozilla, Netflix, and others are doing with dev. domains, as well as secure their own perfect domain through one of its registrar partners.
Source:  Developers: Hello, .dev!
Google Search Console Stops Supporting Mobile App Properties
Google is sending emails to those who have verified mobile app profiles in Search Console, notifying them that the Search Console will end support for app properties by the end of March. In his article at Search Engine Roundtable, Barry Schwartz shared the screenshot of the email he received wherein Google says that the change will not affect the appearance of mobile apps in search results or the website properties owned, but indexing statistics for the apps will no longer be available. The email notice further states that those affected can download their current search analytics data using Google's Search Console API or the download option in search analytics before the end of March.
Source:  Google Search Console Notification: Mobile App Properties No Longer Supported
Google Docs API Launch
In a recent blog post in its G Suite Updates feed, Google announced a new Google Docs API that contains many of the existing Docs features. The API helps automate common word processing tasks, and lets users read and write documents programmatically. According to its announcement, some of the ways this API could be used include:
Creating documents automatically

Managing workflows

Syncing with content management systems

Generating invoices or contracts
To get the API running immediately, users may enlist help from Quickstart. For implementing some of the advanced use cases, Google recommends users refer to its  Developer Guides.
Source:  Manage workflows and automate processes with the new Google Docs API.