While we were away enjoying the holiday season, some important updates from Google were getting ready to be rolled out (and most of them are live now). If you feel you may have missed some updates and are not sure what those might be, below is everything you need to know is here.
Most of the updates are related to Google Search News — new SERPs features, algorithm update, mobile-first transition, etc. — but we also noticed many Google Ads and Google Tool updates and features being rolled out in the past two weeks. So, as always, let's start with the  Marketing Scoop podcast where Ian Anderson Gray, the Founder at Ian Anderson Gray, and Lilach Bullock, the online marketing genius and Founder at Lilach Bullock Ltd, will discuss all these important updates in detail.
---
GOOGLE SEARCH NEWS
New Google Search Ranking Algorithm Update?
As reported by Search Engine Roundtable, there is a chatter both within the SEO community and ranking tools that Google has possibly rolled out its first substantial update around Saturday, the 6th January. Some webmasters observed a significant increase in rankings and traffic; others were disappointed to see a sudden drop in their organic rankings. More about this on WebmasterWorld. 
Source:  Google Search Ranking Algorithm Update Around January 6th
New Mobile SERP Design for Songs/Lyrics
Google is testing a new SERP design for songs/lyrics searches. For some searches, you may see multiple tabs for overview, lyrics, listen, similar songs, and other recordings instead of just "lyrics". For lyrics sites, this may provide better opportunities to add more value and engage their users.
Here is a screenshot Glenn Gabe, a Digital Marketing Consultant at G-Squared Interactive, has shared on Twitter.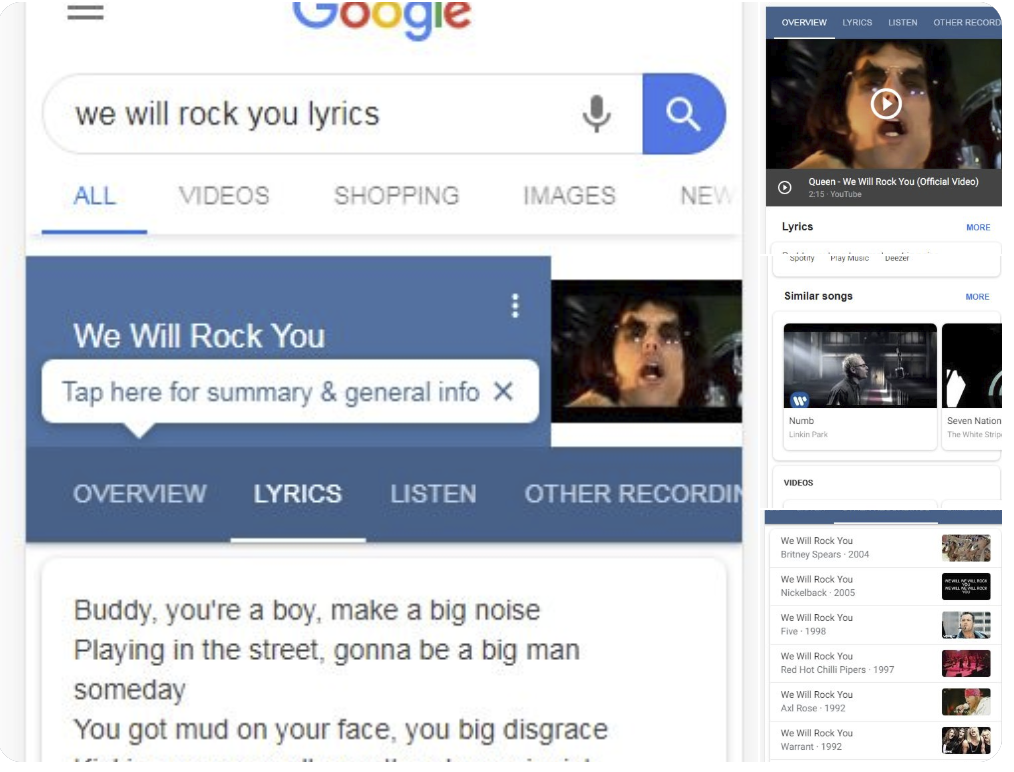 Source:  Twitter: Glenn Gabe 
Most Frequent Mistakes in Mobile-First Transition
A few weeks ago Google announced on their Webmaster Central Blog that over half of the pages shown in search results globally are now using mobile-first indexing. Generally, Google moves a site to mobile-first indexing after running a test that assures that the site is ready to be run on mobile. The owner of the site is then notified through a message in the Search Console. Webmasters can also use Google's URL Inspection Tool to check how their site was last crawled or indexed to know their site's mobile-first indexing status.
Sites that lack responsive web design usually face two kinds of issues, as Google explains. First, if structured data used on the desktop version has not been used on the mobile version the same way, Googlebot is going to miss that data. Second, mobile versions with no alt-texts for images will be out of crawlers' reach, making it a lot harder for Google Images to understand the context of the images used on a site. To see if your page is providing appropriate alt-attributes for images, you can check "img" tags in the source code of the mobile version of your site.
Source:  Mobile-First indexing, structured data, images, and your site
A New SERP Feature for Long-Running Search Queries
Google has introduced new activity cards to help searchers keep track of their activities related to past searches on Google. If you are living in the U.S., you can now pick up your searches where you left off last time. The activity card shows up at the top of the search results page, providing easy ways to continue your exploration and find the links to pages you visited in the past.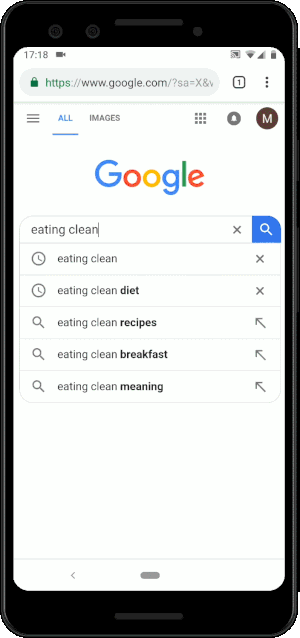 You can also mark a page to read or reference later or access your collections through the bottom bar of the Google app (on mobile) or by tapping the menu on the top left of the Search page. The activity card comes with adequate control, allowing users to delete an item or turn off the cards whenever they feel like doing so.
Source:  Pick up where you left off on Search
New Feedback Format in Featured Snippets
Barry Schwartz from Search Engine Roundtable reported that Google is testing a new blue bar under some of the featured snippets to allow users to provide their feedback about those specific featured snippets. As per Barry, the new feature was first noticed by two SEO guys from India who shared the screenshots with him via their Twitter page.
Source:  Google Featured Snippets Tests Blue Feedback Bar
Pronounce Feature in Google Search
Google appears to be testing a new feature in search results that helps Google searchers pronounce words. Shared by a Reddit user Lesharcerer first, the feature seems to be in the testing phase and is focused on users in non-English speaking countries such as India. Through this feature, Google plays you the pronunciation of words you ask for and also provides visual hints. Users in the U.S., per our knowledge, couldn't replicate the same just yet and it seems that Google has limited its testing to a few select regions. 
Source:  Google Search Pronounce Feature
Testing Match Scores for Local Pack
In May 2018, Google announced a new feature in the local listings called "Your Match". Although it never got launched officially, the feature would attempt to know how likely a user is to enjoy a place, and then assign a "your match" score based on Google's machine learning. Recently, Sergey Alakov spotted the search engine testing the same feature again. But, this time around, it seems that Google is testing it for restaurants and bars only. Here is a screenshot Sergey shared on his Twitter page: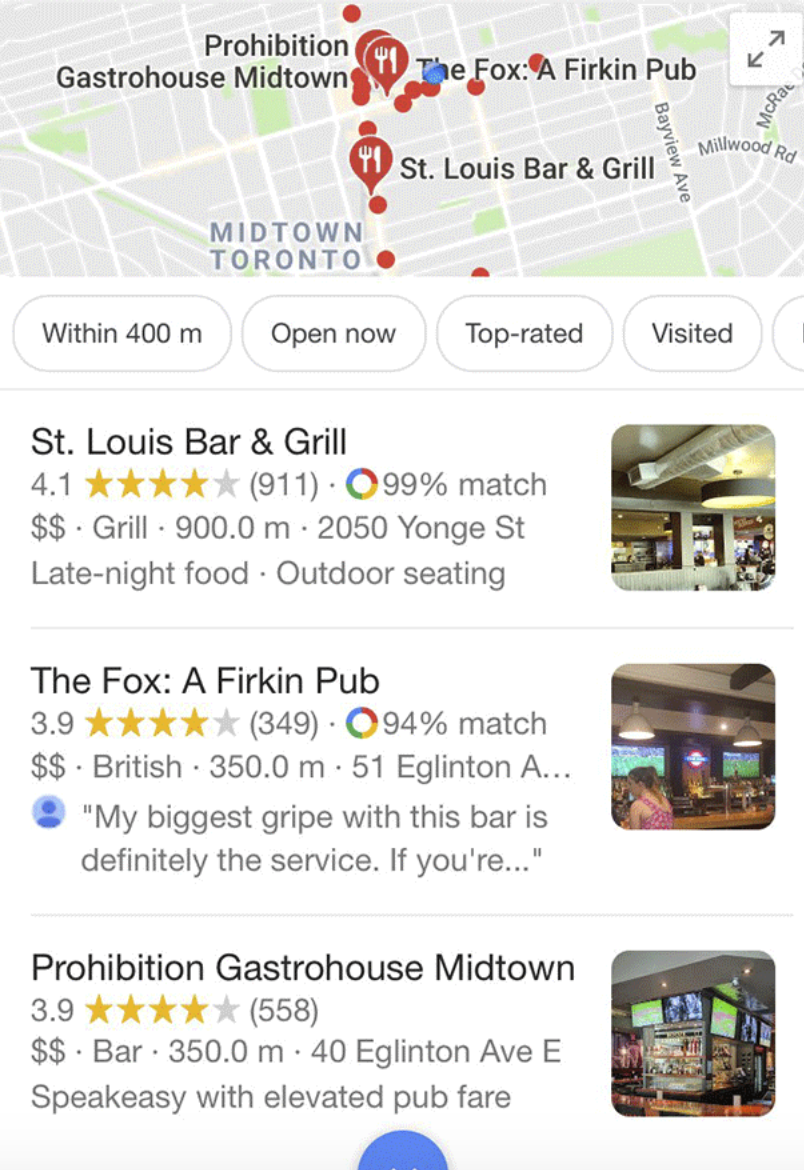 Sources:  Google Local Listings Tests Your Match Scores;  Google Tests Your Match Score in Local Search Results
GOOGLE ADS NEWS
Targeting Updates in Display Ad Campaigns
Google has recently shared three new ways for advertisers to deliver more conversions from their Display campaigns. They include the following:
Reach more shoppers with the same budget: Marketers can now use Google's  audience expansion tool, designed to help them expand their campaign's reach to drive more conversions while keeping the average cost-per-acquisition intact. To make the tool even more effective, Google has introduced some new improvements that now allow advertisers to increase or decrease their audience reach with more granularity, as well as see weekly impression estimates based on their selection. As per Google, "Advertisers using this tool to improve their Display campaign performance have seen up to 50% more conversions for the same investment."
Get the right products in front of new customers: Advertisers can now take advantage of Google's dynamic prospecting tool to help them display the right product in front of the right customers at scale. Using product feed, this tool analyzes shoppers' past interactions across Google and other publisher sites to show consumers the products that suit their taste and requirements. Google Ads employs machine learning to evaluate the performance of products in users' feeds in order to determine which offerings are the most relevant and more likely to result in conversions. According to Google, "Advertisers who've connected a feed to their Display campaign have seen an average ROI increase of 20%."
Reach more of your ideal customers: Using custom intent audience, advertisers with an extensive product inventory or a wide variety of customers can save time while still reaching specific audiences in their Display campaigns by segmenting ad groups according to targeted keywords or landing pages. Advertisers can opt to use custom intent audiences with auto-created audience segments based on their account, or define their own by entering keywords, URLs, and apps that are related to their products or services, whereby Google provides recommended segments to add to their campaigns.
Source:  Deliver more New Year conversions with the latest Display ads features
Pay for Conversions in Display Campaigns
As of December 13th, advertisers can choose to pay only for conversions on their websites or apps, provided they use Target CPA with Google Display campaigns. As Google explains, "Let's say your target CPA is $10, and you drove 30 conversions over the weekend. You'll pay exactly $300, with an actual CPA of $10. You won't be charged for clicks or impressions." However, the option to pay for conversions is currently limited to Display campaigns, and we are not sure if Google may expand this feature to other types of campaigns in the near future.
Source:  Introducing pay for conversions in Display campaigns
Call-to-Action Extension for Video Ads
Google has announced it is removing the existing YouTube call-to-action overlay this month and is introducing a new call-to-action extension to simplify its interactive features across video ad formats. Depending on their primary objectives, advertisers can opt for TrueView for action (if they want to drive conversions and clicks) or the new call-to-action (if they want to drive awareness or consideration) that can be applied to TrueView in-stream ads, Bumper ads, and TrueView video discovery ads.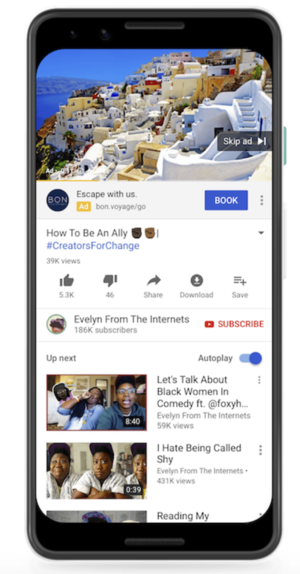 Source:  New call-to-action extension available for video ads
GOOGLE TOOLS NEWS
Share Your Google Doc with Non-Google Accounts
Google is preparing to enable users without Google accounts to view, comment, directly edit or suggest edits to Google Docs, Sheets, and Slides files. As per Google's observation, organizations often work on documents with stakeholders (external vendors, partners, customers, etc.) who don't have Google accounts, making the collaboration process difficult for both parties.
As a result, the search engine is introducing a beta involving a pincode identity verification process where G Suite users will invite non-G Suite users to collaborate on documents as guests (using the PIN codes). The owners of the files are still in full control, and they can view all the activities as well as who they come from. Admins can also revoke access at any time and manage all external sharing and audit usage of their files.
Source:  Share files more easily with non-Google accounts in Drive Beta
Code Editing in Rich Results Test Tool
Google recently announced on Twitter that a new feature had been added to their Rich Results Test tool. As a result, webmasters from can now edit their code in the rich results test to see the impact of those edits in real time. The added feature is a helpful way to allow webmasters and SEOs to make changes to their code and see how those changes may or may not impact their rich snippets.
Sources:  Twitter: Google Webmaster;  Rich Results Test
Ad Blocking in Chrome Worldwide
Starting July 2019, Google Chrome will expand its user protections and stop showing ads on sites that repeatedly violate 'Better Ads Standards' as determined by the Coalition for Better Ads, an industry group dedicated to improving the web advertising experience. This decision followed the recent announcement made by the Coalition for Better Ads to expand their initial Better Ads Standards beyond North America and Europe to cover all countries, worldwide. Google has instructed webmasters to consider reviewing their sites' status in the Ad Experience Report tool and be sure that no violating ad experiences exist on their sites.
Source:  Building a Better World Wide Web
Embedding Google Drawing Within Google Docs
In a recent update on Google Docs, the search engine giant informed users that they can now embed Google Drawings files saved in Drive into Google Docs instead of manually working on these drawings. To update the content of the linked drawings, they can go back to the source file, edit it there, and then look for an "Update" button in the upper right corner of the embedded drawings to update the content in Google Docs. Google Docs users can also unlink drawings at any time.
Source:  Embed Google Drawings in Google Docs
Manufacturer Center Revamp
Google Manufacturer Center now provides some new features in the form of a new section on Shopping product detail pages and new and improved analytics. The Shopping product details pages would allow sellers to provide accurate, relevant, and high-quality information that matters to the shoppers.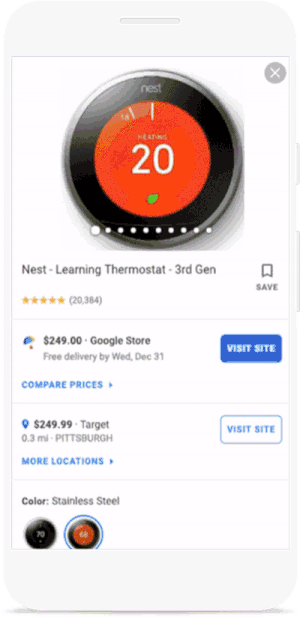 The analytics, on the other hand, has been added to provide manufacturers/sellers important insights into factors such as their top performing products, changes in performance or price of their products, top search terms leading to product searches, and information about competing brands that appear alongside theirs, etc. Google has also announced expanding the Manufacturer Center to 17 more countries.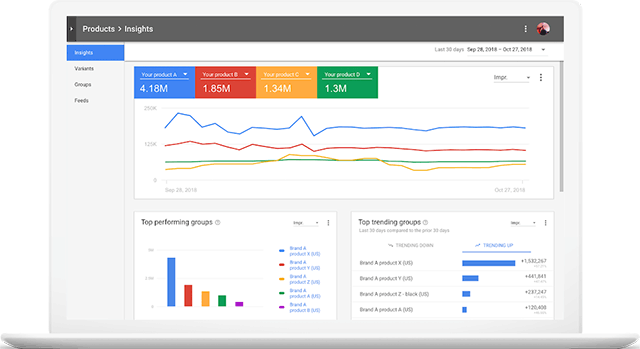 Source:  Google Manufacturer Center With New Content, Analytics & Availability