In the last two weeks, Google released many important updates that can potentially affect the way users search information online and advertisers run their campaigns on Google platforms. For example, incorporating YouTube into the Search Partner networks is an unusually creative step the search engine has taken to expand the scope of its search text ads. Similarly, Google is continuously working on tools and updates that make site owners' and advertisers' jobs more unified and easier to manage. The introduction of Canonical URL in Google Search Console is one such step towards this objective.
We have a number of other important updates to talk about, from Smart Bidding Strategy in YouTube to the Optimization Score guide in Google ads to Google's financial performance in its fourth quarter. But before we proceed, let us introduce you to our this week's guests on Marketing Scoop podcast - Leah Buckingham-Warner, the award-winning digital marketing social media strategist, and Laurie Wang, the Digital Marketing Director at Butterfly Marketing Consultancy. They will join our podcast to share with you their observations and analyses of these updates in greater detail.
[podcast-subscribe]
---
GOOGLE SEARCH NEWS
Events Rich Snippets on Desktop
Events rich results started to show on mobile searches last year, but the feature is not yet available on desktops. Recently a Twitter user, Brad Brewer, noticed Google testing a revamped version of events rich snippets on desktop. While we were not able to replicate his results, you can see the screenshot Brad shared on Twitter below.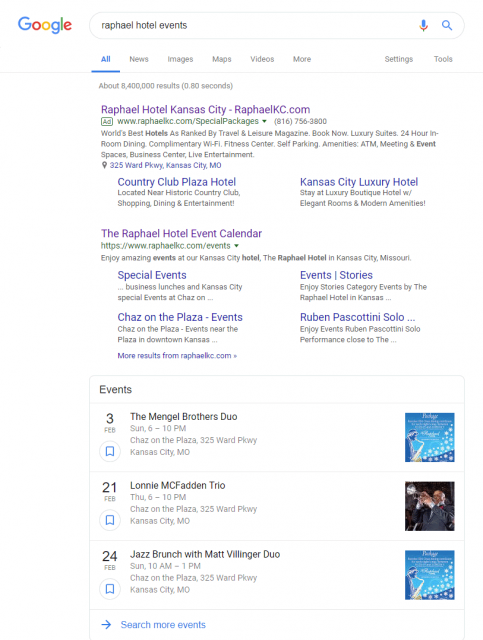 Sources:  Twitter: Brad Brewer;  Google Tests Event Rich Snippets On Desktop
New Google Useragent: Google-speakr
Some online users have reported seeing a new Google useragent named google-speakr. Unsure whether this might be a new type of Google assistant or a home crawler, the industry got a reply from Google's Danny Sullivan on Twitter where he mentions that it is a "useragent used when Google Go fetches a page to make sure it has the most up-to-date information before it translates it to read aloud. We'll see about adding documentation. More info here."
Sources:  Twitter: Valentin Pletzer;  A New Google Useragent Named google-speakr
How Do Web Crawlers Scan Your Site?
A new tool to understand how search engine bots work
New Check-In & Check-Out Times in Google My Business
As per Google's latest announcement, hotels are now able to add check-in and check-out times to their business listing in Google My Business. This option can help customers quickly discover when rooms will be ready, and when they will need to be vacated. It should be noted that this feature is currently only available for hotels, and we are not sure if Google is going to expand its scope to include other businesses in the near future.
Sources:  Add hotel check-in and check-out times;  Google Maps Adds Hotel Check-In & Check-Out Times
A New Mobile SERP Full of Ads? We Have Got an Answer!
In the previous digest, we posted about a test, spotted first by Fibre Marketing, where a new mobile search result page was filled with as many as 14 ads, almost twice the regular number. However, later on, we found out that this was just a bug and Google didn't intentionally roll out anything like that for test purposes. In a reply to Fibre Marketing's post on Twitter, the search engine remarked: "thanks for catching this! We didn't intend to show these extra ads. This was a bug impacting a very small number of queries and it has already been fixed."
Source:  Twitter: Fibre Marketing
GOOGLE ADS NEWS
New Buying Format in YouTube Masthead
Historically, advertisers could reserve YouTube Masthead on a cost-per-day basis (one advertiser per country). However, Google has announced experimenting with a new buying format that will allow YouTube advertisers to reserve the Masthead on a cost-per-thousand impression (CPM) basis as well. Adding this new feature is going to add more flexibility to campaigns that are run on the most prominent ad spot on the YouTube Home feed. As per Google, "In addition to driving mass reach, the Masthead is also memorable and effective: Masthead ads have a significant impact on Ad Recall, with an average lift of 92%, and drive an average 46% lift in Purchase Intent."
Sources:  Expanded audience and buying features for the YouTube Masthead 
Smart Bidding Strategy for YouTube's TrueView for Action Campaigns
Starting February 2019, Advertisers around the world who are running TrueView for action campaigns will be able to use Google's smart bidding strategy —  Maximize conversions bidding. This bidding strategy uses Google's machine learning to automatically "set bids to help get the most conversions for your campaign while spending your budget." According to Google, this smart bidding strategy is particularly helpful for advertisers who are new to TrueView for action, are looking to run burst campaigns, or who don't qualify for Target Cost-Per-Acquisition (bidding) due to their campaigns not meeting the recommended threshold of 50 conversions per week.
Source:  More ways to drive results with TrueView for action
Optimization Score As A Guide to Improve Performance in Google Ads
Google has rolled out its official guide to using Optimization Score and the Recommendations page on Google Ads to help advertisers improve their campaign performances. According to the guide, advertisers can manage their account more efficiently by prioritizing actions with the highest potential in terms of optimization score: "Optimisation score uses historical performance, auction simulations, and machine learning to  recommend the most impactful optimisations for your account."
You can also review optimization score at the level that is most relevant to you (at the campaign, account, and manager account levels). In addition, advertisers can apply the recommendations provided on Google Ads that support their business goals. Google suggests checking the recommendations Google Ads provides based on their campaign data weekly; they may focus on recommendations based on score uplift and dismiss the ones not aligned with their campaign goals. Advertisers may also analyze recommendations on their own terms by filtering individual sections (ads & extensions, bids & budgets, keywords & targeting, and repairs) to help them focus on the task at hand.
Source:  Improve performance on Google Ads using optimization score as a guide
Google Text Ads in YouTube Search
As per the latest announcement from YouTube at SMX West in San Jose, Google is incorporating YouTube into its Search Partners network, extending the scope of the Search text ads. Accordingly, when users search for keywords related to the campaign advertisers run on the video platform, their text ads may also appear on YouTube search results pages. However, text ads on YouTube are only available for mobile search feed currently. As reported by Search Search Engine Land, YouTube has been "testing this option for a few months and has seen that, on average, text ads in YouTube mobile search results perform comparably to Google Search on a cost-per-conversion basis."
Source:  Now your Google text ads can show on YouTube search results, too
GOOGLE TOOLS NEWS
Canonical URL in Google Search Console To Unify Performance Data
Google announced that it will soon be assigning search metrics to the (Google-selected) canonical URL in the Search Console. Contrary to the current method, where the Performance report credits all page metrics to the exact URL that the user is referred to by Google Search, the canonical URL will help unify all data to a single property to simplify tracking data for the same piece of content. According to Google, the change has the additional benefit of improving the usability of AMP and Mobile-Friendly reports for users with separate mobile or AMP pages.
Note that Google is planning to transition all performance data on April 10, 2019, and API and Data Studio users may expect the Search Console API to change to canonical data around the same date.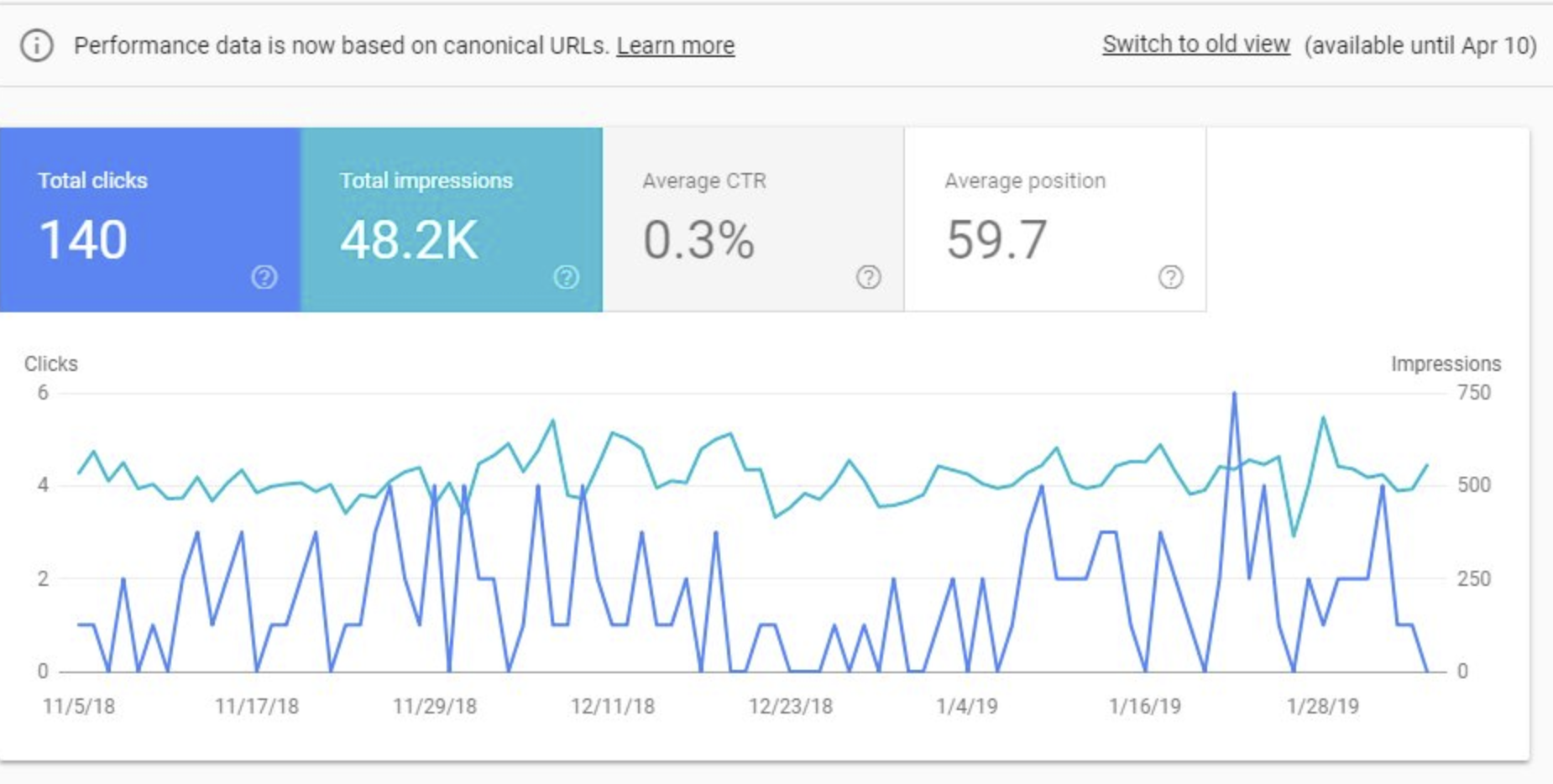 Source:  Consolidating your website traffic on canonical URLs;  Google Search Console goes live with new consolidated view
Many Old Google Search Console Features to Be Turned Off to Make Room For the New 
Towards the end of March, Google will be turning off some of the older aspects of the old Search Console to make space for a number of new and improved features. According to Google, the old Crawl Errors report will be removed, and a new report introduced that allows site owners to more readily identify and address site indexing issues, and the crawl errors API will follow pending a replacement (which users will be informed of directly). Also, the old sitemaps report will be turned off, and Google is directing site owners to use its new URL inspection tool to fetch as Google. Additional old features that will be shuttered to make way for the new include user management, the structured data dashboard, HTML suggestions (with no replacement), Property Sets, Android Apps, and the blocked resources report. For now, the disavow will remain as is.
Sources:  Focusing on the new Search Console;  Google May Drop The Old Search Console In March;  Google Officially To End Some Old Search Console Features
Security Issues Tab Within the New Google Search Console
Google has moved the security issues feature from the old Search Console to the new, posting on Twitter: "We hope you don't need to use a Security Issues tab in the new Search console, but if you do - this tool helps you find & fix hacking & malware on your website." The new section appears as "Security & Manual Actions" in the new Search Console sidebar, instead of just "manual actions".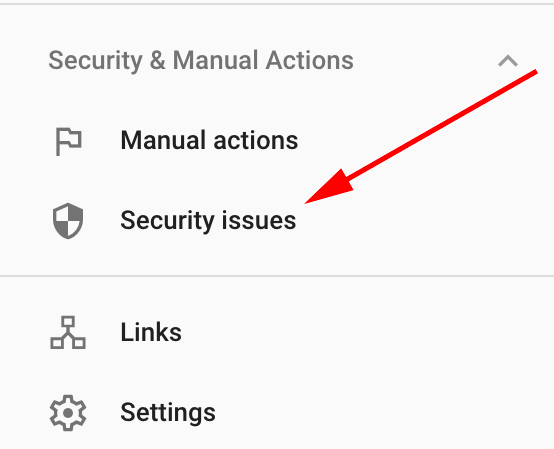 Sources:  Twitter: Google Webmasters;  New Google Search Console Ports Security Issues Section
Google Reminds Users of Google+ Shutdown
Google released a reminder that it is shutting down Google+ (G+) for consumers on April 2nd. G+ accounts and any G+ pages created will be deleted (as well as photos and videos on G+ pages and in Album Archives), although content can be downloaded and saved provided its done before April. In its reminder, Google said that as early as February 4th, users will no longer be able to create new G+ profiles, pages, communities, or events. G+ community owners and moderators also will be able to download and save their data, including author, content, and posts. 
Source:  Shutting down Google+ for consumer (personal) accounts on April 2, 2019
Stack Packs: A New Lighthouse Feature in Development
Google announced it is developing a new Lighthouse feature, Stack Packs. Once available, this feature will provide performance, accessibility, and other audit data to developers requiring specific stack-based recommendations, such as those that use CMS or JavaScript technologies. According to Google, it is starting with WordPress and will expand to other popular and CMS and JavaScript frameworks such as React and Angular. As always, Google is requesting feedback from the members of the SEO and development community on its new feature.
Sources:  Prototyping Stack Packs for Lighthouse
New Data Protection Functionality
Google recently introduced two new updates to keep users' data secure not only on its own sites and apps but also on third-party apps that users sign into via their Google Sign In. The Password Checkup Chrome extension triggers an automatic warning that suggests that you change your password if Google detects that a username and password on a site you use are known to have been compromised, from its database of over 4 billion. Google has provided four easy steps users can follow to protect their accounts:
Install the Password Checkup extension on Chrome.

Password Checkup icon will appear in your browser bar.

Get alerted when you sign in with unsafe credentials.

Change your password to prevent password hacking.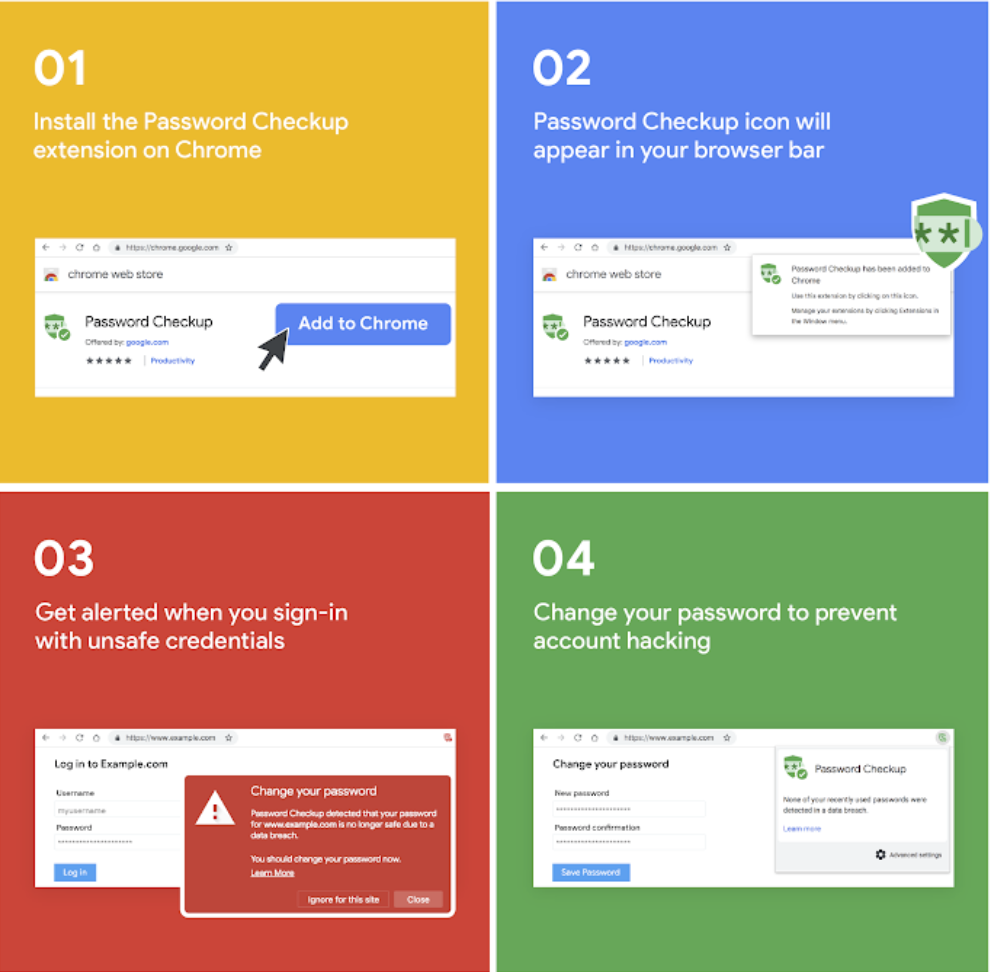 Cross Account Protection is another feature to help you quickly get back to safety in the event when someone hacks into your Google Account through the apps that you use with Google Sign In. What this feature does is send information about security events − like an account hijacking − to the apps and sites that have implemented it to help them take the necessary measures and protect your account, too. To safeguard privacy, Google says it has designed the "security events" to be extremely limited for these third-party apps. According to Google:
They only share the fact that the security event happened.

They only share basic information about the event, like whether your account was hijacked, or if they forced you to log back in because of suspicious activity.

They only share information with apps where you have logged in with Google.
Source:  Protecting your data, no matter where you go on the web
New Warnings in Structured Data Tool
Steve Seeley recently reported on Twitter that he noticed a change in Google's Structured Data Testing Tool (SDTT), namely that it is giving off some extra warnings for new recommendations that were not there before. Aaron Bradley confirmed that Ryan Rodden also had observed the new product warnings. Rodden had previously posted the following (as well as the screenshot) in the Google Semantic Search Marketing Forum: "Today I noticed that the Google SDTT is showing additional recommended fields that it did not show previously (to my knowledge). I am fairly certain most of these were not flagged in the past."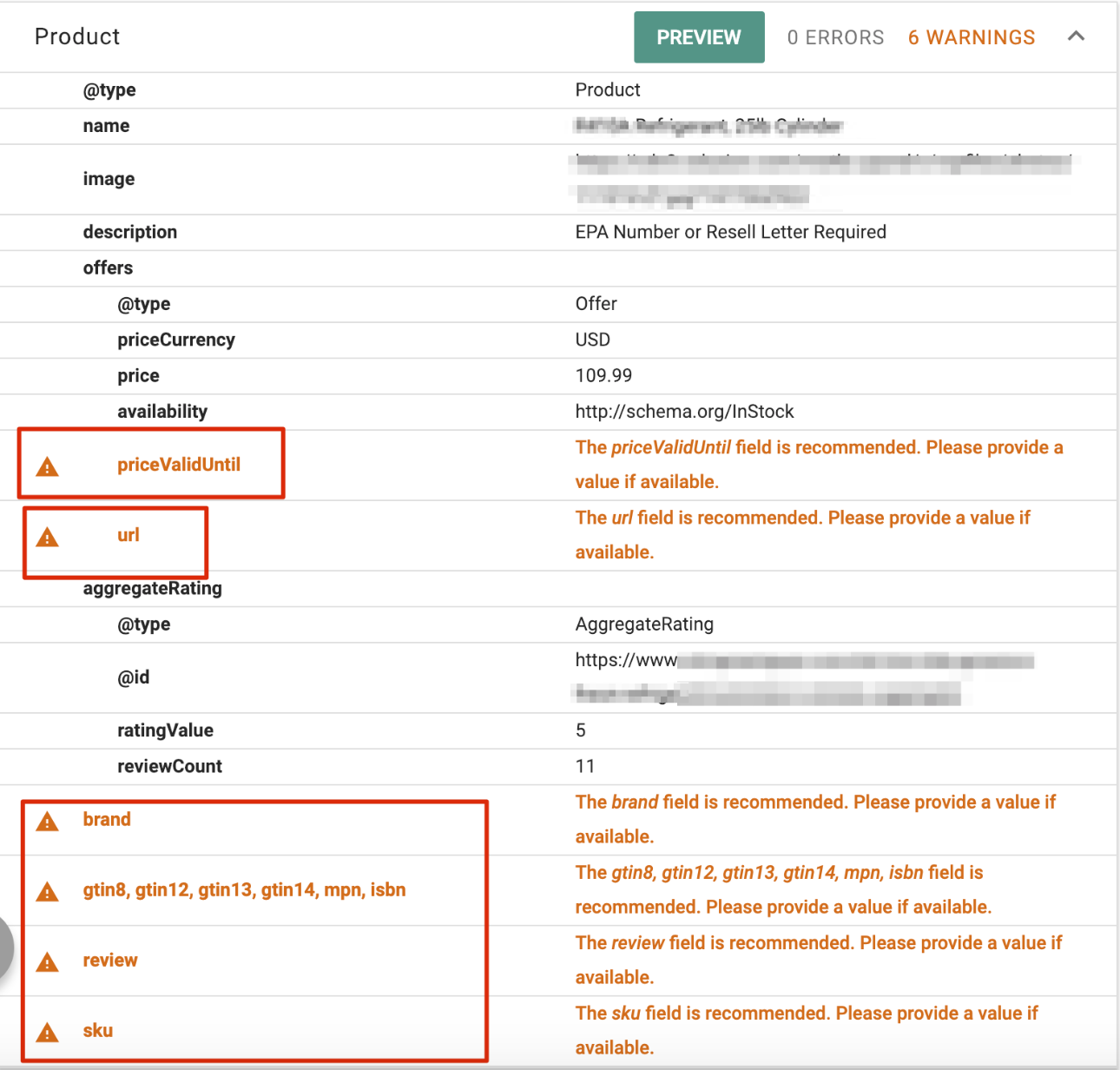 Sources: Twitter: Steve Seeley;  Google Semantic Search Marketing Forum
The Launch of A Lighthouse Report Based Game Project
Martin Schierle, a Mobile Solutions Consultant at Google, recently announced the launch of "The Performance Game", a personal side project based on Lighthouse report, on Twitter. The Performance Game visualizes page performance while it runs the test in the back end. Various asteroids fly in different directions, representing things like wasted resources, based on your Lighthouse audit. The game is designed to show how your site performs in terms of load time and other SEO factors. The better your Lighthouse Score, the more powerful your blaster becomes (which you can use to blast the oncoming asteroids). At the end of the game, you can review your actual Lighthouse scores.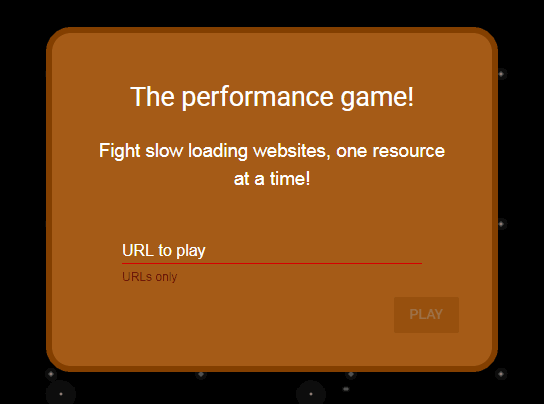 Source:  Twitter: Martin Schierle;  Googler Creates Game Based on Google Lighthouse Scores
Introducing Google Docs API
The long-awaited Google Docs API is eventually here. The feature now allows apps automate many of the processes they used to perform manually, such as read and write documents programmatically from a user- and system-provided input. By and large, REST API is meant to help create documentation in bulk, manage content and workflows, from invoice generation to easy doc content imports and exports to contract workflows. Basically, Google Docs's API takes companies' automation initiatives further - the API takes care of many of the routine tasks by allowing users to only use Google Docs.
Source: Using the API
Google's Q4 Results and Future Plans
Google announced its fourth quarter and fiscal year 2018 results on February 4th. As per the earnings call, Google's revenue growth increased to $39.1 billion in the last quarter, up 22% compared to the same period in 2017. Of this revenue, $27 billion came in through Google's properties (sites and apps) and $5.6 billion from Network revenues, which were up 31 percent. Touching upon where the company potentially sees better opportunities in the days to come, Ruth Porat, the Chief Financial Officer at Google, remarked:
"With great opportunities ahead, we continue to make focused investments in the talent and infrastructure needed to bring exceptional products and experiences to our users, advertisers, and partners around the globe."
On the earnings call, executives pointed to the future areas where focus is most needed, as well as discussed several updates, features, and programs relevant to search marketing − from AI-powered search features and smart campaigns for small businesses to shopping and Google Home Hub holiday activations. 
Source:  5 takeaways from Google's Q4 2018 earnings for search marketers