And another installment of our Google News digest is here! With so much information coming out of the latest Pubcon in Texas and big announcements from Gary Illyes, we certainly have a lot to discuss – is Mobilegeddon just around the corner? And what about content? Apart from Pubcon, these last few weeks saw Google push its AMP agenda even further and, of course, Google's big launch on Product Hunt with its Hangouts Chat, the biggest Slack rival for now.
I cannot even sum up all the news in one introduction, so just fasten your seat belts and prepare yourselves for a lively discussion on our Search Marketing Scoop podcast with JD Prater, the Director of Growth Marketing at AdStage, and Kristine Schachinger, CEO at Sites Without Walls.:
[podcast-subscribe]
We certainly couldn't cover it all in our live discussion, so just dive right in to learn about the latest Google updates and news – there is a lot to take in!
---
GOOGLE SEARCH NEWS
Fasten Your Seat Belts for Mobilegeddon
This year's PubCon made lots of news. Gary Illyes shared some updates on the long-awaited mobile-first index – in the upcoming weeks, we will see more and more sites subjected to Mobilegeddon. The rollout started back in October 2017, but only a few sites were being tested. It is still unclear when the entire Google web space will operate under the mobile-first banner.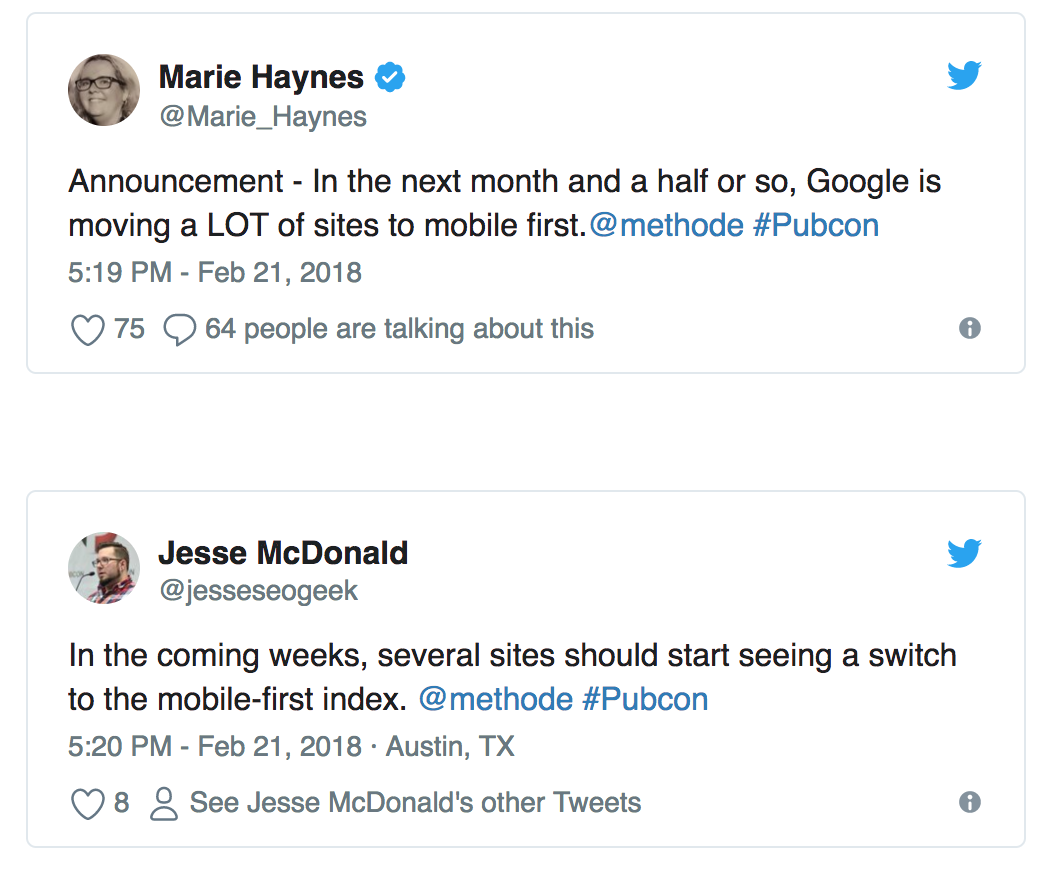 Source:  Google Mobile First Index Expanding Within Next Several Weeks
When Order, Placement, and Position Matters
You may think it's old news, but when Gary Illyes says something at Pubcon, it is worth listening to. So, he officially confirmed that your mobile rankings could depend on the ordering of your content and its position on the page. And this has nothing to do with your HTML, as Google can render the way your page actually looks and detect whether your content appears at the top or bottom of the page.
Source: Google Says Content Order, Placement and Position Matters
Multifaceted Featured Snippets for Multi-Intent Queries
Google introduced a new type of FS – Multifaceted Featured Snippets. This type of FS pops up when the query can imply various interpretations, and, thus, may require a different answer. A multifaceted FS will only appear when the query might be vaguely interpreted. For instance, when we enter "tooth pain after filling" into the search bar, we might either be asking, "Why is the pain after a filling not going away?" or "How long does the pain normally last?" Thus, Google will show a couple of possible interpretations of the query, while the SERP will display two or more Featured Snippets – one for each possibility. Multifaceted Featured Snippets are now available on mobile search, and they will soon appear on desktop.
Sources: Google Search Update: Featured Snippets for Multi-Intent Queries;  Providing More Comprehensive Results to Your Questions in Search
Google Introduces a New SERP Format – Breadcrumb
Google rolled out a new search results format for desktop that is unofficially called the Breadcrumb SERP. A Breadcrumb is a set of results at the top of SERPs that appear as a carousel of results. It shows up for informational queries, like "Who are the presidents of the United States?" We have heard no official confirmation from Google, so it is unclear which countries will see breadcrumbs on SERPs and whether this format will be used for the majority of results. We can assume that the experiment has mostly to do with the mobile-first index and is aligned with Google's mobile-optimization efforts.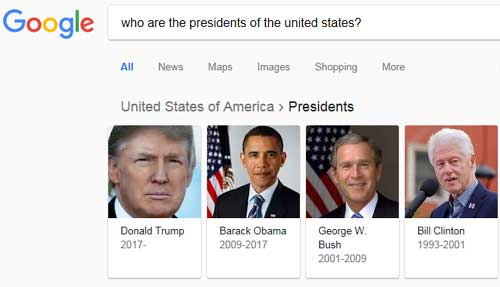 Source: Google Introduces Breadcrumb SERPs
Google Introduces AMP Stories and AMP for Email
Google introduced two new formats for its AMP project – Stories and Gmail. Let's dive right in.
AMP Stories
It appears that the Stories format is staying with us for good – starting with Instagram and AMP. AMP Stories is a new visual storytelling format for publications that emphasize visual components – images and video. AMP Stories has a preset, yet flexible set of templates with standard UI settings, along with social sharing buttons. AMP Stories come in a carousel format.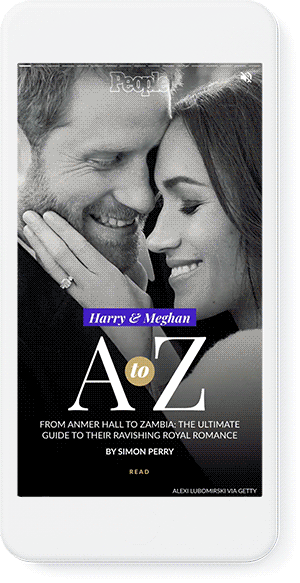 AMP for Gmail
On top of AMP Stories, Google introduced one more addition to the AMP family – AMP for Gmail. The feature has so far only been available to developers in the preview mode and will be fully rolled out at the end of 2018. AMP for Gmail will enable the creation of interactive emails that allow receivers to engage with the content right from within the email (for instance, to fill in a form). AMP will be available across various email clients.
Sources: AMP Stories: Bringing Visual storytelling to the open web, Create a Visual AMP Story, Bringing the Power of AMP to Gmail
Ads and AMP: A Match Made in Google
About a year ago, Google started automatically converting HTML ads to AMPHTML when they were displayed on AMP pages. By now, more than 31 million domains have gone for AMPHTML. Recently, Google also supported this initiative with Real-Time Config to support Fast Fetch (a mechanism that allows faster ad rendering on AMP pages). According to Google, AMPHTML ads load up to five seconds faster than non-AMP ones and are more secure. These ads are not only available for AMP pages, but also for normal ones, so there is no need to create an AMP page to use AMPHTML ads.
Source: Ads and AMP: Year in Review and Looking Ahead
AMP Landings Available on Instapage
A landing page creation service, Instapage, is the first-ever platform to offer AMP-optimized landing pages. Instapage partnered with Google to make this feature available to its users. Currently, AMP-powered landing pages are only available for mobile pages, but the company plans to also make the technology available for desktop pages. AMP landings will not support HTML/CSS and JavaScript, yet despite these restrictions, these pages will be indistinguishable from typical landing pages.
Source: Breaking: We're Partnering With Google to Create AMP Landing Pages
A New "Trending" Tag on Knowledge Panel
Google added a "Trending" tag to the Knowledge panel for celebrities, companies and local places on desktop SERPs. Upon clicking the tag, you will see results for that particular query.
Source: Sergey Alakov
Google Added a "Directory" Tab to Local Knowledge Panels
Google included a new "Directory" to Local Knowledge Panels for shopping malls. You can now find out what specific shops/offices are located in a particular shopping mall right within the Knowledge Panel. So far, the tab has been spotted on SERPs in the US and Canada.
Source: Sergey Alakov
"People Also Search For" Gets Its Final Look
Google revamped the look of its "People Also Search For" box on desktop. The first tests started in July 2017, and now the final look is here. Google's suggestions are now situated right below the snippet they relate to. The suggestions don't always pop up at the initial search, but to trigger the new "People Also Search For" box, you have to click on the search result, then go back to the SERP.
Here is what it looks like: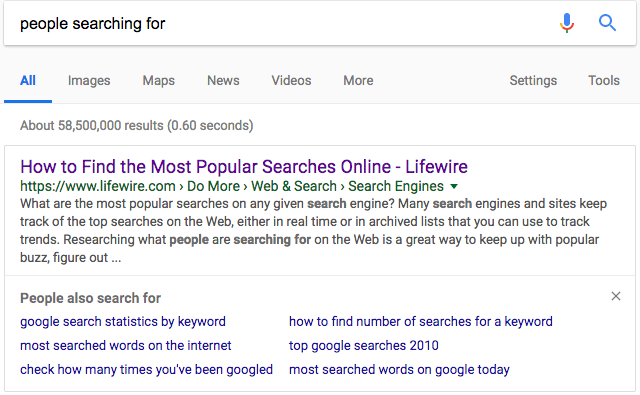 Source: After Months of Testing, Google Launches People Also Search for Box
Multiple Images in Featured Snippets
Google started testing the use of multiple images in Featured Snippets. Some users from the US and the UK spotted the feature. Let me remind you that Google has recently published a comprehensive guide on Featured Snippets in which you can find all the possible ways they can appear on a SERP, and how they can change in relation to desktop, mobile, and voice search.
Source: Google Tests Multiple Images in Featured Snippets
Google Partners Up With Getty Images
Google struck a licensing deal with Getty Images, a global visual communication company. The partnership follows a long-standing copyright and antitrust quarrel between the two giants. According to the licensing agreement, Google can officially use Getty Images' content within any of its services and products. The biggest issue was that users could easily access Getty Images' visual content via Google's image search. And now Google will make sure that copyright disclaimers on Getty Images visuals will become more prominent.
Source: Google, Getty Images Enter a Multi-Year Global Licensing Partnership
Google Withdraws Some Features from Image Search
There has been a slight change to Google's image search. You can no longer expand an image's size from within the search results, and the Related Images feature has also been withdrawn. Yet, the "Visit" button remains intact, so you can always put an image in its intended context.
Source: Google SearchLiaison
Canonical URL Redefined
Google has renewed its Support page chapter dedicated to canonical URLs. It has clarified how the search engine evaluates canonical URLs. What is important is that Google has officially confirmed that specifying canonical pages in your sitemap is less important to Googlebot than the "rel=canonical" attribute.
Source: Consolidate Duplicate URLs
---
GOOGLE ADS NEWS
Keyword Planner Gets a New Look (+ New Features)
Google AdWords' updated Keyword Planner now comes with a new package – a more user-friendly interface is enriched with an expanded keyword search, stats, and campaign-efficiency forecasting. More detailed information on the new features of Keyword Planner's fresh interface can be found on the AdWords support page. It is, however, still unclear which countries and how many users will have early access to test the new Keyword Planner.
Source: AdWords Keyword Planner Update Appears to Be Rolling Out in the New Interface
AdSense's Auto Ads are Available to All Publishers
Google AdSense rolled out auto ads to all publishers. Now every AdSense user can employ machine learning for "smart" ad placement and content monetization. All you have to do is place ad code on every page you intend to benefit from, and the rest is up to Google. The search giant will analyze the structure and content of your page and place a relevant ad right on it. If you feel like machine learning isn't working out well, you can always switch the ad code off in one click on your AdSense account, so there is no need to remove the code.
Sources: Introducing AdSense Auto Ads; About Auto Ads
---
GOOGLE TOOLS NEWS
Is Hangouts Chat is the New Slack?
Google rolled out a new corporate messenger – Hangouts Chat – to all G-suite users. As you probably recall, Google divided its Hangouts service into two separate services – Chat and Meet – back in March 2017. Hangouts Chat was intended for textual message exchange, while Hangouts Meet was for videoconferences. For the remainder of the year Hangouts Chat was in beta, but it is now available for all users in 2018. Hangouts Chat positions itself as Slack's main competitor – you can create channels and use threads for any discussions. Among other things, Hangouts Chat is powered by an extended search functionality, chat filtering options and, of course, integration with other Google products, like Calendar, Drive and Hangouts Meet.
Source: New Ways to Help Teams Work Faster and Smarter with G Suite
New Tools for Site Speed Comparison and Impact Calculation
At the Mobile World Conference in Barcelona, Google introduced Speed Scorecard – a new tool that allows you to compare your site's page speed to other companies'. Speed Scorecard is based on reports from Chrome User Experience, the biggest database that displays data on user interactions with websites. On top of that, Google introduced another useful tool – Impact Calculator, which allows website owners to see how mobile site speed improvements can potentially impact their revenue.
Source: Google Mobile Speed Scorecard: Compare Your Speed Against Other Sites
---
Don't forget to give us a shout on what you think about all the latest Google News. And, don't miss the valuable information in our next  Search Marketing Scoop on Facebook Live that will go live in just two weeks!