With the new year now well underway, Google is rolling out a fresh stream of updates for search users, advertisers, and website owners. Its more notable updates include a new publishing platform for local news ("Newspack"), a new pricing strategy for G-Suite Basic and Business Editions, and the integration of AdWords Express campaigns into the Google Ads platform.
Of course, there are several other Google updates to note, and all are discussed in our Marketing Scoop podcast. We invited Nils Rooijmans, a search marketing consultant, and Michael Fenlon, the paid media manager at Seven Star Digital, to share their thoughts and discuss these developments in greater detail.
---
GOOGLE SEARCH NEWS
A New Mobile SERP Full of Ads?
Google's SERP is almost never the same, with its endless tests and experiments. But a test, spotted by Fibre Marketing, has provoked quite a discussion among the SEO and PPC community. Fibre Marketing shared on Twitter a screen recording, where they caught a new mobile SERP that contained 14 ads on a single results page. In the image below, you can see that the page starts with 4 ads, followed by two organic listings. After these, we can see 7 more ads before getting 6 more organic results, and all of that is wrapped up by 3 more ads.
Of course, this is only a test, and Google will be looking at user behavior when subjected to this kind of mobile SERP experience to validate the "right" amount of ads that can be placed on a search results page. 
Source: Twitter: Fiber Marketing;  Google is Testing Mobile SERPs With Up to 14 Ads
Newspack: a New Platform for Local News
Jim Albrecht, Product Management Director at Google Search, recently announced that Google, in partnership with Automattic and WordPress.com, has invested $1.2 million in a new project called Newspack. Newspack will be included in Google's portfolio of business services as a fast, secure, and low-cost publishing platform that will address the unique needs of small, local newsrooms. With the help of this platform, journalists and reporters struggling with the technical and business problems of new digital publications will be able to write stories and cover their communities without having to worry about designing websites, building commerce systems, and configuring CMSs.
It should be noted that the core objective of Newspack is not to be a one-size-fits-all platform for all publishers. Rather, its focus is on helping small publishers succeed. Google likes to call the upcoming Newspack "an opinionated CMS," because, in Google's view, it would know the right thing to do, even if publishers do not. As per the search engine giant, the development process for this project begins in the coming weeks, and the platform will be made available to publishers globally later in the year.
Source:  Stop the presses: How a new publishing platform can help local news
Speed Camera Warning on Google Maps
Google is rolling out speed limit and speed trap warning features on its mobile Maps navigation app that will help drivers see speed limits and spot hidden speed trap cameras. As first reported by  Android Police, the speed limits on Google Maps will be displayed on the lower left side of the screen, and the speed traps with a small camera icon on the visible area of the map.
The camera icon will be accompanied by an audio notification when drivers are approaching a speed trap, according to AndroidPolice's source. However, as reported by  Mashable, these new Waze-like features are only available for users in a limited number of countries. The speed limit feature will work in the U.S., U.K., and Denmark, while the speed cameras will be rolled out for users in the U.K., U.S., Australia, Brazil, India, Russia, Indonesia, Mexico, and Canada. We are not sure if and when Google is going to make them available for all users globally.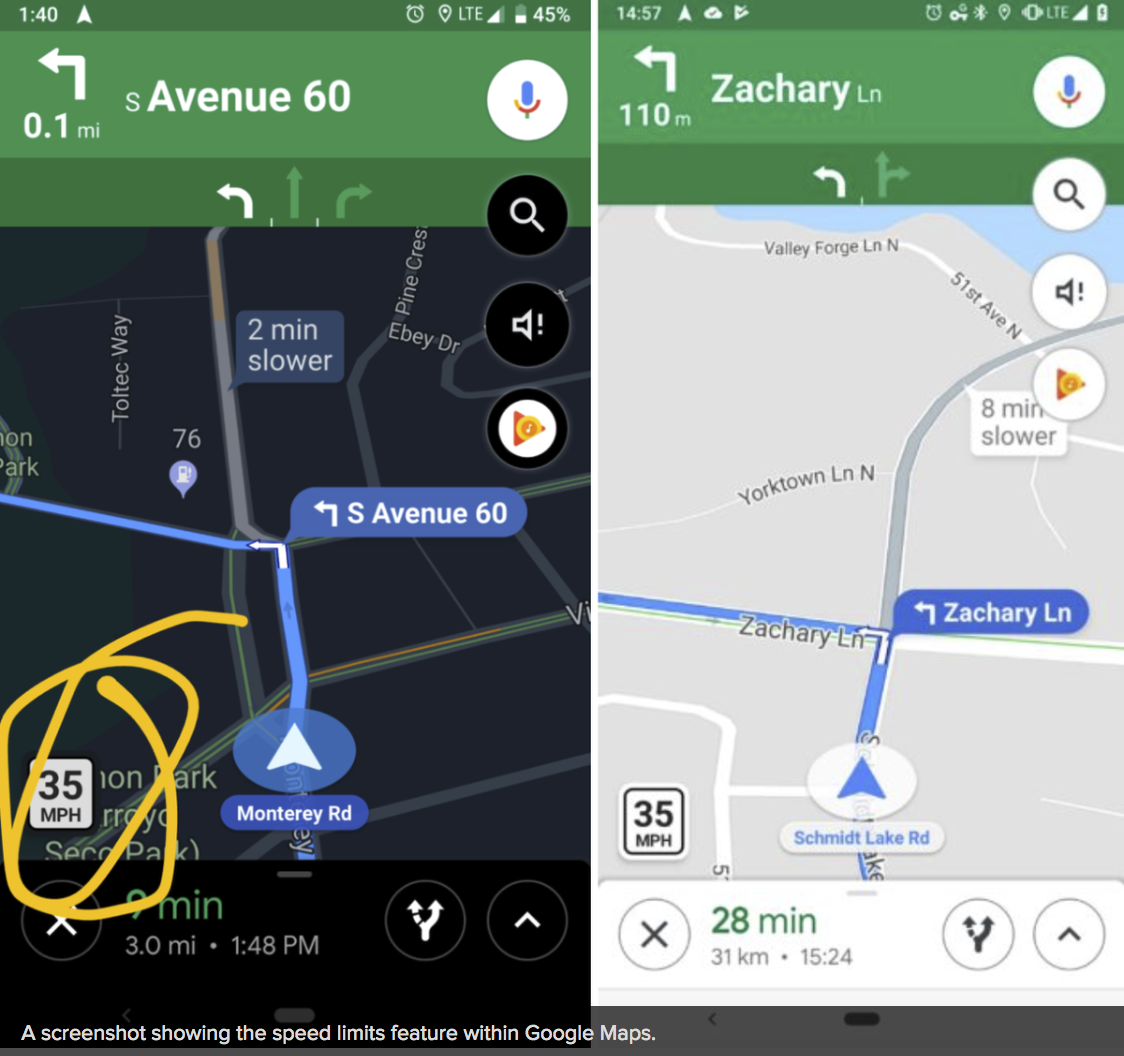 Sources:  Google Maps wants to help you avoid that speeding ticket; Google Maps speed limit feature goes live for some across the United States
New Featured Snippet Based on PDF Content
Google is now showing PDF content as featured snippets in its search results. Previously, featured snippets were pulled solely from website HTML content. As reported by Search Engine Journal's Matt Southern, this is the first time we have seen this happen. From an SEO perspective, this means a slight reshuffle in strategy as PDFs are going to carry more value now than they used to, and SEO efforts that went into optimizing HTML content for featured snippets may now apply to PDFs. Kevin Indig appears to the first to notice this update on Google; he shared a screenshot via  Twitter.
Source: Google is Creating Featured Snippets from PDF Content
Registering Companies Without a Physical Presence in Google My Business
Google recently announced the introduction of new features for service area businesses on its Google My Business (GMB) platform. Smaller business owners without a physical street address can now share their local service areas and other business information on Google Maps and search results pages. Existing GMB users can edit their business information directly from their GMB dashboard where they can find separate options for editing "service area" and "storefront address".
For businesses registering with GMB for the first time, Google will guide them through the setup process which starts with the question: "Do you want to add a location customers can visit, like a store or office?". Business owners proceeding with the answer "No" are routed down a path where they can add specific service areas their businesses profile. With this update, Google says it hopes businesses will better connect with their potential customers in different geo-target locations.
Source:  New features for service area businesses on Google My Business
GOOGLE ADS NEWS
Expanded Access to Non-Skippable Video Ads
Up until now, video advertisers had access to a limited range of creative options on Google platforms for video ads. Starting from Jan 22, Google has expanded the access to advertisers to allow them to take benefit from the full range of creative options regardless of how they buy – whether in advance, through Google Ads auction, or via reservation. Google is also bringing non-skippable 15-second ads, which was previously available to advertisers via YouTube reservation only, to Google Ads and Display & Video 360 across Google video partners and YouTube. However, to ensure that user experience is not in any way affected by the presence of ads, Google is going to cap the number of ads a user sees on YouTube. Overall, this will result in a more flexible and intuitive buying experience where all advertisers will have access to all formats and creative options regardless of how they buy.
Source:  Expanding advertiser access to 15-second non-skippable video ads
AdWords Express is Now a Part of Google Ads
Google has announced integrating AdWords Express into Google Ads platform. As a result, advertisers will now be able to access AdWords Express campaigns in Google Ads as 'Smart Campaigns'. By joining Google Ads, AdWords Express, however, is not going to drop any of its existing benefits and Smart Campaigns in AdWords will still have all the same benefits (along with some more improved features). As highlighted by Google, these benefits would include the following:
Create an online ad quickly and easily.

Pay only when people click your ad.

Attract more customers to your website or Google Maps listing.

Minimal ongoing management necessary; Google Ads runs your ads for you.

Reach customers on desktop computers and mobile devices (such as mobile phones and tablets).

Review the effectiveness of your ads in your dashboard.
Besides, AdWords Express campaigns (now labeled as Smart Campaigns) will provide advertisers with important features like campaigns overview, critical account alerts, verified calls, map actions, Google Analytics, ad scheduling, and more.
Sources:  About Smart campaigns;  Google AdWords Express is Now Part of Google Ads
Incentivising Google Partners to Use Automation in Google Ads
Kirk Williams, the owner of ZATO and BHive, reported on Twitter that he received an email from Google about the new incentives in Google Partners experience. The search engine is offering rewards and incentives to Google Partners for using more of Google's automation features in their accounts. The system assigns users reward points (when they turn on things like GDN or Search automation) that can be used to win physical stuff like sweatshirts and mini-fridges.
Kirk argues that Google should consider making these incentives tied to his clients' goals instead of using them as a tool to persuade him (and other advertisers) to use more of their system. He posted his detailed opinion on Marketing Land where he questions, "Rather than give agencies arbitrary incentive points based on the percentage of automation used, why not realign Google's rewards program to include client goals?"

Sources:  Twitter: Kirk Williams;  Google Incentivizing Ad Partners To Use Automation
GOOGLE TOOLS NEWS
Revamped URL Inspection in Google Search Console
Google Webmaster's page on Twitter announced the availability of a new feature in Search Console. The upgraded URL inspection tool in Search Console will now allow users to see things like page resources, HTTP response, JS logs and a rendered screenshot for a crawled page. Here is the GIF Google has shared showing us how to access and see the new features with the URL inspection tool: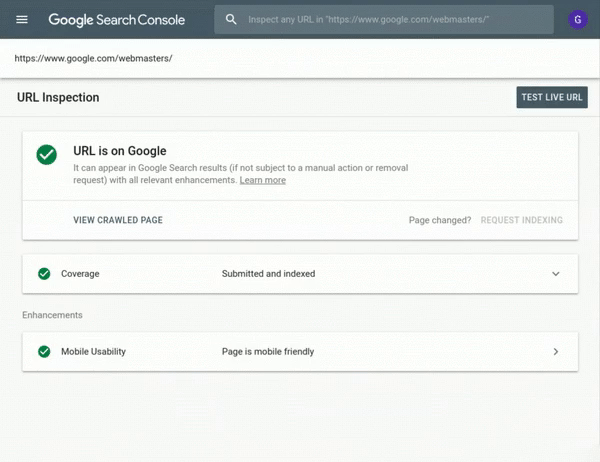 Source:  Twitter: Google Webmasters
Updated Policy on Dangerous YouTube Content
In a recent update on the YouTube community help center page, Google notified their users of new changes in their policies on harmful and dangerous content. Accordingly, any activity carried out to create YouTube content that presents an apparent risk of death, injury, or bodily harm (such as a child participating in dangerous challenges) will not be allowed on YouTube anymore. Dangerous or abusive pranks causing emotional distress to children and pranks that lead victims to believe they are in physical danger are likewise not allowed.
Also added to the list of banned content are videos intending to sell regulated or illegal goods and services through direct sales or links to sites that sell these items. As per Google, "these items include, but may not be limited to, drugs, pharmaceuticals that require a prescription, alcohol, nicotine products, online gambling casinos, counterfeit documents, or stolen credit card information."
Videos that consist of dangerous acts (with their primary purpose being something other than educational, documentary, scientific, or artistic) or illegal activities will also not be allowed to post on YouTube. Google indicates the following to be some of the examples:
Instructional bomb-making.

Challenges that encourage acts that have an inherent risk of severe physical harm.

Pranks that make victims believe they're in physical danger.

Pranks that cause emotional distress to children.

Hard drug use.

Other acts that may result in serious injury.
Source:  Policies on harmful or dangerous Content
Advice for Publishers to Succeed in Google News
Google has rolled out a success guide for news publishers within Google News, hoping to help them succeed in 2019. As a general piece of advice, Google suggests news publishers consider the content and technical guidelines available within the Google News Publisher Help Center. Google highlights a few best practices pertaining to headlines and dates, duplicate content, and transparency along with more tips on structured data, user data protection, link scheme temptation, etc.
For headlines and dates, Google advises presenting clear headlines and accurate times and dates as they are the signals Google News looks at.Duplicate content indicates scraped, rewritten, or republished materials which are not appreciated and allowed by Google News. Therefore, publishers are advised to block scraped and rewritten content, completely avoid duplicate content, and block or consider canonical for republished content. Google News content guidelines also require publishers to maintain transparency as it is what drives visitors' trust in the search engine's view. Visitors want to know who is behind a post on a news site, and so the content should include clear bylines, information about authors, and contact information for the publication.
Source:  Ways to succeed in Google News
New Pricing for G Suite
Google announced a new pricing strategy for G Suite in the form of two incremental list prices. As per the new plan, G Suite Basic Edition will increase by $1 (from $5 to $6 per user/month), and G Suite Business Edition will increase by $2 (from $10 to $12 per user/month). These increases will apply globally and will go into effect on April 2, 2019. For existing G Suite Basic or Business edition customers on the Annual Plan, "the new prices will go into effect the first time their plan renews on or after April 2, 2019." Google mentioned that current contracts or any renewal events prior to April 2, 2019, will not be impacted by these changes per se.