Every two weeks, we share the top news and updates that Google rolls out for advertisers, marketers and the users of Google tools. From Google Suggest navigational buttons within Google's Featured Snippets to the introduction of Optimization Score in Google Ads to the newly introduced features in the new Google Search Console, there are a bunch of updates to look into and talk about.
Also, don't forget to tune in to our weekly Search Marketing Scoop podcast on YouTube Live. Our expert guests  Lukasz Zelezny, the Director of Organic Performance at ZPG Plc, and Elizabeth Marsten, the Senior Director of eCommerce Growth Services at CommerceHub, took out the time to discuss every important update in detail in the hope that we will help our listeners keep up with the latest progress and updates from Google.
[podcast-subscribe]
---
GOOGLE SEARCH NEWS
Forum Posts' Preview Available on SERP
Marie Haynes recently noticed Google showing a preview of forum posts in the search results. Although it seems to happen only with websites that have explicitly opted-in to the format, the feature might keep many users from clicking through the pages to find information. This is because via the previews they are likely to see the potential answers they need right from the SERPs, and may not feel the need to click on the source page to find a response.
If you run a forum site, this is something scary. Google is now showing a preview of forum posts making it unnecessary to click through in many cases. pic.twitter.com/UAL0wrh5qw

— Marie Haynes (@Marie_Haynes) August 14, 2018
Source: Twitter
Google My Business Menu & Services Editor Rolls Out Worldwide
Google announced the availability of the Menu and Services editing feature in Google My Business. Businesses like restaurants and hair salons may now use this feature to add menu items or services along with descriptions and prices. Customers searching on Google will now see these items listed under the "Menu" or "Services" section of the business listing. Currently, this feature is only available to Food and Drink, Health and Beauty, and Service-related businesses.
Source: Menu and Services Editor Now Available in All Countries
Google Suggest Buttons Within Featured Snippets
Google appears to be testing Google Suggest navigational buttons in the SERPs to suggest more specific results for search queries that have other nuanced variations. The featured snippets seems to be appearing in bubble-shaped buttons format that users can click on to find a more specific response for their search query. Although Google still hasn't officially announced its availability for searchers, this kind of featured snippets seem to be appearing in more searches. Here is how the new navigational buttons appear: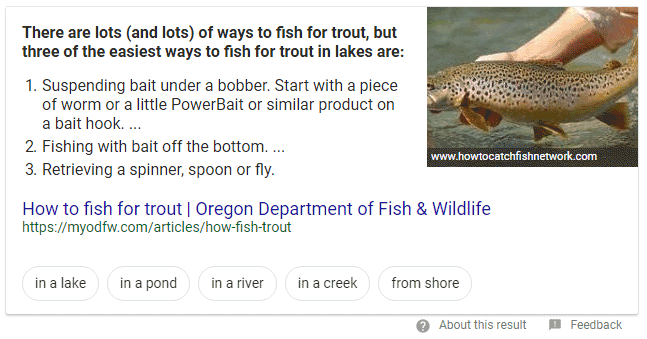 Source: Google Expands Featured Snippet
GOOGLE ADS NEWS
Cookie-based Experiments on Google Ads
Google has rolled out a new update to Campaign Experiments called "cookie-based splits". The new feature will allow advertisers to create dedicated user tests and control groups. This option means that if a user (mapped to a test group) performs a certain number of searches, all the searches or some of these could be subject to test treatments, depending on the split option one chooses. Google breaks down when to use cookie-based splits versus search-based splits in the source below.
Sources: Create Dedicated User Test and Control Groups With Cookie-Based Experiments; Twitter
Google Ads Report Editor Supports Time Comparison
Google has announced a new time comparison feature in Report Editor charts which will allow advertisers to better visualize their campaign performance. Report Editor users can now chart performance for two different time periods, such as week over week, month over month or other date range. It appears that Google considered rolling out this new update in response to the Report Editor users' request for enabling a chart performance that could present separate data from two different time periods.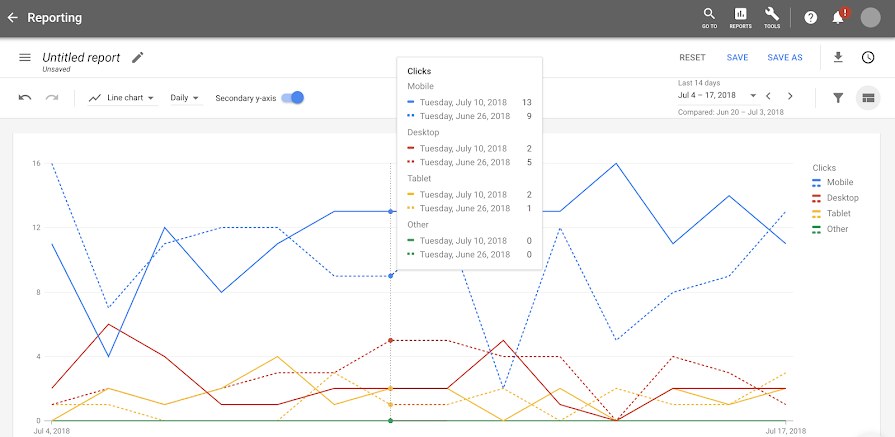 Sources: Chart Time Comparison Data in the Report Editor; Twitter
Google Ads Introduces Optimization Score
Google looks across different vital aspects of Google Ads campaigns and evaluates how well-optimized they are in order to come up with recommended actions (if there is room for improvement). The recommendations page now includes a new feature, called optimization score, that runs from 0% to 100%, with 100% indicating that an account performs at its full potential.
As mentioned in Google's official post from August 2, the optimization score includes several aspects of a campaign including "bids & budgets, ads & extensions, keywords & targeting, and repairs." The score is calculated in real time based on factors like statistics, settings, the status of an account and campaign, relevant impact of available recommendations, recent recommendations history, and trends in the ads ecosystem. However, it should be noted that Google doesn't show the recommendation score for all campaign types; it is available for active search campaigns only.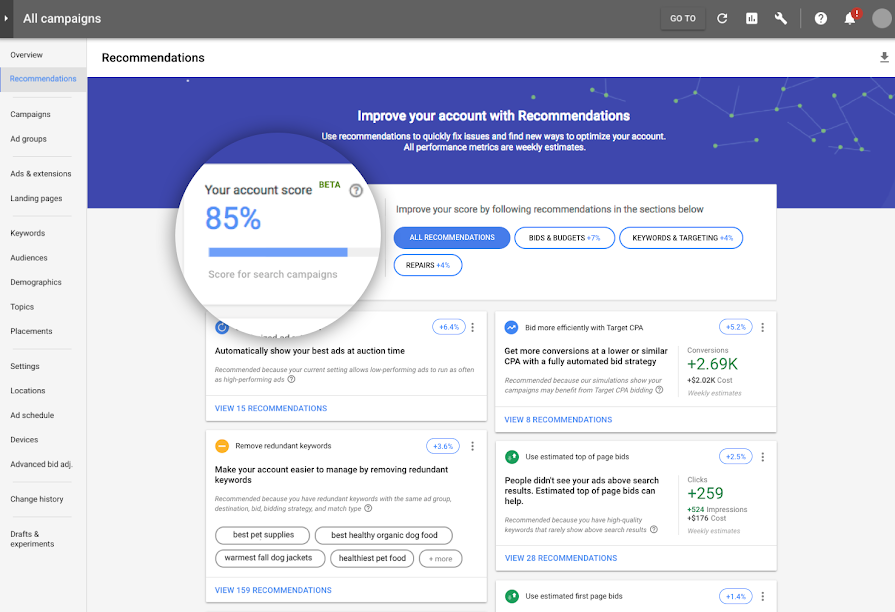 Source: Use Optimization Score to Guide Your Account Optimisations
Responsive Search Ads Available to More Advertisers
Google announced the launch of responsive search ads for more advertisers in English, French, German, and Spanish languages, with other languages to follow soon. Google believes that responsive search ads will give advertisers more room to convey their message as they use the power of Google's machine learning to help "deliver the best ad for any search query." Google also goes on to mention that, starting in late August, advertisers will be able to add a third headline and second description to their text ads, with the description limit going up to 90 characters.
Source: Deliver More Relevance With Responsive Search Ads
Multi-Factor Authentication in Google Ads
For the administrative users of Google Ads accounts, Google has announced rolling out a new feature that requires a new multi-factor authentication policy to be enabled in the form of 2-Step Verification. Once this new authentication policy is enabled on Google Ads accounts, it will require all the users to have their Google accounts enrolled in 2-Step Verification before they could gain any access to the accounts.
Failing to do so will result in the "AuthorizationError.TWO_STEP_VERIFICATION_NOT_ENROLLED" error. This new security feature is meant to ensure that only strongly verified users can have the necessary access to Google Ads accounts. Note: Google account users can enroll their accounts using the "Advanced Protection" feature as an alternate option.
Sources: Multi-Factor Authentication Policy for Google Ads Accounts; Google Ads Account Admins Can Require Multi-Factor Authentication for All Users
Targeting Updates in Google Ads
Google is going to roll out new updates to mobile targeting and exclusion starting in September 2018. These updates, once they go live, will help simplify targeting and exclusion controls for Google Display Network ads on mobile devices. As a result, Google hopes that advertisers will see "a significant increase in mobile apps or mobile web traffic" due to the ads' ability to easily reach the growing base of mobile users.
These changes will include the depreciation of "adsenseformobileapps.com" placement exclusion and "G-mob mobile app non-interstitial" content exclusion to allow more app traffic from this category. Google will also simplify device targeting by consolidating it into 3 device types: computer, mobile, and tablet.
Source:  Prepare for Updates to Mobile Targeting and Exclusion
Google's Political Ad Transparency Report & Library For More Accountability in Election Ads
Google has rolled out its first political ad transparency report and political ad library to offer more accountability around election ads. The search engine giant had first announced updating its political ad policies in May and is now sharing its transparency report and political ad library with the public. The political ad transparency report contains information about the money spent on political ads by the states and Congressional districts in the US, as well as a list of top political advertisers with their ad spending on Google.
The political ad library provides an archive of political ads that ran on Google from May 31, 2018, forward. The library also allows filtering the ads based on specific date range, ad spending, number of impressions, or ad types (including video, image, and text).
Source: Google's Political Ad Transparency Report & Library Offers More Accountability Around Election Ads
GOOGLE TOOLS NEWS
Activating Google Signals in Google Analytics
Google is going to introduce a new option to activate Google signals in Google Analytics in the coming weeks. Through Google signals, Analytics users will be able to see additional data about Google users who have turned on Ads Personalization. Based on the aggregated data, Google Analytics also performs behavior modeling for the entire user base across multiple browsers and devices. Google made a point to say that this does not expose data for individual users and the reports only contain aggregated data.
Source: Activate Google Signals
Fresh Features Added to the New Google Search Console
Google recently announced adding three new features to the new Google Search Console. The features include: Managing users and permission directly in the new Search Console, adding sites and validating ownership, and running Mobile Usability report. However, these features have not fully been made available in the Search Console just yet and some users may still have to wait to see them come into effect.
?Freshly released features in the new Search Console:

- Manage users and permissions ⚙️?
- Add sites and validate ownership ➕✅
- Mobile Usability report ? pic.twitter.com/rlHo9iseqk

— Google Webmasters (@googlewmc) August 15, 2018
Source: New Google Search Console Adds Mobile Usability Report, Manage Users & Adds Site Features
New Storytelling Features in Google Data Studio
Mary Pishny, Product Manager at Google, announced the launch of three new features in Data Studio that are aimed at making data story sharing easier, facilitating better, and making more informed business decisions. The features include the following:
Explorer: Brings data analysis together with one click
Data Blending: Helps see data in a single visualization
Google Marketing Platform Report Gallery: Creates comprehensive reports like never before
With the above features launched, Google believes that marketers will be able to quickly gather all their data and "start turning it into compelling visual insights right away."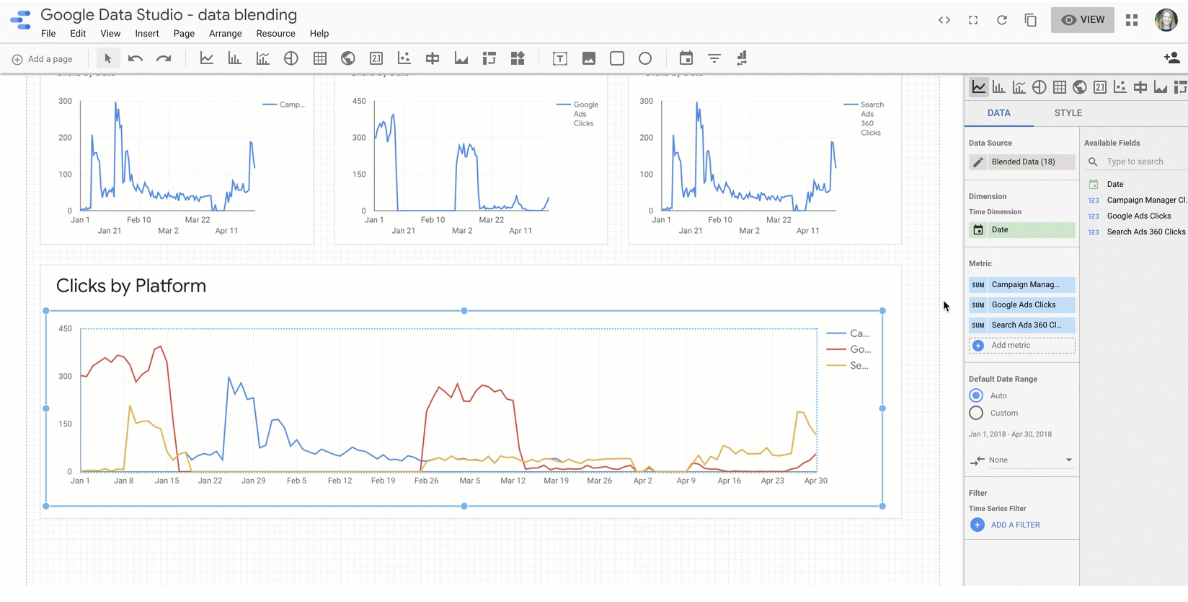 Source: Data Studio's New Features Help You Tell More Compelling Stories
Google Search Console Introduces Its Updated Index Coverage Report
Google has recently rolled out a page that records some known data anomalies and issues in the Search Console that could potentially affect the report data. These quirks in the report charts may happen when, for example, Google changes their data aggregation methods or if there is a logging error. Google has provided a complete list of all the known issues and the dates on which they did/were likely to occur. Such as, on January 24-25, 2018, the Remove URLs Report was undergoing some improvements and it may not have been available for users during this period.
Source: Data Anomalies in Search Console
[ create-campaign bg_images="https://static.semrush.com/blog/uploads/media/9f/4e/9f4eebb206604bf5c4b6b367c17d9e0a/banner-site-audit.jpg" bg_button="-success" header="Check out your website health" text="with SEMrush Site Audit"]