This week's Google News Digest features an unprecedented move by Google to allow site owners to determine their SERP snippet content. Other highlights include its introduction of its own YouTube search news series, updated Google Ads recommendations, and a new version of Google Shopping for U.S. users.
In other news, Pubcon Pro is underway in Las Vegas. Among the notable experts for this year's conference is Google's Gary Illyes, who will address Google's latest algorithm changes, search engine updates, and Quality Rater Guidelines.
GOOGLE SEARCH NEWS
SERP Snippet Attributes
A first in its history, Google recently announced that it will now allow site owners to directly affect the way their pages are shown on SERPs.
According to its announcement, "previously it was only possible to allow a textual snippet or to not allow one." With the introduction of two new settings - an HTML attribute and a set of robots meta tags - webmasters are now able to direct Google to display their content preview preferences in its SERPs.
Here is the list of possible options:
<meta name="robots" content="nosnippet"> –An existing tag that prevents Google from showing any snippet for the page;

<meta name="robots" content="max-snippet:[number]"> – Sets maximum text length in the snippet;

<meta name="robots" content="max-video-preview:[number]"> – Sets maximum animated video preview length;

<meta name="robots" content="max-image-preview:[setting]"> – Image preview size. You can set it to "none", "standard", or "large".

"data-nosnippet" HTML attribute on span, div, and section – Prevents a specified part of an HTML page from being displayed within the textual snippet on the page.
All these changes will take effect by the end of October with the exception of the "data-nonsnippet" HTML attribute, which will be implemented later this year.
Source:  More options to help websites preview their content on Google Search
Updates for Googlebot's User Agent
As many of you might remember, Google announced in May that it had made Googlebot evergreen with the latest version of Chromium (we covered this news in our May 22nd digest).
In keeping with its May announcement that "Googlebot will regularly update its rendering engine to ensure support for [the] latest web platform features", Google recently announced that it will "update Googlebot user agent strings to reflect the new browser version, and periodically update the version numbers to match Chrome updates in Googlebot" in December 2019.
To illustrate, Google compared its present user agent with its new evergreen Googlebot user agent in its latest announcement.
It further discusses how to test your website, and directs webmasters to consult its posts on  Google crawlers (user agents) and (how to)  Fix Search-related JavaScript problems for more detailed information. The announcement also elaborates on structured data, rich results, featured snippets, and the AMP format as they relate to Googlebot's new user agent, with several links to resources.
Sources:  Updating the user agent of Googlebot;  The new evergreen Googlebot
Google Search News Video Series
In an effort to keep key users up to date on what is happening with Google Search, the search giant recently announced its new YouTube series, "Google Search News."
The first episode, hosted by John Mueller, went live in late September and featured such news as GSC updates, new meta-tag attributes for page search previews, and advances in rel=nofollow and related attributes.
Specifically geared towards "SEOs, publishers, developers, and webmasters," Google says that it plans "to make these updates regularly, and adjust the format over time as needed."
Source: Google Search News: coming soon to a screen near you
GOOGLE ADS NEWS
New Call-Only Ads Layout 
Call-only ads that are used to connect mobile searchers with businesses directly by phone now have a slightly changed look.
Google claims that "on average, advertisers with the new call-only ads design have seen a 14% increase in phone calls, a 16% increase in call conversions and better cost efficiencies with an 8% decrease in overall paid clicks."
Source:  Improving call quality with a new look for call-only ads
Report Editor Now Offers Cross Account Analytics
Google Ads' Report Editor now allows users to analyze cross-account data directly in their browser, in real time. According to Google's announcement, Manager account users are now able to analyze cross-account performance with custom tables, charts, and data segments without leaving Google Ads.
While cross-account reporting is currently restricted to users managing up to ten Google Ads accounts, the announcement says that Google plans to increase this limit in the future.
Source:  Easier cross-account analysis with Report Editor 
Google Ads Recommendations Update
A few updates for Google Ads Recommendations were introduced in late September. Here is a quick overview:
Improved relevancy and quality of keyword recommendations, which now include broad match modifiers. 
A recommendations table view that allows users to see how their actions may affect ad efficiency, as well as sort and export data: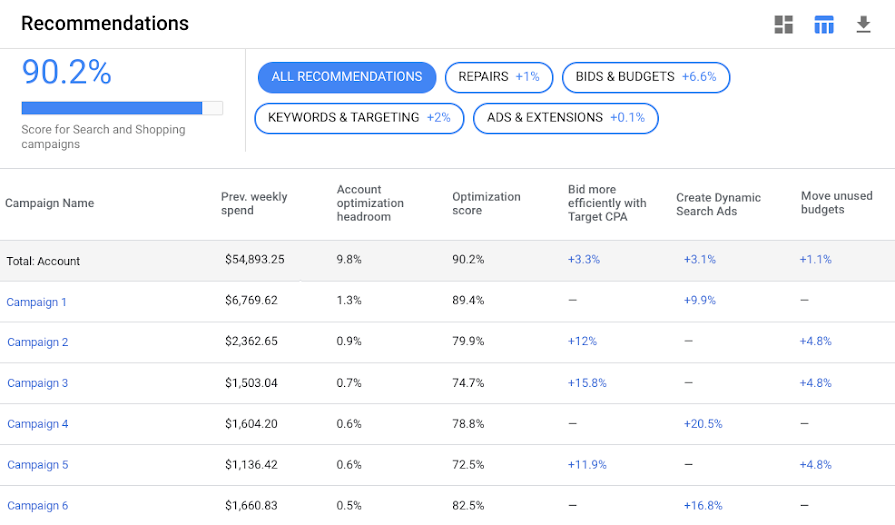 Users can also bulk apply or dismiss recommendations ("at the manager account level"). To learn more about the new features, see Google's  recommendations page.
Source:  Get more from Recommendations with new features
Offline Store Visits in Smart Bidding
Search and Shopping campaigns now have a new Smart bidding option that allows advertisers to optimize for offline store visits as well as online conversions. "Store visits in your Smart Bidding allows you to optimize for total omnichannel performance more holistically, helping you drive better results while saving you time.", says Google.
Source:  Add store visits to Smart Bidding to drive better omnichannel results
GOOGLE TOOLS NEWS
Change of Address Tool is Now Available in New GSC
Google launched its Change of Address Tool in a new GSC interface.
This tool allows webmasters to notify Google of their site address change and get instructions on making this process as painless as possible. 
Source: Change of Address Tool
New Google Shopping for US Users
A new version of Google Shopping is now available in the US. Here are some of the new features:
New design with personalized homepage and recommendations;
Price tracking sends you notification whenever a price for your chosen product drops;
Item search in local stores with price and availability information:
"Buy on Google" allows you to purchase an item without visiting a store's website.
Source:  Find the best prices and places to buy with Google Shopping
Chrome to Block Mixed Content
Insecure http:// resources on https:// sites will soon get blocked by default in Chrome browser. It will not happen overnight; in the following months, new features will be added to new versions of Chrome. In December, the new Chrome 79 will contain a new setting to unblock mixed content on specific sites.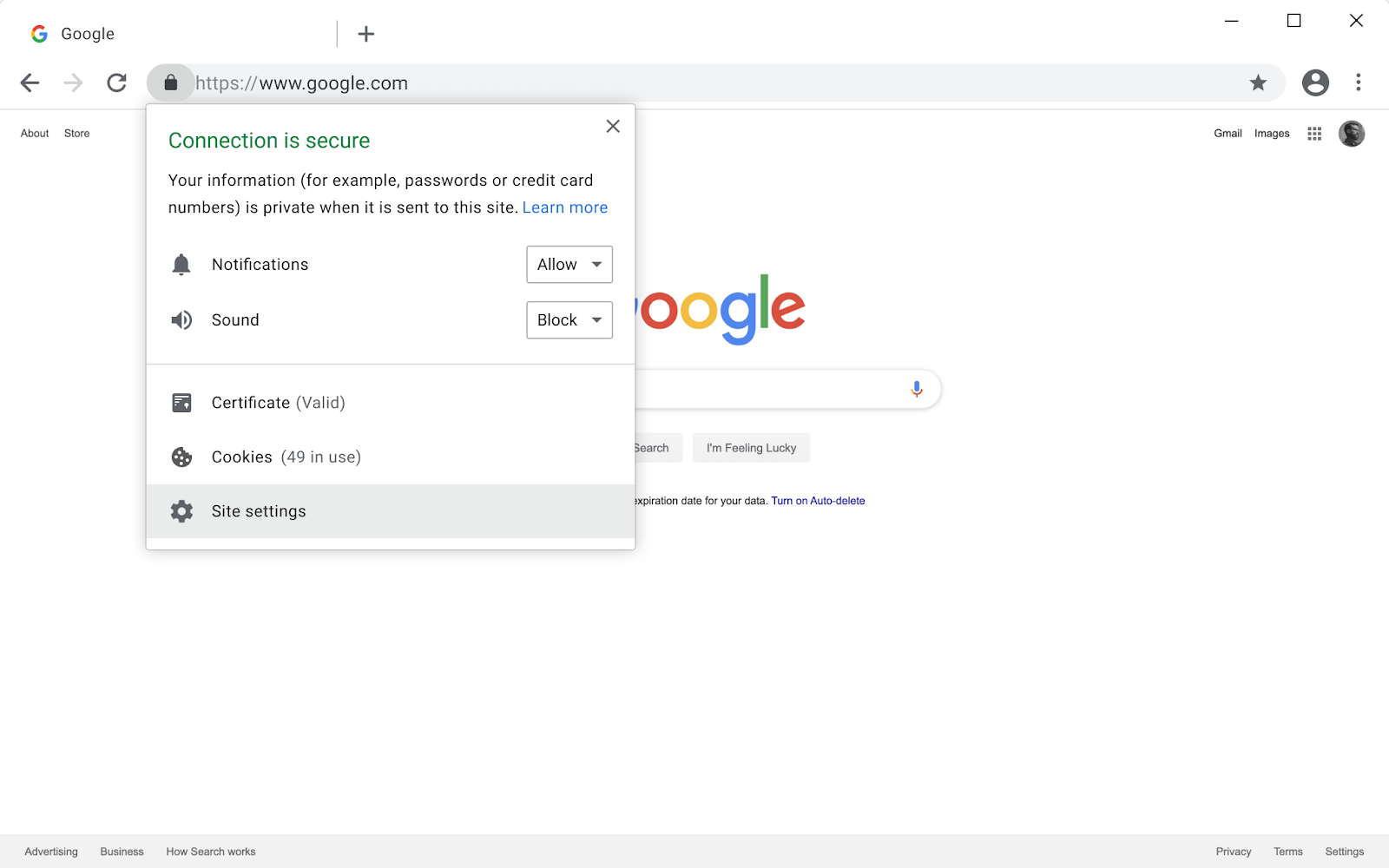 Chrome 80 will start blocking video and audio resources that will fail to load over https://. Mixed content images will not get blocked, but if they load over http://, users will see a "Not secure" notification. In 2020, such images will start getting blocked by Chrome 81.
Source:  No More Mixed Messages About HTTPS
[ create-campaign bg_images="" bg_button="-success" header="Check if your site has mixed content issues" text="with SEMrush Site Audit"]
New Privacy Features for Various Google Tools
There are several new privacy options recently announced by Google, including:
Incognito mode for Maps;
Auto-delete in YouTube;
New Assistant voice commands that allow to delete Assistant activity, e.g. "Hey Google, delete the last thing I said to you" or "Hey Google, delete everything I said to you last week.";
Password checkup for Password manager.
Source:  Keeping privacy and security simple, for you
---
This is all the news I wanted to share with you today. Don't forget to register for SEMrush's first-ever  Global Marketing Day online conference and get a unique chance to learn from industry heavyweights like Google, Walt Disney, BBC, Microsoft, LinkedIn without leaving your home or office. It's great, and it's free!