Remember Olga promised you a big surprise in this new Google Digest? Well, here it is - I, David Bain, am taking over the biweekly column on all the important Google news and updates and will turn it into something more. Apart from the traditional digest, you will get  Search Marketing Scoop – a new podcast on Facebook Live hosted by me. I will entertain guest speakers with whom I will discuss and gossip about all the biggest game-changing news in the Google universe.
So...welcome to Search Marketing Scoop right below. From YouTube's new monetization policies to site speed becoming one of the ranking factors in mobile search, expanded "Mute This Ad" feature to an improved AMP testing tool, our lively conversation with Brad Geddes and Kevin Indig glimpsed into the latest developments in both organic and paid search.
[podcast-subscribe]
Now when you've learned about all the biggest headlines, it's time to get the bigger picture. Read on to stay tuned for all the Google tweaks and updates that were recently rolled out.
GOOGLE SEARCH NEWS
A Revamped AMP Testing Tool
Google added some new features to the AMP Testing Tool. In addition to the good old validation check, you can now see how your Accelerated Mobile Page might look on mobile SERPs, double-check the AMP source code to debug AMP errors and submit the page to Google.
Google will show you three versions of your AMP page:
One AMP story with an image: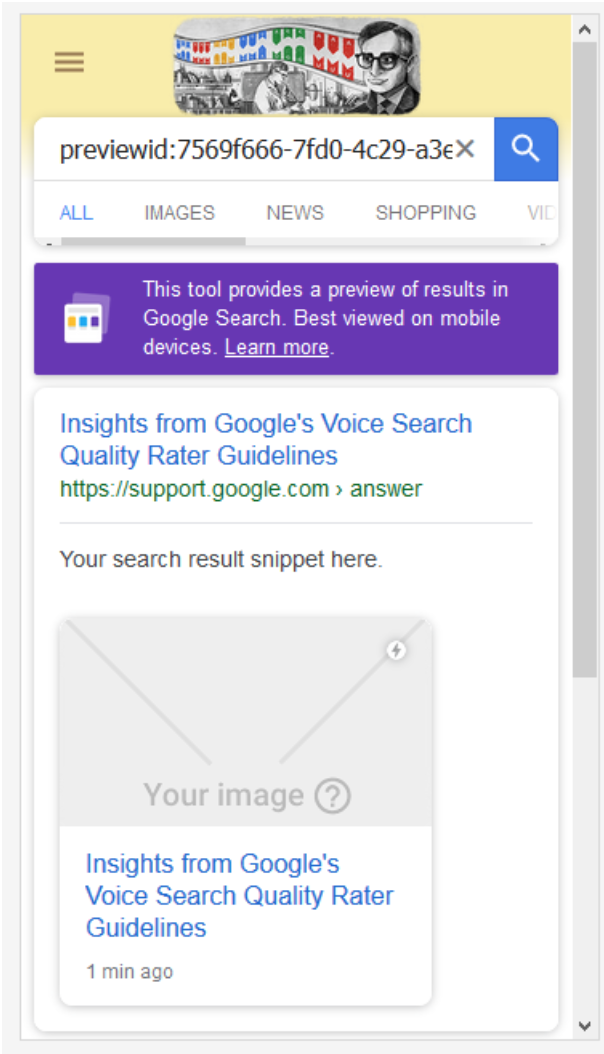 Your AMP page as a part of "Top stories":
Standard mobile search result: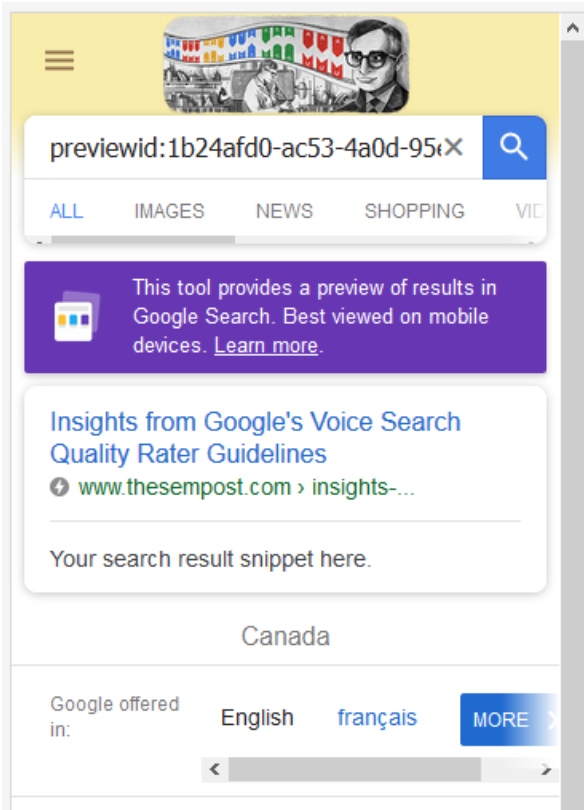 You don't have to have a verified AMP page to use the testing tool. But keep in mind that this test is just a simulation, so don't count on appearing in the number one position on SERPs by simply airing your AMP page.
Source: Google Updates AMP Testing Tool for Multiple AMP Styles & Submit AMP Page 
Speed Update - The New Animal in the Google Zoo
Throughout the previous year, Google was actively putting page speed on everyone's agenda, promoting the significance of high-speed pages. So Google's announcement about page speed officially becoming a ranking factor for mobile search in July 2018 does not come as a big surprise. The "Speed Update" will affect slow pages' performance. Yet, Google emphasizes that speed won't be the determining ranking factor for mobile search results, and slow pages that contain quality and relevant content will still have a chance to rank for Google's top spots.
Source: Using Page Speed in Mobile Search Ranking
Updated PageSpeed Insights Tool
Google updated its PageSpeed Insights tool, which analyzes web pages to offer suggestions for an improved page speed. Previously, suggestions were based on standard sets of best practices; whereas now, recommendations come from real-world Chrome data. The tool employs data from Chrome's User Experience Report that was released in October. The tool does not only identify the reasons behind slow page speed but provides actionable tips on how to improve that aspect of a page's performance.
Source: Real-World Data in PageSpeed Insights
New Features in Google My Business Website Builder
Google added some new functionality to its My Business website constructor that is slowly but surely gathering momentum. The new features include:
Integration with Google Posts, which gives you the opportunity to create posts with important updates, special deals, and events that will show up on your Google website, Search and Maps.

Quick Publishing that allows you to create your website in an instant without the initial need to pick a domain or website name.

A redesigned Photo Gallery that now permits posting up to 9 photos of your business, service, or products.
Although Google My Business can only offer to help users build quite a simple website, users have already created more than 5,000 websites with Google My Business (according to Google).
Source: Check Out All the New Features for Websites With Google
Google My Business Now Supports Video Upload
There is one more addition to Google My Business – its team has announced that the service officially rolled out a video feature that we saw tested previously. Currently, videos of up to 30 seconds can be uploaded to the business listing. All uploaded videos will be available for view right on the My Business dashboard: videos uploaded by customers can be found under the "customer" tab, while the official company videos are under the "by owner" section. All uploads will be added to the company page within 24 hours.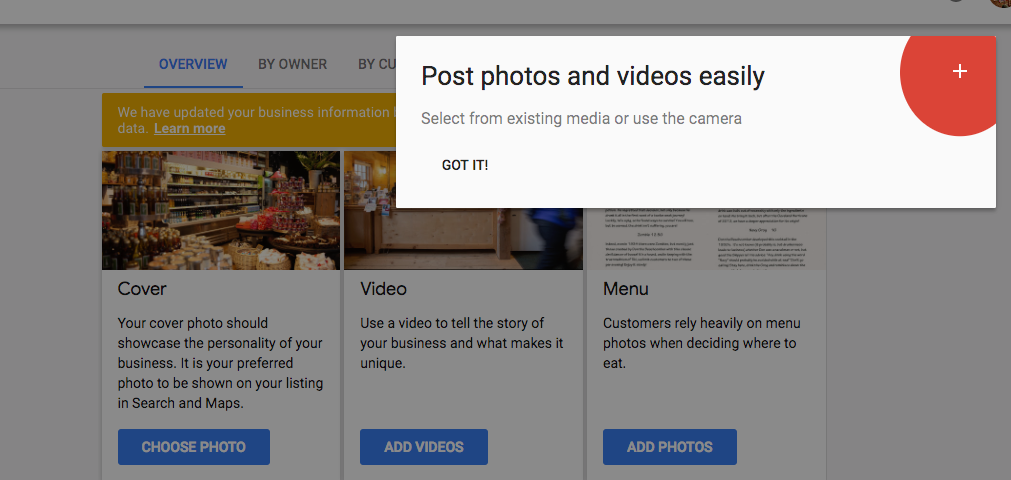 Source: Videos in the Google My Business Dashboard
GOOGLE ADS NEWS
Switching Off the Remarketing Button
Google updated the ad settings to give users more control over advertising they are subjected to. Irrelevant and outdated ads can now be completely deactivated, and users will get the full control over ads they see. This option is mostly targeting remarketing ads that pop up in front of users that already visited your website earlier.
To turn off the ads, log in to your Google account, go to "Ads Settings" and switch off the advertiser whose ads you no longer want to see. This option is only available on websites that don't actually belong to the search giant but use Google's advertising services. Google also revamped its "Mute This Ad" function. From now on, when you mute an ad on one device, all of the other devices where you are logged in to your Google account will also take your actions into account. For instance, if the user mutes a specific ad on his/her phone, it will also be blocked on his/her laptop.
Sources:  Greater Control With New Ads in Your Ads Settings;  Understand Reminder Ads
Automatic In-feed Ads in AdSense
Native in-feed ads are now boosted with machine learning algorithms. Thus, they can now be created automatically. The new option is intended to help publishers save time and increase their ads' performance. If you aren't sure what fonts, colors or other elements work best for your website, Google can do all the work for you. All you have to do is create a new native in-feed ad and press "Let Google suggest a style". 
Source: Let Machine Learning Create Your In-Feed Ads
Keyword Management Function Right Within Google AdWords
From now on, Google AdWords will allow PPC specialists to manage keywords right within the app. On the top of the options to add, edit and remove keywords, the new function lets you get keyword ideas and forecast keyword performance. The new features aren't yet available to all AdWords users, but will soon be rolled out to everyone.
Sources: Google Adds Keyword Functionality to the AdWords App;  Manage Your Keywords (AdWords App)
Educational Program for Universal App Campaigns
Google released a new interactive educational program for those who want to create ad campaigns for app business promotion, or Universal App campaigns in AdWords. The course provides background information on how Universal App campaigns work, how to create efficient and high-performing campaigns and how to make sure you can measure your long-term success and goal achievement. Google's marketing specialists were among the creators of the program along with Google's development team who built the UAC.
Source: Grow Your App Business With Google's New Education Program for Universal App Campaigns
---
GOOGLE TOOLS NEWS
YouTube Monetization Rules Redefined
Following threats from YouTube's Adpocalypse, when many big brands boycotted YouTube ads after their ads were being shown on channels with controversial content (hate speech, extremism), Google is toughening the policies for YouTube channel monetization. If you previously needed 10,000 total views to join YouTube's Partner Program (YPP), (YPP), now that amount is not enough to join those forces. From now on, if you want to qualify for YPP, you have to have at least 1,000 subscribers and 4,000 hours of watch time within the past 12 months – and note that your channel should fulfil both requirements simultaneously. Make sure your channel complies with the new rules by February 20, 2018, otherwise, it will be disqualified from the YPP, and all the ads will be withdrawn.
Source: A New Approach to YouTube Monetization
New Google Suite Features for Partially Sighted Persons
Google added new functionality to its Google Sheets, Slides, and Drawings to give wider access to the services for visually impaired and partially sighted people. Google Sheets now supports Braille displays, while Slides and Drawings have screen magnifiers that were already a part of Google Docs and Google Sheets. Thanks to the new feature in Sheets, users with poor sight will now be able to better read and edit content within the cells and move in-between them.
Source: Improved Accessibility for Google Sheets, Slides, and Drawings
Google Opens Up Its China Office
Google adds one more office to its already existing Chinese facilities in Beijing and Shanghai. The new office is located in the Chinese alternative to Silicon Valley – Shenzhen. Some experts claim that another office in China signifies an agenda for an improved relationship between the search giant and the Chinese authorities. If you recall, Google had a complicated relationship with China in 2010 after the company refused to censor its search results in compliance with the Chinese government's request. Since then, a majority of Google's Chinese operations was taking place in the territory of Hong Kong.
Source: Google Opens an Office in China's Silicon Valley
---
Please, let us know in the comments about your thoughts on all the novelties we've introduced! And...don't forget to tune in for the next digest and another Facebook Live discussion just in two weeks!