Before we get started on Google news, we want to remind you that  Global Marketing Day is almost here, October 30—31 UTC. This free 24-hour event will provide expert insights and strategies for marketers worldwide. So sign up today! 
Now let's talk about Google; they never stop updating and adding features, and we want you to remain informed about all the — which is why we release the Google Digest every two weeks. This week, we have some Search, Ad, and Tool updates you need to know about. So please keep reading, and tell us your experiences with these updates in the comments below. 
GOOGLE SEARCH NEWS
New Algo Update Rumour
There are some discussions at  WebmasterWorld discussing fluctuations in the SERPs. We currently have no verification from Google of any algorithm updates or changes. 
Source:  A Google Search Algorithm Update Rolling Out?
Danny Sullivan Speaks of Linking to Source Importance
Original sources of information should be linked back to, claims Google's Danny Sullivan. 
Source:  Google's Danny Sullivan: Journalists Should Link To Sources
European News Sites May Lose Snippets in France
Google is changing how it shows snippets in European news. Google said, "...in the wake of new copyright law in France, Google will change the way it presents search results for European press publications to people in that country. Specifically, Google will no longer present snippets and thumbnail images in France for these publications unless publishers displaying content in France have specified how much of this content they want to show in search results."
Google has an extensive Q&A on their help page, so if the news business is your game, we suggest you read what they have to say.
Sources: European News Lose Google Snippets Per French Law, 
Local Discovery Photo Search
Google is testing the new Search by photos feature for local search in some countries. It was first noticed by Mike Blumenthal:
At the moment, Search by photos may be visible in various positions on mobile SERPs. Sometimes it is placed above or below the local pack, or after organic results. It is displayed for local requests related to local services (but not for all). By clicking on individual photos, a user gets to the company's GMB profile page. The scale of the testing is still unknown.
Sources: New Google Local Discovery: Search By Photos, Google showing mobile 'search by photos' option in selected local verticals
Location Testing in Search Snippets
Users in the US and Australia have noticed that Google has begun adding city names to search snippets. If it only works for local queries or all of them is still unknown, as well as the scale of testing.
Source:  Twitter: Lily Ray
GOOGLE ADS NEWS
Auction-Time Bidding in Search Ads 360
In Search Ads 360, smart bidding during the auction has become available; previously, it was only possible in Google Ads. Automatic bidding allows advertisers to set goal conversion cost, thereby increasing the effectiveness of advertising. Google claims that "during the beta, hundreds of Search Ads 360 advertisers enabled Google Ads auction-time bidding and saw an average conversion increase of 15% to 30% at the same or better ROI."
Source: Google Ads auction-time bidding comes to Search Ads 360
New Targeting Types for Google Ads Campaigns
Google Ads has 2 new types of targeting for search campaigns:
Affinity audiences – audience targeting based on interests, habits, hobbies, etc.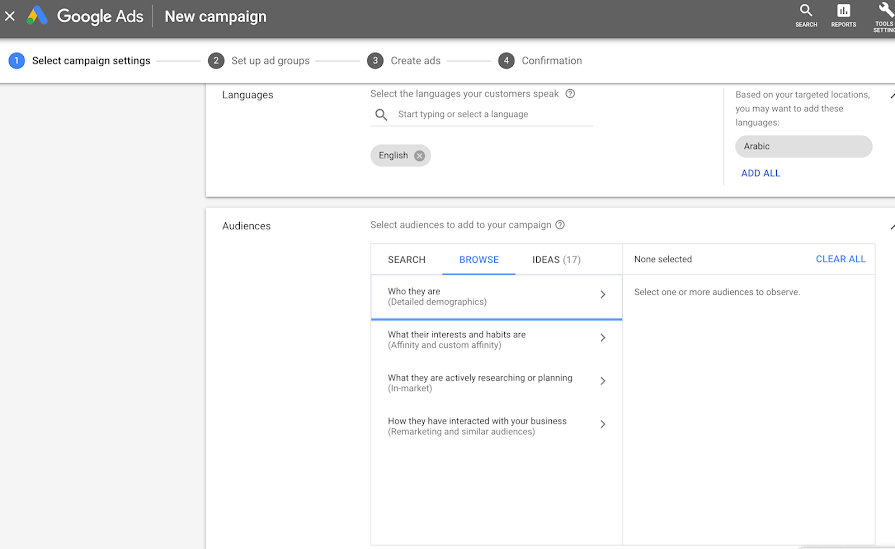 Seasonal event segments for in-market audiences – targets seasonal events like Christmas or Black Friday.
New types of targeting will appear in the interface for all users in the coming weeks.
Source:  Reach your ideal customer on Google Search
Campaign-level Conversions for Video Ads
After search and display campaigns, video campaigns now support campaign-level conversion settings. They can be used to define a certain customer's action, such as newsletter subscription or purchase, as valuable for business. You can read more about campaign-level conversions here.
Source: Set conversion actions at the campaign level for video ads
Auto Ads Update in AdSense
Quite a few new features have been added to Auto Ads for Google AdSense. Here are the main changes:
Support for any AdSense code (no need to create separate code for Auto ads)
Ability to exclude pages or groups of pages where you do not want to display Auto ads
The ability to see a preview of all ads
Removing specific (inappropriate) placements
Ability to specify specific formats for display
Updated Reporting
Using Auto ads, you do not need to create an advertising code for each placement on your site; you can use one universal for all placements and formats. Google will choose the appropriate places and the type of ad to display.
Source: Introducing the new and improved Auto ads
Location Targeting in Smart Shopping Campaigns
Google Ads has updated the settings for Smart Shopping campaigns and added the ability to configure location targeting. This setting works the same way as in regular campaigns – you can choose the places where you want or don't want to show ads.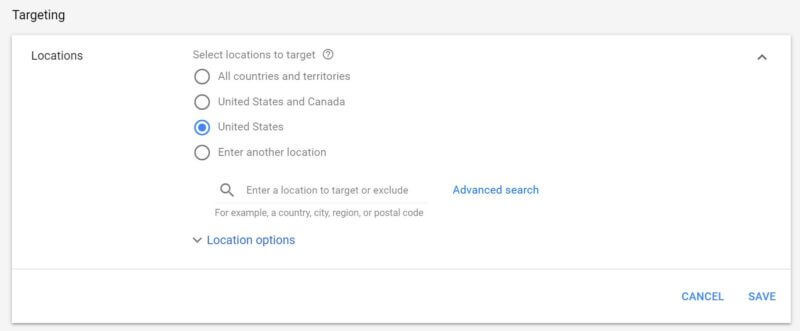 Source: https://searchengineland.com/location-targeting-available-in-google-smart-shopping-campaigns-323414
Source: Location targeting available in Google Smart Shopping campaigns
New Conversions Data in Google Ads
Google Ads has added new columns to conversion analytics based on the time it takes to complete them. Here is the list:
"Conversions (by conv. time)"
"Conv. value (by conv. time)"
"Value / Conv. (by conv. time)"
"All conv. (by conv. time)"
"All conv. value (by conv. time)"
"Value / all conv. (by conv. time)"
Now, if the click on the ad was last week, and the conversion is on the current one, then in the Conversions (by conv. Time) column, this conversion will be shown in the current week. In the standard report, this data is calculated by the time of the click, not the conversion.
Source: Understand conversions by time with new columns
AR in YouTube Ads
Not so long ago, Google introduced the new AR Beauty Try-On feature, which allows users to virtually test cosmetics. This feature has now been launched as a beta test for advertising on YouTube Masthead banners and TrueView Video Discovery ads. When viewing this type of advertising using the front camera, you can try on yourself, for example, shades of lipstick and immediately purchase products from the video.
Source: Virtual Make-up comes to the YouTube Masthead
GOOGLE TOOLS NEWS
Structured Data for Google Assistant
Google said that now, some types of markups can be used not only for the corresponding SERP features in a regular search but also for Google Assistant actions.
Using various types of structured data, you can now reach many more users because Google Assistant will be able to read instructions and step-by-step actions to perform a specific task from the markup. Assistant currently supports the following types of markups: Podcasts, Recipes, News, FAQs, How-to-guides, How-to-videos. You can find detailed instructions and templates of Assistant structured data here.
Sources: Google: Structured Data Can Help Generate Actions For Google Assistant
New Video Reports in Search Console
Google has added 2 new reports for videos in the Google Search Console. The first report in the Enhancement Report section is Video. You can see errors associated with marking up videos using structured data. The second report is in Video Appearances in the Performance section. Here you can track statistics on video performance in regular search results and in the Discover stream.
Source: https://webmasters.googleblog.com/2019/10/search-console-video-results-reports.html
New Video Series - Search for Beginners
Google is about to launch another series of videos - Search for Beginners. The new series will talk about the basics of SEO and the presence of Google search. Unlike all other Google series, the new videos will be animated and multilingual (with subtitles in different languages, not only in English). Videos will be published on the Google Webmasters YouTube channel.
Sources: Twitter: Google Webmasters
Google Graveyard 2.0
There are quite a few virtual "Google cemeteries" for discontinued products and services, but this year a real graveyard appeared at Google's own office in Seattle. 
It may lack a few dozens of gravestones (check this list of discontinued Google services!) but still looks like a nice place to visit on All Hallows' Eve.
---
That is all the news I wanted to share with you today. Have a great Halloween, and stay tuned for the next digest in two weeks!