In the past two weeks, we have been busy studying the new developments and updates that took place in the Google Marketing Platform. There is plenty to discuss, with Google rolling out the Google Measurement Partners program, announcing new cross device Google analytics reports, building a better news experience on YouTube, and putting machine learning into the hands of every advertiser, but there is more.
To help you get up to speed with all of the important developments and updates, you can also listen to our  Search Marketing Scoop podcast on YouTube. So, read the digest and watch our podcast to find out everything you need to know about the most important news and updates that came to us from Google in July.
[podcast-subscribe]
GOOGLE SEARCH NEWS
AMP Stories Update
Jon Newmuis, the AMP Stories Lead Engineer at Google, announced the release of AMP stories v1.0 that comes with new capabilities and features. Developers can now upgrade their existing stories to v1.0 using the migration guide Google has provided. The new features include new monetization capabilities, new metadata attributes, and revamped bookend capabilities. With that, Google also mentioned that their team is actively working on additional features, so we should expect further developments in the coming months.
Source: New in AMP stories: Monetization, Revamped Bookends and Metadata
[ create-campaign bg_images="https://static.semrush.com/blog/uploads/media/75/d9/75d968e482d1a761aa18f1a23fbbd17b/amp-compaign-banner.jpg" bg_button="-success" header="Audit your AMP pages" text="with SEMrush Site Audit"]
An Update to Referral Source URLs for Google Images
Until now, webmasters have been unsure of the role Google Images plays in generating website traffic. Google has decided to help quantify the data by rolling out a new referrer URL over the next few months. Google states, "The referrer URL is part of the HTTP header, and indicates the last page the user was on and clicked to visit the destination webpage."
Those who use Google Analytics to track data will see the new referrer URL automatically ingested and traffic appropriately attributed to Google images. Moreover, the new referrer URL will have the same ccTLD (country code top-level domain) as used for searching on Google Images. That means, users who choose to go with country-specific service (such as google.ca for Canada) will be able to do so, and the referrer URL would reflect the same (e.g., http://images.google.ca).
Source: An Update to Referral Source URLs for Google Images
'Call Now' Button for Posts in Google My Business
Google now allows a "Call Now" button to be added to posts created in Google My Business. The button is linked to the primary phone number associated with Google My Business listing and businesses. At the moment, there is no option to change this number or use a tracking number in its stead. Colan Nielsen, VP of Local Search at Sterling Sky, is reported to have first noticed this feature and shared on his Twitter page. As per Nielsen, the feature seems to be available for businesses in all categories.
Source:  Google Posts adds 'call now' button;  Google My Business Lets Users Add "Call Now" Button to Posts
Google Expands Job Search to the UK
Google, in collaboration with the job-matching industry in the UK, has announced the launch of a new feature in Search that allows job searchers to easily explore jobs from across the web that suits their needs and skills.
Job seekers in the UK can now search for queries like "jobs near me", "consulting jobs", "retail jobs manchester" etc. on Google, and they will find an option to click on and explore jobs across the web that meet their unique requirements. Some of the options this new feature provides include salary information, reviews and ratings of employers, different options to apply for a job, and location filter. Users can also save individual jobs for later review or can turn on the alerts option to receive email notifications for newly posted jobs.
Here is how it looks on Mobile: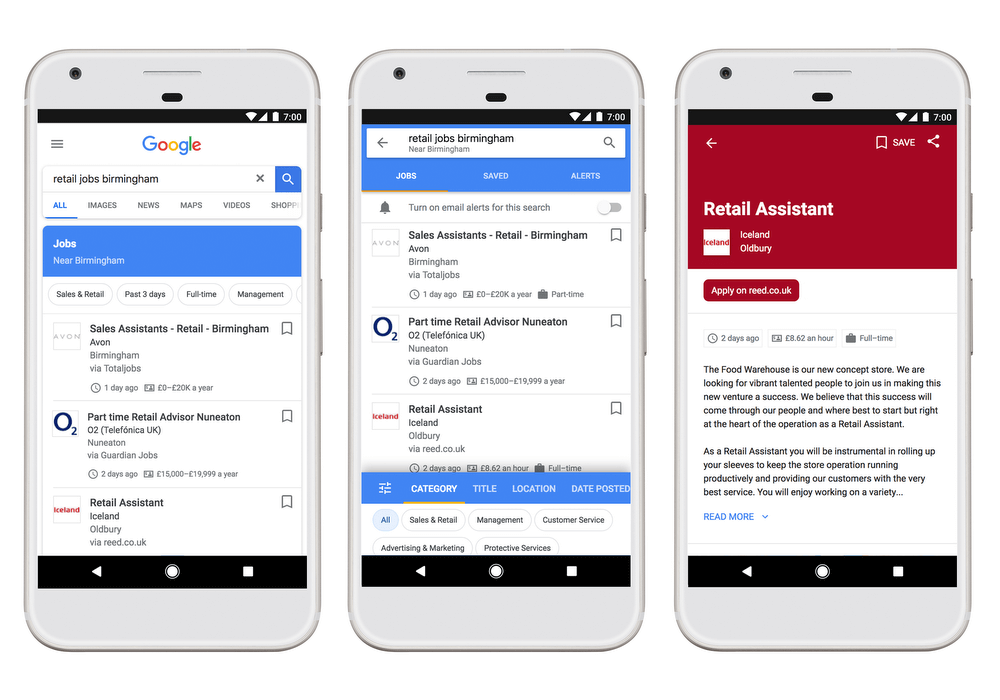 Sources: Google in Europe: Helping More People in the U.K. Find Their Next Job; Google Expands Job Search to the UK
Google Tests Location Tab and Location Scores in Hotels' Knowledge Panels
Sergey Alakov, an SEO specialist in Toronto, stated on his blog that "Google is testing a new 'Location' tab in hotels' local Knowledge Panels." In addition to the new tab, there is another bit of information right under the 'Overview' tab called location score. The score is calculated using these three factors: proximity to top sights, proximity to transit, and airport access. The location tab itself includes three sub-tabs, namely Highlights, Top Sights, and Getting Around.
Here is how it looks and feels in the search results: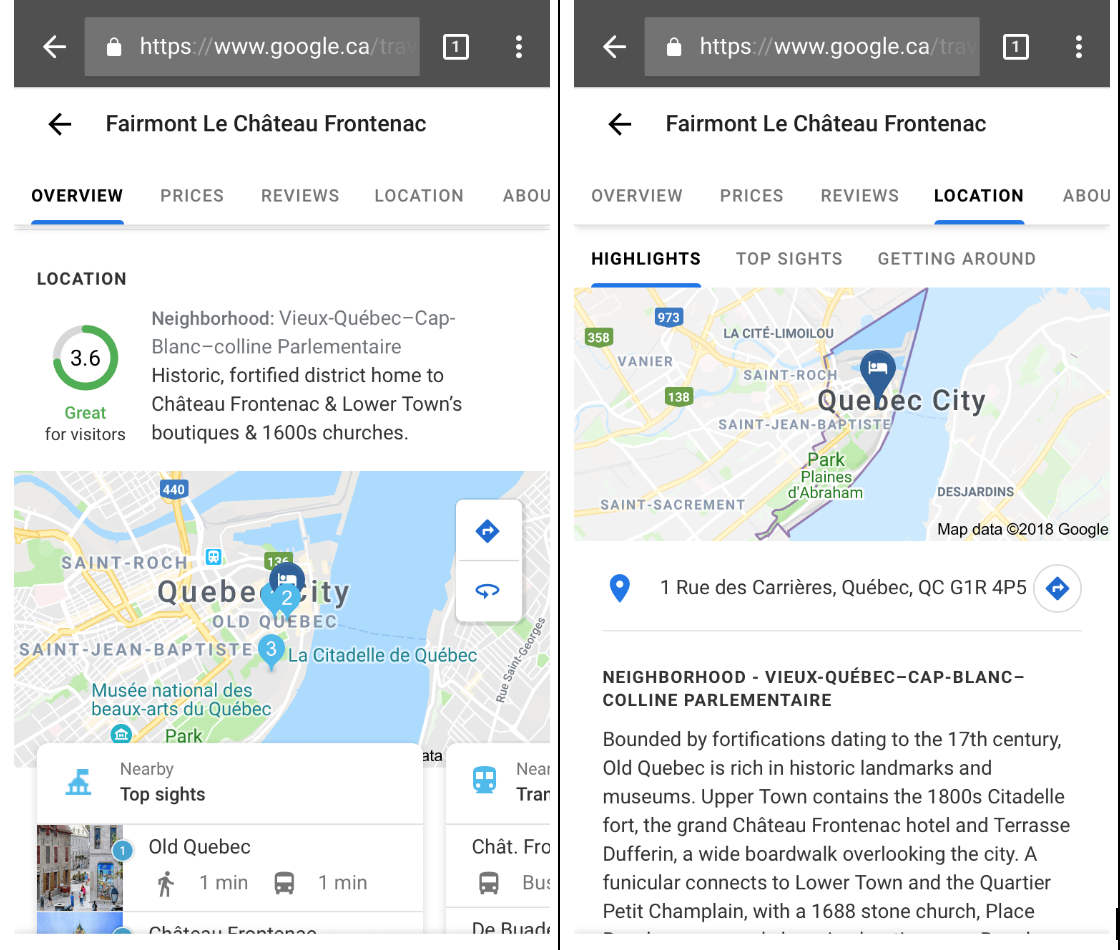 Source: Sergey Alakov: Google Tests Location Tab and Location Scores in Hotels' Knowledge Panels
'Google Listing is Live' Notification
A few days ago, an announcement from Google was rolled out on the Advertiser Community platform about the launch of a new notification that would inform businesses as they go live on Google services, like Search and Maps. However, it is to be noted that businesses with accounts more than 100 listings and user-language preference set to other than "en-US" will not receive these notifications. Google is not currently providing this messaging service to accounts with bulk verification requirements.
Source: Google Listing is Live Notification
Testing Hotel Prices Chart on SERPs
A Twitter update from Masaki Okazawa revealed that Google is trying to test a bar chart in the search results that shows how prices for a specific hotel fluctuate over a specified time period, as well as the average price for the given period. The information presented this way makes it quite easy for users to get price estimates directly from the search results. However, it is not clear if and when Google might consider implementing and making it widely available.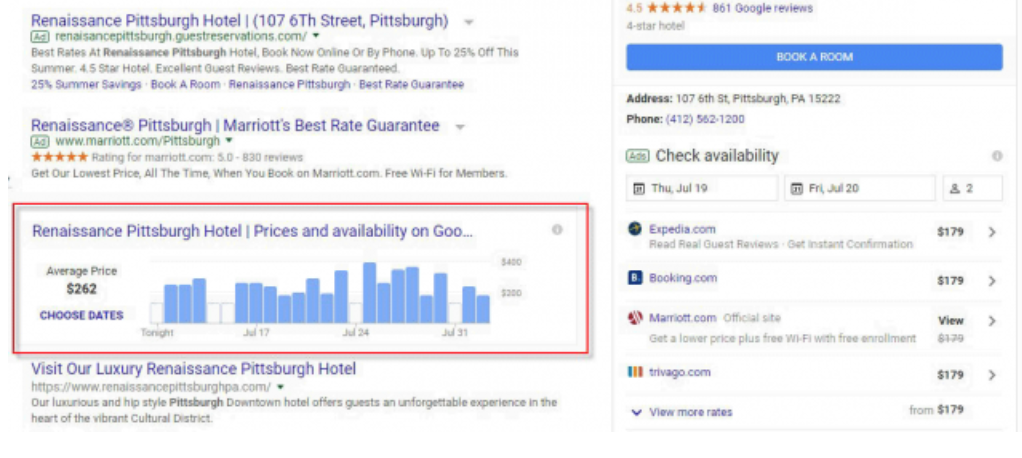 Source: Google Search Tests Hotel Prices By Day Chart
GOOGLE ADS NEWS
Putting Machine Learning into the Hands of Every Advertiser
Google executives announced several initiatives at the Google Marketing Live event that recently took place in San Jose, California. Virtually all these initiatives are going to be based around automation and machine learning. The announcements cover a broad range of updates within Google Ads campaigns, including responsive search ads, local campaigns, smart shopping campaigns with 'store visits' or 'new customers' as added goals, YouTube brand lift with Smart Bidding strategy and Maximize Lift for campaigns, and more. Essentially, Google has embarked on a goal to automate every facet of ad campaigns in Google Ads (the new brand name for AdWords).
Source: Google Marketing Live: Here Come Fully Automated Ads & Campaigns for Local, Shopping & More
Mobile Speed Score in Google Ads
Jo Diorio, the Group Product Manager at Google Ads unit, rolled out a blog post just recently that talks about the importance of "helpful and frictionless" experience brands need to ensure for users. Landing pages that take longer load time, especially on mobile, can adversely affect the user experience. As per Jon Diorio, "for every one-second delay in page load time, conversions can fall by up to 20 percent." In addition, the blog post announced the launch of a new feature called "mobile speed score." This feature will help advertisers understand the loading issue better. Advertisers can also take help from Accelerated Mobile Pages (AMP) to create consistently fast and better-performing ads to address the problem.
Source: Speed Matters When Providing Assistive Experiences
'People Also Search For' Section in Desktop Ad Results
Although it is not a newly rolled out feature, it only recently came to our notice that Google is showing "people also search for' section of suggested queries within the paid search results as well. In organic search results though, the feature has been around for many years. As per Search Engine Land, "Google began showing the 'people also search for' suggestions in paid search results on mobile in September 2017 and more recently extended them to desktop paid search results in May."
John Leo Weber, VP of Marketing at ProjectManager.com, has spotted the same feature in AdWords and shared the screenshot on his Twitter post with a mildly perturbed note.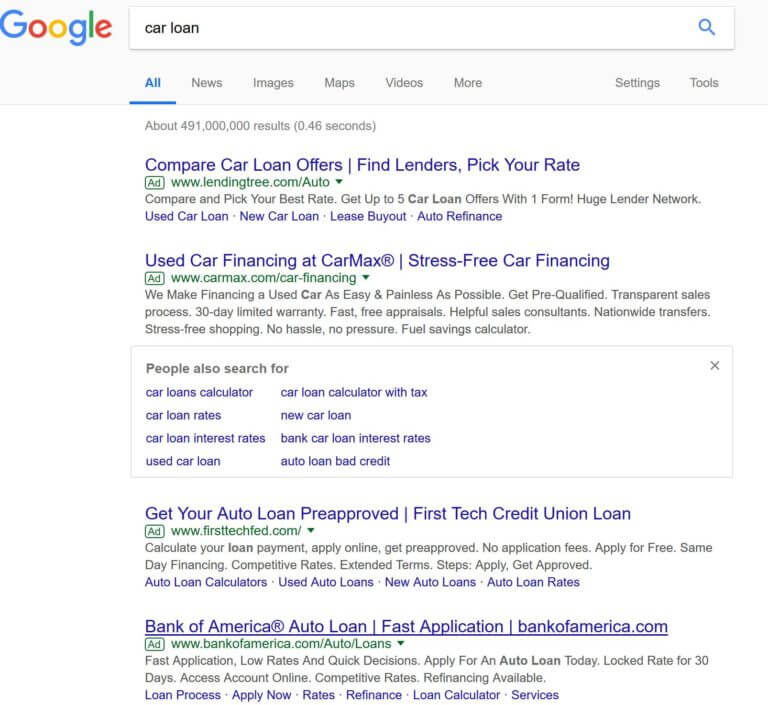 Sources: Google Shows 'People Also Search For' Suggestions in Ad Results, Too;  Twitter
Google Hotel Ads Joins Google Ads
A blog post recently published by Michael Trauttmansdorff, Senior Product Manager (Hotels unit) at Google, revealed that Google has decided to integrate Hotel ads into the Google Ads platform to help partners efficiently scale and manage all their ads within one platform.
As per Google's assessment, "some partners have a hard time managing their Hotel ads in a separate platform from their other Google Ads." However, hotel campaigns in Google Ads will have a new campaign type called 'Hotel campaigns' that will help advertisers simplify campaign management and optimization.
Source: Google Hotel Ads Joins Google Ads
GOOGLE TOOLS NEWS
Google Measurement Partners: Trusted Measurement Solutions for the Entire Customer Journey
For advertisers and brands that need a reliable measurement option to gauge the impact of their advertising media, Google has announced its new program called Google Measurement Partners. The program is released with "20+ verified partners across seven specializations: viewability, reach, brand safety, brand lift, sales lift, app attribution, and marketing mix modeling. " 
These partners, along with Google's existing partner programs, will operate under Google Measurement Partners program and provide advertisers with various solutions that work across Google advertising products, including Google Marketing Platform, Google Ads, YouTube, and more.
Source: Google Measurement Partners: Trusted Measurement Solutions for the Entire Customer Journey
New Google Analytics Reports
Google has introduced new Cross Device features to Google Analytics to help the Analytics Users understand their customer's journey across devices better. With the new Acquisition Device report, you will be able to see the number of visits by device instead of two separate sessions. This information can help you ensure you are delivering a useful and user-friendly experience. Users can also be able to soon run different coss device reports Device Overlap, Device Paths, and Channels. Google believes that these new features will now help marketers "create smarter audiences based on the actions people take on various devices."
Source: Better Understand and Reach Your Customers With New Cross Device Capabilities in Google Analytics
Copyright Match Tool on Youtube
Google has just recently announced the new Copyright Match tool for YouTube content creators. This tool is a response to the requests from the creators that Google should do more to protect their copyright. The new tool is going to help creators find re-uploads of their content on other channels. Once they do, they can either get in touch with the unauthorized uploader directly and request a take-down, or they can report it via the copyright webform; it is recommended you review the guidelines Google has in place before using the form.
It should be noted that Google is rolling out this feature only to those creators with more than 100K subscribers at the moment. In the long run, however, their goal is to will be made available to every creator who is part of the YouTube Partner program.
Source: Helping creators Protect Their Content
Google Search Analytics API Results Increase
Google has recently announced on Twitter that the max results/requests in the Search Analytics API have been increased to 25K. The tweet also offered a guide on how to access all the site's data has been compiled to help website owners manage and organize their important data. Furthermore, Google has also given an indication (in the comment section) to include filtered queries as "other" in the API. 
Source: Google Webmaster: Twitter
Building a Better News Experience on YouTube, Together
Google has announced a new plan to support the future of news in online video and improve the news experience on YouTube. This is going to be done in collaboration with the GNI ( Google News Initiative) program which was launched by Google in March to help journalism thrive in the digital age.
Google has announced committing $25M to a YouTube-specific investment that will be split among three investment areas: Expertise, Innovation Funding, and Support. Part of the objective of this program is to make authoritative sources of information readily accessible for users. Other objectives include providing more sources and context on breaking news, expanding Top News and Breaking News, showcasing more local news (starting with the U.S.), providing context to help people make their own decisions, and investing in digital literacy education.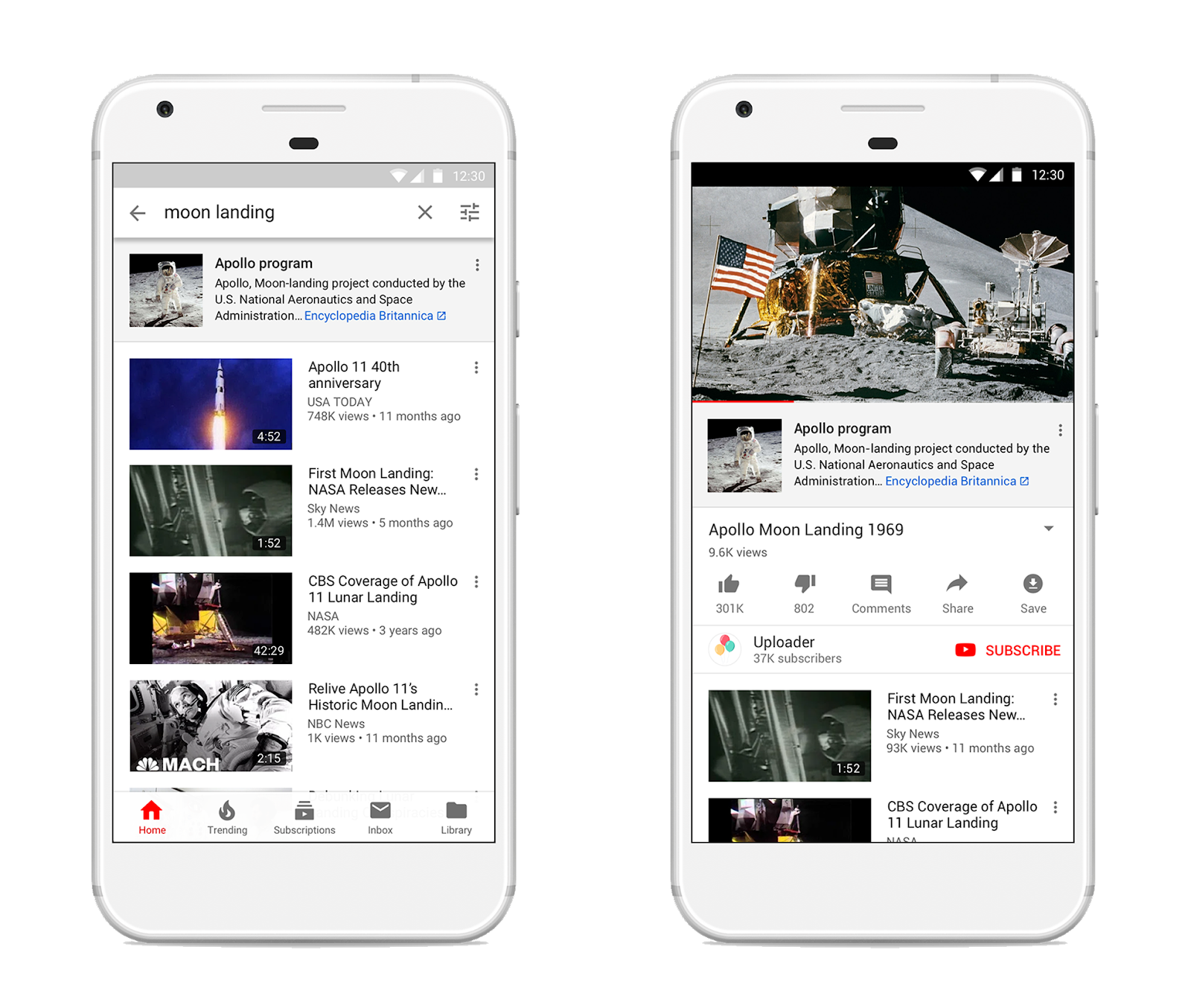 Source: Building a Better News Experience on YouTube, Together
HTTP on Chrome: Secure No More
As you recall, we mentioned in one of our previous digests that starting in July, Chrome will start marking HTTP sites as not secure. And this day has arrived. From now on, every Chrome user who visits an HTTP site will see a small "i" icon for HTTP URLs along with a "not secure" label next to that. For now, the notification appears for users with the latest version of Chrome (68), but normally most of Chrome users have the automatic update installed.
Source:  Tomorrow, Chrome starts telling users HTTP sites are not secure
Data Transfer Project: When Google Meets Microsoft, Facebook, and Twitter
When tech industry giants meet, you can expect some big collaboration is taking place. This time, Google, Microsoft, Facebook, and Twitter cooperated on a Data Transfer Project, an open source initiative that encourages each party to develop special tools that are supposed to help users seamlessly transfer their data from one platform to another.
The data transfer will be available once they develop tools that can convert service's proprietary APIs to/from a set of standardizes data formats, recognized by each platform involved in the project. All the user data will be secured by encryption mechanism in transit and at rest.
Source: Google, Microsoft, Facebook and Twitter Collaborate for Data Transfer Project