With the busy holiday season ahead, Google is working hard to keep up with the constantly evolving requirements of advertisers and the users of its search engine. While some of the updates included in our news digest may appear minor, most of them are quite important because of their potential impact on advertisers, webmasters, and users. Nevertheless, we have tried to zero in on every latest update you care about most.
So let's jump right in and learn about the latest news that came to us from Google in October. Also, make some space for our Marketing Scoop podcast where Purna Virji from Microsoft and Matthew Macchia, the CEO & Founder at AdFury, are getting interviewed by David Bain and Judith Lewis to go beyond the headlines to give you some actionable tips around the latest changes in paid search and answer any questions you may have in real time.
[podcast-subscribe]
---
GOOGLE SEARCH NEWS
Google Search Console Alerts for Slow Pages
Google is sending a new type of warning in the Search Console, notifying webmasters of their sites' slow performance and loading issues. The warning is based on the user measurement data from Chrome User Experience Report, as Google mentions.
To fix the problem Google suggests the following three options:
Use Lighthouse to audit pages.

Fix low performing pages.

Update the sitemap.
A Twitter user, Oliver H.G. Mason, seems to have spotted it first. Here is an example screenshot of the new warning Oliver has posted on his Twitter page:
Source:  Twitter 
[ create-campaign bg_images="https://static.semrush.com/blog/uploads/media/a4/4f/a44f7a6614c3ee4fc6b627878d5be0ee/website-performance-research-semrush-2018-back-banner.png" bg_button="-success" header="Check out your website performance" text="with SEMrush Site Audit"]
Removal of Rich Snippets for the Sites with Manual Link Penalties
Websites that have inorganic links don't usually get brownie points from Google for trust factors. Google has mentioned that they may issue a rich snippets manual action to remove sites' ability to show rich results in the Google listing. However, will other types of penalties — such as link penalties — also result in the removal of rich snippets is yet to be seen. As per SEO Roundtable, "A site with inorganic links is not trusted by Google and thus may lose trust to show rich results in Google."
Source:  Google Link Penalty Can Remove Rich Snippets/Results
Product and Services in Local Knowledge Panel
It appears that Google is testing showing a "products and services" section in the local panel result. Up until now, webmasters have had the option to fill in their products and services in Google My Businesses, but this info wasn't shown in the local panel via web search. Recently a Twitter user, Andy Simpson, spotted Google showing the new option in the local panel results as well. Here is the screenshot: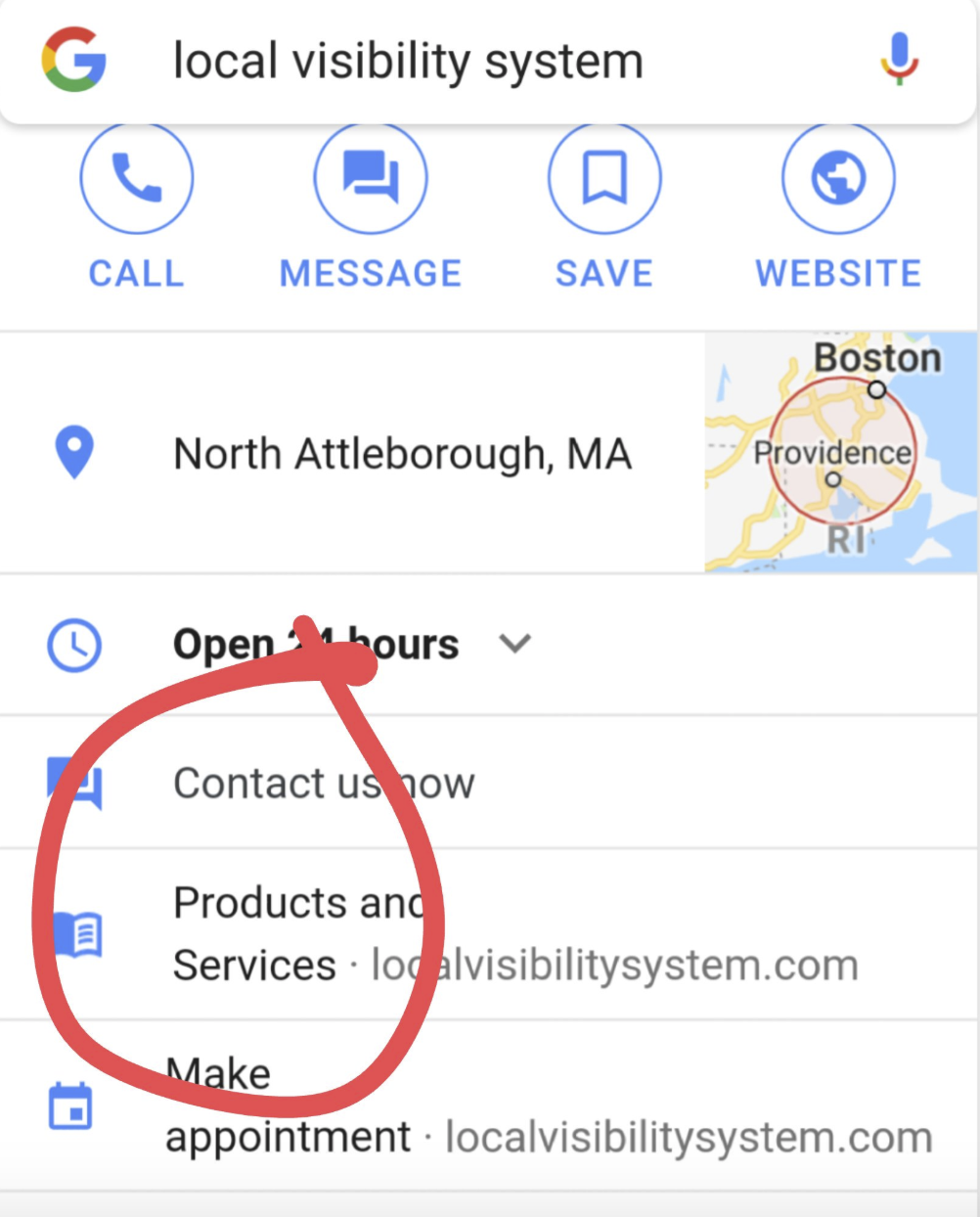 Sources:  Twitter;  Google Local Panel Shows Products & Services Section
Expanded Search History and Its Removal in Google
Eric Miraglia, Director of Product Management at Google, announced the launch of a new feature that allows users of Google search to control their data directly within Google products, starting with Search. Previously, Google users could only review or manage their data by visiting their Google Accounts.
Google has now brought these controls to its users directly within Search so that they can review or delete their Search activity without ever leaving Search, and quickly get back to find what they are searching for. In addition, Google Search users can also get quick access to the most relevant privacy controls in their Google Accounts, and learn more about how Search works with their data.
Source:  Making it easier to control your data, directly in Google products 
New Functionalities for AMP-Pages
Google has released a new blog post describing some new changes and developments within AMP for Q4 2018. These updates include the following:
A new, open governance model for AMP.

AMP Linker to keep user sessions in sync.

"Infinite Scroll" with amp-next-page.

Tilt-bound animations with amp-orientation-observer.

Compare images with amp-image-slide.

AMP Story Ads support with Google Ad Manager (Beta).
Several other new components in AMP such as <amp-pan-zoom>, <amp-date-picker>, <ampe-date-countdown>, and <amp-google-document-embed> were also briefly discussed. Furthermore, a number of new, upcoming features worth a shout can be reviewed prior to their actual launch, such as the "dock" attribute on <amp-video> to support minimizing video to the corner of the viewport, <amp-video-iframe> to support a set of features available to amp-video and other third-party video components, and input masking to help users "fill out forms more efficiently by automatically adding formatting like spaces and interstitial characters specified by developers."
Source:  A new, open governance model for AMP
[ create-campaign bg_images="https://static.semrush.com/blog/uploads/media/75/d9/75d968e482d1a761aa18f1a23fbbd17b/amp-compaign-banner.jpg" bg_button="-success" header="Audit your AMP pages" text="with SEMrush Site Audit"]
Google My Business Cards In Google Maps Results
Thibault Adda, a Twitter user and a local search specialist at Darden, has spotted a "go to Google My Business" card in Google Maps. Google appears to be testing this card to let webmasters take charge of their listings in Google My Business directly in the Google Maps. On the card, you can post updates and information about your business, respond to reviews, and add photos related to your business.
Sources: Twitter; Google My Business Cards in Google Maps Results
Icons in Search Snippets
Google has been testing favicons in the search results for quite some times now (since 2009), so to some of you they may look familiar. This time, Ric Rodriguez has screen captured the mobile search results test with favicons to the left of the display URL. Here is the image he posted on Twitter: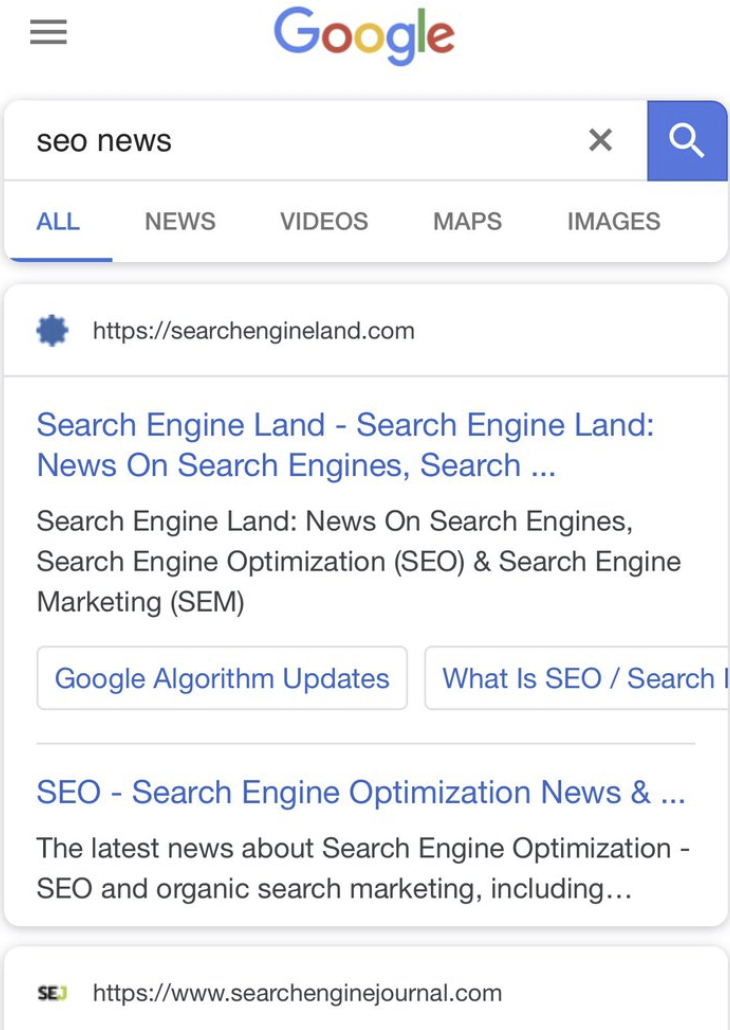 Source:  Twitter User: Ric Rodriguez
Google Search Calculator Shows Formulas For Conversions
Google Search calculator now includes a new string to show the formula for conversion queries. It is contained within the calculator box and appears right below the calculation output. 
Source:  Explore product search trends with Shopping Insights
Branded Search Reporting in Google My Business
Google has added a new section in Google My Business Insights that now allows webmasters to filter the analytics and see what percentage of people are finding their listing in Google local and maps through branded searches. Google has named the new category as "Branded" and the description says: "Customers who find your listing searching for brand related to your business." Here is how it looks: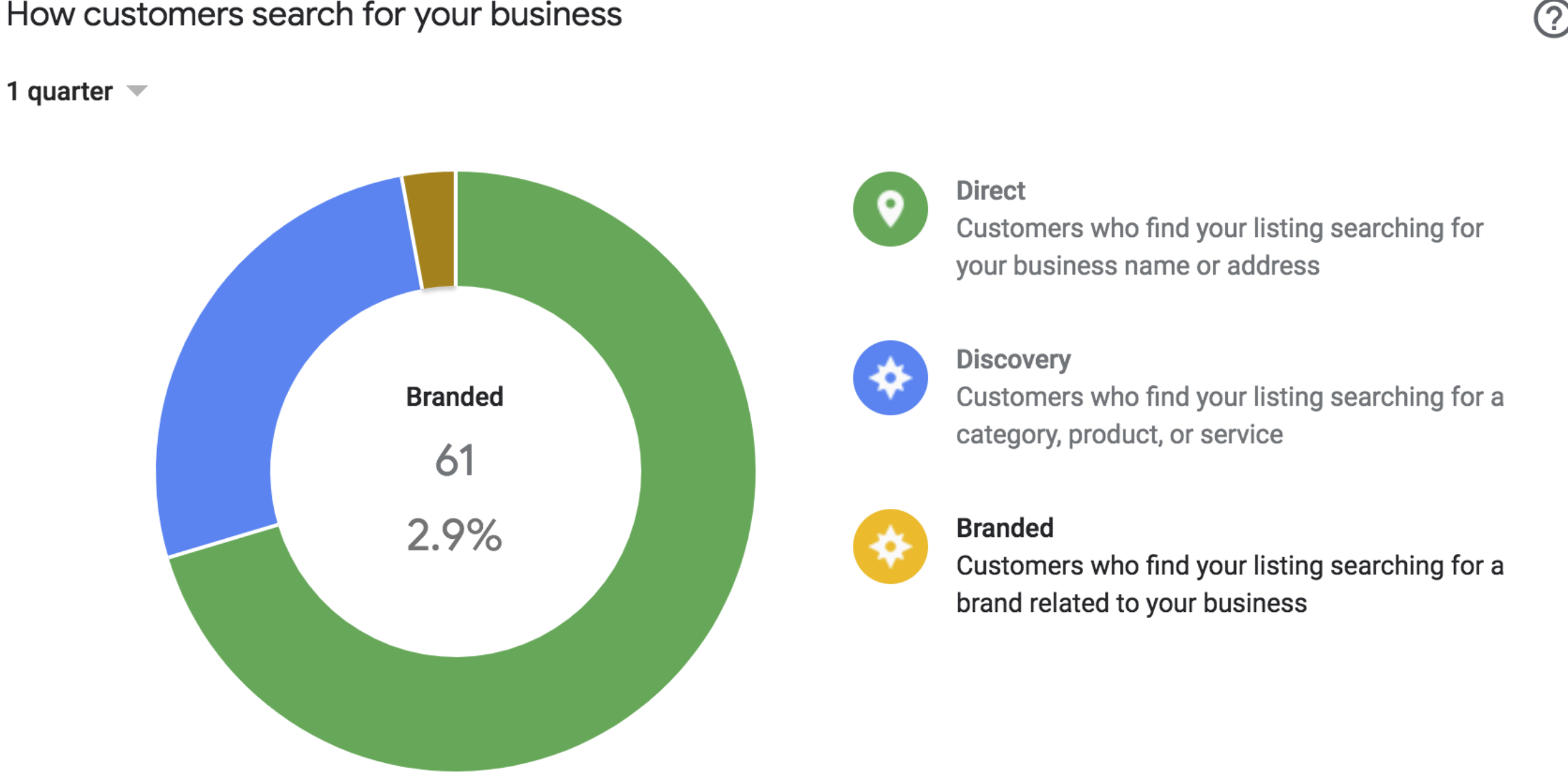 Sources:  Improved attribution for TrueView for action ads;  Launching new TV screens device category to reach YouTube users on connected TVs
GOOGLE ADS NEWS
New Google Ads Reports
The Report Editor in Google Ads is going to incorporate two new predefined reports in the form of landing pages report and expanded landing pages report. Google announced that both the reports will soon be available and users will be able to "easily manipulate and chart them in the Report Editor, as well as add them to your custom dashboards."
The landing page report will contain the following additional columns (other than the ones on the final URL report):
Mobile speed score

Mobile-friendly click rate

Valid AMP click rate
On the other hand, the expanded landing pages report will show the "URL users reach after contextual substitutions have been made and custom parameters have been added," in addition to the columns on the landing page report.
Source:  New predefined landing page reports
TV-Devices Targeting in Google Ads
Google has launched the TV screens device type in Google Ads and Display & Video 360. Advertisers can now tailor their campaigns for connected TVs and find more engaged and valuable audiences who use TV screens to watch YouTube videos. Google mentions that the TV screens device type joins computers, mobile phones, and tablets in Google Ads and Display & Video 360, and it allows advertisers to set a specific device bid adjustment and see reporting for ads that specifically run on TV screens to help them gauge the impact of these ads within their overall mix.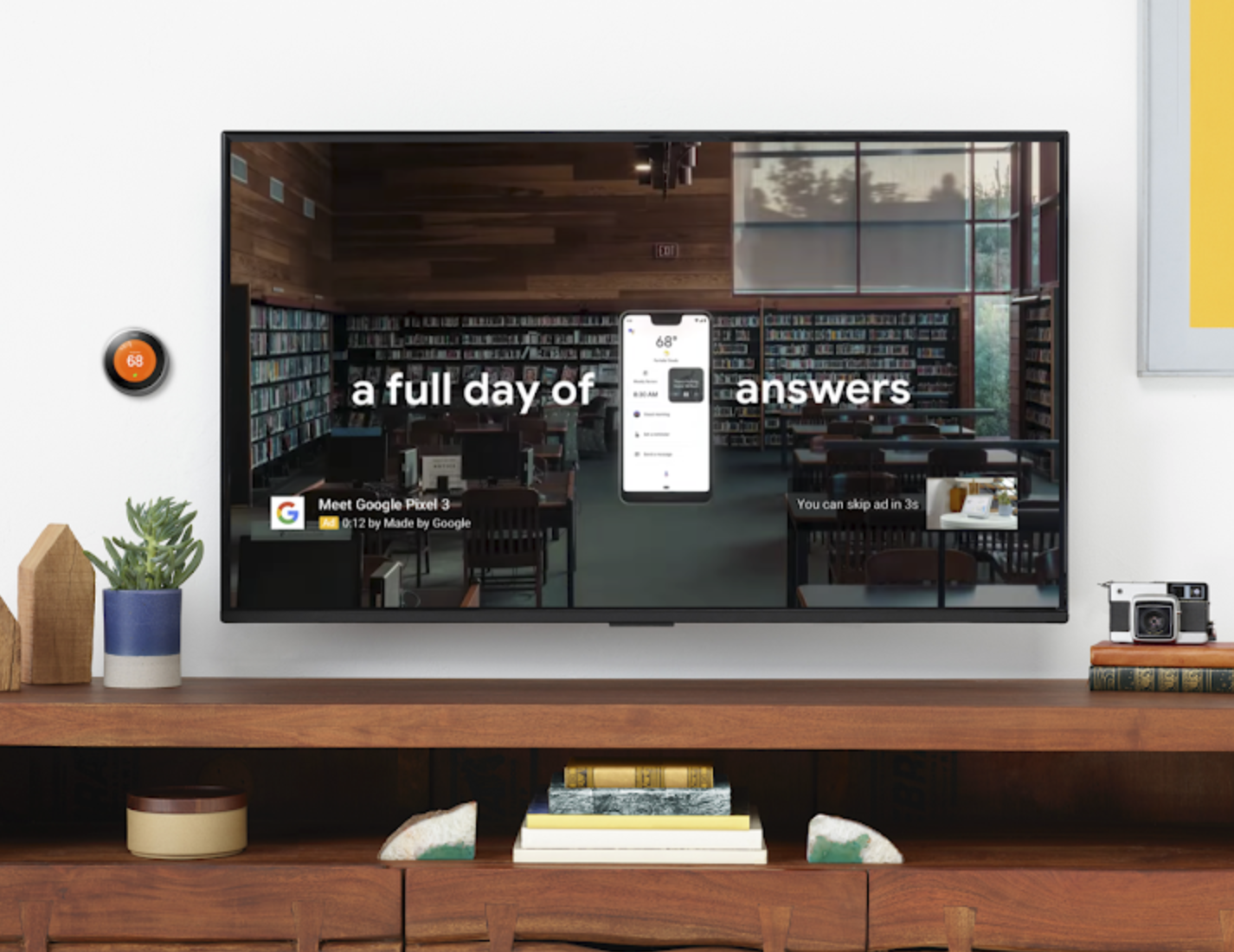 Source:  Google My Business Insights Shows Branded Searches Now
Attribution Improvements for TrueView for Action Ads in Google Ads
Google announced some changes in the default attribution window for TrueView for action ads. The default attribution window for TrueView for action ads, which was previously set to 30 seconds with a 30-day conversion window, has now been adjusted to 10 seconds with a 3-day default conversion window.
Google believes that this will help advertisers more accurately assess the impact of their video ads, provide faster ramp-up times for target CPA campaigns, and ensure more current reporting (thanks to reduced conversion lag). Advertisers can start taking advantage of these improvements and, as such, no action will be required from their end.
Source:  Google My Business Insights adds branded search reporting
New Functionalities for Message Extensions
Kishore Kanakamedala, Director of Product Management, rolled out a blog post, describing how the latest Google Ads innovations are helping advertisers drive better results. These innovations unveiled at SMX East are based around helping marketers work smarter and exceed their omnichannel goals.
As per Kishore, Google, in the coming weeks, is rolling out two improvements to click-to-message ads in the form of "email forwarding" that sends text messages to user's email and "automatic reply" that sends a preset reply back to customers as soon as customers message you. Google is also going to expand its message reporting to include message conversion. This will help advertisers to measure the success of their click-to-message ads even better.
Besides these improvements, Google is bringing store visits insights to data-driven attribution and Smart Bidding (which use machine learning) to help advertisers improve their campaign performance. Advertisers will now be able to understand, for example, which "keywords, ads, ad groups, and campaigns" have the greatest effect on their business goals and use the information to drive more conversions.
Source:  Drive better results: An insider's look at the latest Google Ads innovations
GOOGLE TOOLS NEWS
Account Migration in Google My Business Guide
Google has rolled out a guideline page in its Google My Business Help section to explain how locations from a personal account can be migrated to an organization account. Individuals owning locations in a personal account can now migrate those locations to an organization account and manage them as part of their organization. There are two ways to do this (as Google explains). One, you can go to the "Overview" tab of your organization account and start an assisted bulk transfer request. Two, you can self-migrate from your personal account to your organization account. The self-migration approach can be used to migrate a single location or multiple locations that you own in your personal account.
A location, once migrated, can be removed from the associated personal account. Note that in order to add your personal account to an organization, you will need to remove or transfer all locations that you directly own in your personal account.
Source: Migrate a location from a personal account to an organization account
Shopping Insights Update
As of October 16th, Google has a new (free) version of its Shopping Insights tool available to help marketers uncover competitive information such as brands and products which are popular in search, trending up and down, and variations by regions in the U.S. Google's Shopping Insights Project Lead states, "this new version includes data for more than 55,000 products and 45,000 brands — significantly increasing coverage over the previous version — as well as nearly 5,000 categories.
Users of the new tool can also subscribe to personalized reports and create up to 10 weekly, as well as monthly, email reports for the products and categories they want to follow. Right now, the tool is available on desktop and mobile in the U.S. only. We are not quite sure if and when the search engine would make it broadly available for users outside the United States.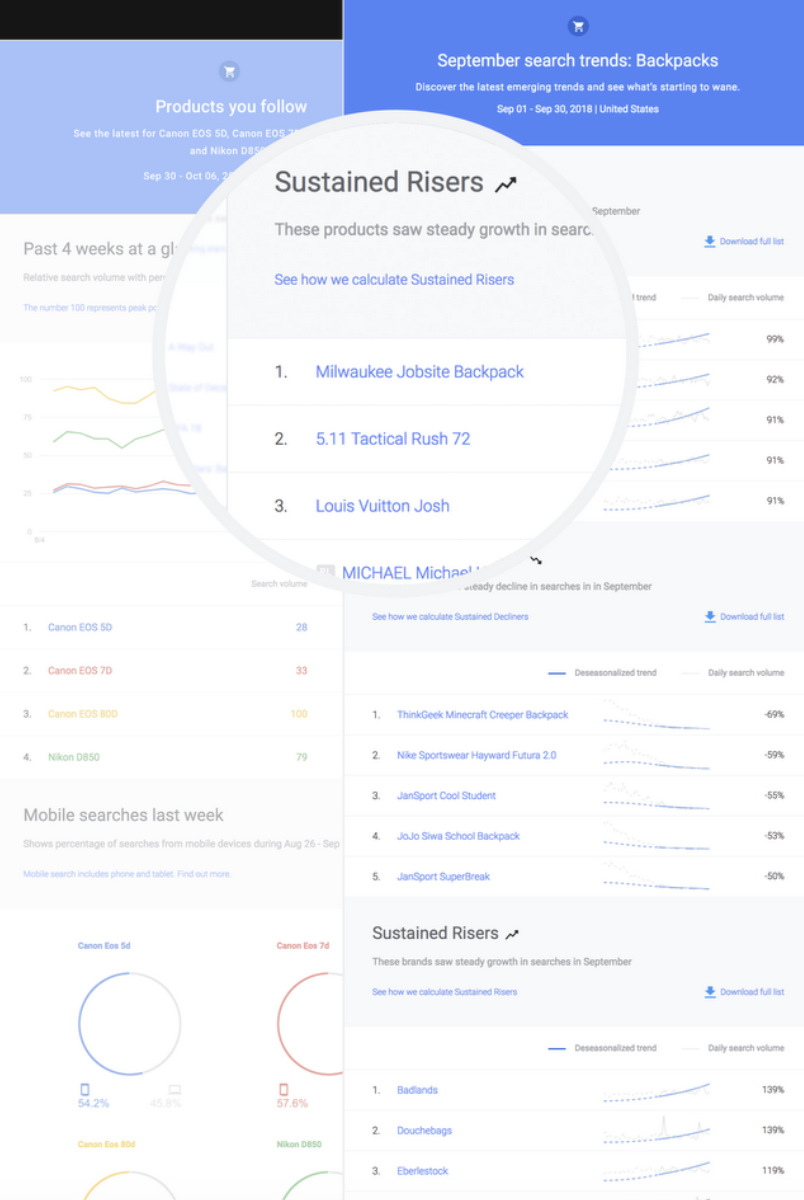 Source: Explore product search trends with Shopping Insights
Top Contributor Programme Rebranding
Google announced the renaming/rebranding of its Top Contributor program as "Google's Product Experts" program. As a result, over the next few days, Google will be updating their badges for different levels of product experts and contributors. More specifically, these badges will have the following labels:
Silver Product Expert: For new members who are developing their product knowledge
Gold Product Expert: For trusted members who are knowledgeable and active contributors
Platinum Product Expert: For seasoned members who contribute beyond providing help through mentoring, creating content, and more
Product Expert Alumni: For past members who are no longer active, but were previously recognized for their helpfulness
Recommended Answers: Badge awarded to forum members whose posts have been marked as Recommended Answers
Google Employees: For Guides and Community Managers who work at Google
Community Specialists: For Google partners who lend their expertise to help maintain our communities