We understand time is money, and we are happy to help you save time by bringing every important update from Google into a single article. Google makes a lot of changes and most of us need more than a quick review of an update to understand how it will impact our clients and businesses. So, we invite professionals and industry experts to join our Marketing Scoop podcast, and they will share with you some additional insights about these developments.
Let's learn about this week's guests on the Marketing Scoop Podcast, Amy Bishop, the Owner & Digital Marketing Consultant at Cultivative, and Navah Hopkins, the Innovation Strategist at Wordstream. I hope you will enjoy our guests when you tune in to our podcast to learn more about all of the updates below.
We could use your help to make our digest and our podcast even better; please leave us your thoughts and feedback in the comments below. 
[podcast-subscribe]
---
GOOGLE SEARCH NEWS
New Broad Core Update
Google has officially launched a new algorithm update called the March 2019 Core Update. As confirmed by Danny Sullivan of Google, this is another broad core update which will not be targeting any specific niche or signals (such as link/content quality) per se. Based on what we know so far, the update appears to be an important one as it has already started to impact search rankings on Google. However, as the nature of the update is broad core, there is nothing to fix on webmasters' side.
Here is what Google says about it: "As with any update, some sites may note drops or gains. There's nothing wrong with pages that may now perform less well. Instead, it's that changes to our systems are benefiting pages that were previously under-rewarded."
Here is a screenshot from SEMrush Sensor on March 13: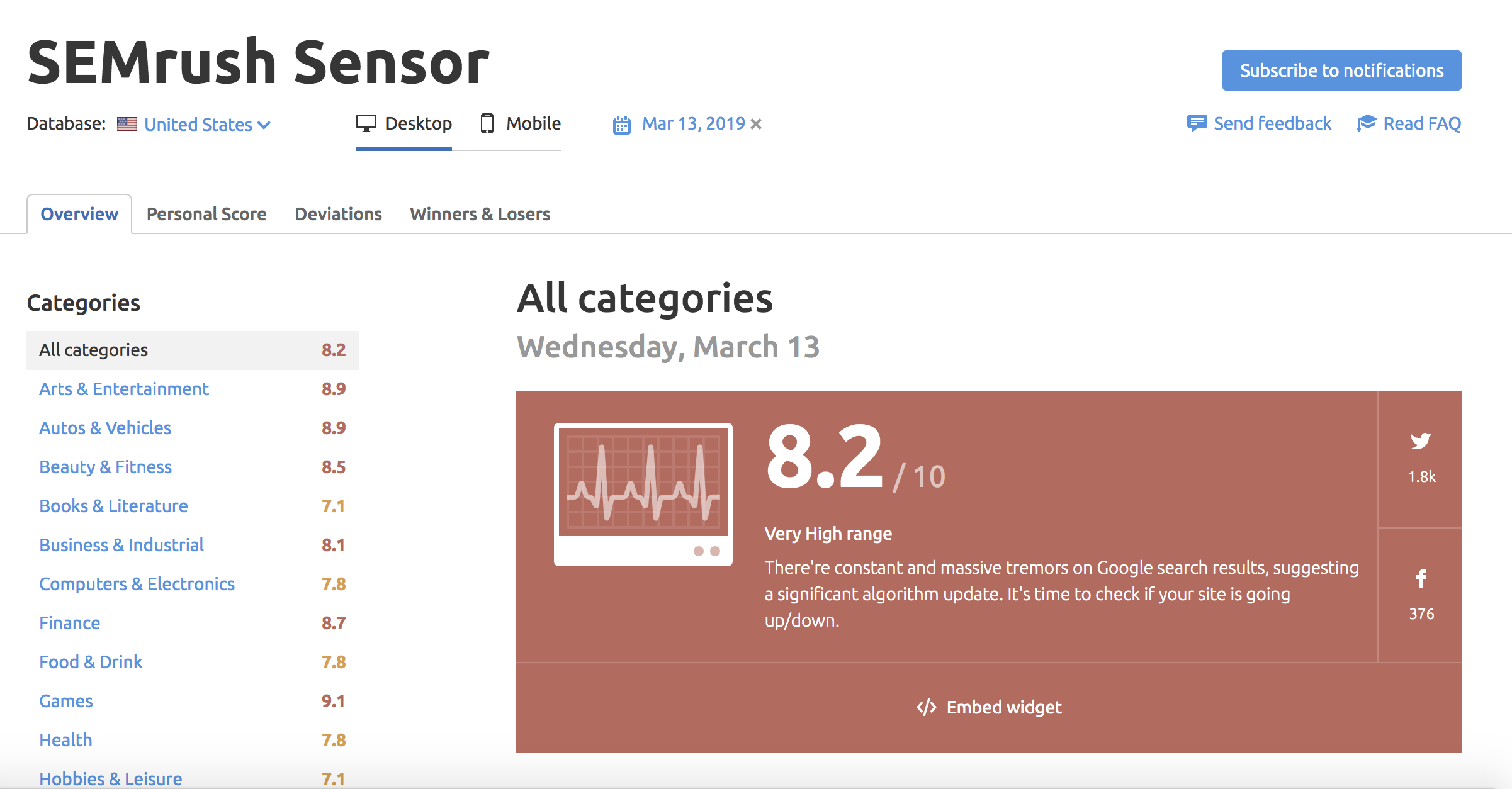 Sources:  Google on the March 2019 core update: This is not the biggest update we've released;  No more confusion: Google gives core update a name, and a structure;  Twitter: Google SearchLiaison;  Google released a broad core search algorithm on March 12;  Google Update Florida 2: March 2019 Core Update Is a Big One;  The March 12, 2019 Google Core Algorithm Update
Google No Longer Supporting rel=next/prev Markup
Via a Google Webmasters Twitter post on March 21st, the search engine announced that it is retiring the rel=prev/next markup as an indexing signal.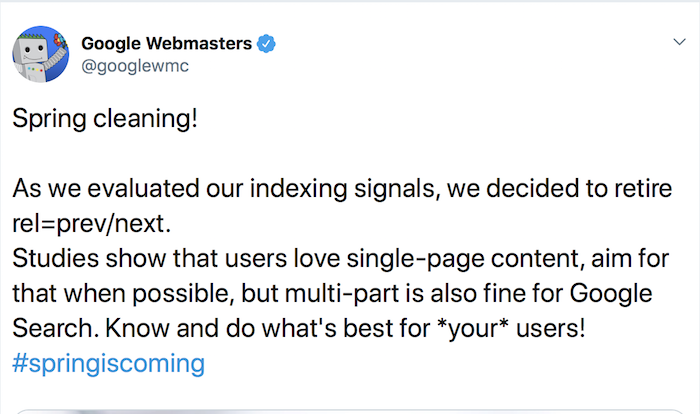 When Google's John Mueller was asked about the decision by Barry Schwartz and others, to their surprise (and dismay) and that of the larger search and SEO community, Mueller said Google stopped supporting the markup "a number of years ago."
Schwartz noted in his Search Engine Land article, "The crazy part about this is that Google has been recommending the use of the rel=next/prev throughout the years. In fact, Google just recommended that we use it in the latest Google webmaster hangout from two days ago!" Google now recommends keeping content on a single page, rather than breaking it up into multiple pages. The original Twitter announcement says to aim for that when possible, "but multi-part is also fine for Google Search. Know and do what's best for *your* users!"
So should you remove your rel=next/prev markup? Barry Schwartz explained that you may need to keep it because it may "still be used by other search engines and by browsers, among other reasons. So while Google may not use it for search indexing, rel=prev/next can still be useful for users. Specifically, some browsers might use those annotations for things like prefetching and accessibility purposes."
Sources:  Twitter: Google Webmasters; Google hasn't supported rel=next/prev for a while (thanks for telling us);  Google apologizes for rel=next/prev mixup
Updated Guidelines for Seasonal Business in Google My Business
For Seasonal businesses, Google has rolled out a new set of rules and regulations that are related to setting business hours during the off-season. Seasonal businesses will now be required to have their business listings marked as "temporarily closed" for the months their businesses are not open. Accordingly, their businesses will appear in the search results with a red label saying "temporarily closed." It should be noted that business owners will not be able to make these changes to their listings within Google My Business on their own. Rather, they may contact Google My Business support for the "temporarily closed" setting. Once they get the setting, they will be able to set up the regular business hours again.
Source:  Google My Business Adds New Seasonal Business Guidelines;  Guidelines for representing your business on Google
New Onboarding Process in Google My Business
Google appears to be changing its onboarding process in the new Google My Business. To create a profile in Google My Business, business owners are now asked to select up to six different goals that Google My Business can use to determine a personalized action plan. The search engine then comes up with a list of action items for businesses to complete their profiles.
As can be seen from the screenshot Andy Simpson has provided, Google asks business owners to complete a list of actions for their Google My Business profiles to "Unlock" their plan; this looks more like a deliberate method to incentivize business owners to complete their listings in GMB. By adding elements like a cover photo, business photos, business hours, and business descriptions, etc., business owners are able to click the "Unlock your plan" options.
Source:  Google Asks Businesses to Set Their Goals in New GMB Onboarding Process
GOOGLE ADS NEWS
Google's New Policy Manager
Google announced it will be introducing a new Policy manager in April with a rollout of new features to help advertisers easily navigate the policy restrictions that govern the kinds of ads that are allowed on its platform. According to its announcement, Google's new Policy manager is intended to "provide a centralized and customized experience in Google Ads where you can monitor policy restrictions of ads, keywords, and extensions across your entire account."
The new features are:
The expansion of additional insights capability to let advertisers know what caused their ads to be disapproved just by hovering over the ad.
The ability to appeal an adverse ad policy action taken by Google with a few clicks, directly within Google Ads. 
Real-time detection of policy violations during ad creation (in some cases), whereby advertisers will receive immediate feedback so they can make the changes necessary to bring them into compliance.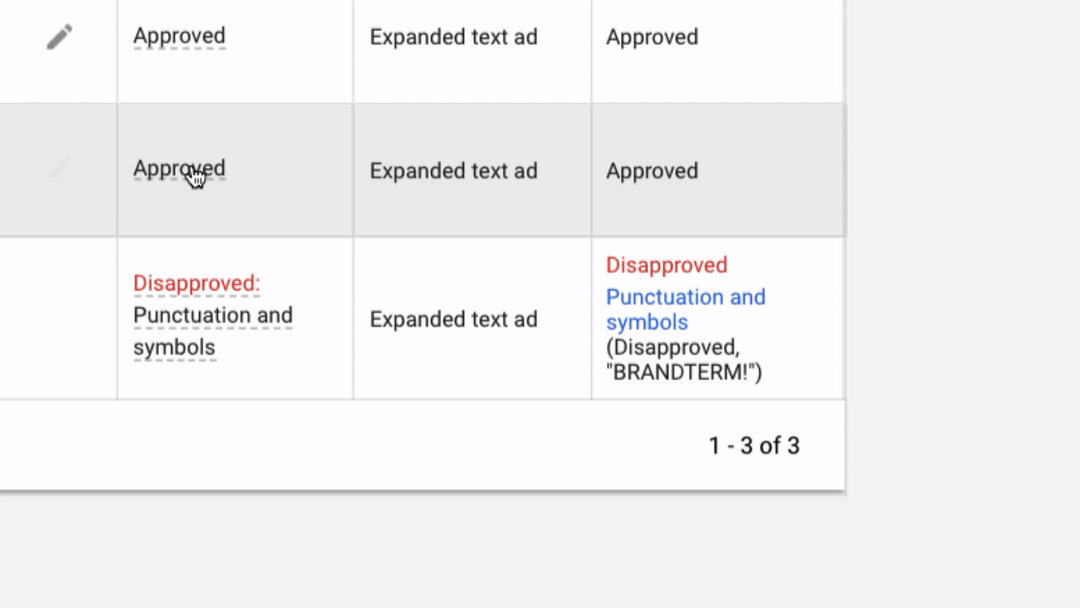 Source:  Our commitment to help you with policy compliance
New Budget Planner in Google Ads
Google is rolling out a new Budget Planner tool in Google Ads that allows advertisers to create a budget plan based either on conversions or clicks as the key metrics for their spend forecast. Kim Clinkunbroomer from Click Digital Marketing has alerted us to the new tool which should be found under the Tools menu in Google Ads. However, the new feature is still getting rolled out, so some account users may not be able to find it in Google Ads just yet.
Other than creating a budget plan, the tool also provides an option to improve the plan if it is not optimal already. Within the "Improve Plan" section, users can have the option to modify the budget and compare performance using the existing settings and the planned settings.
Source:  Google Ads rolling out Budget Planner forecasting tool
Recommended Columns in Google Ads
Google has added a new recommended columns in Google Ads that suggests new reporting columns based on an advertisers' campaigns and account settings. These "recommended columns" could help account users feature additional columns that could be useful in their reports.
Here is how Google thinks it is necessary: "For example, if you start using bid automation, we will start recommending the 'Bid Strategy Type' column to your Campaign table. With this launch, Bid Strategy Type will also stop being a required column in your Campaign reports, which will free up some horizontal space for you to see more of the statistics columns."
According to Google, an advertiser can do three things with recommended columns:
"Do nothing, and we'll recommend the column whenever it's relevant"

"Add them as permanent columns"

"Tell us not to recommend it anymore"
Although advertisers can turn off recommendations for individual or all columns in their account settings, Google suggests they do otherwise. The default settings allow Google to recommend columns that can be important to advertisers' accounts.
Source:  Introducing "recommended columns" in Google Ads
New Ad Features for Mobile Games
Sissie Hsiao, the VP of Product at Google, officially announced two new features in Google Ads that are focused on helping those in mobile games business to re-engage their audience and "take advantage of a new, smarter approach to monetization." These solutions include "App campaigns for engagement" in Google Ads and "new smart segmentation features" in Google AdMob. The App campaigns for engagement will help players rediscover the games they played earlier by engaging them with relevant ads across Google's properties. As an advertiser, you can utilize App campaigns for engagement to reconnect with lapsed players in many different ways and encourage them to rediscover your game.
The smart segmentation features in Google AdMob, on the other hand, help advertisers segment mobile players "based on their likelihood to spend on in-app purchases." Players who are not likely to spend on in-app purchases will see the ads created through smart segmentation. While those predicted to spend on in-app purchases won't see these ads and can simply continue playing. Google suggests advertisers give these features a try by creating an interstitial ad unit with smart segmentation enabled.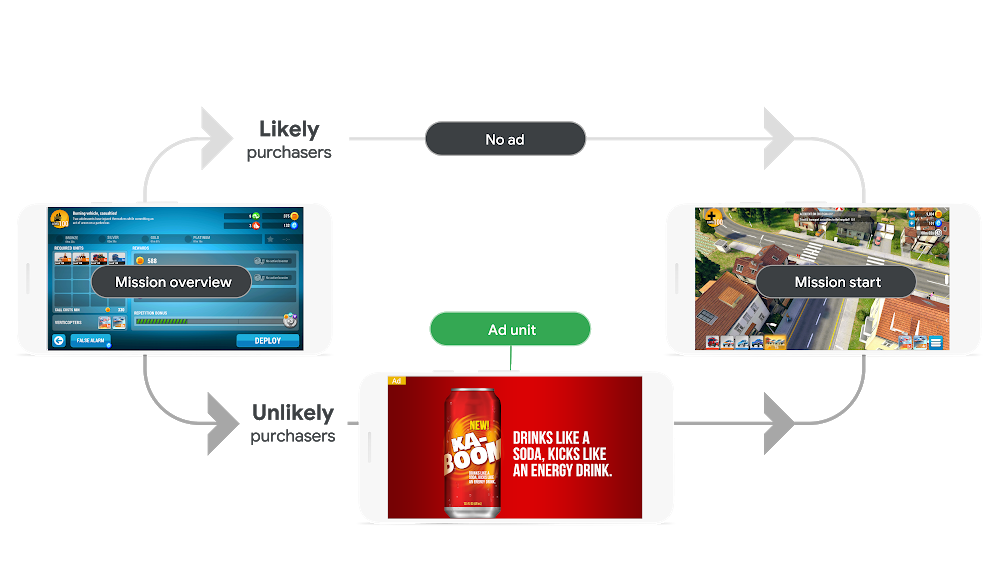 The App campaigns for engagement works both with Google Analytics for Firebases and Google's App attribution partners. These new solutions could help mobile games advertisers increase the lifetime value of their players. These solutions come in the form of creating demand for their games through pre-registration ads and helping them grow at scale with the new maximum conversion bidding feature.
Source:  Grow your games business with ads;  Grow your games business with ads
Google Search Network and Google Images Integration: Shopping Ads to Appear on Google Images Automatically
The search engine is sent emails to inform advertisers that Google Images has now become a part of the Search Network for Shopping ads. Accordingly, advertisers who are running shopping ads can now see Google Images as their default placement option.
Previously, Google advertisers could only display shopping ads in Google Images by manually opting-in to the search Partner Network. Now, as Google Images has become a part of Google's own search network, they are no longer required to manually opt-in or adjust their campaign settings to start seeing their shopping ads on Google Images. Nevertheless, Google Ads users should expect some fluctuations in their traffic data as they may not be getting as much traffic from Search Partner Network as they used to after this integration.
Source:  Google Shopping Ads to Automatically Appear in Google Images
Testing a New Ad Label on Google Search
Darren Taylor, a UK-based trainer and marketing consultant, spotted Google testing a new color for the "Ad" label that shows next to text ads in Google Searches. The new label is a bolded black text with no border (as can be seen on the screenshot Darren has shared on Twitter).
The last time the search engine giant tweaked the ad label was a little over two years ago, and we haven't noticed any changes to the current "green-text and green-border" ad label since Feb 2017. Ginny Marvin from Search Engine Land has shared the comments from a Google spokesperson on this: "We're always testing new ways to improve our experience for our users and advertisers, but don't have anything specific to announce right now."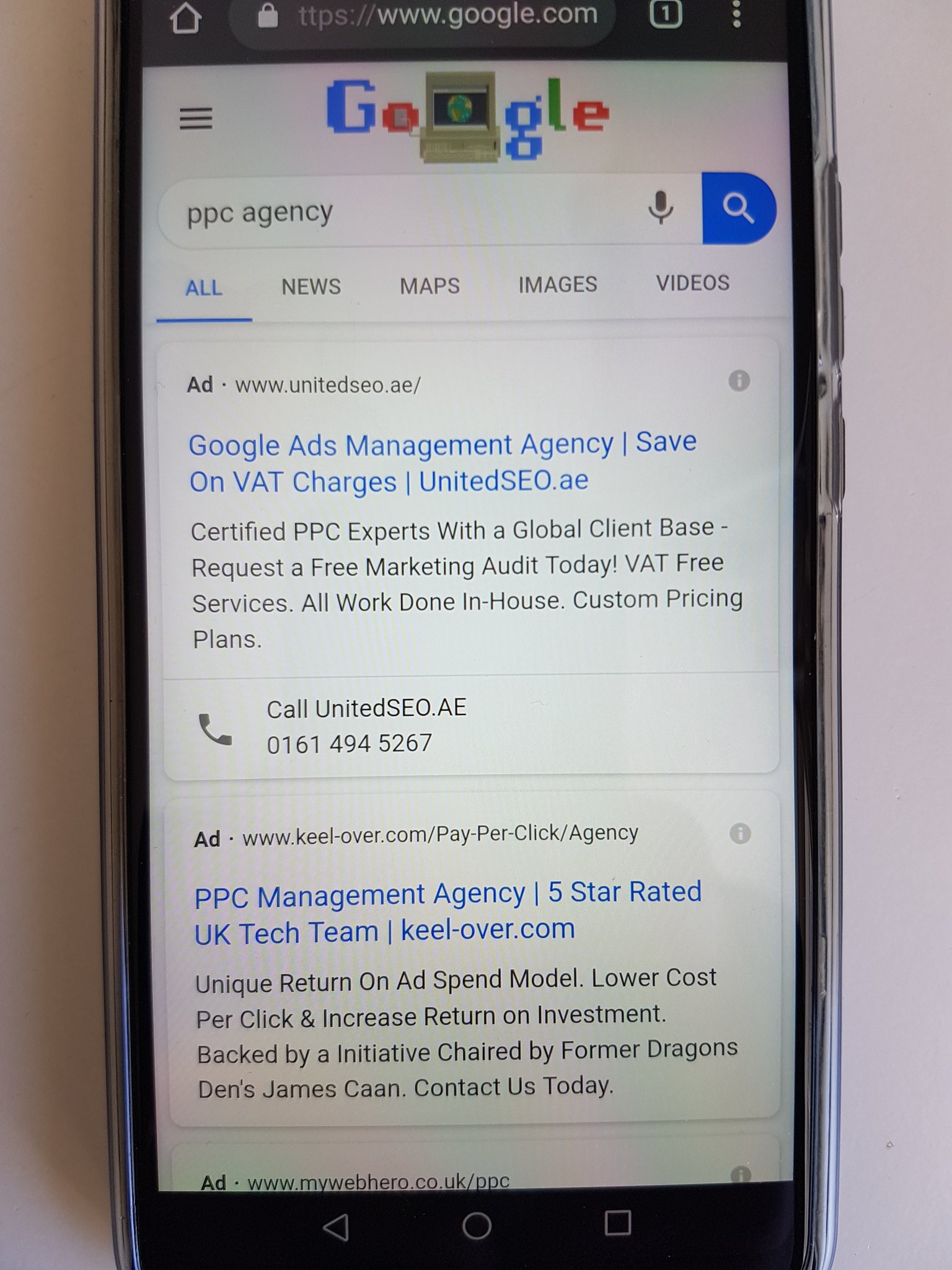 Source:  Goodbye green? Google testing black "Ad" label in Search
GOOGLE TOOLS NEWS
New Google Ads Query Builder Tool
Google recently announced that its Google Ads Query Builder tool is now available on the Google Ads API Developer Site. The tool boasts a "robust reporting system" that utilizes its new Google Ads Query Language. According to the announcement, the language's syntax allows API users to select from all the resources available for reporting, and "filter or sort the result set on the server before they are returned to your application." The tool provides a friendly web interface, and developers can use the editor tool to build a Google Ads Query Language statement to use in their apps.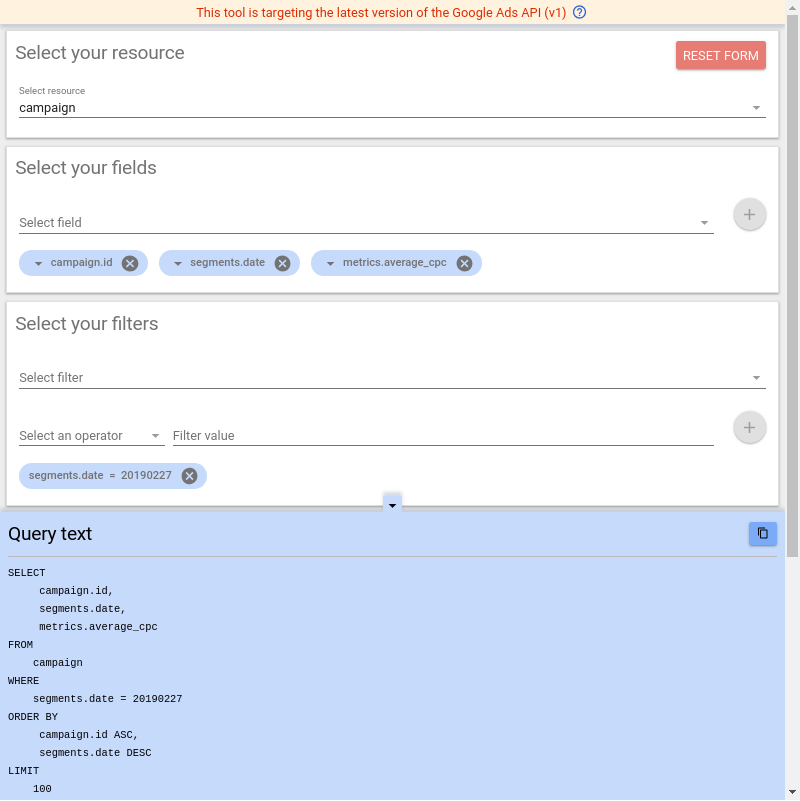 Sources:  Introducing the Google Ads Query Builder tool;  Interactive Google Ads Query Builder
Updated Sitemap Report in the New Google Search Console
Google announced on Twitter that it has updated the sitemap report within the new Google Search Console to support new actions. Among the new actions are opening sitemap contents in a new tab, reviewing more detailed errors, deleting a sitemap, and presenting Atom feed and RSS sitemaps. Users with a verified site and an uploaded XML Sitemap will be able to see the new sitemap report.
Sources:  Google Search Console adds new actions to sitemap report;  Twitter: Google Webmasters
Google Lighthouse: Updated SEO Audit
Google has introduced a new mobile-friendly SEO audit in the Lighthouse Chrome extension and on its Google Developers' web.dev site that measures tap target spacing on mobile sites. As Google explains, optimizing tap targets while designing for mobile is important, as placing the targets too close could result in an accidental selection by the user. With the new update, the Lighthouse tool will now allow developers to determine whether or not tap targets are appropriately sized on their mobile sites. If not, it may suggest some action around this item to help improve the SEO score.
Source:  Twitter: Google Webmasters
[ create-campaign bg_images="https://static.semrush.com/blog/uploads/media/6d/17/6d17123a739d9d172d88c61b3a654043/40-technical-seo-mistakes-semrush-study-2017-back-banner.png" bg_button="-success" header="Check out your website health" text="with SEMrush Site Audit"]