Google Revamps the PageSpeed Extension Into a User-Friendly Tool
Nov 21, 2013
3 min read
For years now, Google has offered webmasters the ability to test pageload speeds via browser extensions and an API. For non-technical SEOs, the PageSpeed Insights extension for Chrome and Firefox has been helpful in determining on-page fixes. But anyone who's used the extension before can tell you the analysis is difficult to put to good use because of how the extension is set up.
Thankfully, Google took the hint. The PageSpeed Insights tool now makes it all the easier to pinpoint loading issues on your site and fix them. Or, at least so you can tell your favorite web developer what needs to be fixed to improve site performance.
In addition to providing more readable reports, the PageSpeed Insights tool detects more errors than the extension. For example, one page I tested in the tool found 42 render blocking Javascript and CSS files above the fold (which is bad, by the way) whereas the extension only detected 14 offending files.
The Tool
Start using the PageSpeed Insights tool by pasting or typing in a URL into the Analyze field, and click the Analyze button. Since we're talking speed here, I thought it was appropriate to look at NASCAR.com.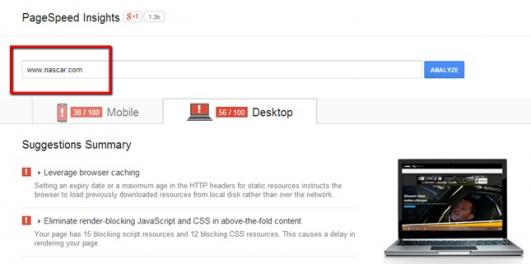 Since the tool analyzes page level code, it's a good idea to run different pages and page templates through since some pages may have page speed issues that others don't. As you can see, NASCAR isn't doing such a good job at optimizing their site for Google. But they probably don't care because their dedicated fan base loves NASCAR regardless of how long the webpages take to load.
Upon analyzing the page, you get a small screenshot of what your site looks like on a laptop/desktop and on a mobile device, which can be very telling if you haven't looked at your site on a smartphone lately.
The List
PageSpeed Insights analyzes ten different aspects of code that contribute to slowing a page's load time. Upon analyzing the page, you will see a drop down list of all the files that can be optimized for the most efficient load.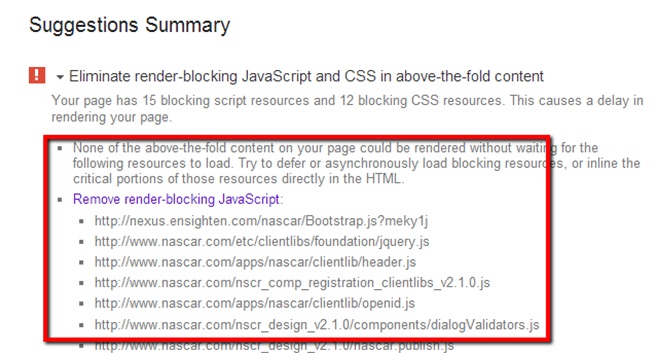 Here is a list of the most common offenses, and a quick action step on how to fix each one. (Note: I'm not a web developer, so forgive my explanations.)
Optimize images
On this note, PageSpeed Insights usually advise images to be delivered using "lossless compression." Just like we can compress images, spreadsheets and Word documents when we send them over email, the same can be done with images on a website to improve load efficiency.
Leverage browser caching
This is a really basic command in a site's .htaccess or webconfig file that sets a cache date for the elements of a particular webpage. By setting a cache date, a web browser doesn't need to pull all new files to construct the page if someone returns to it within the set time they first visited.
If you are the webmaster of the site you're working on, here's an excellent article on how to properly set browser cache date.
Eliminate render-blocking JavaScript and CSS in above-the-fold content
While the sites I've tested have various amounts of above the fold Javascript and CSS, none have been able to score perfectly on this one. However, the negative effect can be minimized by placing as many of these files further down on the page as possible.
From Google's perspective, anything that gets in the way of the actual content loading is taboo, so get your content to your user as quickly as possible and let the peripheral stuff load after that.
Minify JavaScript, CSS and HTML
According to PageSpeed Insights, "Compacting JavaScript code can save many bytes of data and speed up downloading, parsing and execution time."
From the web developers I've talked to, minifying JavaScript, CSS and HTML is a straightforward process and their applications that will do that for you. The best article I ran across on the topic is here. But beware, it helps to know JavaScript beforehand to have any clue on actually implementing what the writer is talking about.
There are several other insights Google gives us that you can discover using PageSpeed Insights, as well. So be sure all of them are optimized for maximum load efficiency. Good luck!