The search giant Google previously gave advice on site configuration and making pages viewable and even started indexing apps. But until now those changes have not, as far as we know, had any material impact on ranking and search engine optimization (SEO). That's all about to change.
Google says: "Users will find it easier to get relevant, high quality search results that are optimized for their devices." This applies worldwide across all language groups. In other words, mobile friendliness has become a ranking signal. In addition, users signed into mobile apps may also see indexed app content showing up in search results.
How the Update Changes Search and SEO
On April 21, Google will launch a mobile crawler that will crawl web apps, Android apps and more.
Further, Google may launch a mobile-only index which means that these results may have little impact on desktop search rankings.
Unfortunately, that doesn't mean you can breathe a sigh of relief as around half of all searchers are using mobile devices. Many of the issues Google has raised in the past (such as avoiding errors for mobile browsing, reducing redirects and focusing on speed) will remain important.
App indexing has implications for SEO, too, as Google will be able to recognize links between app content, app listings and mobile web pages. That means it's important to optimize these listings before they start showing up in mobile search results.
And there's more. For some time now, searchers have been able to get quick results via an answer box that originally surfaced as part of the Knowledge Graph. It's Google's way of bringing the most relevant results to the top, and it means that even the results lower down the first page may not win the click. Cognitive SEO has an interesting analysis of how the answer box works with suggestions of how to optimize for this.
Those are just a starting point, because no one knows for sure how far Google will go in pushing mobile-friendliness. What we do know is that Google sees this update as bigger than Panda or Penguin, which is a clear sign that website owners and SEOs need to take it seriously. That means assessing your site for mobile friendliness.
Are you ready? 
Recently Semrush added a new graph to the overview report — it now provides data on visibility of queried domain not just for desktop, but for mobile search as well.
The mobile-friendliness pie chart shows the ratio of webpages that are labeled "mobile-friendly" to those that are not. We compared the largest websites in their industries, and got some interesting data — who is ready for the algorithm update, and who is not. Time will show how the algorithm will affect the unprepared sites — we will keep you up to date and provide the data after the algorithm update. Now let's take a look on potential winners and losers.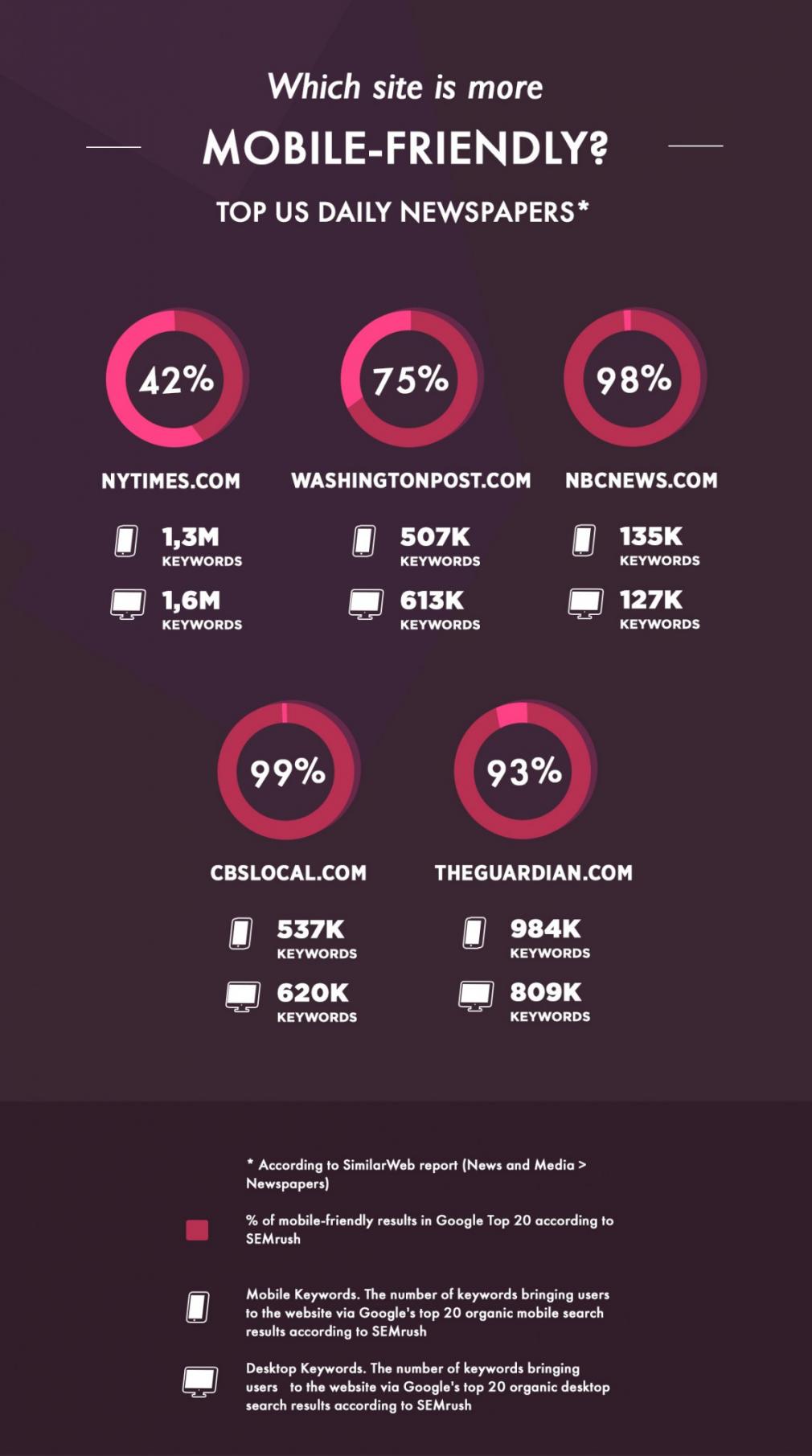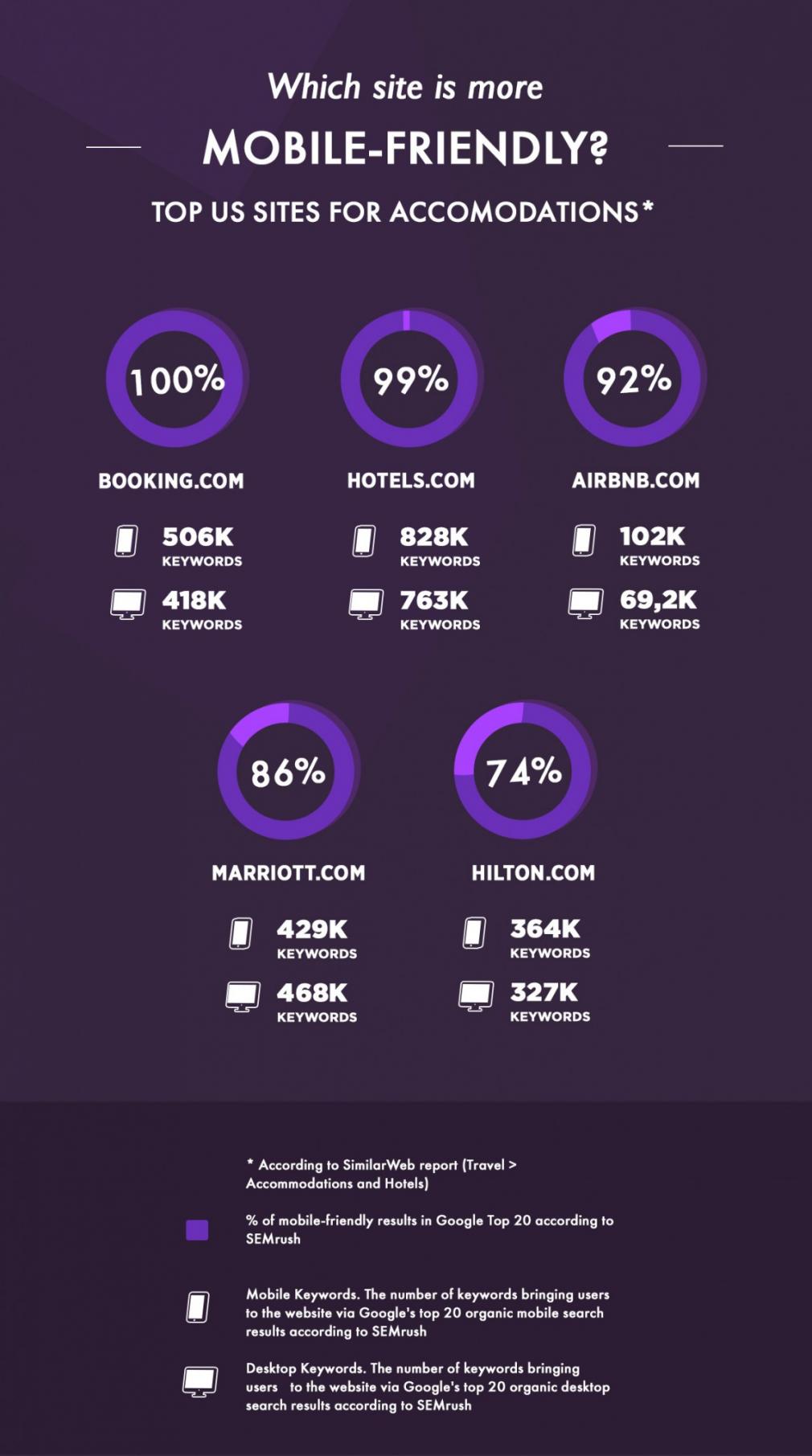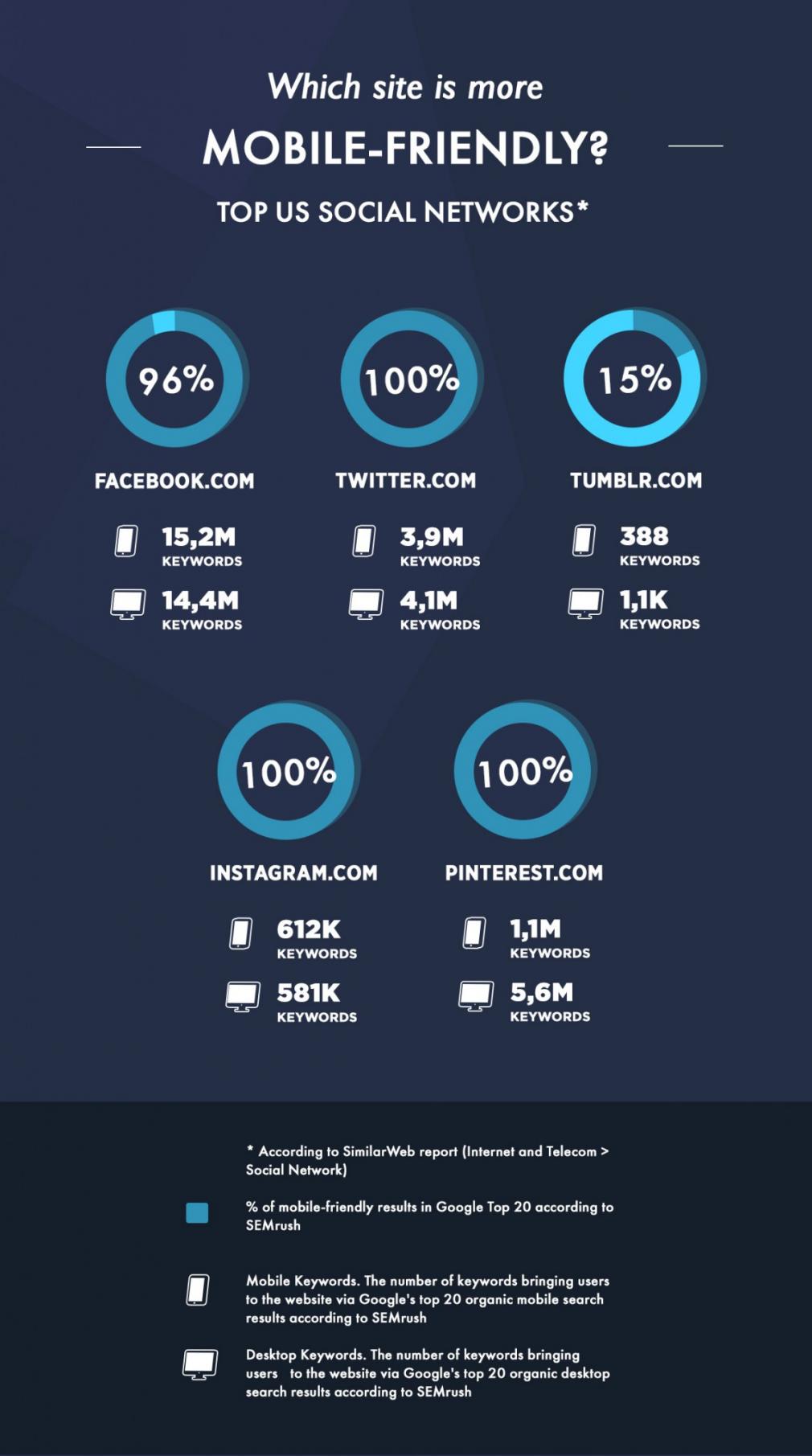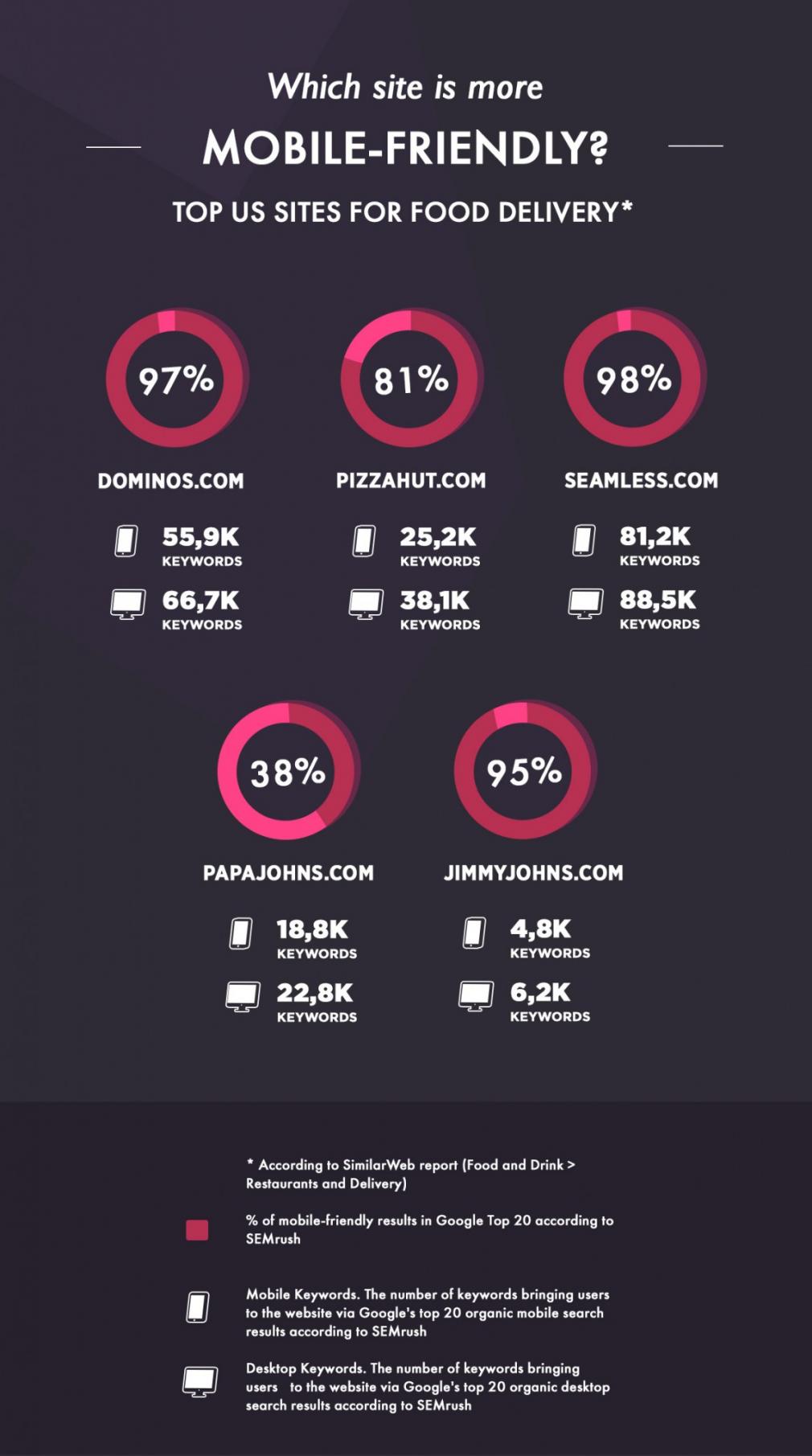 Also we prepared the list of top 100 websites with highest traffic (according to Semrush) and compared number of mobile-friendly and mobile-unfriendly results for each of them.*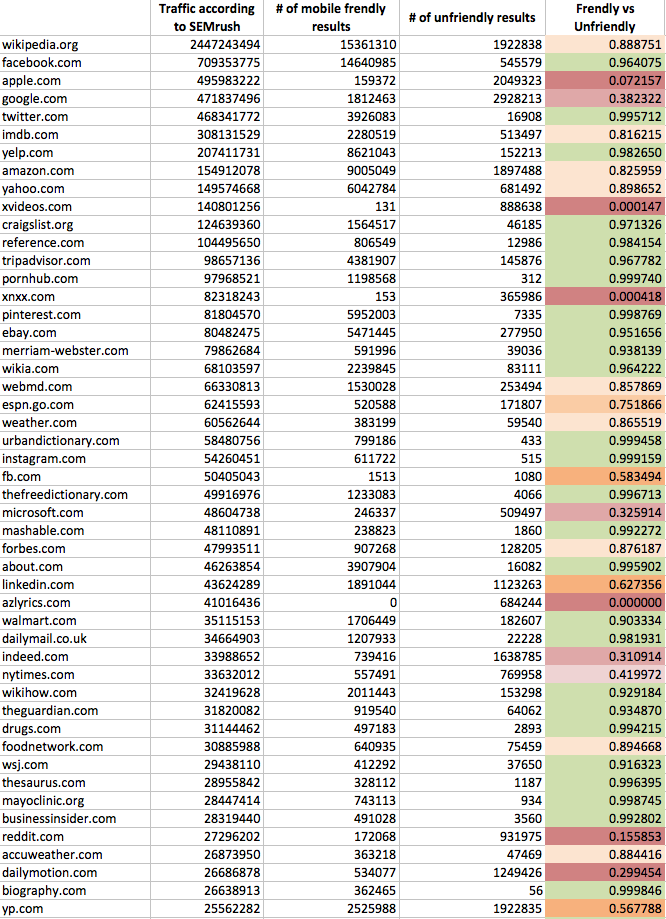 # of mobile frendly results — # of Google Top 20 with results marked mobile-friendly
# of unfriendly results — # of Google Top 20 with results not marked mobile-friendly
Google Tools for Testing Mobile Friendliness
A good starting point for checking if your website mobile-friendly is Google's own tools.
Go to Google's mobile friendly test tool and plug in your URL. This will give you either a positive or negative result for the page you have tested. A positive result means Google sees your page as mobile-friendly. A negative result means there's still some work to do. In that case, the results page will highlight the top mobile usability errors (such as Javascript blocking, CSS errors, mobile 404s, slow page load, bad redirects) and give options for next steps to fix your site. Follow the recommendations, then test your page again.
You can also use Page Speed Insights, either from its own page or via Google Webmaster Tools. This is a better option for checking mobile usability for an entire site, rather than a single page. The results from this analysis will highlight errors, show you where they appear and tell you how crucial it is to fix them, using a traffic light grading system. Again, each error gives access to more detail on what it is and how to fix it. You then have the option to re-test the live version of your page and see if it passes.
At the moment, passing the mobile friendly test appears to be more important than passing the mobile usability test but since Google is constantly changing its guidelines we wouldn't bet on that staying the same forever.
10 Tools for Checking Mobile Friendliness
If you want an alternative to Google, there are many to choose from. Here's a round up of some of the options.
1. Semrush Site Audit Tool
Semrush Site Audit tool analyzes a range of site issues and also can define which of your website's pages are mobile-friendly and which of them aren't, estimate your website's mobile search visibility, audit your website's mobile version and fix its technical issues, including the meta view tag.
2. W3C Mobile Friendly Checker
The World Wide Web Consortium (W3C), which sets web standards, has been one of the tools of choice for checking websites since the web went public. So it's no surprise that they have a mobile friendly checker that provides a lot of technical information and guidelines on how to fix your website.
3. Hubspot's Marketing Grader
Hubspot's Marketing Grader gets tons of data about variety of site issues, including mobile friendliness. Plug in your URL, hand over your email address and you will get an email report with actionable insights you can use to fix your site.
4. Keynote — MITE
Try Keynote's downloadable MITE tool. This tool emulates a number of mobile devices and also provides scripts for mobile web performance monitoring.
5. Mobile Phone Emulator
A good way to see how your site looks on different devices is to use the Mobile Phone Emulator. You can set monitor size, type of phone, preferred browser and website. It's a great way to double check your results from one of the other tools.
6. Screenfly
The Screenfly tool allows you to input a URL and use a number of on-screen buttons to see how your website will look. In our test, the site looked different using this tool from when we used Google's Page Speed Insights. That suggests it's useful to test your site using more than one tool to figure out if you really have an issue you need to address.
7. Mobify
If you're running an ecommerce site, then Mobify provides the insights you need to create great mobile shopping experiences.
8. BrowserStack
BrowserStack is a paid service that allows you to check how your site looks on individual mobile browsers. This can take a while but it might be worth doing if you want to optimize for particular devices.
9. MobiReady
MobiReady is a free cross-device web performance checker.
10. WooRank
WooRank is a one page test tool which includes several mobile friendly signals along with advice on how to fix them.
Many of the tools listed above allow you to test a wide range of mobile devices, but to save time, Usability Geek has a great recommendation. Check your Google Analytics data to see which mobile devices your visitors use most and test for those first.
3 Tools for Creating a Mobile Site — Fast!
If you haven't got a mobile site and want to create one quickly, the tools below will help you.
1. bMobilized
bMobilized provides a shortcut to creating a mobile site. Type in your URL and it quickly produces a site with your custom header, links to the phone, map and email, and creates a menu. It also makes content easy to read. Dig a little deeper and you can edit the look of your mobile site online, including adding plugins and changing the design. This is a paid tool, but you can try it free for 14 days and publish your mobile site immediately.
2. DudaMobile
DudaMobile works in a similar way to bMobilized, creating a mobile version of your site that you can customize and launch.
3. MobilizeToday
MobilizeToday is a pretty quick tool allowing you to input your URL and create a mobile friendly site. If you're happy with the look, you can publish your mobile site immediately.
If your site runs on WordPress, you also have several options for making your site mobile-friendly by installing a plugin or changing the theme. Many of the premium themes are already optimized for mobile devices, and that applies to some free themes too. Google also outlines several steps for WordPress sites in its mobile guide.
Next Steps
Despite the hype, the mobile-friendly update isn't the end of the world. All you have to do is prepare. To do this:
Above all, don't ignore SEO, because people still need to be able to find your website, no matter what device they are using. As Trond Lyngbo points out on Search Engine Land: "just because your site looks good on a mobile device doesn't mean it's optimized for mobile search."
Finally, continue to monitor and tweak your website so it's as mobile friendly as possible because we know from past experience that things will continue to change.
As James Martin points out on CIO.com, we can't assume that just because mobile and desktop are being seen separately now that doesn't mean that in the future being penalized on mobile won't affect your desktop ranking.
The only answer is to optimize both using Google's latest guidelines so that you can be sure your web pages rank well, no matter how users find them.
Is your website mobile-friendly? Let us know what you think about this topic in the comments.