How do you feel when you start a new job? Anxious, right?
That is why good employers offer some sort of formal onboarding process for new employees. This way, new employees can get a better feel for what they are getting into and set their expectations accordingly.
New email subscribers can feel much the same way as new employees. They are not completely sure of your products and services, and this is where welcome emails come in. Welcome emails can alleviate fears, set proper expectations, and better acquaint new subscribers to your brand.
Take a look at the welcome email by The Sports Car Digest.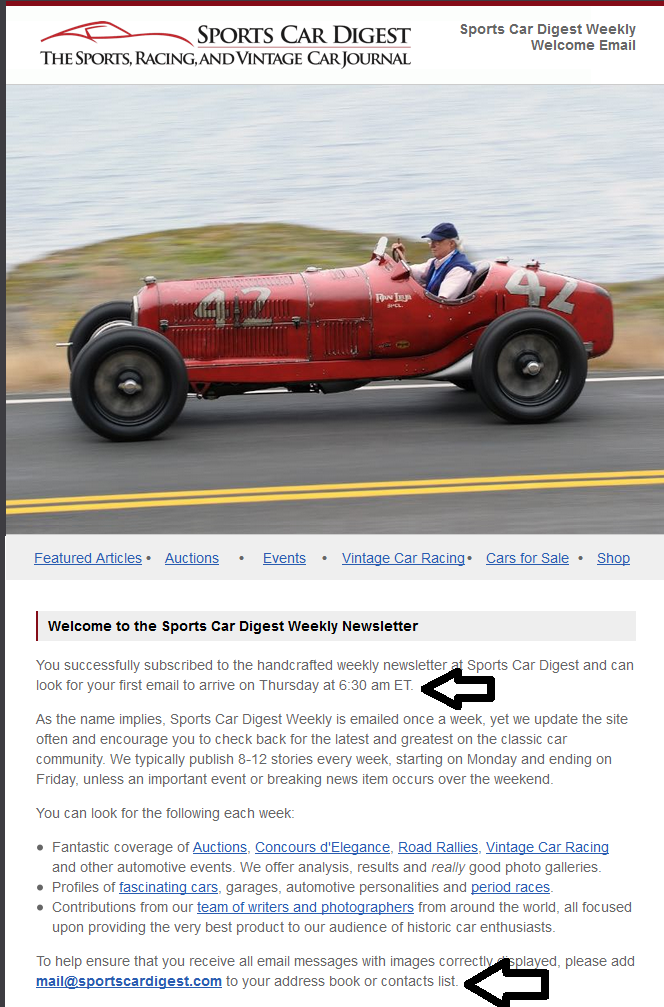 This welcome email clearly reflects what their company is all about, informs the subscriber about the next email to look forward to, the email send time, and also requests them to whitelist their email address to ensure future emails land in the inbox, not spam. Just Perrrfect!
Why Send Welcome Emails?
Welcome emails generate more than 3 times the transactions and revenue of other promotional and marketing emails. And the immediacy matters, too— 74% of subscribers expect a welcome email as soon as they subscribe. Every minute you waste post-subscription loses you engagement, conversions, and the opportunity to build rapport with your subscribers. The proof? Open Rates can fall by 25% if a welcome email is sent a few weeks after signing up instead of right away.
Single Welcome Email vs. Series of Welcome Emails
At least one welcome email is an absolute MUST! That said, it may make sense to send a series of emails as part of a long "Welcome." A welcome email series generates 13% more revenue than a single welcome email. It helps in creating and reinforcing a solid first impression in the minds of your subscribers.
See how McDonald's does it by sending three short yet meaningful emails whenever someone signs up for their emails.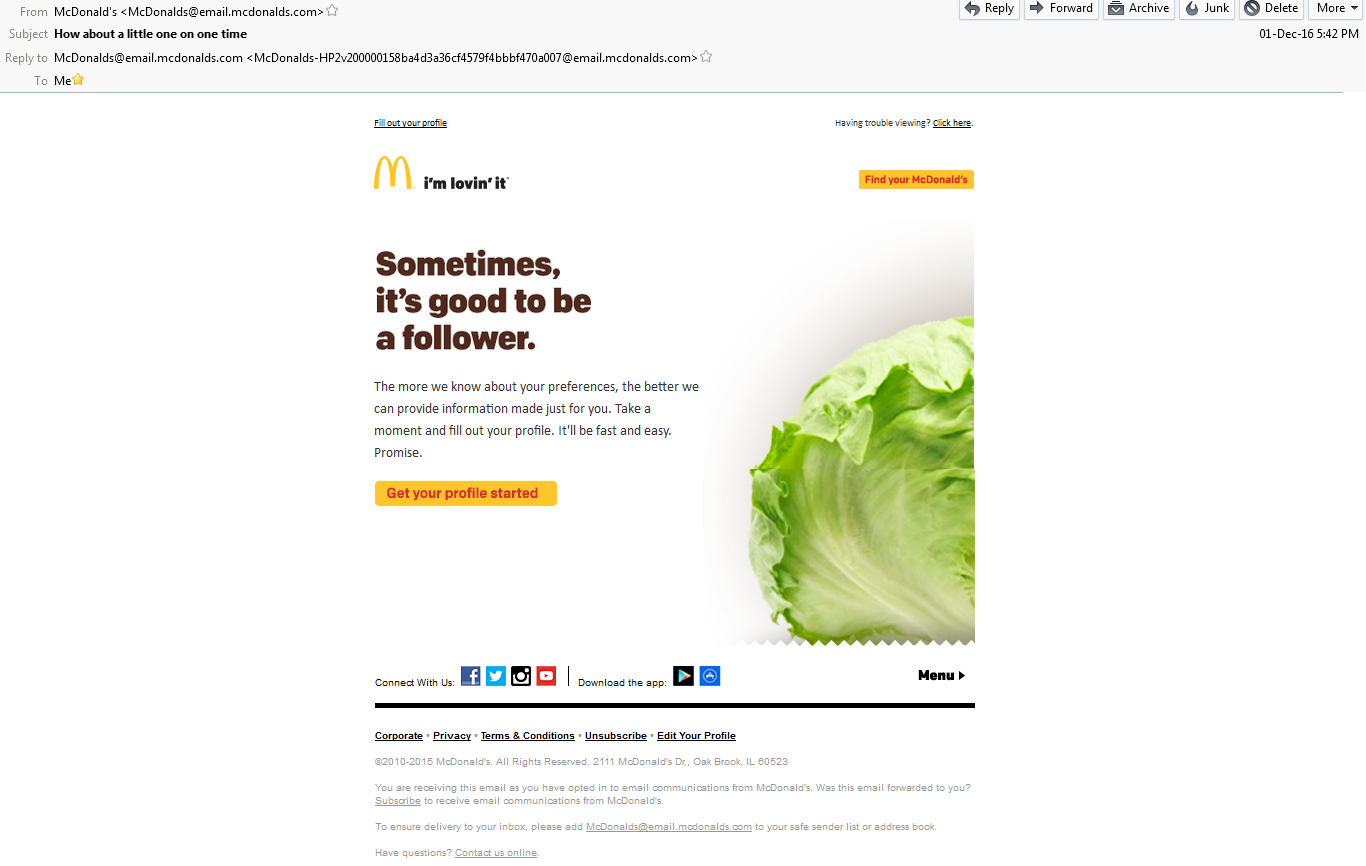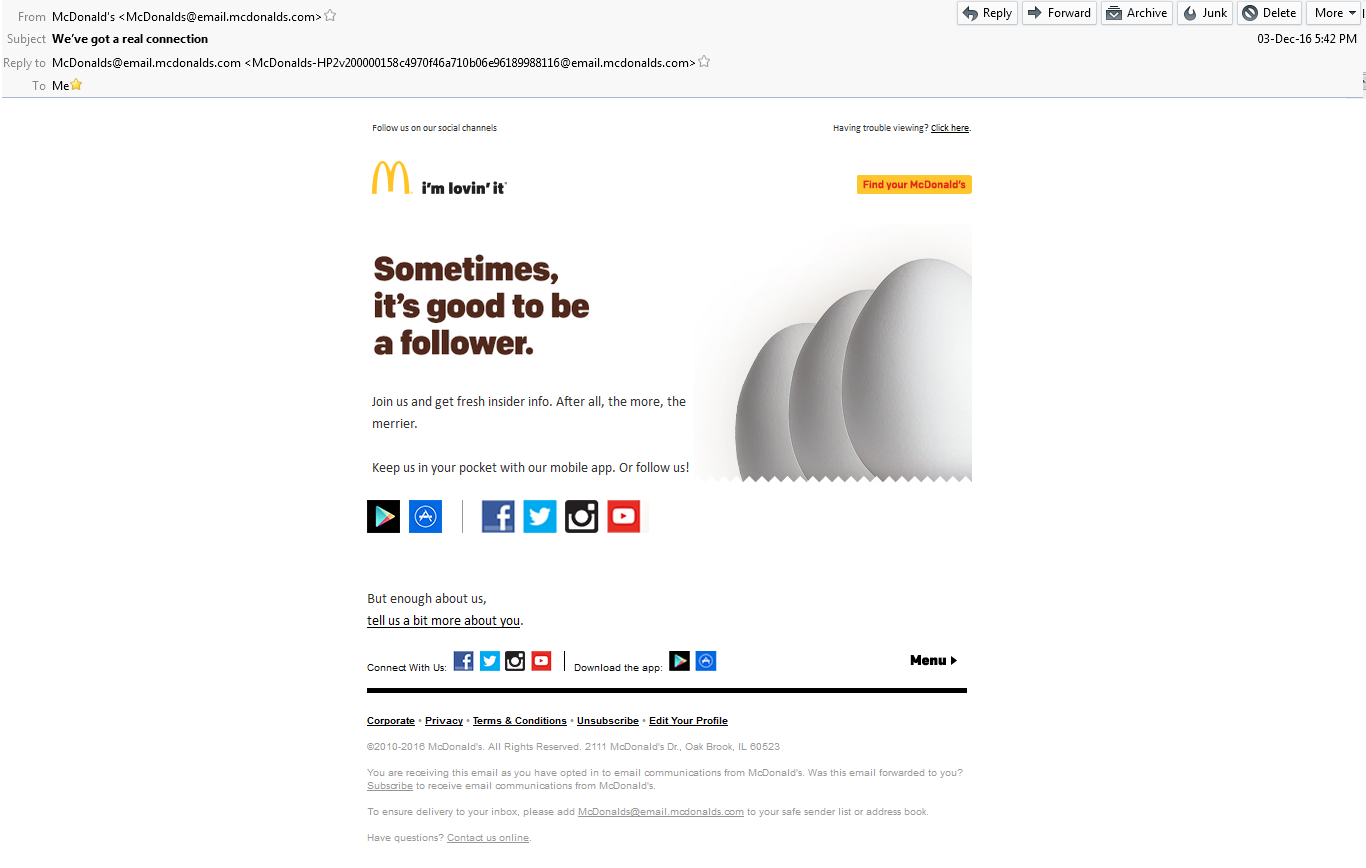 The first email welcomes the new subscriber on board while the second email seeks more information about their content preferences. The third email paves avenues for alternative means of communication through social sharing icons.
Create a Winning Welcome Email
Here are 5 evidence-based tips for creating a winning welcome email.
1. Write Interesting Subject Lines
69% subscribers mark email as spam solely on the basis of subject lines. 
An interesting subject line drives interest in your message as well as recognition of your brand. The subject line also needs to directly pertain to what's "inside the envelope."
Chipotle's welcome email subject line does this extremely well.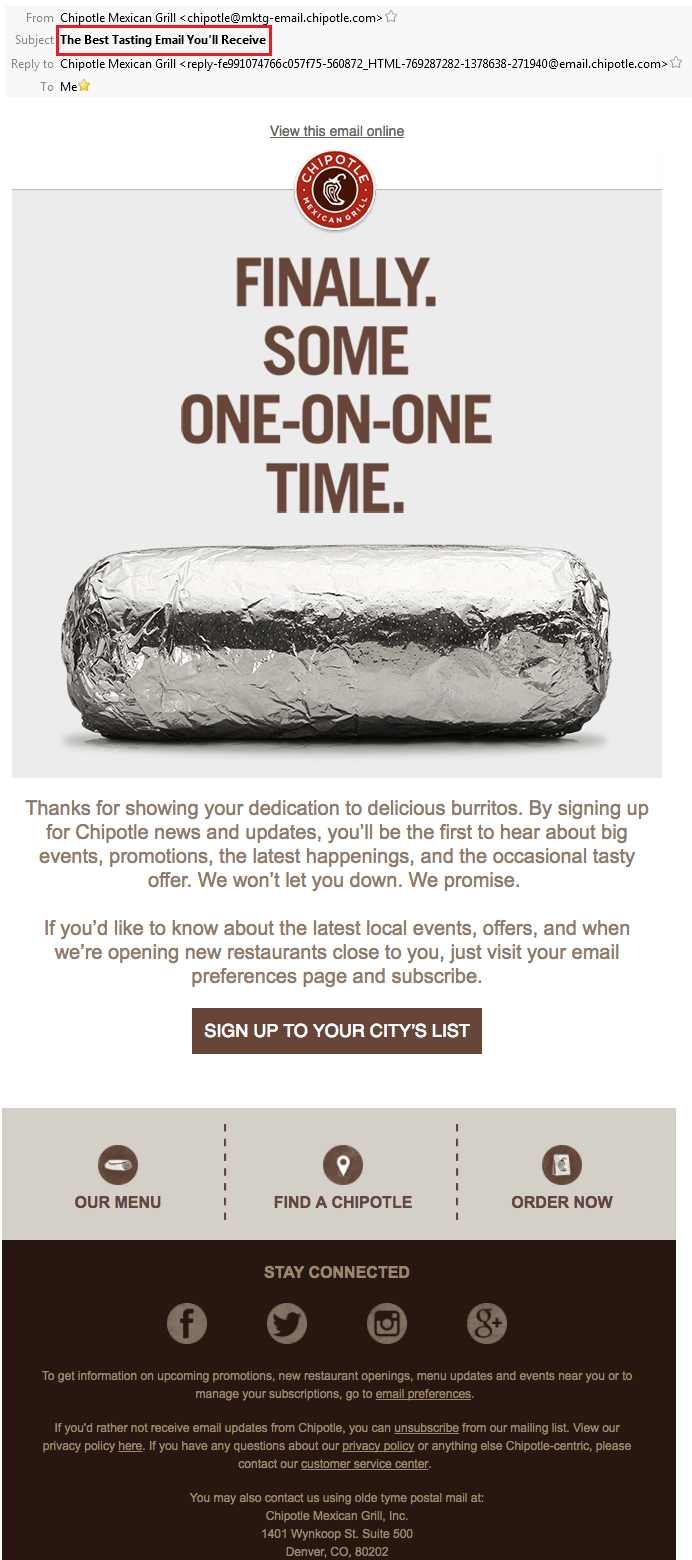 2. Represent Your Brand Clearly
There's no room for ambiguity in your welcome emails. Everything that your subscriber should know about your brand has to be conveyed right at the outset.
Include all the important links that help the subscribers know your offerings better to build credibility.
ace & tate sends out a compelling welcome email that lays bare what they are all about.

3. Personalize
Leverage personalization right away to create a lasting relationship with your subscribers.
allbirds does this well with personalization, a prominent CTA, and animated GIF making this email awinner.
4. Craft Engaging, Relevant Content
Base your content on the initial engagement of the subscriber, creating distinct welcome emails for increased relevance.
For example:
If a visitor has tried a demo version of your product, include a feedback option in the welcome email.
Include product recommendations to cross-sell to the first-time buyers.
Did the website visitor download your eBook? A special welcome email that includes a reference to or the content itself can work wonders.
Following these simple tricks can boost engagement and, hopefully, conversions.
5. If You Are Heavy on the Marketing, Include an Unsubscribe
Technically, a welcome email can be considered a transactional email, therefore not requiring an unsubscribe option. That said, if you are going to use this great window of opportunity as you should—for marketing purposes—it is better to include an option to unsubscribe. In fact, if it is basically a marketing email, the opt-out is mandatory.
Closing Thoughts
The first piece of email communication—your welcome email—should be appealing enough to generate subscriber interest and get them hooked on your brand. A proper welcome email strategy will enable effective lead nurturing further down the line.
To know more on Welcome Emails and kick-start your email marketing strategy, have a look at the interesting infographic by InboxArmy: The Indispensable Welcome Emails.