I wanted to share my thoughts and tips regarding advertising on Instagram, so decided to create a guide with all the steps that you need to implement while creating ads on Instagram. Throughout this guide, I will share how to create Instagram advertisements, some best practices, and finally my thoughts on running Ad Campaigns on Instagram.
Guide to Creating Ads on Instagram
1. Set up your account to access advertising on Instagram.
In order to make ads on Instagram , the first thing you will have to do is to link your Instagram account to your page on Facebook. For this step do the following:
•Sign in to your page.
•Go to Settings.
•Select Instagram Ads and link your Instagram account.

•When synchronized, your account should appear like this: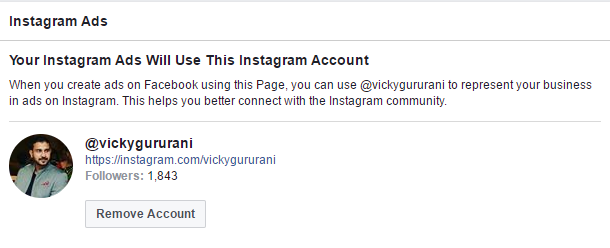 2. Verify that you have access to Instagram Ads through the Power Editor or Ads Manager.
All accounts have the Instagram Ads option enabled, to confirm it, you just have to go to the location of your ads in your ad sets, and you will see Instagram appear as another place.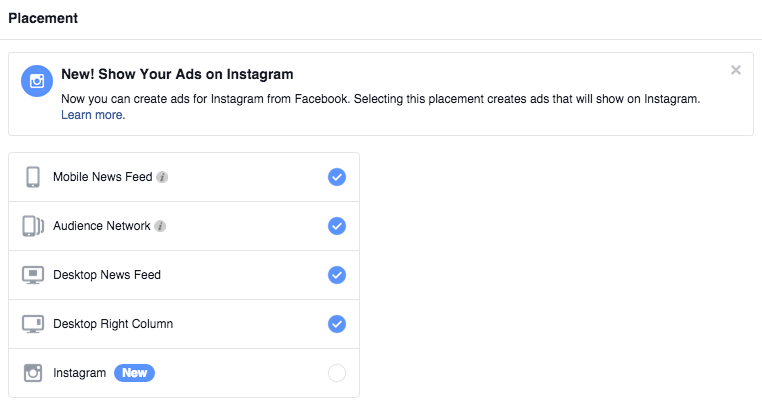 3. How to create ads on Instagram (step-by-step).
To create Instagram ads, you have to use the Power Editor as I showed you before. The ad campaigns for Facebook and Instagram in the Power Editor are created by doing the following:
Select the option to create a new campaign and choose your goals for ads in Instagram: bring traffic to your web, conversions or video visualizations.
Define the name of your ad set and select the "Create Button".
Go to the ad sets section and choose the edit option. When this page opens you will have to:
Define or modify the name of your ad set.
Confirm the "location" of your ads. This is where you select Instagram. Right now Facebook will automatically mark you (as you will see in the image below).

 To create a campaign only in Instagram, you will have to give it to edit ad placement and mark only the Instagram platform. Then you can also filter by the operating system of the mobile devices.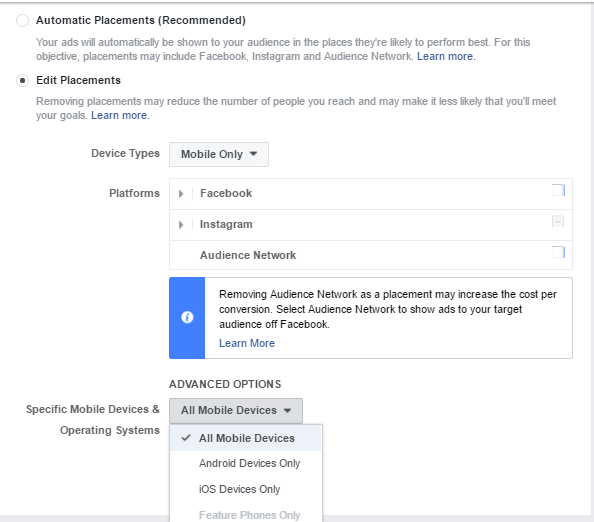 Configure the conversion (Facebook Pixel)
Define budget and duration. (TIP: Leave it indefinitely.)
Define your audience by country, age, interests, etc.
Define the optimization method. (If you have little experience, leave it automatically.)
After setting up this basic part, you will have to click on "create an ad". Define the name you will have
Next, you configure the following:
Go to the Facebook page that you have associated with your Instagram account and go to Instagram ads.
Define the call link to the call-to-action button.
Write the text of your ad. You have 300 characters to attract your users, but Instagram recommends that the text of your ads does not exceed 150 characters.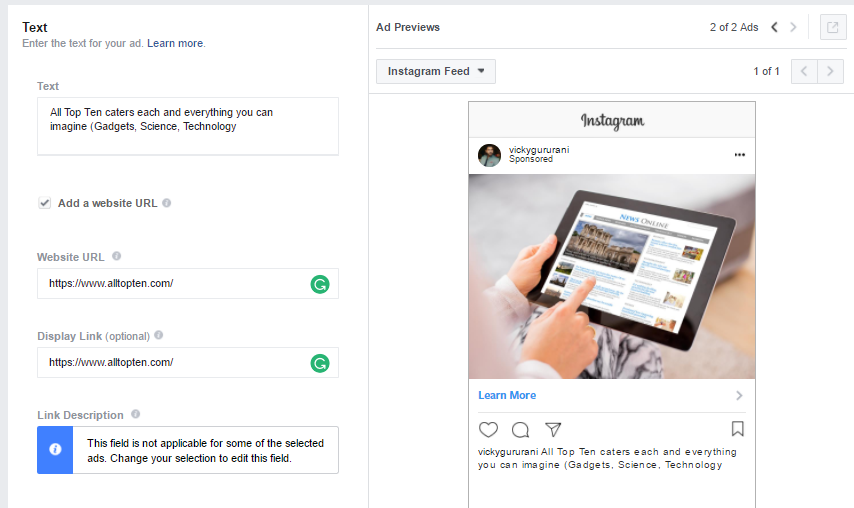 Upload the image of your ad (I recommend square format with measure 1080px X 1080px)
Select the call-to-action you want from the list provided by the Power Editor.
Finally, in the creation of your ad, you will have to add the tracking pixel. Look at an example of how your ad panel stays when you have it all completed.
Once you have your campaign, set of ads and individual ads created you will have to select the green upload button above so that your campaign is uploaded to the Power Editor and then submitted to FB / IN validation.
Instagram Best Practices for Ads
Below I would like to share some tips for your ads on Instagram.
•It is better to use the square format (1080px X 1080px) than the rectangular format. The announcement is much appreciated.
•The minimum measure for horizontal ads is 600px X 315px and 600px X 600px for square ads.
•Ads on Instagram are just like ads on Facebook; only 20% of an image can be text.
•Create different ads for the same campaign, so you can validate which style your audience prefers and which one is more economical.
•Add calls to action on your image or video and watch your results double. Look at these examples: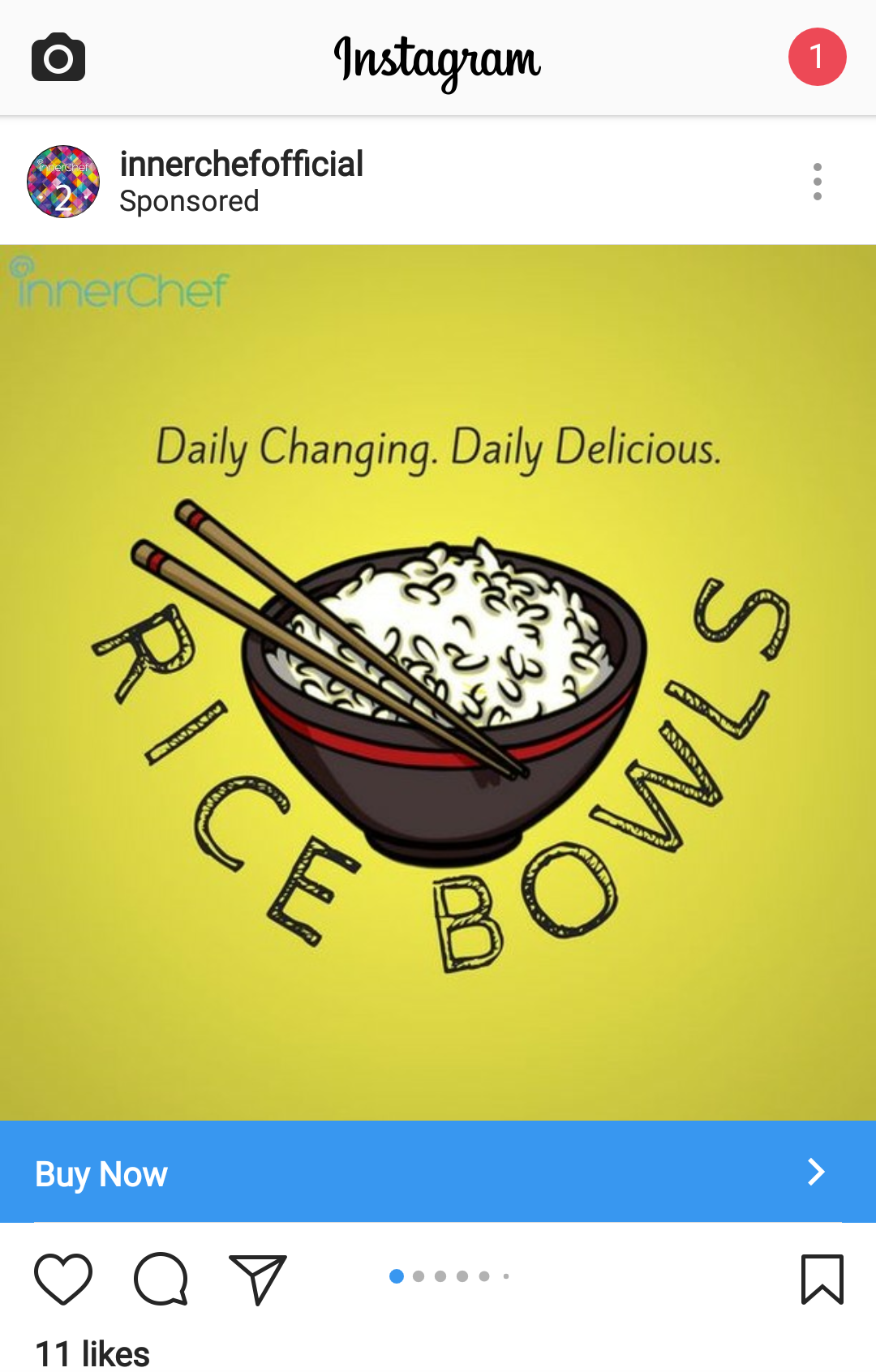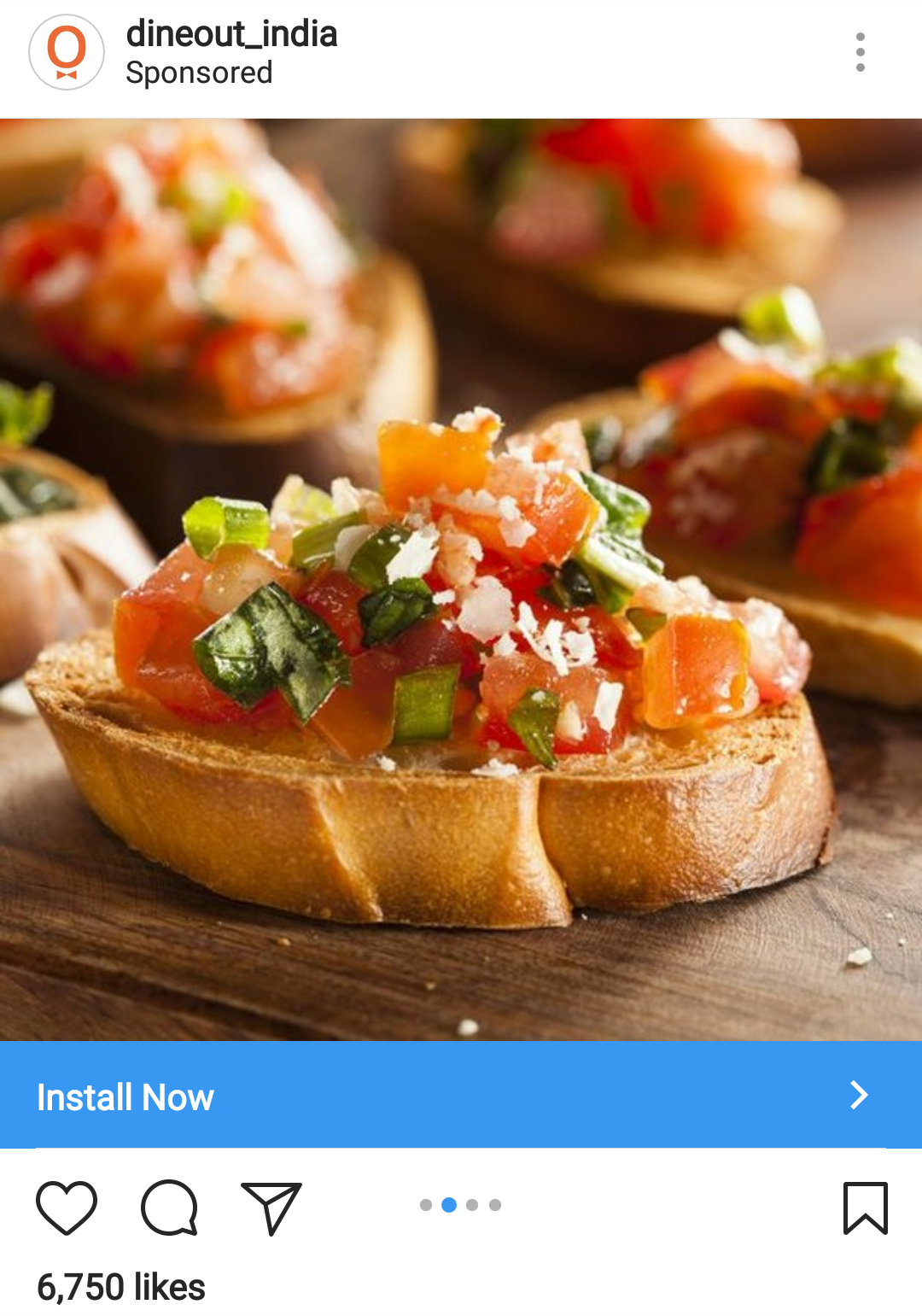 Be careful when editing your ads, because Instagram will automatically reset and remove all the likes and comments from the previous ad. Basically, you create a new one.
•Instagram Ads works super well for mobile applications, and the conversion rate is still very good.
•Videos on Instagram can't be more than 30 seconds and can't weigh more than 30MB.
•Highlight the hashtag of your campaign in the publication, so you do not miss out on the description.
•Split your ad sets to create Instagram ads separately, so you'll have better results.
To finish with the recommendations, I remind you that it is the best time to do tests because advertising is very cheap and not all brands are taking advantage of this advertising method. Dedicate yourself to create different campaigns with different ads to find out what your audience needs and wants on Instagram.
Some Tips for Using Instagram Ads 
To conclude this guide, I want to add a few thoughts on how these ads can help you:
If you are a small brand and want to make yourselves known on Instagram because your audience is there, the, investing in advertising is a good online marketing strategy. Advertising or promoting a new product or service, an event, a new app, the opening of a new store, etc. works well with Instagram ads.
Get Exposure for Your Community
Undoubtedly, this is one of the main features of advertising on Instagram. Grow your Community and increase the number of followers who receive the impact of promotions in the future.
Contests work on Instagram. You don't want to base the growth of an account only on contests because you will attract low-quality audiences that will never buy. But a contest focused on your core audience and that has a prize a specific audience would want works very well. 
Don't Think Advertising Will Perform Miracles
You can invest a lot in advertising on Instagram, but, if your account doesn't have quality content, great posts, quality images, the right kind of followers, and if you don't publish regularly, then spending money on ads is useless. You have to do the hard work first, then allow the ads to foster the growth of your hard work.
Thank you for reading to the end!
I believe that advertising on Instagram will continue to evolve and improve in the coming years, allowing us to create the best ads as compared to other social channels (Facebook, Twitter or LinkedIn). 
If you previously were not interested in advertising on Instagram or just started to think about it - this guide will be a starting point for your advertising campaigns.