The most successful and popular companies today have one thing in common: their customers love them! Ratings and reviews have become the building blocks of brand reputation across industries today. Brands are both excited at the opportunity to build a name for themselves and apprehensive about whether they should ask their customers outright what they think about them.
So, we invited Julie Gallaher, owner of Sacramento-based local search and reputation management agency Get On the Map to help us revisit the ABCs of online reviews. With our usual crowd of #SEMrushchat regulars, Julie discussed the benefits of ratings and reviews, how businesses can go about getting more of them, and how to respond effectively to customers' opinions online. Here is what Julie and our other chat participants had to say:
Q1. Do online reviews really matter? Why or why not?
Julie started out the chat by stating that a company's star rating is the TOP factor that customers use to judge them.
There are deep-rooted behavioral reasons why this is true; one is that consumers rely on others' experiences before they try or buy a product. When someone has used a product, they know its faults, benefits, and intricacies. They have already figured out how it works, which is why people trust other people's judgment more than what brands claim.
What's more, it is both a marketing and a digital marketing thing. According to Bill Slawski - @bill_slawski, reviews count as part of location prominence and are conspicuously shown in knowledge panels. Further, reviews improve search rankings of both B2C (e-commerce) and B2B businesses and can also be used as star ratings for PPC. Even with all these SEO and digital advantages, David Rosam - @davidrosam was quick to point out that considered opinions of other people have always helped sell stuff, even before the days of e-commerce.
That said, there are new normals in buyer behavior now. These days, online reviews are the new word of mouth. Rather than looking offline, many people find it easier to go online to research a company and its products. What other people have said about a company can directly affect how potential customers perceive a company or brand, and what they say helps them make an educated purchase decision.
Participants were also quick to discuss the importance of negative reviews. The general consensus seemed to be that it was very important to respond to negative reviews quickly (and nicely). A not-so-great review is a good opportunity for conversion. There is always room for improvement and for businesses to fix their mistakes and appease the customer.
It is important to remember that behind every brand, there is a person who wants to feel valued, and reviews can make them feel that much better. Reviews tell a company if people really appreciate their products (or don't appreciate). In the end, it also matters how the company reacts. The more detailed the reviews, the more feedback a company can get, and the better it can respond to them.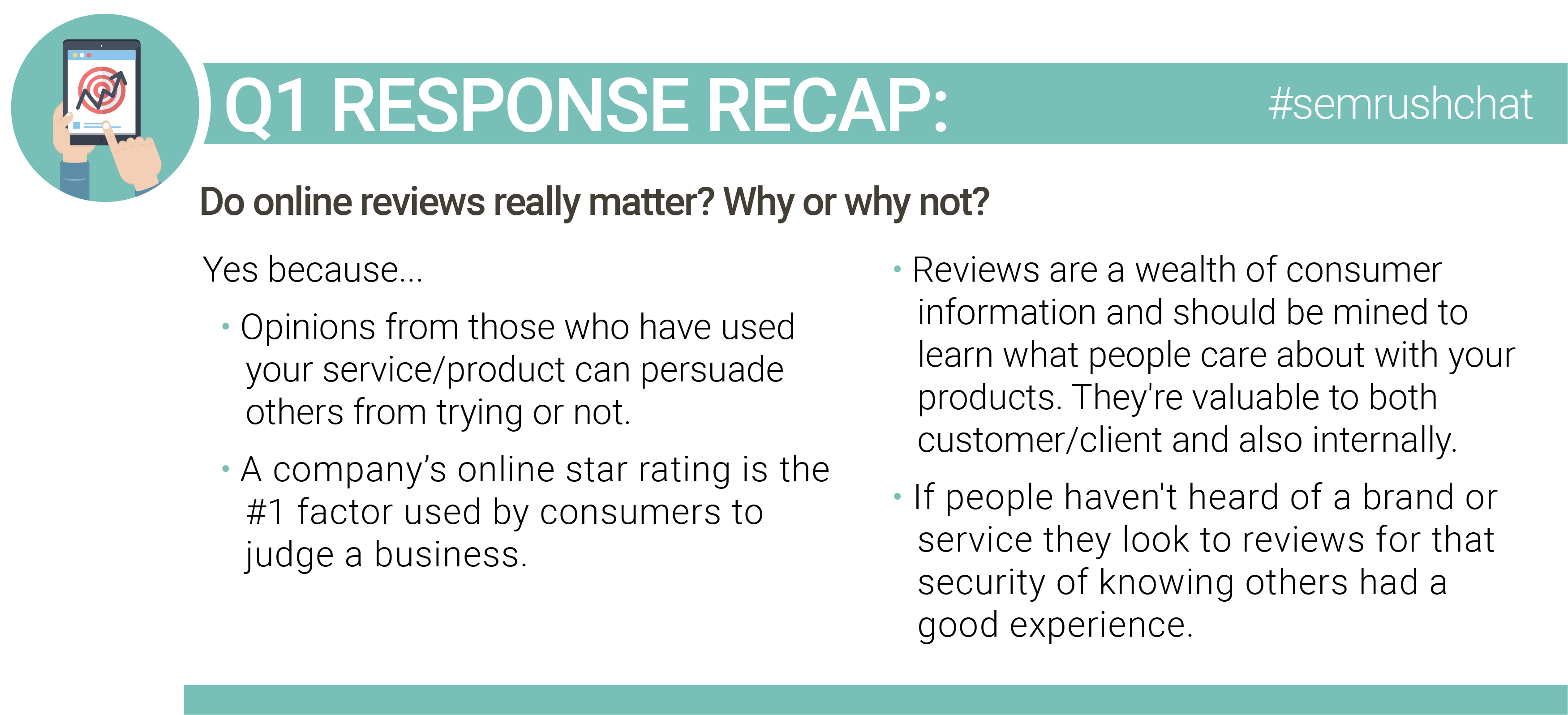 Q2. Do you think it's okay to ask people for reviews? If so, what is the best way to do so?
Yes, it is fine for businesses to ask customers for reviews. However, don't go about it randomly. And remember, patience is a virtue. Don't quit trying if you don't get any responses or a few rejections.
All the big e-commerce sites ask for reviews since people might not even know that they have an option to leave a review. In fact, reviews are part of the algorithms of platforms like Amazon and Yelp, and if you are not putting any effort into getting reviews, your business might not even show up on search results on these sites.
When asking for a review, be strategic and polite. Don't think of it as a remarketing effort and continuously push your message. Customers will understand that you value feedback, as long as you are 'human' about it. Just let them know that their feedback will also help others make an informed decision.
Make sure you give your customers a lot of options as to where they can leave reviews, i.e., Google, Facebook, Yelp, Amazon, or even a physical one (if you have a brick and mortar business). You also have the option of asking for a quick video testimonial. If all else fails, send them an email, an automated one will do. The most important thing to do is to find a way to make it as easy and effortless as possible for customers to leave reviews.
There is a 'right way' and a 'nice way' to ask for reviews. People are more likely to leave one when they have recently been blown away by the product, and you email them requesting a review. However, make sure to shy away from influencing their opinion or trying to suggest what they write. And please don't ask for five stars! Make sure that they are happy giving their feedback.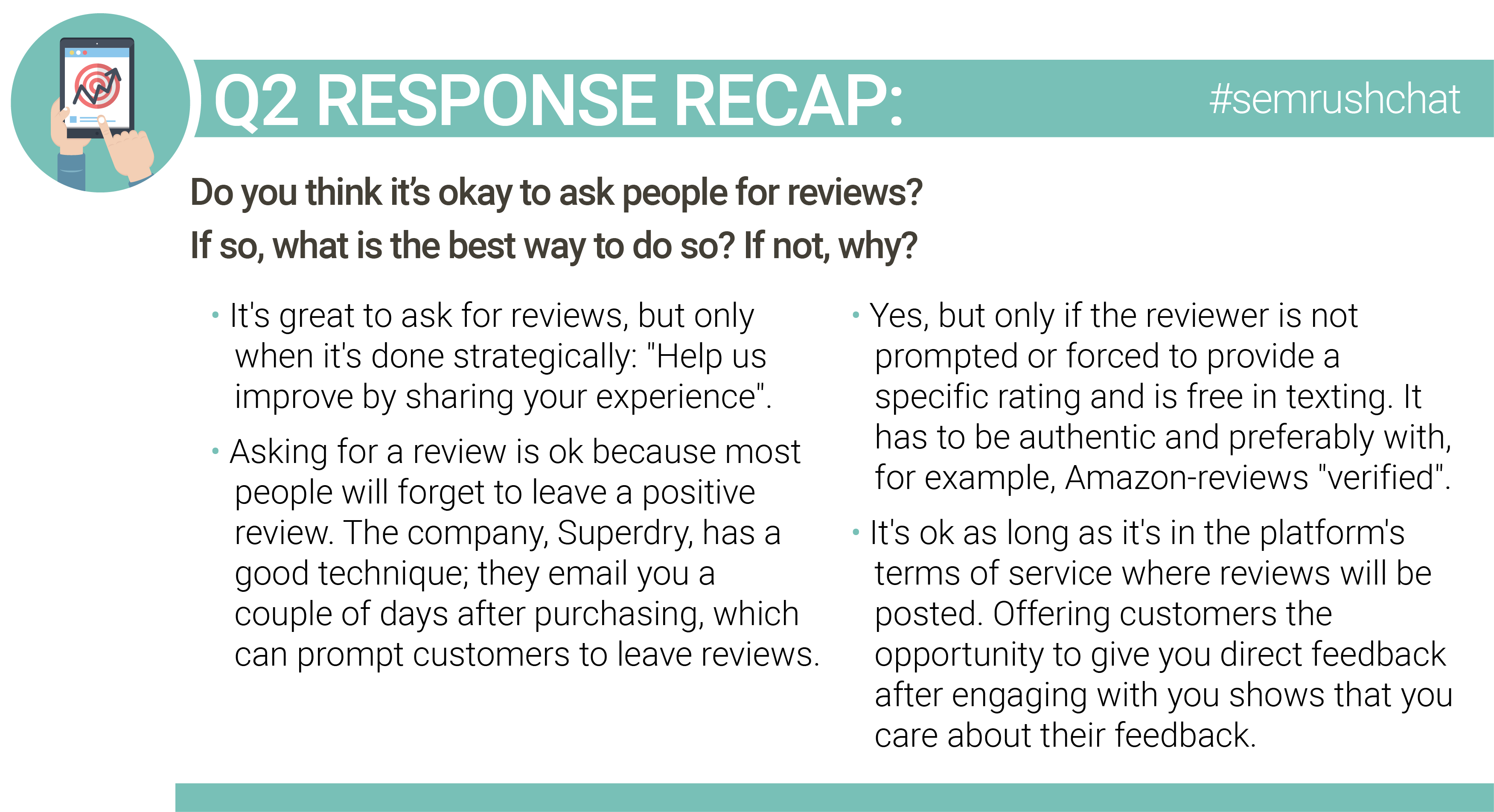 Q3. What are some ways you can use reviews to gain new customers?
The number of reviews you have matters. In fact, Julie Gallaher - @JulieGallaher confirmed that consumers read an average of 7 reviews before they make a purchase decision. Reviews not only help you reach new customers but also help customers look at your company in a new light, especially when reviewers outline the benefits of your products. You can capitalize on positive reviews, create engagement, and use them as a vehicle for spreading more brand awareness and gaining customer love.
Participants also shared where they showcased their reviews, like physical stores, their website, social pages, case studies, testimonials, and marketing brochures.
Wondering how you can showcase your customers? Promote your happy customers by highlighting the great experiences they had on your social media pages or your website. Ask them what's missing from your product, but don't forget to stress how you helped them out. Sit back and watch the word spread!
Reviews provide an unmissable opportunity for creating more relevant and contextual content. Turn reviews and testimonials into images and case studies. Feature these on your site. And, most importantly, make a conscious effort to read and reply to them. You may even discover a few benefits you never knew your product had!
You can also gain more local visibility on Google, which is where your customers will most likely start their journey, by using geo-specific reviews on landing pages made for that area. Use structured data on that product or landing page as this will get you all-star ratings in the search results and also allow the actual reviews to be searchable.
Lastly, reviews are vital to building relationships with your customers. Torrents are made of drips, they say, and reviews are those small interactions that have the potential to turn into a torrent of goodwill for your brand. Proactively responding to reviews shows you care about your customers' viewpoints, especially if the user had a bad experience; this is your golden chance to showcase your values.
Q4. What are the worst ways to respond to a negative review?
Negative reviews and bad publicity are unavoidable at some point for any brand or business. Everyone isn't going to like everything that you do, so when you see something negative about your brand, the first step you should take is to breathe and stay calm. When a brand is in a public argument, they are always the loser. The moment you try to blame the reviewer or try to prove them wrong, the public will sympathize with the individual and most likely gang up on you.
As Bill Gates once said, "Your most unhappy customers are your greatest source of learning." Think of any negative comments as a customer service problem. The way to deal with it is to acknowledge the issue and empathize with the customer. Recognize the fact that no customer is ever out to get you, insult you, or personally attack you.
So, how do you approach a precarious customer service situation and react wisely to negative comments? Resist the need to argue and take all criticism constructively. You can't please everyone all the time, so don't be afraid of starting with an apology. Every bad review is another chance to showcase your commitment to customer service to potential customers. Try and find a way to set it right for them.
So, how should you NOT respond to a negative review? For starters, don't ignore it or take forever to respond. Once you verify that it came from a genuine customer and not a troll, apologize publicly and then try to take the discussion to a private channel. Again, don't fight fire with fire. If you blame or turn hostile towards the customer, you will only end up making the situation worse. Finally, don't try to hush the issue up by throwing money at it (i.e., discounts or freebies), especially in a public setting. If you do that, people may give you more bad reviews than you could possibly afford.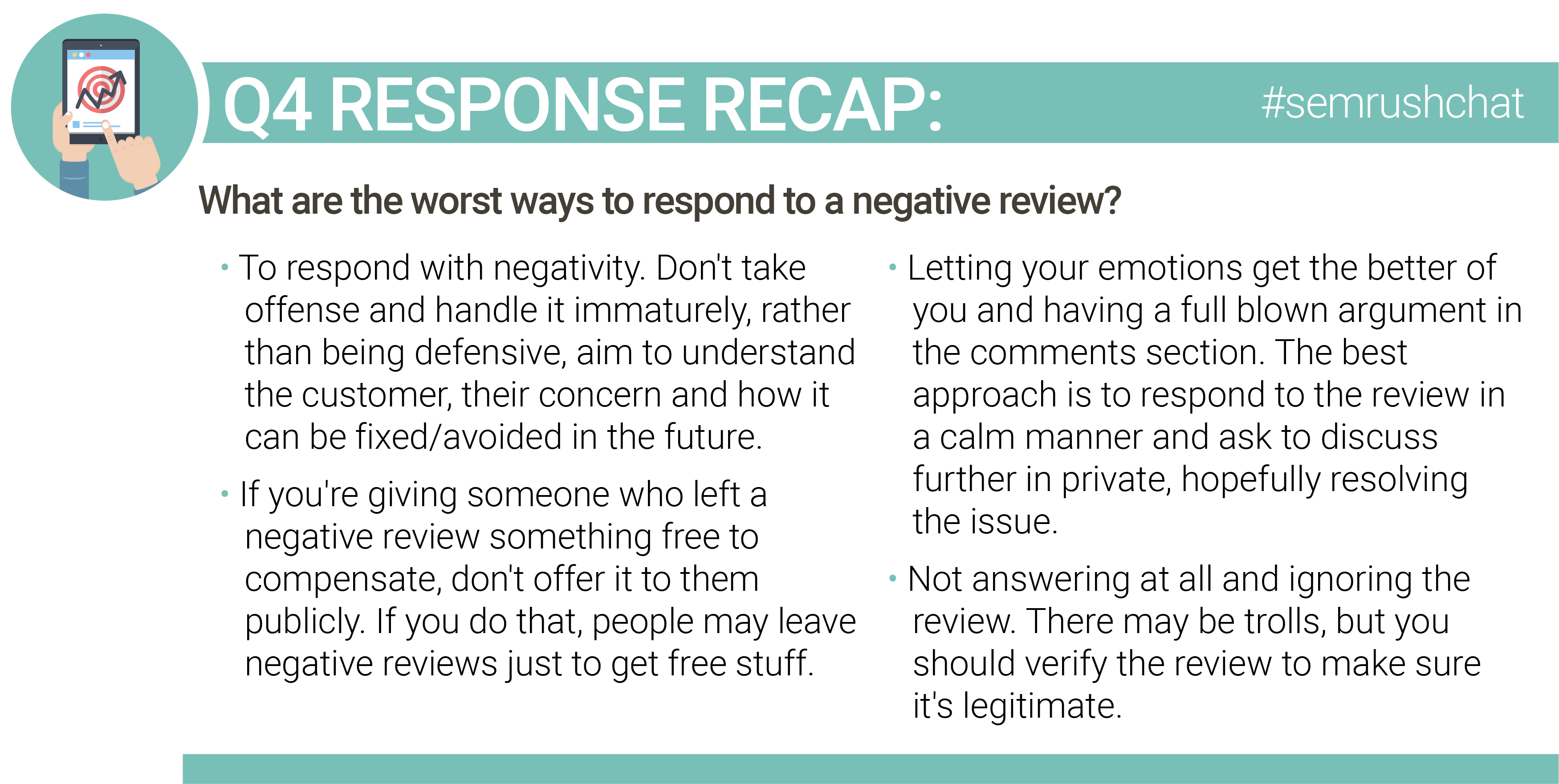 Q5. What are some of the most effective ways local businesses can increase their online ratings and reviews?
The most effective way of asking your customers for reviews is to connect with them on a personal level and ask for their honest feedback. Julie Gallaher cites how a San Diego café put up a chalkboard asking customers for reviews on Yelp, Google, and Facebook and went on to rank #1 for "white mocha latte" in the city. If you don't have a chalkboard, stickers and cards will do just fine.
When it comes to online ways of soliciting reviews, email is a great place to start. Then, of course, there is social media, where you can add a call-to-action for customers to engage further with you, or even throw in a few goodies to incentivize them. Apart from that, find a review platform that works best for your industry. Remember, what "works best" doesn't just mean superior brand sentiment; it also means more customers converting from the platform in question.
Pro tip: go one step ahead and ask specific questions aimed at getting targeted user-generated content around the keywords that matter for you on those pages. And once you have done all the hard work, don't forget to track brand mentions and measure your success with tools like SEMrush's Brand Monitoring tool.
There is only one golden rule to getting positive reviews – and that is to earn them. Go all out to earn that 5-star rating and don't rest until you have it. Answer your phone promptly every time, and don't just say you provide "great service," take it seriously. Never miss an opportunity to go the extra mile and make your customers feel extra special. Always have a positive attitude towards your customers. Respect them and make them want to say something nice about your company.
Great customer service is built on the back of excellent work and lasting personal relationships. Start by asking customers to talk about their experience with the real people that work for your company. Outcompete your competitors by proving that nice guys finish first.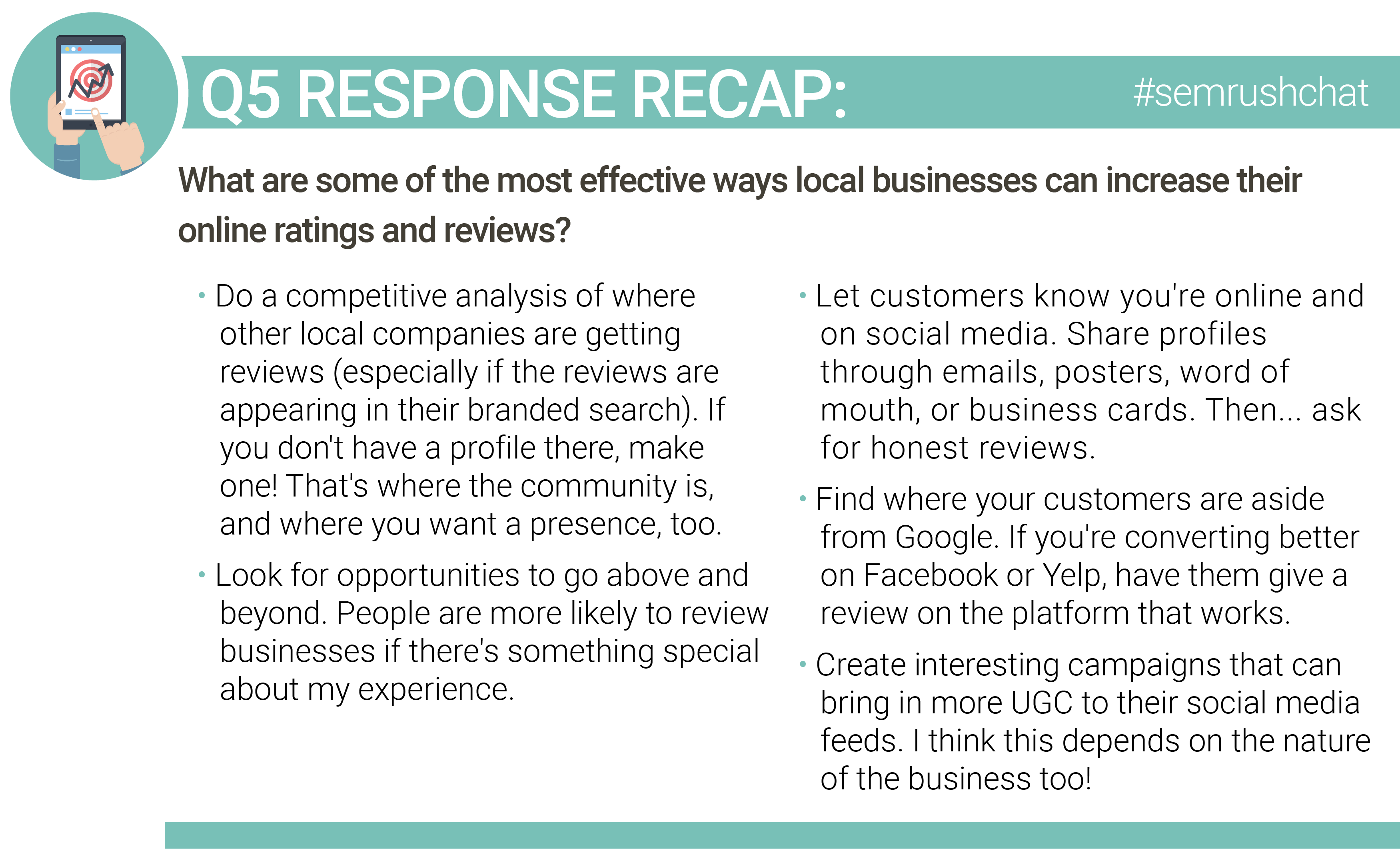 That is all for today! In case you missed the party, it isn't too late, let us know your tips on online reputation in the comments!
Make sure to join us this week as we discuss "How to Use Marketing Analytics to Drive Superior Growth" with special guest, Steve Hammer!