PPC managers need to have a wide range of skills to succeed from being analytical to creative. If you are looking to hire a PPC specialist, these are the ten skills to look for in a candidate.
Analytical
A substantial amount of time is used to analyze current PPC campaigns, therefore PPC specialists need to be analytically and mathematically minded. PPC managers need to be able to handle numbers, statistics and data in order to make improvements to campaigns. Excel skills (such as Pivot tables and functions) make it easy to manipulate data.
Organization and Time Management
PPC managers need to be organized and have good time management skills to ensure they are using their time effectively. Most PPC managers make to-do lists, others go as far as creating a weekly planner.
Passion
PPC managers are passionate about online advertising, especially PPC. You can tell when a PPC specialist is passionate it when they describe current or previous campaigns that they have managed. 
Technical
PPC specialists need to understand tracking codes, retargeting codes, tag manager and have other technical skills to provide effective PPC management. Experience of using HTML and Javascript can be useful for PPC manager roles due to the technical aspects.
Creativity
To ensure ads are clicked more often, PPC managers use their creativity to make interesting and targeted ad copy that searchers are more likely to click. The best PPC specialists use emotional and fear-of-missing-out ad copy to increase click through rates.
Understanding
PPC specialists need to have an understanding of the business, business' goals, customers and customer intents in order to target customers with the correct ad copy, display ads, placements and keywords.
Communication
PPC specialists need to have good written and spoken communication skills to communicate effectively with clients and other members of the digital marketing team. Without communication, important details (such as required changes to campaigns) can damage PPC results. 
Willingness to Change
If a PPC or online advertising campaign hasn't worked as well as the manager had hoped, a PPC specialist should be willing to admit that a campaign hasn't gone as well as it should have and therefore it needs to be adapted to be improved. 
Desire to Learn
The desire to learn should be a prevalent part of any digital marketer as marketing is constantly changing. PPC managers need to be willing to learn and passionate about learning. 
Willingness to Try
PPC specialists need to be eager and willing to try new online advertising campaigns. Without this eagerness to try new campaigns or strategies, PPC managers will be unable to find out what works best.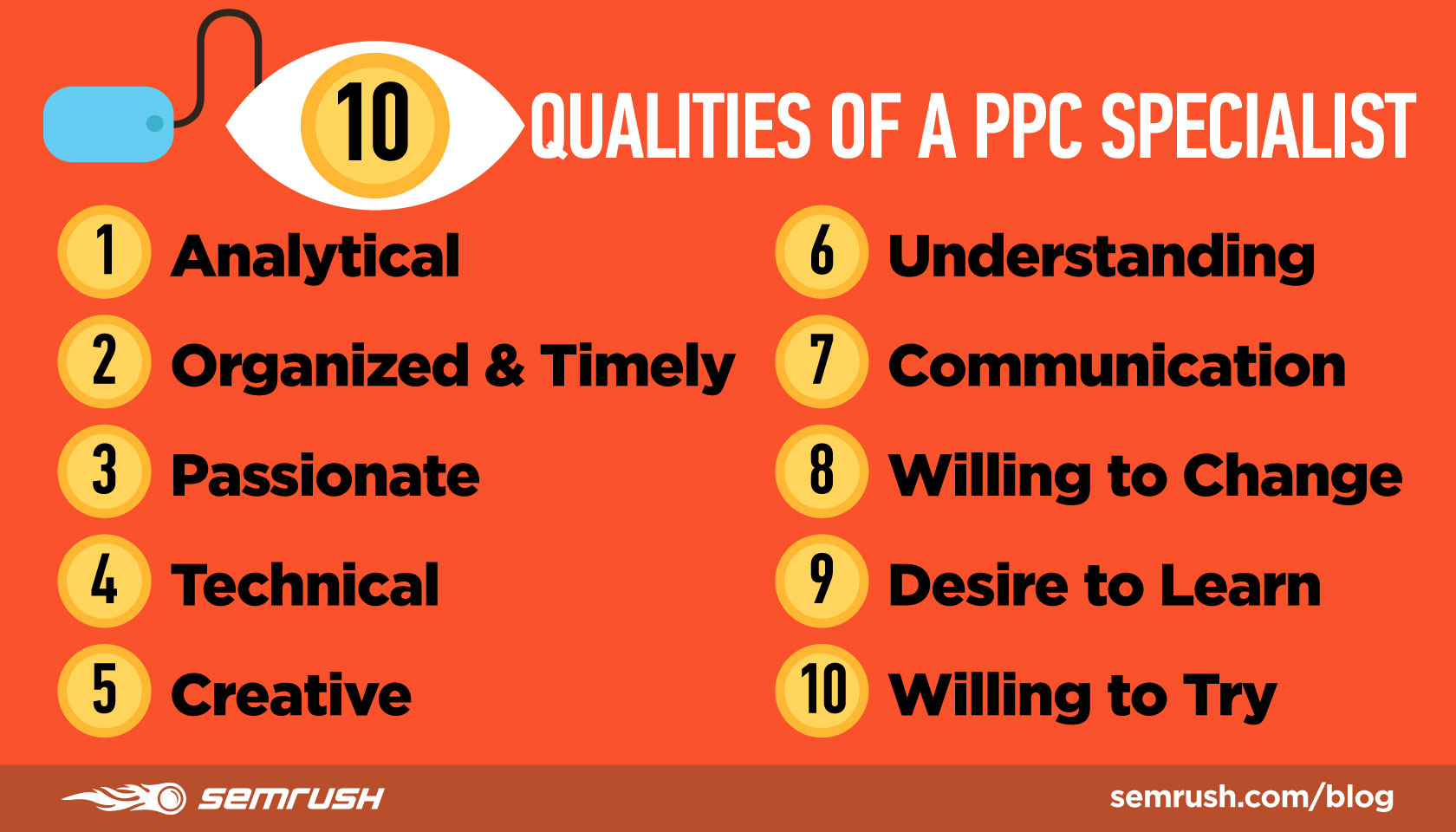 Would you add anything else to this list? Let us know in the comments.