The communication and messaging facilities between machine and human are witnessing a huge shift with artificial intelligence. From postal mail, telephone, the Internet, email, message, chat, we are progressing towards the new age conversational agent, Bots. Bots are the current interface fundamentally altering the way we interact with our device for a purpose. They are the new entrant joining the armada of intelligent technologies generated by the tech genius. Voice and text Bots are the new crazes to discuss when it comes to customer experience and brand image.
I Am the New Interactive Model; Programmatic Future of Conversation, An Intelligent Agent; Smart in Digital Advertising,Meet Me; I Am the New Reality, Configure Me, Say Hello.... I am Ready To Evolve a Lot in the Coming Years
How familiar are you with bots?
Like the Genie that first appeared in Aladdin, bots are a new age Genie...you denote a response and it readily pretends like a human and acknowledges your response. Bots are increasingly taking a bigger role in all verticals.Microsoft, Google, Facebook, Yahoo, Pandorabots, Haptik, Kasisto, Kiwi, Slack Technologies are few top players already into Bot action. The power and variety of Bots are phenomenal. Put on some tunes, book a flight, turn on the lights, order pizza… all you have to do is just allow brands/ads that interest you to pop up and initiate a dialogue with you.
Bots are the New Frontiers for Brands
If you can recollect, the United States presidential election of 2016 familiarized all of us with this new interaction model; the so-called indigenous species; the programmed; the intelligent conversational voice and text system – "Bots" – that helped almost all top news channels for the US election coverage right from the run up till the voting.
Facebook took charge in exploring this technology by extending this to users – allowing them to engage with businesses in Messenger back in 2016. The company is making it big with bots. With nearly 1.2 billion active users, Facebook Messenger is helping thousands of brands to be with their customers and connect with them anytime via bots.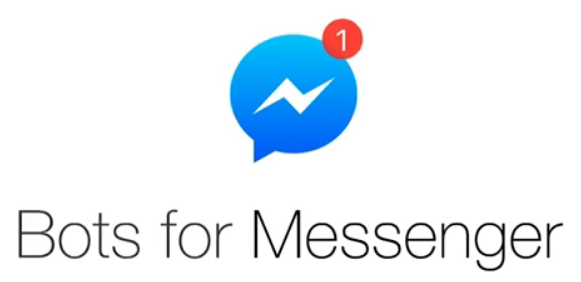 Customers can use messaging service to perform simple tasks. When they click on an advert in their News Feed it instantly opens up a conversation in Messenger with the company. 
Bots are no doubt gaining its traction in discovering customers and supporting them soon after those micro-moments are created during any buying process. Without having to re-establish contacts, bots are here to connect business and customers. They are a game changer.
Travel Bots - KLM Royal Dutch Airlines
The flag carrier airline of the Netherlands was one of the first few takers for messenger bots. Once a customer makes a booking, the Airline communicates further with the customer via Messenger. Bots send itinerary, boarding pass and even check-in information. Any delay is also informed via Chatbots. Customers can communicate directly with the customer service desk anytime via bots.
"We think you should message a business just the way you would message a friend."
Food Bots — Full-Menu Ordering via Domino's Bots
Although Domino's initiated its service via Messenger bot, the company recently allowed its customers to access the entire menu via Messenger bot. 

Users have to just pair it up with Messenger and start a dialogue. Bots will take complete charge of ensuring every order as simply as possible.
"We're delighted to allow our customers to order direct from Messenger – with 1 billion monthly active people using Messenger each month – it's the obvious choice for Domino's"
Today, we see many brands are roped in with bots to link with their customers. In fact, Facebook is all set with their Chatbots for group conversations on Messenger.
News Bots — WeChat chatbot NewsChatta from the BBC
Drawing on the news content from the BBC, the chat delivers the latest news and information that matters to the users. A chatbot developed by the Lagos-based technology company, Codulab, Newschatta is now accessible on WeChat anywhere in the world. Making news bits available directly on to the mobile phones via Bots is a drive from BBC to expand its global audience to 500 million by 2020. Users can interact with BBC news directly and instantly via this bot. News stories are generated based on user input.
Bots for Social Cause — U-Reporter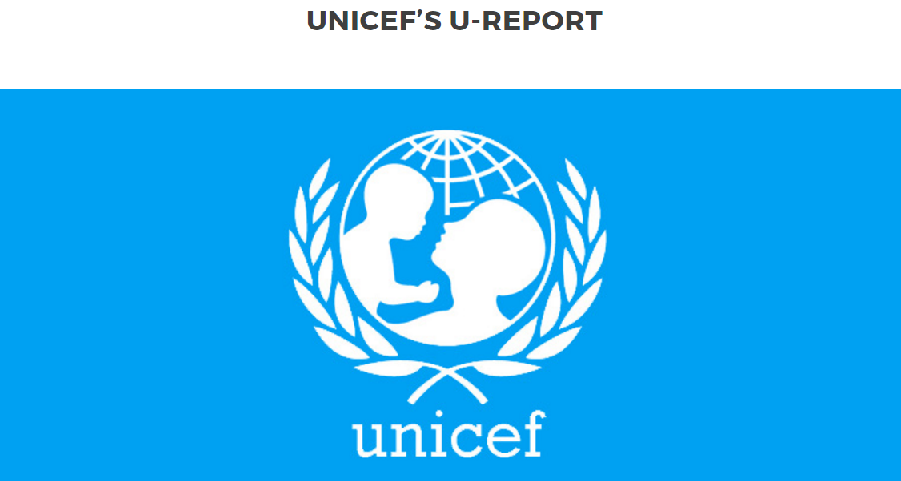 Initiated by UNICEF – the United Nations Children's Fund, U-Reporter is a messenger bot that lets anyone from anywhere in the world to report issues, respond to polls, talk about women rights, support child rights and initiate any social activity that can lead to development by acting as a reporter and communicating directly with the organization.
Bots Count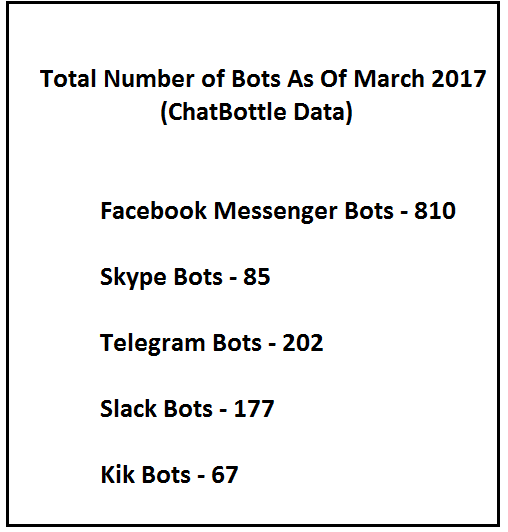 Bots Market Size
With Chatbots taking smaller and less complicated tasks of communicating with consumers, brands and already seeing an enhanced service approach. Bots market size is expanding with more players and brands acknowledging its advantages. Current research report predicts the market to grow multi-fold in the years to come. E-commerce, Insurance, Hospitality, Healthcare, Logistics, Travel are some of the industries noted to see more benefits of Bots. Orbis Research anticipates the market for bots to witness a substantial compound annual growth rate of 37.11% over the period 2017-2021.
Key market drivers:
Ever increasing demand for better…
Customer service
Customer care
Customer relationship management
Are Bots the New Luxury for Time-Poor Consumers?
Bots are stretching their surface of potential. Several brands are trying to fit through Bots to reach their customers instantly. Messenger bots are no more rudimentary. They are taking bigger roles today and they are destined to play an ever escalating role in discovering new customers and to keep hold of existing customers. Key players are even exploring all possibilities to transform from mere text messaging bots to voice-based interactive bots. Customers who are running short of time to discuss elaborately with the help desk are finding it easy to sort with bots.
Personalized Ads Based on Algorithms and Data
Bots can be a powerful partner to advertisers too. Ads are created that can think and can have a direct connection with the customers. This fact is supported by the latest announcement from The Weather Company, an IBM Business which recently introduced weather bots to its users. Users can interact with these ads by speaking to them. These bots are prepared to give personalized content to the concerned user based on their location. Advertisers can utilize the potential of similar bots which can create a personalized one-to-one ad or other brand-related conversation based on the preference of the users.
Customer Relationship Management
One of the key advantages of Bot implementation is the real-time 24/7 connection with the users. Increasingly relying on AI, Bots are here to create effective automated responses to consumers instantly. More and more companies/brands are taking advantage of this layer in recent days. It has the potential to take as many tasks as possible. When customers are provided information which matters to them, there is an instant connection to the brand and the company. This instant approach can enhance the support and service aspect well ahead compared to the other procedures.
Among all business functions, Customer service is noted to be the top most beneficiary of Chatbots.
Enhance Customer Experience via Bot Analytics
Bots analytics help a long way in understanding your customers. Measuring every engagement with customers helps in customer retention. Brands can have a deep dive conversation with customers via bots and this kind of engagement serves every brand to explore them better, offer what consumers want and be there whenever they want. Analyze every interaction and tipping with your customers. Discover user behavior. Understand their engagement time and make decisions based on these inputs.
What Next?
Silently working in the background, Bots are no doubt learning from their mistakes and are constantly looking at ways to improving their performance. Technologists are working on strengthening bots by improving their intelligence and language understanding. As we are sailing through 2017, there is a sense that these intelligent connectors are going to go mainstream. Bots are here to connect people to the business. They are already social and can get better too. Speculations are that they can get more industry specific and can even interact better with extensions. Growth momentum is sure to accelerate in the years to come.