How Content Marketing Boosts SEO: A Guide for Modern Marketers
Jul 21, 2015
5 min read
It seems like the lines between marketing departments blur a little more each day.
There's always a new development that weaves the best practices here with the strategies over there, or the developments in one area with the established tactics in another…
Modern marketers must understand these overlaps and how they affect their daily tasks. In my experience, SEO professionals and content marketers deal with this the most. You'll certainly find differences, but you can't ignore the similarities.
Build High-Quality Links
Content rich sites generate 97% more links.
Why? Because when you have more content, there's more for others to link to. There's not much of a reason for people to link to your homepage or About page. They may, at some point, but those scenarios are few and far between.
On the other hand, actively producing content creates an arsenal of material that others may find helpful, useful and beneficial. When that happens, they'll want to link to you.
It's the SEO dream come true. Building links to your site without any prodding on your part.
The easiest ways to use content marketing for link building include:
Publishing and promoting a deep industry resource. Create a landmark article that goes deeper than anyone else on a specific topic. Your goal is to make this the go-to resource that everyone in your industry looks to for information. And when they're looking at it for information, they're linking to it too.
Submit guest posts to top industry blogs. Forget about the panic that happened when Matt Cutts announced that guest posting was dead. High-quality, strategic guest posting is still alive and well. It's all about creating valuable content first and reaping the link-building benefits second.
Land implied links through media mentions. Online press releases don't generate high-quality links, but actual media mentions do. Google calls these implied links, and they help build brand authority. As Google continues to evolve, I believe we're going to see this become more and more important in the SEO world.
At the end of the day, the only way to get that link — the real SEO gold — is by publishing content that deserves the link.
Rank for Long Tail Keywords
Since 2004, long tail searches have increased by 68%. That said, given low search volume for many of these phrases, it wouldn't make sense to focus all your SEO strategy on long tail keywords.
There's no reason to spend your technical SEO optimization energy trying to rank for something that only gets a handful of searches a month. It'd be a real waste of time.
And yet, long-tail keywords tend to account for a large portion of search engine traffic.
How can you take advantage of the long tail? Through content marketing.
When you're writing in-depth, valuable content, you'll naturally use several variations and formats of different keywords related to the article topic. In fact, you may not even realize how many long-tail keywords you're using — but the search engines will.
Then, of course, there's the strategic approach that uses long-tail keyword research. You can easily conduct this type of research using a few different tools:
Google Suggestions
When you search for a broad keyword, Google helps you make it more specific by suggesting a series of new keywords for you in the search field's drop down box:
You can also find suggestions at the bottom of the search engine results page (SERP):


Each of these suggestion areas gives you a good place to start when looking for long-tail keywords. Keep drilling down using the suggestions and you'll stumble on some great ideas for phrases to incorporate into your content.
UberSuggest
UberSuggest removes the manual labor from the Google Suggestion method by automatically running through the suggestion system and giving you the related keywords.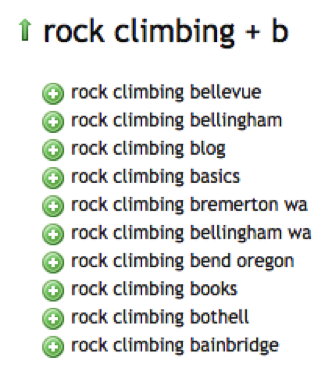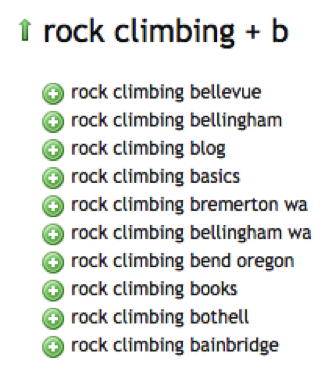 KeywordTool.io
I like KeywordTool.io the best because it takes UberSuggest a step further by searching for queries that have the keyword within the phrase — instead of just at the beginning: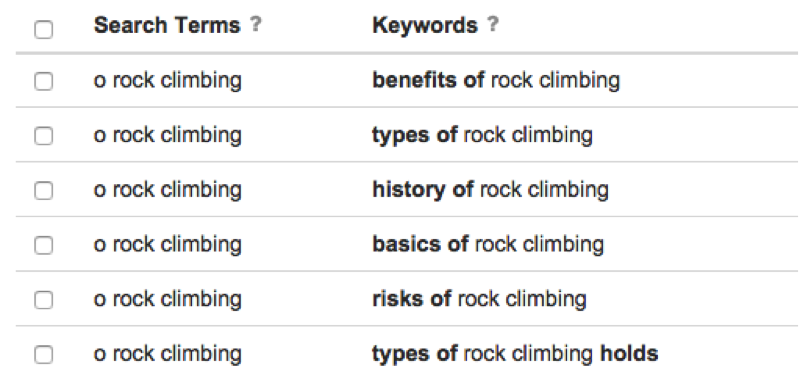 The suggestions from these tools do more than just give you ideas for long-tail keywords. You'll also find great ideas for new topics that you haven't covered yet. Don't shy away from keyword research just because SEO isn't your thing.
Increase Social Media Signals
Google's Hummingbird update placed a greater weight on the influence of social signals in search results than ever believe. According to Jayson DeMers, SEO is directly impacted by the following social signals:
Number of people that like your brand on Facebook
Number of Facebook shares
Number of Twitter followers
Number of tweets mentioning your brand name or including a link to your website
Number of people that "have you in their circles" (Google+)
Great content marketing naturally encourages high numbers of social media signals. When you're publishing engaging, high-quality work, people will want to share, follow and mention you. And, according to a study by Searchmetrics, that's directly affecting your rank.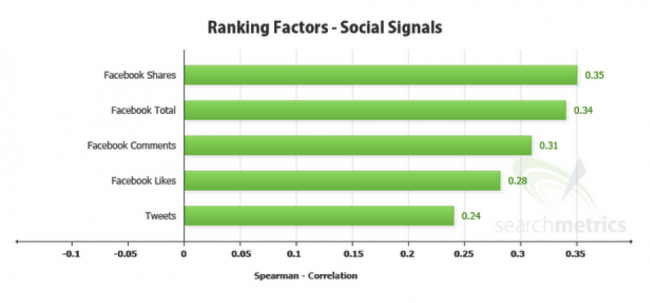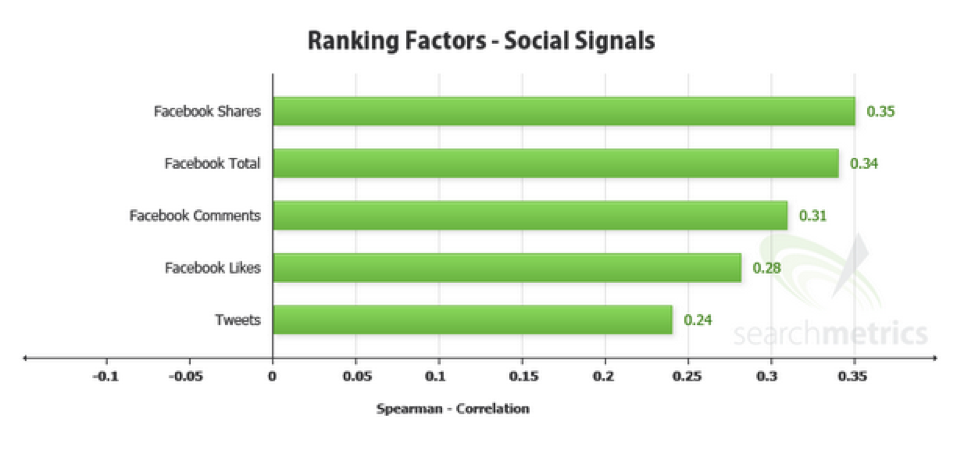 In addition, Quicksprout shared an infographic featuring a powerful case study that further demonstrates the impact of social signals on your SERPs performance: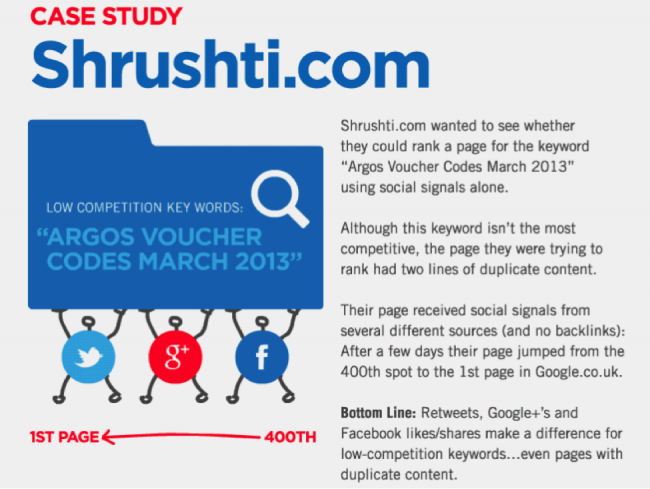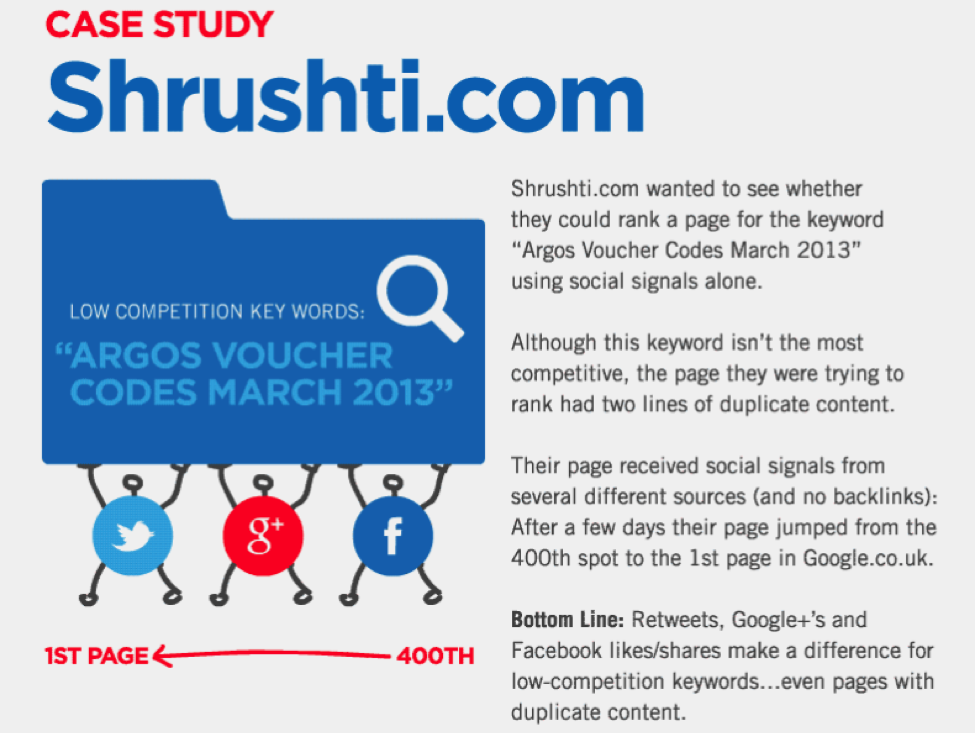 Publishing content that people want to share can increase your rankings. It all goes back to knowing how to create things that engage your audience.
Sharable content wins.
So, the next time you write something and get excited about the social shares it gathers, remember that you're helping out the SEO team too. Maybe they'll even buy you a cookie.
Keep Fresh Content
Last, but certainly not least, content marketing helps boost SEO because it keep your website fresh. Google loves fresh content, and it's been that way for a long time.
SEOs understand that fresh content gets indexed rapidly and often ranks higher than older content. If your site releases new content, and the site itself has historic authority, you'll get an initial SERP boost just by hitting "Publish."
Exploring that idea a bit more, statistics show that, on average, websites with blogs have 434% more indexed pages.
Content marketing requires consistent output, and so does SEO.
That's right, content marketers — there's yet another reason that you need to stick to your editorial calendar. It helps boost your SEO, ultimately leading to even more visibility for the content you've created.
Now that you understand how content marketing boosts SEO, what will you do to implement it? Are there any areas of your content marketing game that you could strengthen in a way that would also fortify your SEO? I'd love to hear your thoughts in the comments below!
Aaron Agius
Aaron Agius is an experienced search, content and social marketer. He has worked with some of the world's largest and most recognized brands, including Salesforce, Coca-Cola, Target and others, to build their online presence. See more from Aaron at Louder Online, his blog, Facebook, Twitter, Google+ and LinkedIn.