Before launching LeadFuze at the end of 2014, I bootstrapped and scaled out a seven figure digital marketing agency.I started off just taking anyone and everyone I could. However, I eventually wanted to narrow in on some bigger opportunities. When attempting to land big clients for your agency, information is key. SEMrush has been a key asset more than a few times in our rise to a 7 figure agency. Here is our process.
Build your agency with keyword research
Start with a Google search for the keyword you are interested in. Let's use the example: attorney.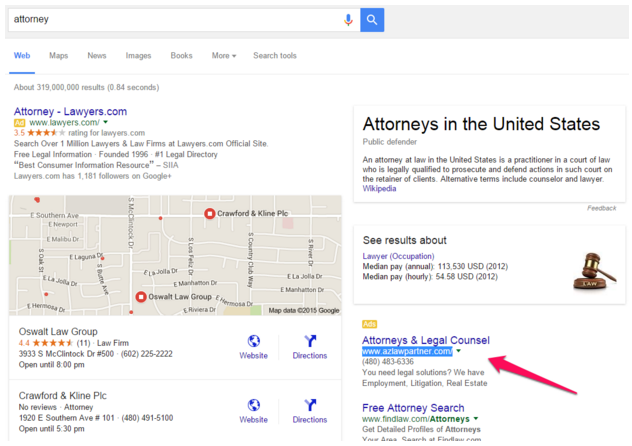 Select one (or a few) of the advertisers and capture the domain. I went with the 3 result on the page (slightly out of view in screenshot).
Next enter the domain in the search bar at SEMrush, then click "Positions" under the Advertising section.
You can see here the keywords they are going after, and about how much they are paying for each. Sort the CPC column to get their highest bids on top: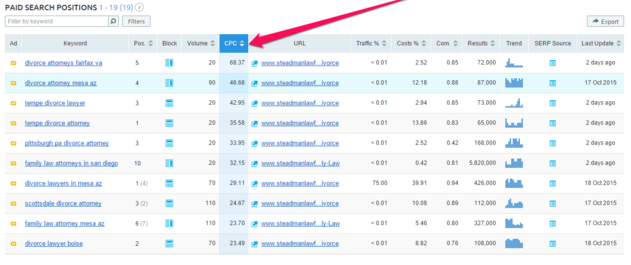 Once you have their target keywords, you can reference where they rank organically for those terms (if you want to sell them SEO). You will likely find they need some help. And now you know the exact terms they really want!
If you want to sell PPC management, you can also start to build your case with this data. You will have access to many of their past ads and spend information.
Researching client prospects
The next step is to find the contact info for the right person at that company. For this, we use a Google search, but using LinkedIn data.
Here is the specific serach querey: site:linkedin.com/company wwww.steadmanlawfirm.net
You can simply replace the domain name in the search with your specific prospect. This search returns 2 results, one of which being the active company LinkedIn page, which is perfect: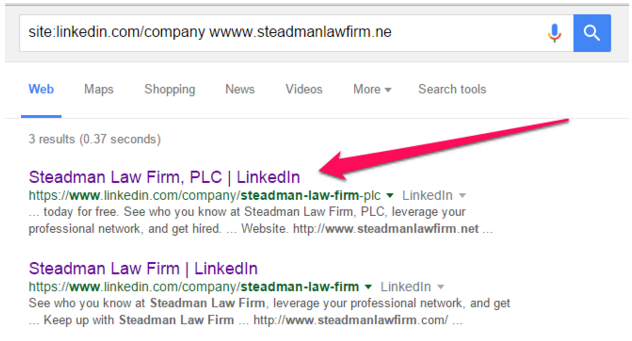 Click through to the LinkedIn page, then "See all" under the employees listing on the sidebar: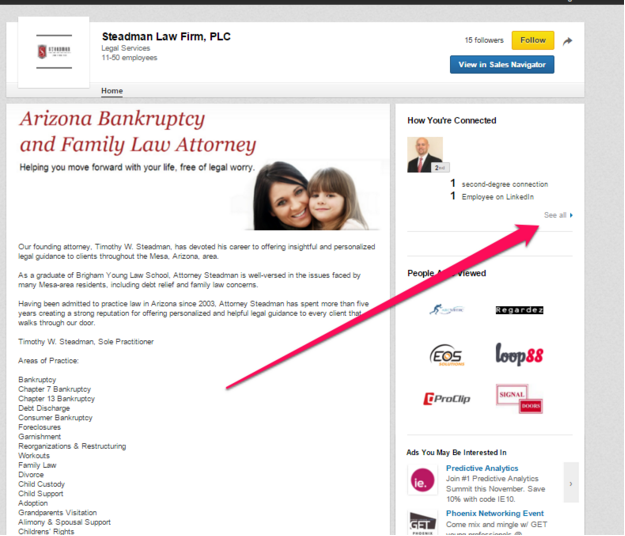 Looking at the result, we are give the owner of the company. Perfect!
To find his best contact info, we use the LeadFuze Chrome extension.You simply click "add" to your prospect's name, and the software will find his email address.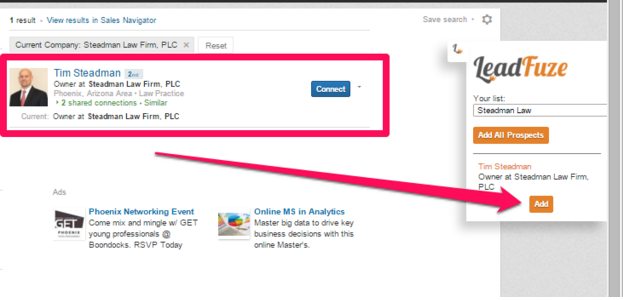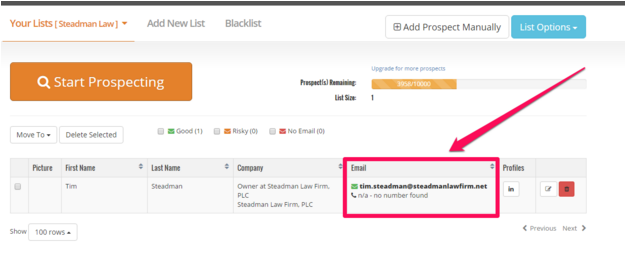 Now that I have his email address, I will prepare a conversational cold email sequence, with the goal of starting a genuine dialog with Mr. Steadman. Never be too pushy in these emails, inviting your prospect into a compelling conversation is always a more effective approach.
I will also follow this prospect on Twitter (if he has an account), as well as LinkedIn. This info is easy to find once you have the basic contact info. When I have a list of 100 people like this, I may run a custom audience ad campaign to further attempt to catch their attention with targeted content.
Using SEMrush to find valuable information on websites advertising on Google can be a great way to find big potential clients for your agency. This is just one idea how to use SEMrush data to land big clients, have you found any other methods to be effective?
Justin McGill is the founder of LeadFuze, a B2B lead generation software platform. We have two on-demand webinars that show you how to create a list of leads in minutes and another on how to create compelling cold emails that get responses.