Public relations (or PR) is an essential part of your overall marketing efforts. The majority of marketers use PR to create connections, and increase brand awareness. But what if we told you PR also affects search engine optimization (SEO)? This dependency isn't direct, but by improving your PR activities, you still can impact search engine results.
Learn how to do this with public relations specialist Carrie Morgan @morgancarrie and our other SEMrush Chat participants.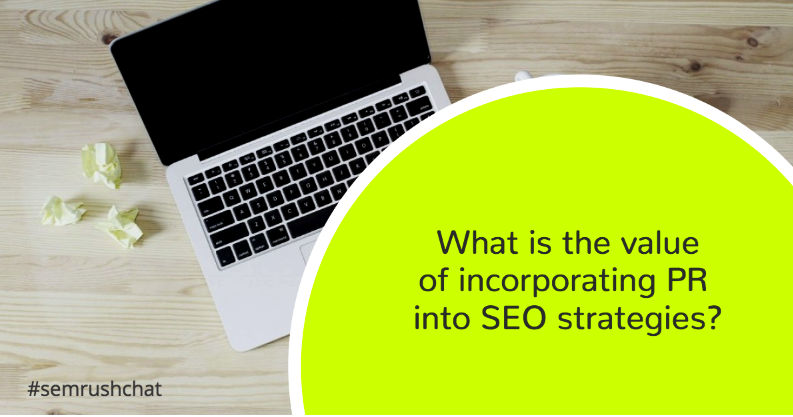 Today we're going to discuss the impact PR has on SEO, but first let's briefly evaluate the benefits of incorporating PR into SEO strategies.
Carrie adds that a PR team generates a natural backlink with every guest blog post and online article and this happens with or without SEO guidance.
Joe Martinez @MilwaukeePPC agrees that PR increases awareness, which leads to more searches. He also adds that it can help build links organically via people sharing content.
Omi Sido @OmiSido shares that SEO can provide quantifiable metrics for existing PR and marketing. Also, SEO helps marketers plan their marketing goals.
A few words to summarize the benefits of incorporating PR into SEO strategies: they can both really help with link building; good PR can generate high-authority links and, at the same time, getting the expertise of a PR-specialist expertise can help you create epic content.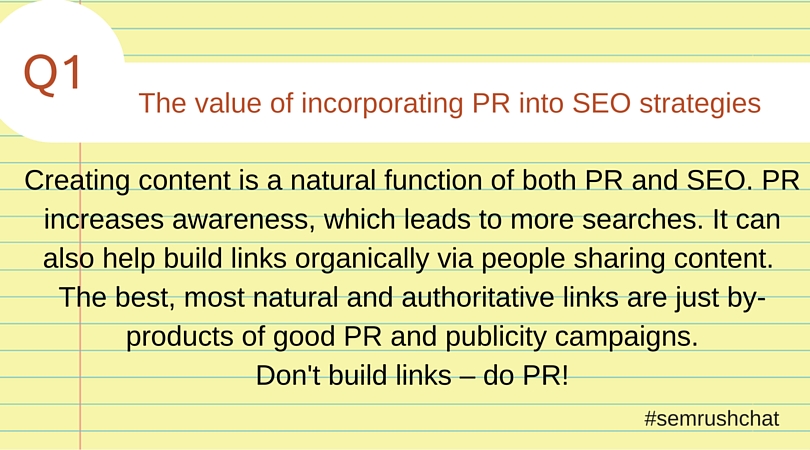 There are always two participants: your company and your audience. You produce content. Your audience consumes it. To better target your content effort, you should understand specific behavior patterns of your audience.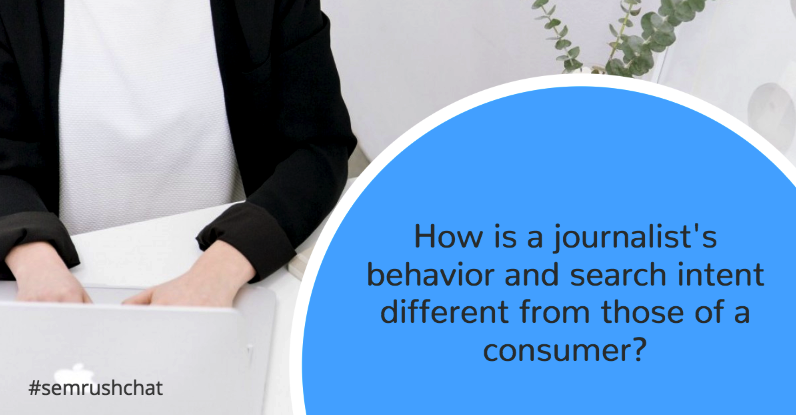 Carrie explained that customers' and journalists' behavior are very different in nature. Journalists want to create what consumers want to read. They want traffic and to grow their audience. They want credible, smart sources. Journalists are more likely to source stories from pitches, curating content and relationships, NOT from organic searches. In truth, they just don't have time to manage their SEO.
Tim Capper @GuideTwit  notices there are four micro-moments for a consumer: I want to know, I want to go, I want to do and I want to buy. Journalists generally don't produce content that satisfies consumers' intent. They merely provide fluff to peak their interest.
Wesley Young @wezthewiz puts it simple — a journalist's searches will be of an investigative nature, whereas a consumer's searches will likely originate from their intent to make a purchase.
As our SEMrush Chat participants mentioned above, the main similarity between journalists and consumers is that they are interested in high-quality content; it's just that one creates it, one consumes it. As a journalists' search journey is more investigative, customers search in order to find specific items and learn information.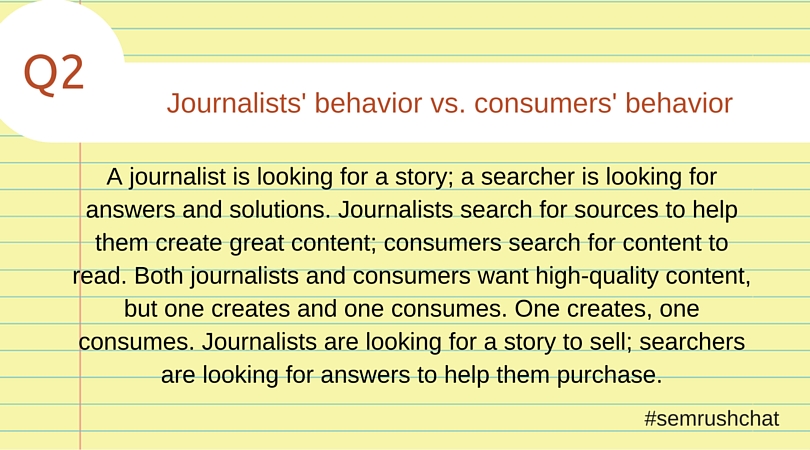 Planning PR and SEO strategies is one of the most daunting tasks marketers have to complete. Only precise measurement and clearly defined goals will help you determine success in both activities. We asked our experts what questions should each marketer ask before planning.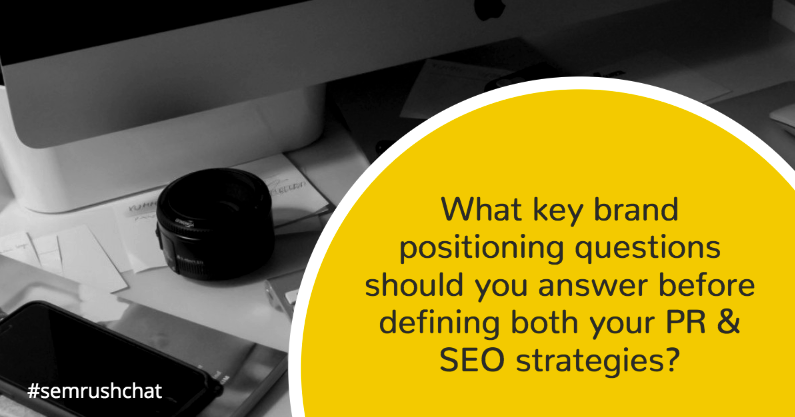 And we received plenty of useful tips!
In Carrie's opinion, planning is not about how many keywords you rank well for or how many backlinks you secure, it's about doing those things for the right audience and creating the right kinds of traffic. And if a marketer doesn't understand their brand, how could he or she expect their audience to?
Tim Capper @GuideTwit recommends refreshing your average buyer profile as often as possible.
Here's the list of questions we found effective in planning your PR/SEO strategy and positioning your brand.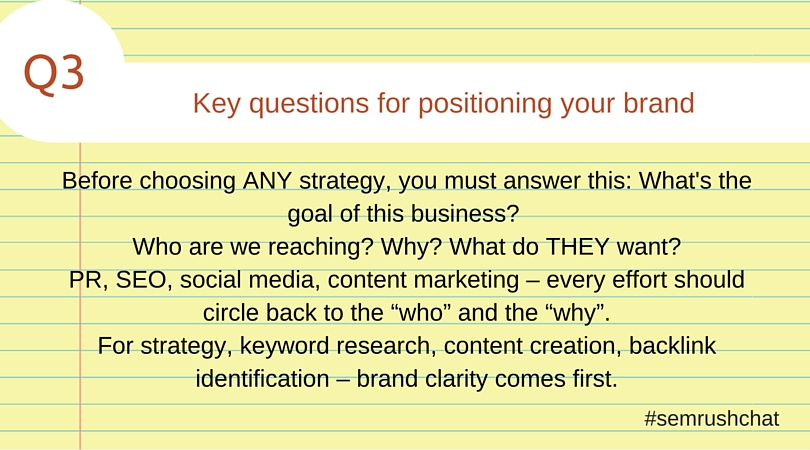 Below we asked our participants to share examples of PR, which should be optimized, in their opinion. Here's what they said.
Our expert Carrie recommends optimizing everything possible. If it goes online and it's written in house, it can be optimized. Will it help boost your company's reach? Good question. Each marketer should find out by experimenting with different approaches.
As a PR specialist, you should pay attention to your keyword list when writing PR content, according to Amel Mehenaoui @amelm. Write it then optimize it.
Tim Capper also shared a statistic: if your site helps the customer find the answer to their question, they'll be 69 percent more likely to buy from you.
Samuel Scott @samueljscott mentioned that the word "content" is a cliché and doesn't mean anything specific. Benj Arriola @BenjArriola stressed the importance of good content, as well as a useful or inspiring story. These stories are usually strengthened by.
Julia McCoy @JuliaEMcCoy also agrees that all text content published for PR can be SEO optimized: press releases (titles and body), blogs, web pages, etc.
So, to summarize this question, any piece of content intended for online use can be optimized. Here are some real-life examples of this pieces: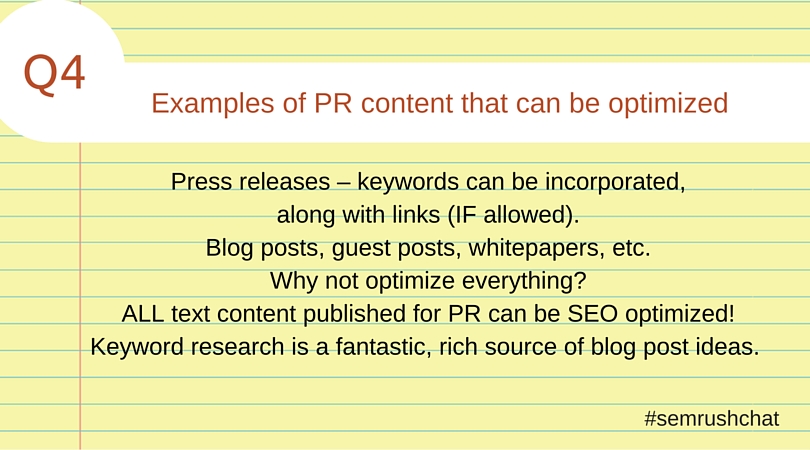 The discussion about the meaning of content raised an important question: is there a way that SEO and PR specialists can exchange knowledge on content production?
Writing is about reaching your audience in a familiar way, but also about engaging them from the beginning, so they won't have the option to close a tab with your article and leave. Carrie suggests that SEOs should ask PR specialists about how they pitch to the same audience.
If you are chasing backlinks the old-school way, you should stop. If you can't create a custom pitch tailored to both bloggers and journalists and their needs, just don't do it at all. And never ever ask for a backlink. Nobody cares! Offer great content tailored to their site.
Omi Sido @OmiSido explained that the key is the balance between PR and SEO. They should help each other.
In summary, SEOs should learn how to write naturally and create content that engages, informs and inspires. They should also use images and short videos to increase interest and lower their bounce rate.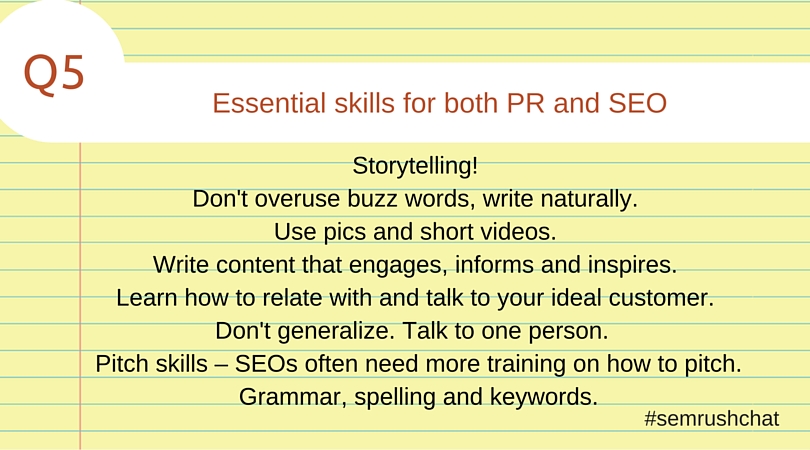 As we know, PR specialists contact representatives of different types of audiences on a daily basis. Isn't this an opportunity to earn some qualified links? Sure. But how do you do it? Check out the answers below.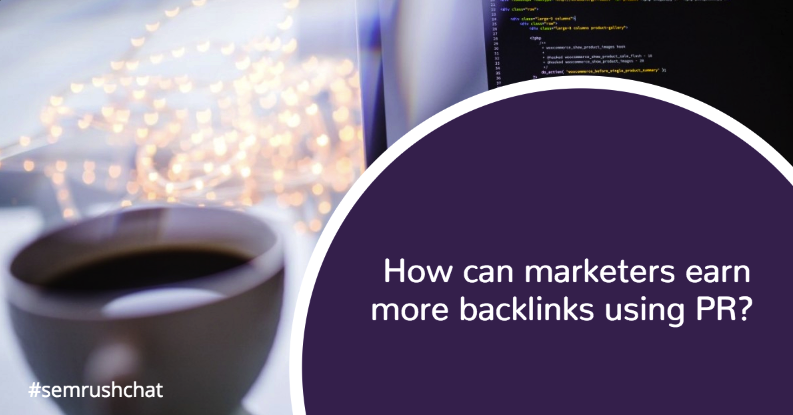 David Bain @DavidBain thinks that PR should be aimed at bloggers in your industry. So you have a lot of opportunities: it's time to pitch them to share some your content and also offer long-term partnership, if they worth it.
Julia McCoy @JuliaEMcCoy thinks the word "earn" is an acceptable in this case and, if you want more links, you should gaining trust, publishing great content and then you'll start earning them.
Express Writers @ExpWriters agree that marketers can only get backlinks naturally by writing high-quality, shareable content. People will want to share quality content.
So can you earn more backlinks through PR? Here's how: gain trust and publish great content!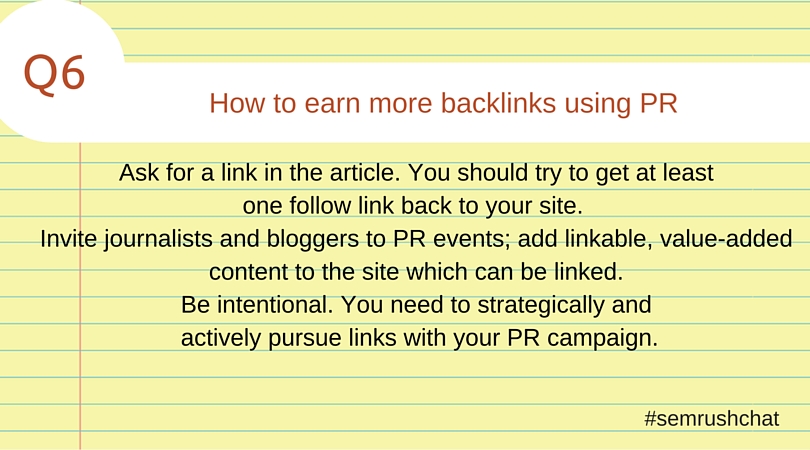 It's time to determine how marketers should evaluate the effectiveness of their PR efforts. These answers from our participants will help you to better understand your results and quickly diversify your efforts, if necessary.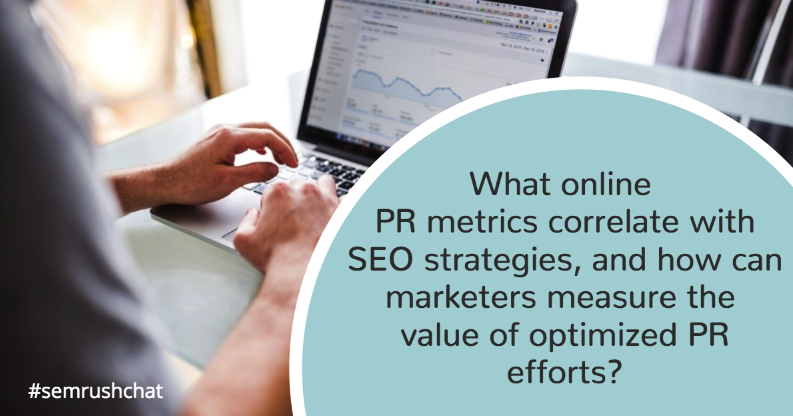 Carrie shares that both should connect outcomes to larger business goals and also both can be measured through website traffic.
Carrie adds that it's not just about analytics, though — it's about interpreting them. Connect data to business goals, C-suite goals. Online PR is about your audience, traffic and conversions, but isn't SEO about the same thing?
Joe Martinez @MilwaukeePPC advises using parameters (e.g., UTM tags) to track the PR source. Also, add these parameters to social share buttons.
Let's summarize: to measure the value of their optimized PR efforts, marketers should focus on brand awareness, track ROI and CTR, and use UTM tags with both on-site and social engagement analytics.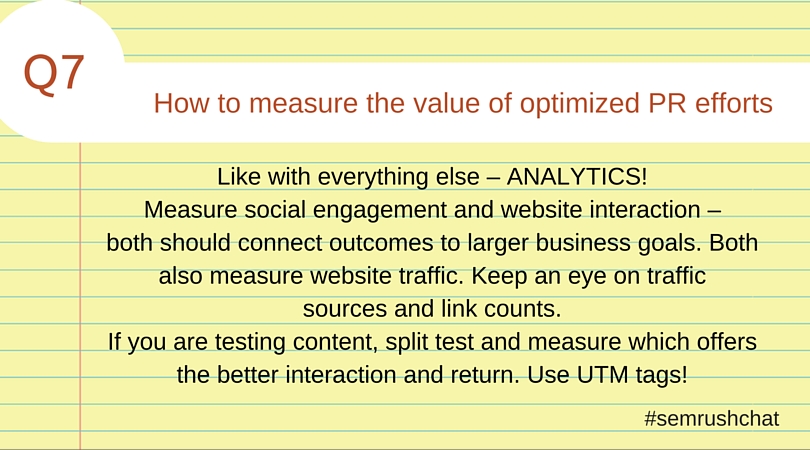 Thanks to Carrie Morgan @morgancarrie for sharing her thoughts and expertise, and, as always, thanks to all of today's participants for their brilliant answers.
Don't miss the SEMrush Chat next Wednesday, because we're going to share how to spice up your content marketing campaigns!