The importance of reputation management cannot be overstated. Recent statistics reveal that nearly two-thirds of all internet users consider an online search to be the most trustworthy source of information about companies and people. What is more, up to 85% of consumers research a company and/or product online before making a purchase.
Unfortunately, it is more complicated than ever for a company to maintain a good reputation online. Even the best companies have disgruntled customers who are more than willing to post negative reviews online and figuring out how users are finding these negative webpages was always a difficult task for my reputation company until I started to use Semrush.
In many of our clients' cases, an unethical competitor may hire people to post false negative reviews in order to hurt their competitors' sales. Social media networks amplify the bad publicity which, due to human nature, is more likely to stick in a customer's mind than any good reviews and publicity that a company has received.
The good news is that a company does not have to take such attacks lying down. Semrush has a host of tools that I've used to successfully manage my client's reputation and ensure that their services are showcased in the best possible light with a lot of good positive content created around the keywords that Semrush feeds me.
Following is an overview of some of the tools that are most effective for online reputation management.
Keyword Targeting
While search engine placement may not seem to be immediately connected to reputation management, the two are inextricably linked.
Generally speaking, about 90% of all search engine users are unlikely to look past the first page of search engine results. This means that whatever appears as a result of a company-related search engine query can make or break a company.
With proper keyword targeting, Semrush works hard to make sure that first page search engine results display positive information about a company and what it has to offer.
This tactic may not remove negative reviews from the internet but it buries them so that new customers are far less likely to see them than they would have been otherwise. While our reputation management agency Profile Defenders can remove almost any negative webpage sometimes it makes more sense for a client to let us handle the branding and promotion like the example below.
The case below of a potential client; My Pillow. Here you can see how we do the keyword research to see what Microsites & Keywords we are optimizing for to replace all of the negative reviews this Walmart product has: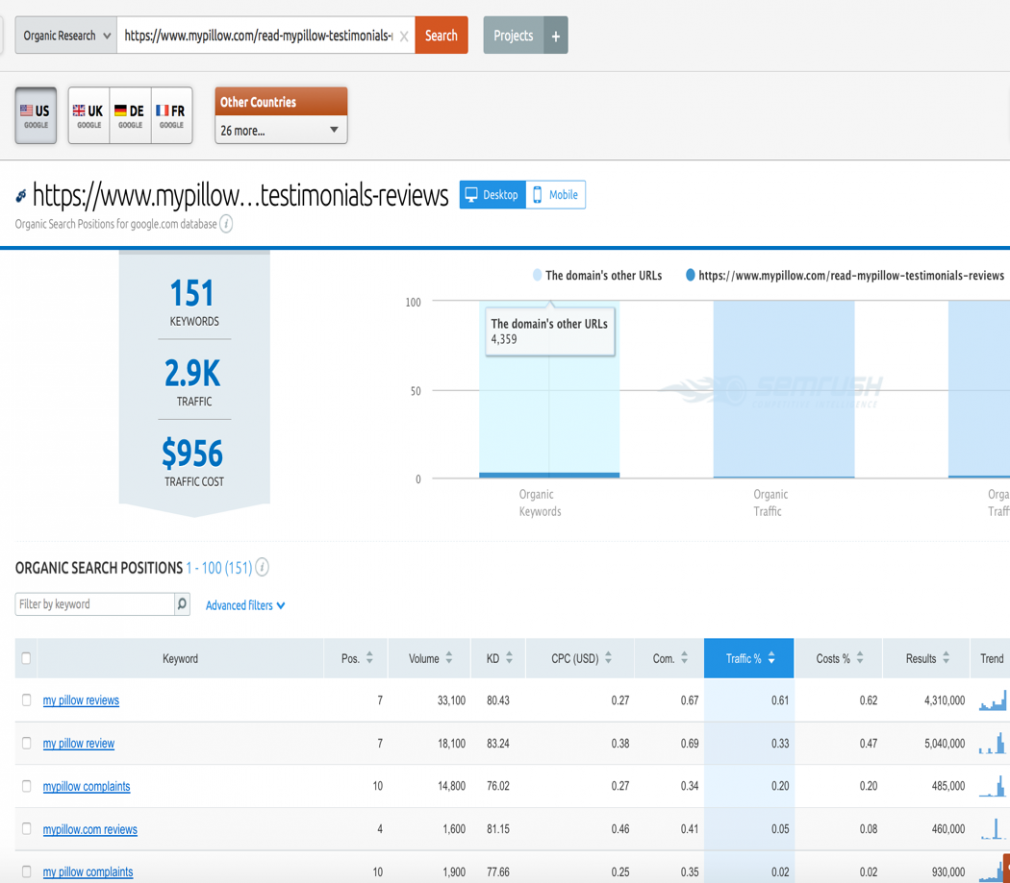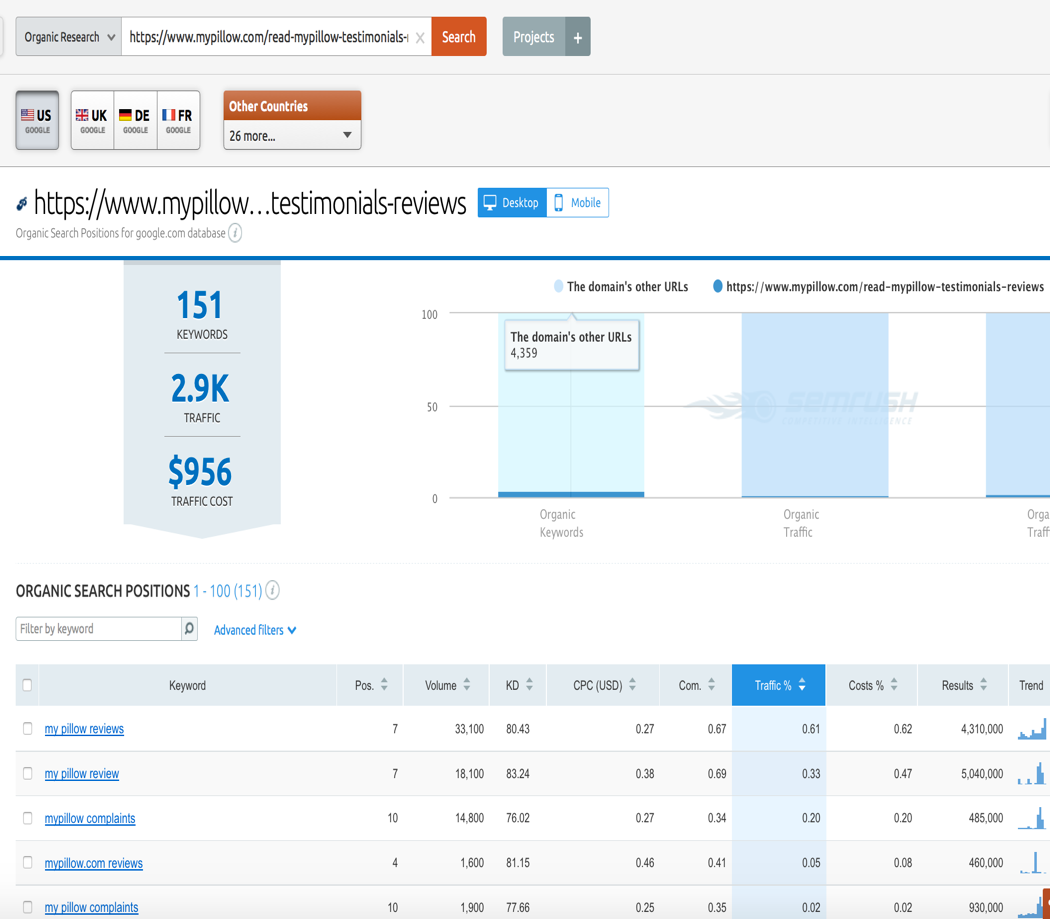 In this case we are able to see that the company is not ranking very high for their own website or their own properties when looking at how their review page is ranking. So what does this mean?
They are not doing a good job at controlling their reputation: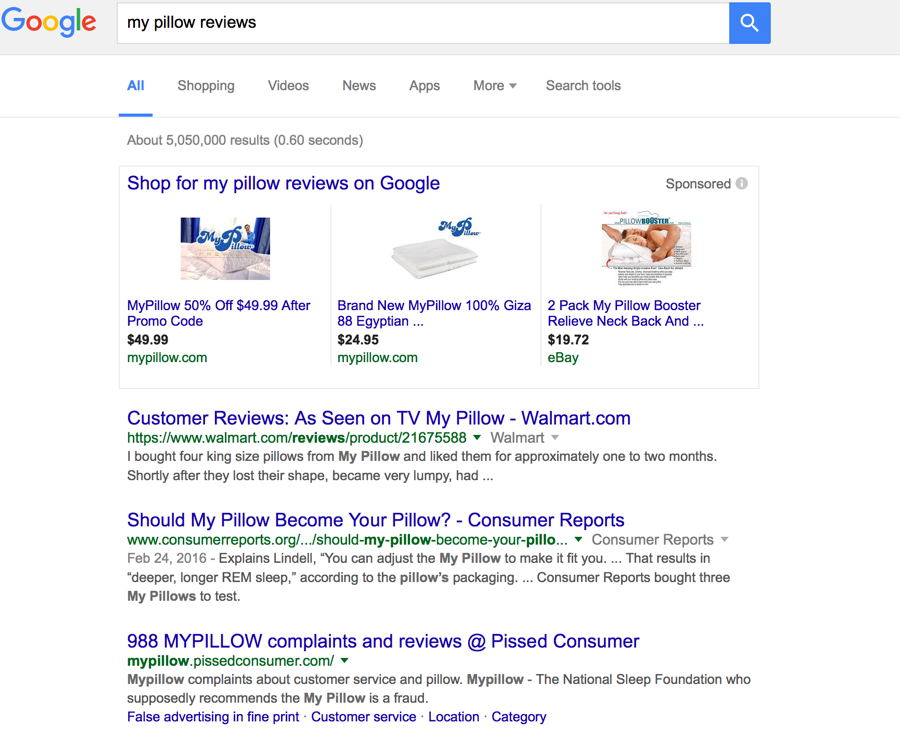 As you can see, the second and third results are very negative websites with PissedConsumer.com having 988 Complaints. With that many negative reviews, I can't imagine anybody who did research online would be purchasing a My Pillow.
To do the math on the business, they are losing we can see that there are 33,100 searches a month for My Pillow Reviews and knowing that approximately 55.36% of users are clicking on the number one search result and 10% will be clicking on the negative third result.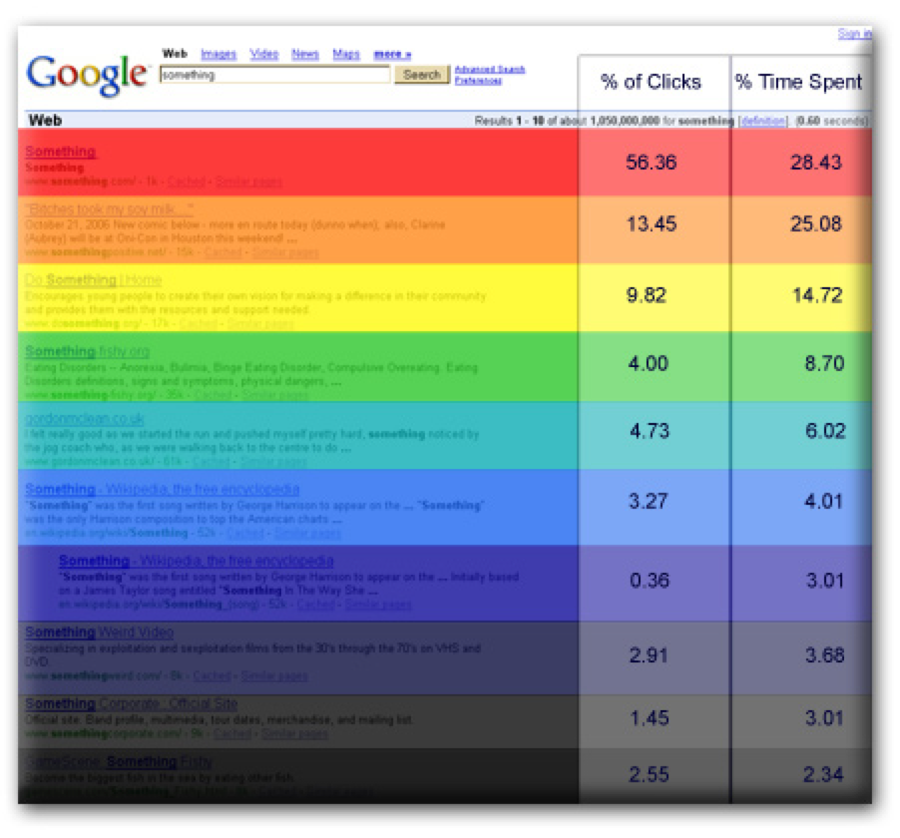 So in this case PissedConsumer is getting at least 3,310 users a month who are researching a purchase on My Pillow Reviews and are more than likely not buying this product anymore.
How much does this cost My Pillow?
The product costs them $59.88 and if they are losing 3,310 sales a month just from one website and one of the many searches we would target to clean up above then we can determine that My Pillow is losing at least$198,202.80 = ($59.88 x 3,310) a month just from that one main search phrase.
What's even worse is the Walmart.com listing starts off with a one star rating so the number of sales lost from just this one phrase not being owned by the brand is mind numbingly higher.
Now if they had glowing reviews and great testimonials how many sales would they be gaining instead of losing? Now you see the value in both a high end reputation management company and Semrush to target the keywords. 
Semrush works well for the majority of our business clients to help us create a customized keyword targeting plan based on a company's goods and/or services, the target audience and whether or not a company will engage in PPC or other forms of paid online advertising to purchase additional real estate on that coveted first page of Google.
Keywords are chosen based on both relevance and popularity to ensure that a company gets fairly quick positive results for the searches that are driving the most traffic. 
Find long-tail keywords in Semrush
Depending on how far and wide our clients want us to go, we can use Semrush to find long-tail keywords that get a moderately high amount of traffic but do not have a lot of competition and can be filled in with our positive results instead of the negative complaints damaging their business.
We then add chosen keywords to key location on the company's website and used in online advertising to ensure the company can easily be found by anyone who is looking for that particular word or phrase. So in the My Pillow case we want to make pages on the Root URL such as:
/review
/complaints
/perfect-pillow
/the-perfect-pillow
This involves creating keyword variations that are attractive to users and search engines alike, using a variety of anchor text options, creating (or editing) landing pages to make them topic-specific and ensuring that we fill these pages with relevant content that is also dynamic in one form or another.
Keyword targeting requires maintenance
Keyword targeting, like other forms of online reputation management, is not a one-time task. Technology impacts all type of industries and may render current keywords ineffective or even obsolete. Company growth may also lead a business to exchange local keywords that include the name of a particular city or state for those with a national or even international appeal.
Competitor keyword usage can also have a bearing on a company's keyword strategy, especially if a company uses social media or PPC paid advertising and a competitor is pushing up prices for a particular keyword or key phrase. To check and see what terms My Pillow is bidding and as well as how much they are paying you just go to advertising research with the domain inputted into the search box and you get the following results: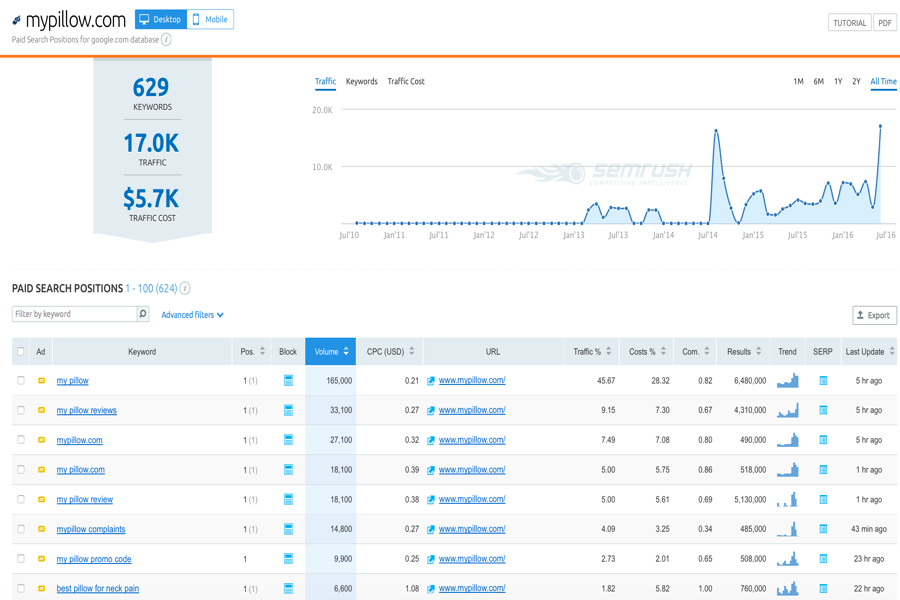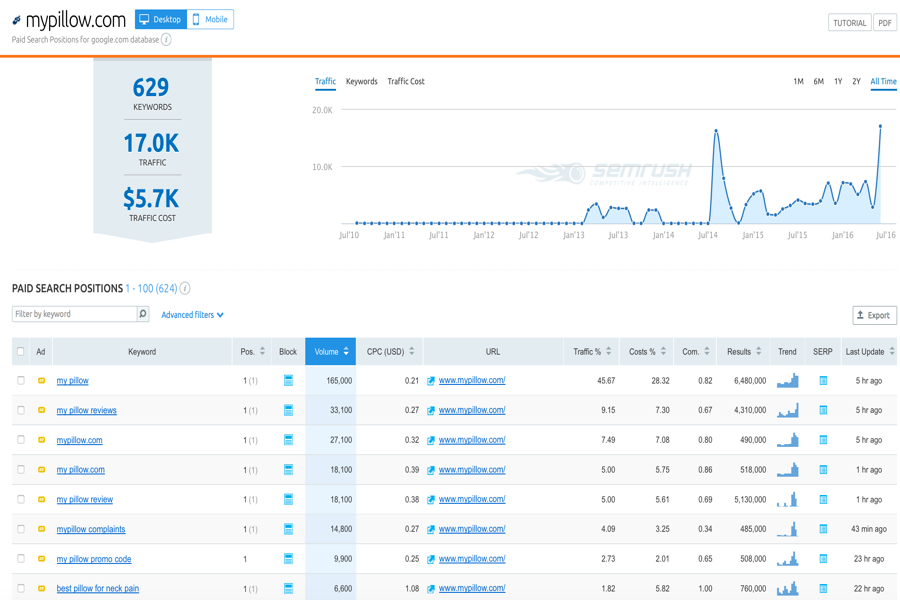 This shows us that they are spending thousands of dollars bidding on their own brand name and gives us the opportunity to advise on the where they are spending too much on their own brand name and ways to lower their monthly PPC spending.
Semrush specializes in ongoing keyword research and use. While the main keywords on a website may remain unchanged for the most part, a company can use Semrush's many keyword-based tools and stats charts to target new, potentially popular keywords when creating new blog articles, advertisement or product pages.
That may have negative results from consumer complaint sites. Semrush also keeps track of how keywords are performing on a regular basis so company owners and management can determine if a particular keyword needs to be used more, used less or put out of commission altogether.
Being able to track this for clients is also extremely important. To say that we had three positive results on page one when we started and now there are 8 positive results for your companies main keywords is a great way to showcase your results. 
Brand Monitoring
As a reputation manager, you need to know what people are saying about your clients' goods and/or services at all times. You could go a regular Google search for your company's name, but this would be both ineffective and time-consuming. That is why Semrush created the Brand Monitoring tool. This tool scans the entire internet for both positive and negative information related to your brand name and then provides this information in an easy to read format.
What is more, you can categorize this information based on a variety of important criteria. For instance, the Brand Monitoring tool allows you to see the authority level of a site that a link or review is placed on. If a negative review comes from a site that does not get many visits, you can safely ignore it; on the other hand, a scathing review on a popular site may warrant a thought-out response.
You can categorize reviews depending on products and/or services mentioned to see which goods and/or services are getting the most positive or negative comments. You can use this info to tweak your products and/or services to increase their popularity; conversely, you may even want to eliminate certain products and/or services if they are not meeting your customer's needs.
You can also see who is most likely to leave a positive or a negative review, information that may be valuable if you decide to offer customers a reward for leaving a review on a popular review site. Additionally, keeping track of reviews and internet mentions can enable you to nip negative information and false reviews in the bud. If, for instance, it is clear that a review does not pertain to your company, you can ask the website to take it down or provide a rebuttal that makes it clear the review is false. Most review sites like Amazon and Yelp are good about removing blatantly false reviews where as other consumer complaint sites do not make any changes despite how false a review may be.
Defensive brand management
This type of brand management is defensive in nature. You are discovering negative information that could have a real impact on your business and working to minimize or negate its effects. This is important; however, it should be noted that Semrush's Brand Management tool is not just about defending yourself from online attacks. It can also be used to proactively promote your company's good name.
Improve your brand's reputation with the Semrush Brand Monitoring Tool
Using the information provided by this tool, you can identify websites and blogs with a high search engine ranking that have mentioned your company and/or its goods and services in a positive light. Cultivating a relationship with such websites and blogs via guest posting and other avenues will enable you to gain valuable backlinks that can boost your website's standing.
For example, if you see that Youtube Videos are ranking high for your companies brand then you will want to promote more Youtube videos and increase engagement on those videos that are ranking high in the search engine results.
Yet another important aspect of this tool is that you can also use it to find out what internet users are saying about your competition. If your competitors get high marks for a certain aspect of business, be it product quality or stellar customer service, take it to heart and see how you can improve in these areas. On the other hand, you can also discover your competitors' weak points and use these to your advantage when marketing goods and services online and offline.
Social Media Tracking
While some people head off to review websites to vent about a product or service, most people share their positive and negative opinions on one or more social media pages. These opinions can have a big impact on your business as well over 50% of all consumers consider what a friend has to say about a particular product or service before buying said product or service. That is why Semrush offers a comprehensive tool that enables you to see what people are saying about you, your social media networks, your website and your goods and services on a variety of social media channels.
This tool is great both for reputation management crises and proactive brand management. You will be able to see negative comments quickly and respond to them in a timely manner, before such comments are able to do a lot of damage.
As part of our arsenal, we utilize this to ensure that we can be proactive as soon as something negative is seen online since many other social media management tools tend to lag in this area.
If someone at your company made a mistake that had a negative impact on a customer or potential customer, you will be able to repair the damage quickly or let us help remedy the situation. Promptly responding to complaints, negative comments and problems in a timely manner can benefit your business as potential customers will be able to clearly see that you care about the people who work with you and are concerned about providing the best possible service. Your responses are likely to generate the positive social media buzz you need to bring potential customers to your doorstep.
The fact that the social media tool provides detailed graphs and charts makes it easy to see what various categories of clients have to say about you. If a particular demographic consistently posts negative reviews and information about your company, you will know who you need to either proactively reach out to or avoid targeting as a primary demographic.
On the flip side, seeing what type of people have make the most positive comments about your business can help you know which target demographic you are effectively reaching and give you good idea for continuing to keep them happy and wanting to do business with you.
Competitor Analysis
If your competitors have a better search engine placement or more positive reviews than you do, you need to find out why. Semrush can help you discover your competitor's best keywords, most effective display ads, current video ad strategies and more.
You can use this information to help you know what type of information potential clients are looking for and what keywords are the most effective for any given field. At the same time, your goal is not necessarily to duplicate a competitor's marketing strategy.
Instead, seeing what works and doesn't work for another successful company will provide you with insight that can enable you to choose good keywords for an organic or PPC marketing campaign.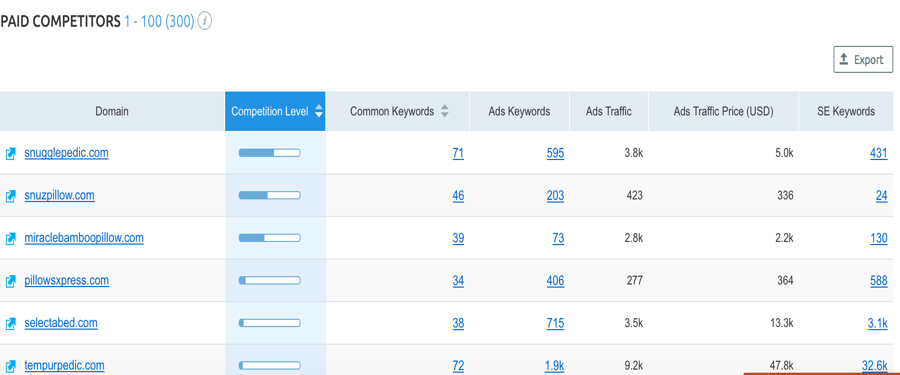 Another important aspect of competitor analysis is discovering who your closest competitors are and identifying new competitors as they start becoming popular. In this case we can see all the other pillow competitors and what keywords they have in common.
The latter task is particularly important as upcoming competitors may have products and/or services you may want to duplicate so as to avoid losing current customers. New competitors are likely using new keywords and innovative approaches to reach your target demographic and you can benefit from their ingenuity when creating content, advertising campaigns and even products and services.
Helping our clients improve their reputations and bring in more sales with better advertising spending is what sets us apart as a reputation management agency and the reason for Profile Defenders immense success over the last five plus years. Having the right tools and knowing how to use them is also essential. 
Proactive reputation management
Keeping tabs on your competition and staying a step ahead of them is a proactive form of reputation management. Instead of responding to negative reviews and articles, you are promoting your brand name, products and/or services so that people will see what you have to say before heading over to a competitor's website or product page. 
Being visible in this way has positive results even if potential customers are not presently interested in what you have to offer because they will remember your brand name and be more likely to do business with you than with a company they haven't heard of before or are not very familiar with or in the case studies we do having negative results where your competitors don't will always give them the edge.
Localize Your Ad and Organic Reach Campaigns
Putting a premium on local search engine placement and marketing is wise, especially if your company has a limited budget and resources. Restaurants, local gyms, real estate agents and other local businesses and entrepreneurs need not worry about their search engine results or brand name mentions on a national level if business is only done on a local level. By putting a premium on local advertising and organic search engine results, you are more likely to get a high return on investment for your efforts.
Semrush can help any local company earn a high local search engine placement and manage its brand effectively in the local area. The tools are the same as those mentioned above but are used on a local rather than national or international level. Keyword targeting is done in such a way that the city or state the company is located in is highlighted so local residents can find the company easily. Brand management tools are tweaked so that only results pertaining to a local area are shown.
At the same time, local advertising and organic reach marketing are not just effective tactics for small companies and self-employed entrepreneurs. They are also extremely effective for national and especially international companies. Your target demographic may be narrow (i.e. women, parents, the elderly, etc.) but be aware that people in different cities and countries think differently and will use different keywords when searching for a particular product or service.
If your statistics indicate that you are not reaching customers effectively in a particular area, it is likely time to look into what you can do to show up higher for relevant local searches. 
Semrush specializes in providing effective ad campaign localization tools and strategies. These tools can identify the keywords and marketing tactics used by competitors in any given area. They can provide insight into what search engine queries a customer from a particular area is likely to use. Unlike other SEO tools, Semrush works with not only English keywords but foreign language ones as well. You will be able to see which foreign language keywords to target for foreign language landing pages and even be able to find misspelled but potentially effective English words related to your business that could be popular among portions of your target audience that does not speak English as a first language.
Reputation management is an ongoing job. There are some things that you can and should on your own to promote your brand name, including starting and keeping up with a blog, creating regular posts for your social media channels and asking customers to post positive reviews of your goods and/or services. However, the average company owner or manager is extremely busy and keeping up with these and other online brand management-related jobs is time-consuming. Additionally, there will be times when you are blindsided by a plethora of negative reviews and/or other forms of online negative publicity and will need to address these comments, posts and other types of content in an effective manner.
Having access to the tools you need to ensure your company is presented in the best possible light. Keyword analysis, local SEO efforts and competitor analysis will help you promote your company so that people will know who you are, what you do and why they should at least consider doing business with you. The Brand Management and Social Media tools will enable you to both promote your company's good name and effectively deal with negative publicity that could have a serious impact on your bottom line.
Do you have experience using Semrush for brand management? Tell us about it in the comments!